Why is a Business set up? Firstly, to fulfill customer needs and secondly, to gain profit. A business needs money to run its activities and the source of money is the profit, which comes through the customers. You may be a small business, large enterprise or a B2B, B2C business, but the main agenda of businesses is to win their customers or clients.
Customers are the most important foundation of the business. They are the ones who help you to survive in the market. Every business concentrates on attracting the target customers as there are huge options left for the customers in the present competitive market. And if you think you can gain or retain them easily, you are in a wrong notion. In this present competitive market gaining as well as retaining your customers is indeed a big deal.
But to make this challenge a little easier and smarter, the technology has provided you a vast set of business tools. One of the main business strategies in the present market is the online CRM software. The online CRM software helps you to maintain better customer relations and also improve the business activities like sales, marketing, inventory etc.
There is huge competition in every industry and every business firm works to increase sales and enhance customer loyalty. The business firm that focuses on alignment of sales and marketing in order to work more productively are the companies which are able to outshine in the market and push their competition into the background. And so does lead tracking help both the departments to work seamlessly in order to find more potential sales leads and close more sales. Cloud based CRM software provides the online lead management software or commonly known as the lead tracking software that helps with online lead generation and lead source analysis. SalesBabu cloud based CRM software comes with an efficient lead management software to help your business to win more customers.


Why do you think a business firm requires an online CRM software to work smartly in the present market?
Why An Online CRM Software?
Cost effective
No IT Infrastructure required
Saves database on clouds
Explicite customer history
Analysation of data
Gives flexibility
Improves Accessibility
Saves time and money of the Company
Elimination of manual errors
Better understanding of customer
Improve sales, marketing and customer service
Satisfies human resources
Read our blog – Why CRM Software?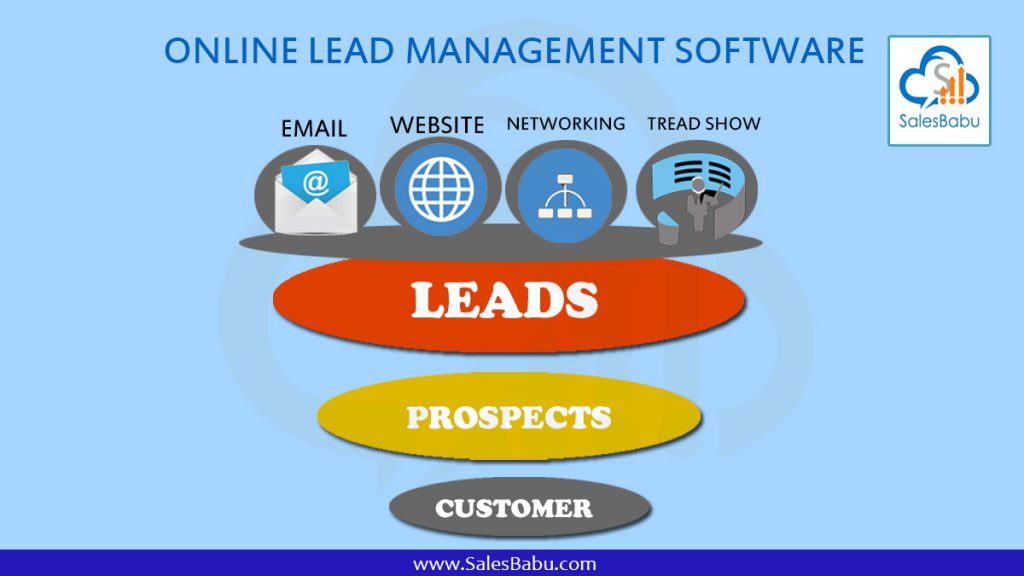 Both small and big organisations face problems while managing leads. Lead Management Software is an effective tool which is not only used to track inquiries but also to capture details like lead source, date, industry, competitors, website, multiple contacts and a host of many other fields. You can easily get all the details of the customers or prospects in a single click. Once you have entered the lead or enquiry details in the system, you can make activities according to your interaction like follow-ups, e-mails, meetings, appointments and payment collections, assign lead and activity to the efficient sales person.

Meet Customer's expectations With Effective Lead Management Software
Customers require quality products and better services. You can keep a track of contact details and requirements of the customers. If you are reaching customer's expectations then you will surely generate more business and enhance revenue. It is easy to identify which customers are fruitful for you and which are not profitable. It increases the number of customers and growth of the company. Selling depends on approach, way of communication and proper follow-ups. Sales activity reminders are very useful to keep you aware about daily sales tasks.
Read our blog – Convert More Leads to Customers
Time Saver and Revenue Enhancer
It reduces the time that a sales rep spends on data entry or any paperwork by shortening the sales cycle. Sales Managers can make sales planning and set goals for the sales teams in an organized fashion in advance. You need not have to worry about updates and maintenance of the system. Every organisation can avail the benefits of Sales Management Software and analyse the difference between both methods.
Lead Distribution
For the companies which have large sale territories, lead management software will provide an organized flow of the leads to the sales force, either geographically or chronically or also by the product line. This will help to optimize the sales staff by distributing the sales to the appropriate salespeople at the right time. The distribution process will optimize the efficiency of the sales team and reduce the risk of calling on dead ends.
Build and maintain a relationship
Most of the buyers won't be prepared to purchase after only one or two contacts. A lead management software will lead through a process of multiple engagements, so the buyers will become more familiar with the company or the products of the company, and also they will be more comfortable with the decision to buy. When a lead requests the information, responds to the free offers, clicks, or views the company webpage, these actions will be created which can be analyzed and then used as a guide during the sales calls.
Lead tracking
With lead management software, a company can easily be able to determine the position of the lead in the sales pipeline in real-time. When the leads become more engaged they can be scheduled to receive more influential exposures like free white papers or webinar invitations. As they process through the marketing impressions, leads can be more prioritized for the sales engagements. Lead management will often promote accurate sales forecasting, which will lead to better operation management.
Lead organization
Lead management systems will provide an organized method of classifying leads and scoring the leads as they are captured. They can be organized in many ways such as by media channel, geography, engagement period, behavior traits, and still more. Without lead management software, it will be more challenging to coordinate the distribution or maintain a proper exposure schedule.


Read our blog – Lead Management System
Conclusion
SalesBabu CRM Software understands your business needs. Useless leads eat up a lot of time of the organization which results in sales loss. It solves all the worries and gives you accurate sales reports. Sales team can update customer interactions and other sales activities from anywhere. It is the best technique to improve business procedures. Spreadsheets can't give you much profit because technology has changed now. So it will not give you all the reports in one place. It also maintains backup on clouds, which gives complete data backup guaranty.

SalesBabu Cloud based CRM software has an effective online lead management app that comes with various features. SalesBabu lead tracker provides the best sales lead management software in order to grow your business. Moreover with the help of cloud integrated lead tracker, it is easier to access. If you want your sales and marketing departments to be aligned and also be productive, make use of the online lead management app. The deployment of online lead management software in the cloud will continue to gain traction because they offer scalability.
You can use the best CRM which is basically a cloud based CRM application to work smartly. If you have not yet got one, then feel free to request for a free demo on our website https://www.salesbabu.com/. You will surely not regret the use of Cloud based CRM software for your business.