"After sales" is as important as sales of your product or service. It is necessary to maintain a long term business relationship. Winning your customer's heart is no less than a challenge, thus a service management software will help you improve your service.  
What is Field Service Management (FSM)? 
Field Service Management is the management of the end-to-end activities in a field service organisation. The field service management includes scheduling, inventory, invoicing, billing and accounting.  
The field service management is used to manage resources in industries like –
Healthcare industry
Telecommunication industry
Cable operators
Manufacturing industry
House-cleaners
Construction industry
Tradeworkers
Heating, ventilation and air-conditioning industry (HVAC)
Most of the small or large business are facing problems for managing a team of service technicians. And a cloud based field service software or technology is indeed a boon for the organisation to manage field service much better. 
Field Force Management Software Technology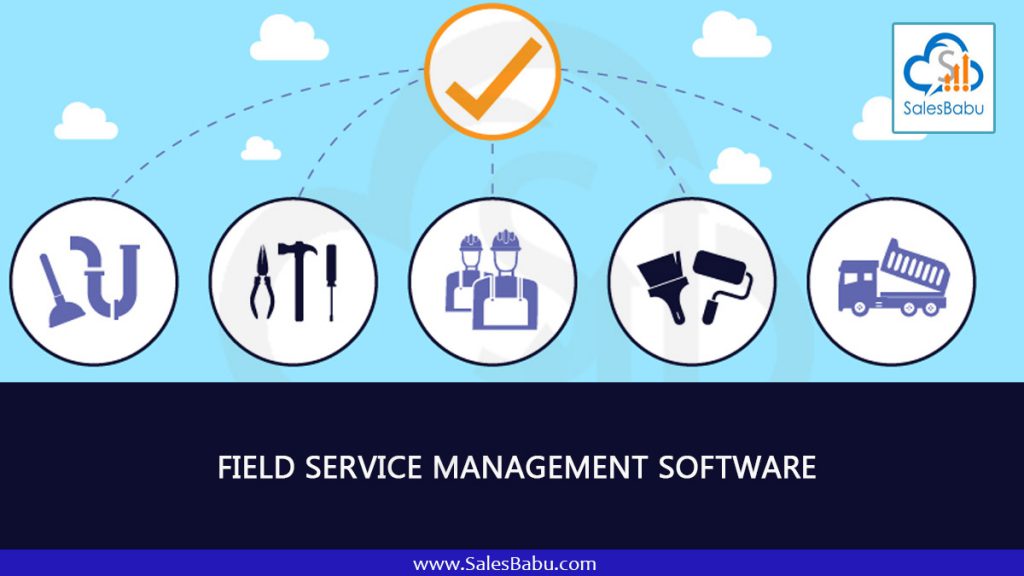 The FMS Technology is known by various names like Field service management software, field worker management software, field man management software and field force management software. The basic work of a field service management software is to facilitate the tasks of field service management. It is a web based software, your engineers can easily access it in their mobile with internet and keep working. 
A Field Service Management software system (field engineer management software) is typically used by businesses that handle installation, services, and repairs of working equipment. If you are wondering how to select a suitable after sales service software for your business requirement, we can help you. SalesBabu's After Sales Service Management CRM provides complete solutions of field service management software solutions and is best suited for your business. By implementing our Best Field Management Software you can run your business hasslefree and can track all activities around the clock as our after CRM For Service Industry software is cloud based and can be accessed from anywhere at any time with good internet speed.
Benefits of using a field service management software 
1. Resource optimization 
Usage of a field service tracking app ensures right utilization of on-field resources. 
2. Team coordination 
With the help of the field service management CRM software, the manager can coordinate his/her team efficiently by cutting down wastage of time and money. 
3. Accuracy
 The service management software is an automated technology that provides accurate information to the users. 
4. Real time visibility
The after sales service software provides real time visibility of information with respect to job status, time spent on a particular task, time of arrival and departure etc. 
5. Increased employee productivity
The software (field service management application) contains each and every detail like – name of the customer, route of the site, service history of the customer, contractual commitments, contact number and required service etc. Thus, instant availability of information and real time reporting facility of the software increases the productivity of the on-field workers.  
Read our blog – 4 Ways to Boost Employee Productivity
6. Customer satisfaction
With the help of the automated software, it becomes easy for the reps to respond to their customers on time. Thus, when you put in efforts to fulfill the customer's needs and wants it will lead to the path of customer satisfaction.


Features of SalesBabu Field Service Management Software
A complaint management software is indeed a boon to the organisation because you are showing your customers that you value them as well as their requirements. It helps you to improve your business for the betterment of the organisation by tracking the solution for their problems. 
The functionalities of a complaint management software are –
Monitor service activities
Visibility AMC
Case nature
Complaint priority
Complaint allocation
Problems and resolutions
Read our blog – Why Customer Complaints Are Good For Your Business
Annual Maintenance Contract (AMC) is a liable agreement that a client and vendor are bound to with regard to the maintenance of a product or products. The AMC Management software dashboard displays the information on the AMC's due. It provides information of the AMC reaching renewal, annual maintenance contracts, business promotion calls, product delivery calls, complaint service calls etc. 
The features of an AMC Management software are – 
PMS (Preventive Maintenance Schedule) visit scheduling
PMS (Preventive Maintenance Schedule) checklist
AMC (Annual Maintenance Contract) time period
AMC (Annual Maintenance Contract) Pending notification
Product details
Machine site details
The Warranty Management Software reduces the warranty costs, reduce operational costs, increases service revenues, improves product quality and enhance customer experience. Thus,it streamlines your warranty management by maintaining complete customer and product warranty details.  
The features of a Warranty Management Software are – 
Centralized warranty details
Warranty ending notification
3. Spare Part Consumption Management 
Spare parts management is a critical factor responsible for the efficient functioning of the plant. Web based spare consumption management software give you real time inventory availability at the time of making a quote and order, that remove waiting time for spare part availability approval.
The features of a Spare Parts Consumption Management Software are – 
Tracking of rate of the spare parts consumption
Details of the quantity of the spare parts consumption
Forecast reorder level
Good transfer details
Goods obtained report
The Service Quotation Management software helps you to enter AMC and Warranty details with product details as well as notifies you on pending/upcoming service renewals. You can also track the customer history and send service quotation in the customer relationship life cycle. 
The features of a Service Quotation Management Software 
Track revenue generation
Track inventory consumption
Track manpower usage
Read our blog – Track After Sales Service Effectively With Service Management Software
The installation management software involves the explanation as well as a demonstration of the product at the time of handover. The installation management software provides a pending installation list. 
The features of Installation Management Software are – 
Schedulement PMS Visits
Maintenance of PMS Visits counts
Warranty detection
Remarks updates
Warranty configuration
Machine site details
Read our blog – Maintaining Good Customer Relations With SalesBabu After Sales Service CRM Software


Using a Field Service Management CRM for business growth
A field service management app makes scheduling and tracking easy as well as cost effective for your organisation. You need not have to spend hours together with spreadsheets or manual report. With the help of the Field service app, your on-field workers can receive instant updates on assignments in the field. You can also reduce the cost of paperwork, repetitive visits to the same field etc. Thus, a Field Service Management Software is a cost effective investment that can benefit your organisation to the fullest. Just see to that you invest in the best Service Management Software for better results. If you wish to know more about the actual working of the Service CRM software as well as Cloud based CRM software, visit our website https://www.salesbabu.com/.
SalesBabu After Sales Service Management Software stores all your important data in the Cloud platform and enables you to manage product entries, spare entries etc with the customer's service request. It is a hassle-free handling system which helps to enhance customer experience and thus leads to customer satisfaction.