Mobile CRM is a tool designed for mobile devices – smartphones and tablets. By connecting through a mobile CRM application, you allow your sales rep access to customer data through a mobile CRM app or through an online browser with a Cloud CRM app.
A key benefit of using the best mobile CRM app is to allow your sales force to access real-time data while out in the fields meeting prospects and customers. It enables sales, marketing, and customer service teams to work together and more importantly, it improves employee efficiency.
The mobile CRM is one such added advantage to the reps as it can be accessed from anywhere at any anytime. Technologies have their own impact on us, these days. We all have updated and upgraded ourselves. Most of us use smartphones for our daily work, which has in turn made our work much easier and faster.
With your smartphone, you can manage your business activities from any corner of the world. The CRM app helps you to access and update information and data easily. It is a user-friendly CRM app that helps you to track your sales team and also helps you to keep things up to date instead of updating information through calls or visits. Thus, it avoids many manual errors or miscommunication.
Read our blog – Mobile CRM Software
Mobile CRM for sales
Managing sales team is key to any company to achieve their sales goals and sell smarter. In the current technological age with a diversified market, it becomes important to effectively manage sales team for achieving sales goals. Managing a sales team is no less of a challenge. Mobile CRM helps the sales reps to –
Streamline sales process
Understand sales bottlenecks
Motivate sales reps with automation
You might be wondering how an online CRM Software can help you to manage sales? You heard it right! Implementation of an online CRM software helps you to manage sales efficiency.
CRM mobile app is good for sales team
Every business has loads of business data with regard to the size of the business. And maintaining data becomes easy with a CRM system. The CRM mobile app provides entire data of prospects, customers or clients in a single platform at your fingertips.
The mobile CRM app helps you to access data and its features from any corner of the world, provided there is good internet connection.
The mobile CRM acts as a platform for communication in between your sales, marketing and customer service department as they can share files, documents, images and links etc.
Your sales reps can experience the ease with automation. They need not spend hours together maintaining manual entries or books, preparing reports etc.
Use of automated CRM software also eliminates the risk of manual errors.
Your sales reps can set simple activities and track them as well. The Mobile CRM provides calendar, reminder calls, events and alerts etc.
The mobile CRM also helps you keep track of your field reps and sales reps with regard to their day-to-day activities.
Sales manager can assign tasks to his/her sales reps with the help of CRM mobile.
Sales reps can schedule follow-ups based on their priorities.
Read our blog – Manage your Sales Team Smartly


Why Sales team needs CRM app?
Centralized data storage
Spare time to plan and manage
Easy activity reports
More organised sales leads and opportunities
Update sales information anytime
Update sales force information
Increase new sales from existing database
Rationalize your sales cycle
Get closer to your customer
Cuts down the repeated tasks and saved time
Benefits of Mobile CRM for Sales :
Greater Communication and Insight :
Mobile CRM benefits the sales reps very much, it also benefits sales managers back at the office who want to stay informed. Mobile CRM will provide sales managers on-demand access to everything which is happening with their team. This will increase insight that allows them to be more dynamic and respond to potential problems before they arise.
A Visible To-Do List :
Using mobile CRM, the rep's to-do's will be clearly sorted out and scheduled, terminating the need for sticky notes, a typed-up document, or a whiteboard. And because everything is visible in real-time, supervisors and coworkers might now check the availability of the reps and easy access when important meetings with certain prospects or customers may be. Accordingly, it will help to save time and increase accountability.
Improved Sales Force Productivity :
With mobile CRM, your sales team has instantaneous access to critical information at exactly the time they need it. No matter where they are, mobile CRM will allow them to stay connected, access account information, view the purchase history of all the customers, log activities, and so on. Those days are gone of answering customer inquiries with, "I'm on the road…I'll have to email it to you later."
Read our blog – 10 Reasons why Salespeople need CRM Software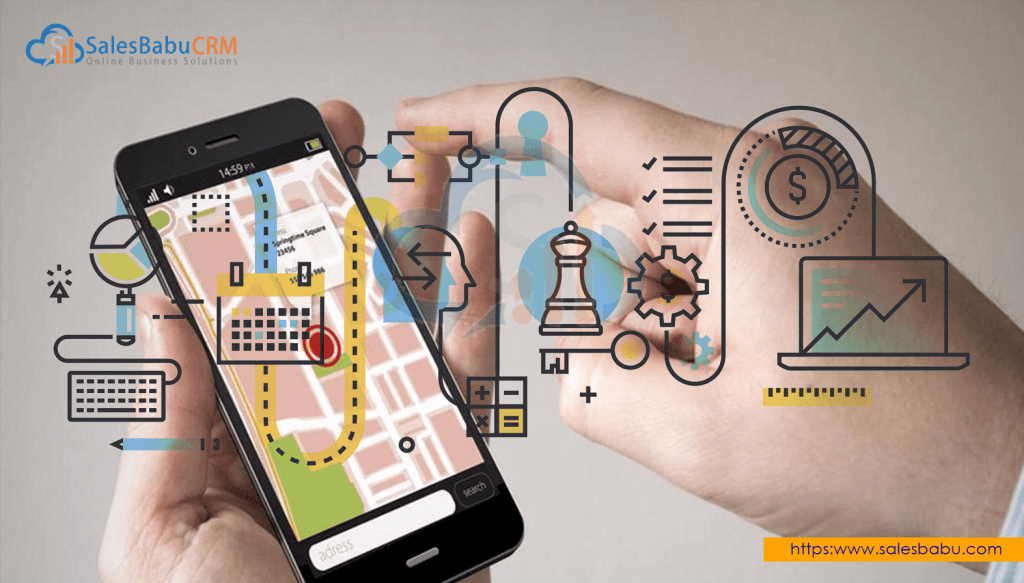 Getting started with CRM on the Mobile
Sales Force Automation
The sales force automation is a sales automation software automates the entire sales process in a single platform and creates a platform to the sales reps to sell effectively. The Sales Force Automation (SFA) is an automated process that mechanizes and incorporates distinguishing elements of business processes right from the customer contact administration, representative execution assessment to handling of sales estimates.
To begin with, develop a sales strategy that everyone is aware of. Make it clear to all with regard to the primary sales objectives of the organization. The Sales Management application lets the sales reps to view sales pipeline, product wise sales, leads status, sales forecast, real time visibility, sales activities and sales funnel. Sales Management application helps the CEO's to track sales activities, maintain sales discipline by automating the entire process, reduces their unnecessary efforts and saves most of their time.
Lead tracker app
A lead tracker app is a system that automates the tracking of all generated leads from the initial point to the final conversation. The lead tracker app can empower the sales enablement to distribute and assign sales leads to teams, track leads and improve conversions for the acquired leads.
First of all, the lead tracker app automates streamlining all the acquired leads into an omnichannel dashboard. Afterwards, the lead management tools give you the option to systematically track the acquired leads, distribute sales leads, track conversions and assign a dollar value to every converted sales lead. The lead tracker app also accelerates the handing-over of qualified leads to your sales team.
Sales tracking app
The sales tracking system helps the sales reps to record or document the interactions a lead has had with your business right from the initial phone calls, emails, sales funnel until they become your ultimate customer.
Salesforce Tracking app comes with certain benefits and advantages. They are –
The sales tracking application provides detailed insights of sales funnel.
The sales tracking application helps in analysation of pain points.
The sales salesforce tracking app understands which product or service, locations and which sales rep is bringing in maximum profit or revenue for the company.
The sales tracking system monitor the performance of the sales team and their day-to-day activities.
The sales tracking application provides a visual idea of sales cycle etc.
The sales salesforce tracking app helps you to manage products and their specifications.
Sales management app
The sales management app is a mobile based solution that can be installed on smartphones in order to manage Field Sales force. By selecting the right sales management app you can automate your business process with regard to recent technology and needs.
With the help of Sales management app your sales reps can maintain real time client engagement and an efficient client service. The sales team management tools handles customer segmentation in the business. Your sales reps need not have to spend extra time or waste time on repetitive tasks as the sales management app automates repetitive tasks which reduces the time spent on data entry.


Conclusion
SalesBabu cloud-based CRM software enables companies to automate their sales force. This helps you to manage enquiries, and complete order processing and also gives you an outlook on factors where you need to put extra effort in order to improve sales productivity.
In the primary stage of your business, you are bound to manage your new leads, and on the other hand, you're looking for your existing clients. Our online CRM software helps you manage and increase your sales in terms of sales revenue and also enhances the client's pool easily.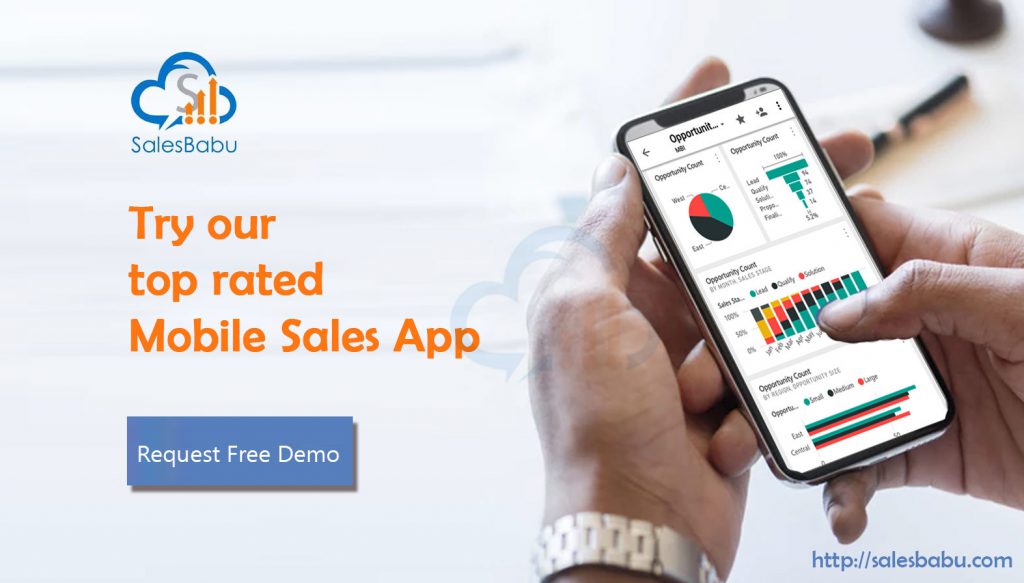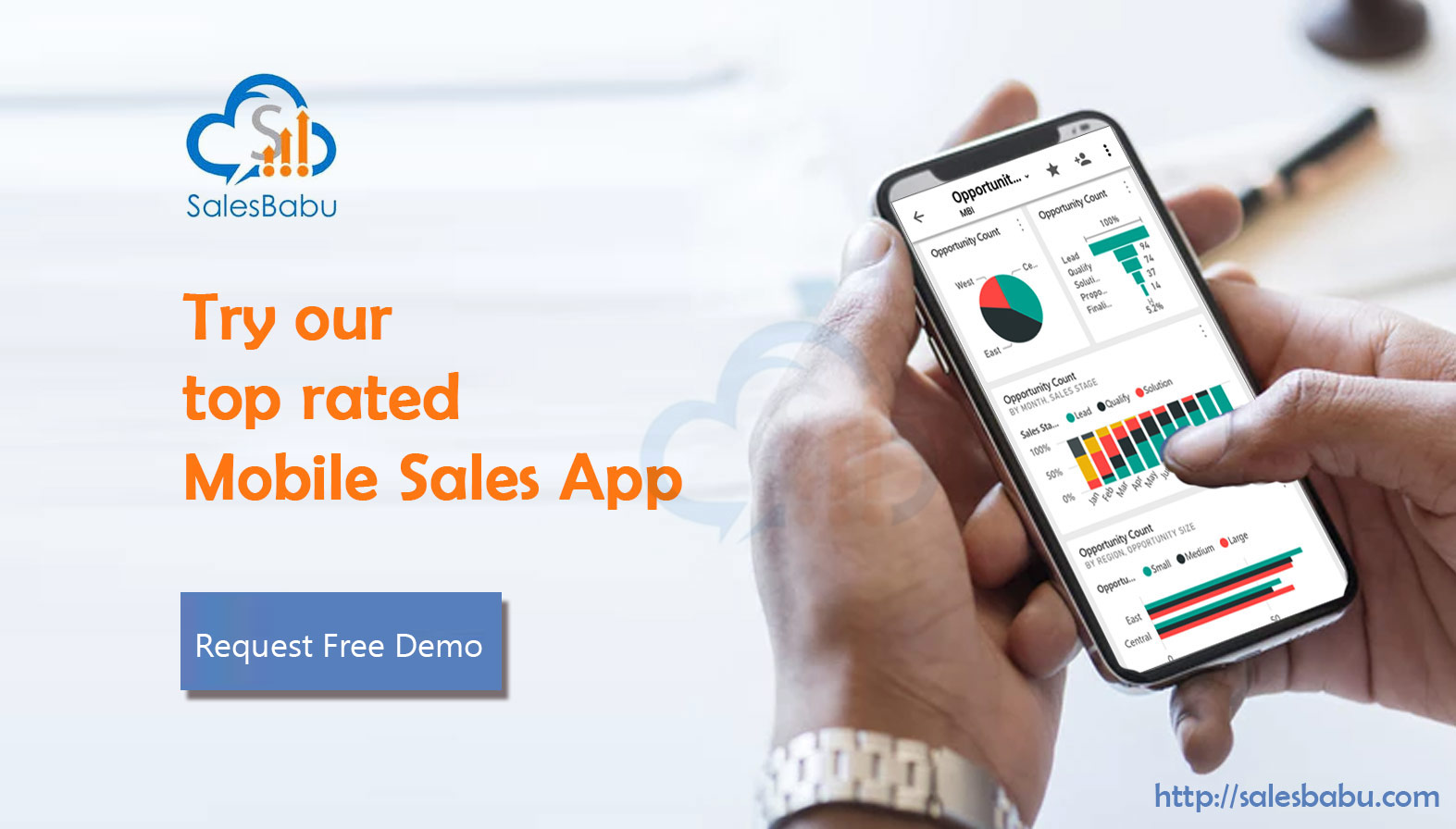 Provide your sales reps with an effective and user-friendly CRM Mobile app so that it makes selling fun for them!! If you are looking for a proven sales CRM tool that helps you to close more deals and manage work efficiently, SalesBabu CRM mobile app is the best option. To know more about the CRM mobile app visit our website https://www.salesbabu.com/. You can also request for a free demo at SalesBabu CRM Business Solutions.