No matter what you're selling, every sale follows roughly the same pattern. It's a rare sale that doesn't include each of these steps in one form or another. Often salespeople don't think of certain stages as being different events – for example, qualifying often happens as part of the cold call, the sales presentation or both – but each of these stages is, in fact, necessary to advance the sales process.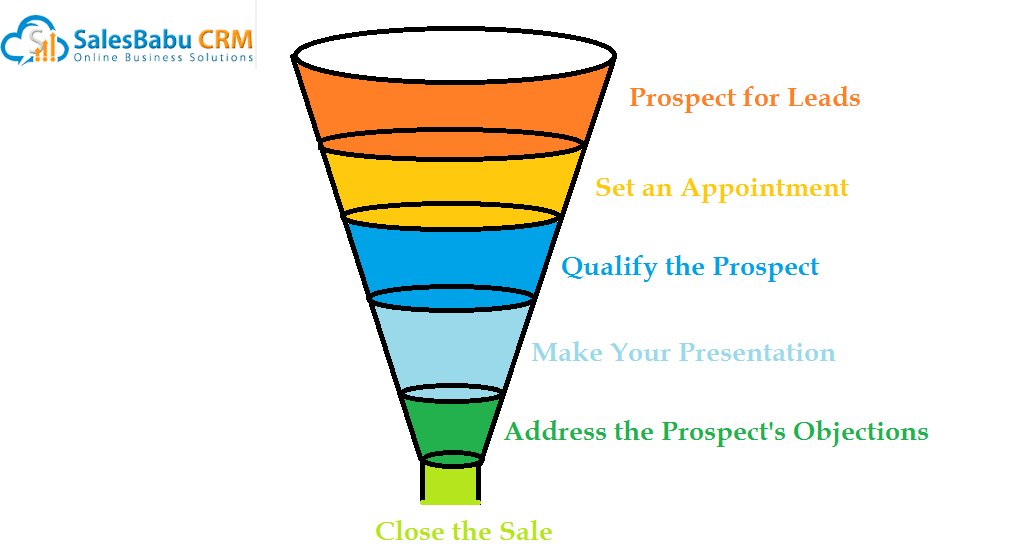 Various Stages of Sales:
Prospect for Lead:Prospecting refers to the process of finding new potential customers. Your company might take care of the first part of this process by giving you lead lists to work with, or you might be responsible for finding leads yourself.
2. Set an Appointment:It's time to use those leads you collected in stage 1. Many salespeople prefer to cold call, send email, use social media or even mail out sales letters. Whatever method you use to set an appointment.
3. Qualify the Prospect: The idea is to confirm that your prospect is both able and potentially willing to buy your product.
4. Make Your Presentation: The presentation is the core of every sales cycle, and it's probably where you'll invest the most preparation time. Keep in mind that you're not just selling your product. You are also selling yourself as a person to trust.
5. Address the Prospect's Objections: Here's where you get to deal with your prospect's concerns. Objections can actually be a positive sign, since they mean that your prospect is at least considering buying or he wouldn't be bothering to work out the potential problems.
6. Close the Sale: Once you've made your presentation and answered your prospect's questions and objections, it's time for the sale. Now there can be a stage of negotiation.
An effective CRM Software enables you to sort out the qualifying leads. It registers all enquiries with complete details of the client and conversation. It enables you to set reminders for necessary follow-ups and you can assign tasks to the most efficient team member so that lead can be converted into the sales. A good CRM system brings the chain of benefits. It captures the maximum information of customer's requirement. You can manage multiple contacts for a customer and It helps you to record the complete business conversation with remarks or notes.