"Business Failure" are harsh to sound words but it's a reality in today's world.
With more and more startups and new ventures in the market, the percentage of small businesses failures are also very significant.

According to statistics published by the Small Business Administration (SBA), almost one-fifth of business ventures fail in their first year of starting and about 50% of all employer based organizations fail to succeed within five years of establishment.
And about only one third business ventures survive ten years or more.
These details may sound unpleasant but the truth lies in the fact that business may have different backgrounds and sectors to cover, but they all fail due to some of the common reasons.
The main point to take away with these metrics are that before we start to venture in the business of our dreams, we should get our facts clear that starting a new business are more of a risk than a profit machine. We should have a well planned idea of all the risk and uncertainties of the business model we wish to start. Details on how your product will do in the market, whether you will be able to manage the initial investment needed for the business, or if your team is well prepared for the challenges of a small business and more.
There are no secrets to success. It is the result of preparation, hard work, and learning from failure.- Colin Powell.
As mentioned correctly, business failure is an inevitable fact, however by understanding the reasons for various business failures, you can plan to avoid them and succeed in your business.
The some of the main reasons why small businesses fail are :
Financial hurdles: The main reason to fail small scale business is lack of funding. The business owner knows how much money is needed to keep the operations running on a day-to-day basis, which also includes the payroll and varied expenses such as rent and utilities. The business owners who are failing are less in tune with how much revenue is generated by the sales of products and services. When the cost of production, marketing, and delivery outweigh the revenue generated from the new sales, small businesses have little choice but to close down. This disconnect leads to funding shortfalls that can quickly put the small business out of operation.
Ineffective Business planning:  A proper business plan should include a transparent description of the business, current and future employee management, and their needs, opportunities, and threats inside the broader market, capital needs, projected cash flows and various budgets, and competitor analysis. Businesses who fail to satisfy the requirements of the business through a well-laid plan before operations begin are putting in place the corporate for the intense challenges. To avoid the pitfalls within the business plan, entrepreneurs should have a solid understanding of their industry and competition before starting the company. 
Marketing mishaps: Business owners fail to rearrange the marketing needs of a company in terms of capital required, customer reach, accurate conversion-ratio projection. When companies underestimate the worth of early marketing campaigns, it'll be difficult to secure financing to form up for the shortfall. Businesses that don't understand the aspects of promoting strategies are more likely to fail and firms that take time to create and implement cost-effective, successful campaigns. Marketing is a crucial aspect of the early-stage business, it is necessary to make sure that companies ensure that they have established budgets for the present t and future market needs.
Let's understand the main reason behind a business failure:
Improper Monitoring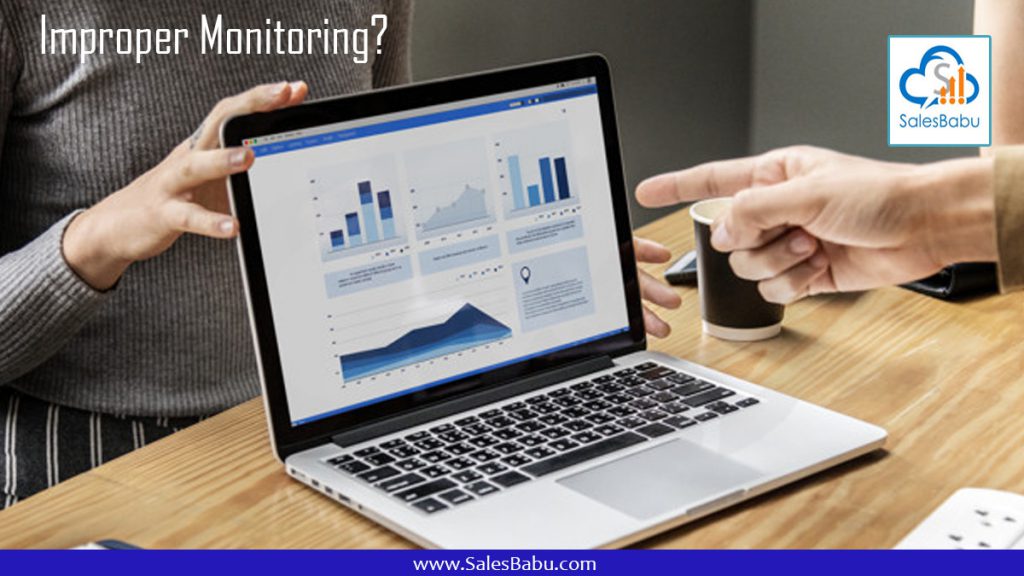 In most of the small and medium businesses, higher management is unaware of the actual happenings taking place within their processes. With no statistics and reports in hand – their company runs like a full speed car with no sense of directions.
With improper lead processing, small ventures lose a lot of customers and lead information. Lost customer base and improper details on interested products, the sales team cannot have full information on the clients and might not be able to give to their fullest to the marketing campaigns. Also, a lot of reworks and repetitive work take a lot of their day-to-day time and create non-productive work items.
Also with improper metrics and reports, the sales team cannot plan their work and lose customers due to missed appointments and follow-up meetings. Startup and SMEs need a proper system of email and social media marketing which helps in further advertising the product and companies details to a larger crowd.
Business monitoring is a daily job where entrepreneurs need a software support like a CRM for small business that gives them a bird's view of the entire operations in few clicks.
In most of the small and medium business models, unorganised management and data monitoring process leads to various errors and business losses. Starting with lead management to sales tracking, along with the Inventory administration to Helpdesk services, every aspect of a business support system need a systematic process to handle our day-to-day work items.
A CRM system for small businesses provides a lot of functionalities which will help in 360 degree support for a growing venture.
Ways for effective business monitoring
A small and medium enterprises have high rates of incoming queries and lead sources, need a managed architecture of automated processes and lead trackers which can handle the high rate of prospective clients. Starting with contact details of all the leads with the proper information about their backgrounds, regional and personal preferences, interested product details and more, needs to be properly documented and stored in a centralized database.
Once lead information is properly documented, online CRM software auto assigns the lead to an appropriate service or sales agent and make send auto notifications to sales manager and sales representative to accelerate the lead conversion process. After this lead distribution, CRM software for small businesses also provides various lead qualification aids to quickly identify the interested parties and track them separately with client specific quotations and sales presentations.
Every minute to important details of tracking and managing a lead is stored with complete information in the integrated database which can be accessed by different stakeholders at anytime. CRM provides Sales tracking apps, which helps to plan, manage and get real time insights into your field sales & marketing activities. These apps can give live location sharing facilities which helps sales managers to assign leads to reps according to their location and reduce the lead turnover time.
Once the lead qualification process is successful, CRM for SMEs creates various automated tracking and follow-up events which help in systematic pursue of each lead conversion process and sales closure discussions. With various alerts and meeting pop-ups, the sales team is well aware of any forthcoming sales meeting and can be fully prepared for it. These proactive measures not only increases the productivity of the team, but also helps in improving the overall business turnover as well.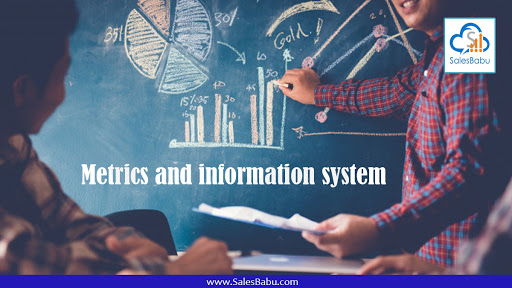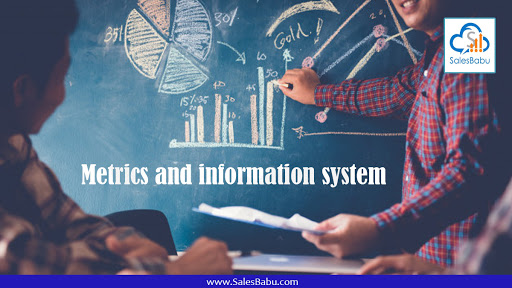 Metrics and statistics associated with various business evaluations are a good measure of any small or medium enterprises success. Various metrics regarding the finance of the company, incoming customer rate, dead clients, internal team performance, sales and marketing team productivity and more, can be used to understand the whereabouts of your company's status and also create futuristic plans.
With traditional methods of data collection and statistics generation, may create a huge backlog of missing information and data errors. A CRM software for SMEs has various inbuilt and custom report system which creates automated reports in desired data with only a few clicks.
CRM software for small businesses, provide various knowledge base centers, blogs and demo videos which can be shared with new and prospective clients to make them aware of our company's products and policies. This centralised information system gives an automated marketing channel for the sales team to create more productive sales quotations and sales order records.
In today's world of technology and social media, every customer looks around for business websites for product details and also check social media reviews before investing in any product or services.
CRM for small business has many integration facilities with social media website, Email and SMS service providers. These integrations help track the review comments and auto reply to them immediately. These facilities also help in social marketing about your company's brand and more.
Email and SMS template functionalities help the service agents to save templates and send an auto notification to clients, hence saving a lot of time for doing repetitive work.
A Small and medium enterprises may need to regularly scale up their software and hardware requirements with high rate of incoming clients.
In traditional methods of data management, a regular need of hardware upgrade will be needed to add new servers and other routing devices to scale up your growing infrastructure. This might need a lot of investment regularly which can be one of the cause of heavy losses to startups and SMEs.
With online CRM softwares like SalesBabu CRM, every software and hardware requirements are taken care by the cloud environment and software users need not worry about the underlying infrastructure or hardware requirements. CRM website is easily accessible on all gadgets and smartphones and can be used for any management requirement with just few clicks. Startup employees get a seamless software experience with numerous user friendly interfaces.
Along with scalability solutions, cloud environment in CRM softwares provide efficient data backup and security with various access level for different team members and other data privacy measures.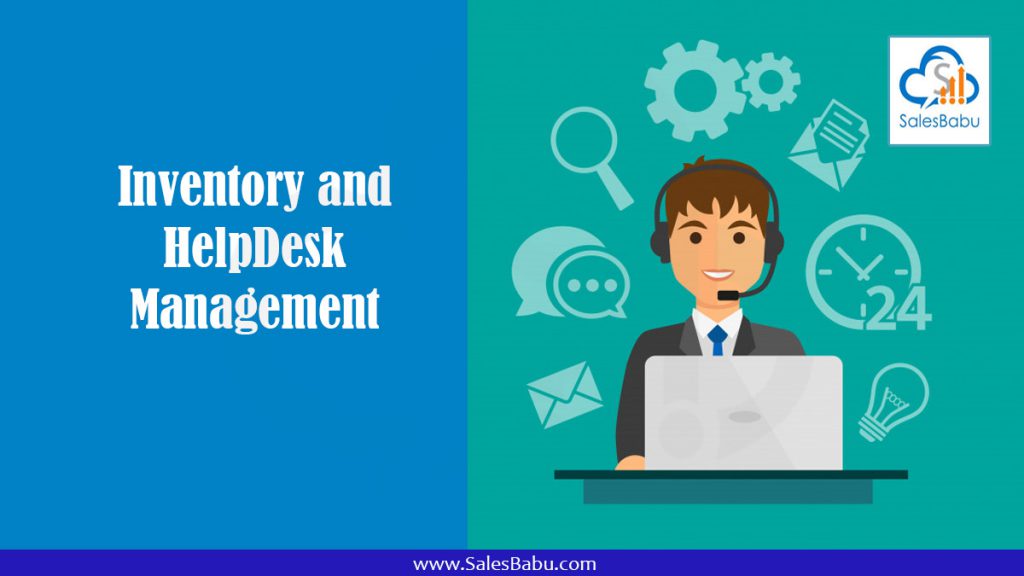 After sales are finalized, service agents need to start sending quotations and final sales orders to the clients. In a Cloud CRM software, everything related to sales like sales order details, clients address, demand supply details of the products and more are stored in a centralised location which can be accessed by every sales and marketing representatives. Every sales receipt and delivery challans, good receipt notes etc are kept a track on using this database.
Every raw material used or dispatched from the company's godown until the final product is delivered to the clients, all details can be tracked using the sale tracking app and online CRM software.
For a new business, having a strong customer base is very important. With mismanaged customer care services, your business can lose many prospective and current customer due to unhappy services. CRM for small businesses also give support for helpdesk and customer care services. Leveraging these CRM functionalities, startups and new ventures can build a strong customer base and improve their business.
Conclusion
As we understand that with every growing step of success we will have new and bigger hindrances for our business. Monitoring your data with the correct and efficient tool is very important for a non stoppage journey to success.