Are you planning on implementing an online CRM software for your business? How do you come to a conclusion that you surely need a CRM software as soon as possible? Do you think investing in an online CRM software is worth? Like this you may have loads of questions running through your head.
Any type of change in the organisation, either in tools or process is a challenging decision. If the change requires financial investments then it becomes more difficult. CRM Software makes a huge impact in an organisation as it affect sales, marketing, service workflow, etc. The right CRM software can bring in tremendous changes in the productivity of business activities. Before you invest in a cloud based CRM software you need to know about its benefits, working and features etc. The market is filled with multiple CRM software vendors who provide various features and functionalities. But, firstly you need to understand your organisation's requirements and choose accordingly.
Read our blog – 7 "Must-Do" steps before you buy online CRM software


Here are 7 warning signs your company needs to switch to a CRM software:
1. Decreased Efficiency/Productivity
Sometimes manual processes like excel sheet and paperwork are laborious and approval takes a lot of time. It includes repetitive tasks which creates a burden to the employees which results in low work efficiency. Working on spreadsheets is not just time consuming but may also lead to manual errors.
Whereas, there are smarter ways to do things by implementing CRM software. You can automate the whole process just by entering it in the system. You can use the data for various purposes by implementing an online CRM Software. You can also improve the efficiency and productivity of your organisation.
Read our blog – 5 Amazing automation features of CRMs you need to be using
2. Miss-Communication between Departments
While working manually, sometimes the file is lost between departments, or the document sent from one department didn't reach to another departments. In this process, sometimes the information of important clients may get delayed and the business can suffer loss due to delay in process.
But a CRM system bridges the gap between departments and brings transparency into business. The alignment of sales and marketing makes their work easier as they can know their target customers well and also convert more leads to sales.


3. Accessibility to Information/Database
Generally sales reps don't try to maintain good relationship with the clients or customers by themselves, they feel it's not their job. Thus, in such conditions the company may lose its customers. An online CRM Software gives centralised database which provides overall details to sales persons regarding the clients or customers.
4. Poor Data maintenance
Once your customer list exceeds the spreadsheets it becomes difficult for your sales team to remember every detail about the customers or clients. And if your customers feel they are being neglected, they may just walk away.
CRM system gives you complete track of all the sales activities upto date. Thus it becomes easy for the salesperson to approach the clients or customer in better ways.
5. Customer Satisfaction
Customers are the lifelines of every organisation. At present customer satisfaction is one of the most essential aspects of any business. Customer satisfaction not just helps you to maintain good relationship with your customers but also increases sales as they will come back to you everytime. But you may not be aware of the problems faced by customers. Customers with open complaints are with low satisfaction rates.
Thus, with the help of CRM system you can take targeted approach to customer experience management. The online CRM software provides you these benefits in order to maintain customer satisfaction with your customers or clients-
It will be easy to identify customer needs and requirements
Enhance customer retention and satisfaction
Manages and stores customer information
Track sales leads and sales orders
Sales Forecasting will be easy
Read our blog – How CRM Boost Your Customer Service & Overall Customer Experience
6. Missed Sales Opportunity
If you are maintaining customer records manually and you tend to lose it unfortunately. Thus, it becomes difficult for you to collect the details from scratch again.
By implementing a CRM system you can keep track of each and every lost customers. You can also maintain a record of the conversation held with the clients or customers.
You might have seen your employees spending loads of time in preparing reports. Are your sales reps able to meet the sales target at the end of the month?
The cloud based CRM software provides automated reporting and MIS features which makes your work easier. You can generate customized reports based on your requirement. These automated reports reduces the time spent on preparing the reports and also eliminates the manual errors.
Read our blog – 3 Reasons why CRM and Cloud computing is critical for your business growth?



There are also other signs which will show that your company needs CRM software :
Breakdown of collaboration between the departments
Sometimes the departments get so much preoccupied with the day-to-day work that they will start to lose track of what other departments are doing and also how they impact one another. While the potential customers are interacting with your company, they might feel bounced and misinformed because no one is sure about how to handle the needs of customers.
CRM will allow everyone in the organization to get a look at the lifecycle of each customer and exactly know how to address their needs. This type of visibility is often accomplished through features of CRM like file sharing, dashboards, etc.
Your Sale reps are spending too much time on mundane tasks
Sales reps spend 65% of their time on mundane, administrative tasks and only 35% for selling the products and services. This is a waste that hurts their bottom line and yours too. Choosing the correct CRM will help the organization to automate many of these tasks, hence increasing productivity and also output. It also puts the vital customer's data in the system instantly which will also reach others in the team, this can help to make the transitions like change in the sales reps or the reassignment of territories seamlessly.
With many CRMs, there is also a third-party sales software that can be added to expand the value of the CRM which is specifically for the sales team. For example, software that makes working within the CRM easier might increase the adoption of its uses and the solutions which are designed to improve the sales pipeline management increases the accuracy of the sales forecasts and will also help to identify higher-value opportunities which can become game-changers.
As you weigh the pros and cons of adopting an online CRM software, it's important to consider the potential dangers of manual sales and marketing workflows as well. Working with a CRM software puts you in a position to streamline interactions between departments, improves and customizes your client's experience and increases in the productivity and revenue of the company.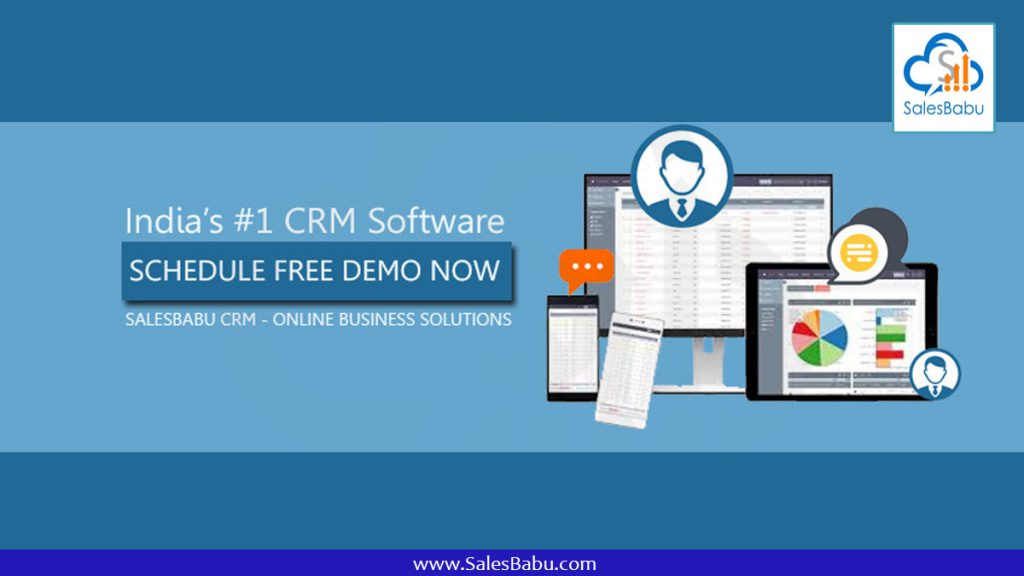 Thus, the implementation of CRM software in the business strengthens the customer relationship with customers, clients and also provides valuable business insights in order to accelerate growth of the business. If you are still not using an online CRM software to enhance and transform your business, get a cloud based CRM software right now! You can visit our website https://www.salesbabu.com/ for further details. Request for a free demo at SalesBabu CRM Solutions.