Prima Facie, it is believed that Cloud CRM Software has been designed and developed for Sales People. Sales Managers adopt it as sales force automation software. This sales tracking software not only provide them a centralized data, but it also helps them to monitor sales activities of each sales representative and complete process from one place. They can get quick reports for strategic decisions. If they are using CRM they can make calculative decisions and optimize staff performance and get more sales.


But when it comes to B2B representatives ( Sales Representatives) they mostly have love and hate relationship with CRM, with few mindsets. They believe that CRM is just another tool to keep a watch on their activities by their managers. It will eat extra time for data entry, for which they will not get paid and initially they had no clue how exactly CRM is going to get the extra sales.
Cloud CRM System Software is an excellent tool that helps you increase sales. Experts consider that a software to track sales not only help sorting your big data; but also help you come closer to your customer with their specific needs. You make better relations and loyal customers. Here's how:
Enhance Lead Management: Companies spent lots of money on marketing and generating leads; but if you delay or not nurture those leads on time with correct means you will not get the desired sales. With Sales Lead Tracker you can qualify high-quality leads and optimize your sales funnel. Cloud CRM System Software help you sorting your leads according to your priority and auto reminders keep you get going according to those priorities without failing ( delay). 
Easy Access to Information: Cloud CRM system provides access to sales content and leads data wherever you go. You may connect to your precious data from Laptop, Desktop, Mobile, Tablet, whichever is connected with internet and log-in to your space to check the information you need. Cloud CRM enables you to store files on Server which can be downloaded, forwarded or edited online, such as quotations.  
Boost collaboration: Sales and marketing both are pillars of any company and CRM boost teamwork between them. CRM help companies align their sales and marketing activities by improved communication- as it is believed that miscommunication is the most common source of inter-departmental conflicts. With cloud CRM Software both sales and marketing can enjoy greater efficiency.  CRM gives dipper insights to mangers for calculative decisions. With sales and marketing collaborating together to define the lead generation, sales nurturing and scoring strategies, successful organizations create bridges between strictly differentiated departments. Instead of working for different goals with unclear expectations of one another, the teams can begin to work together to generate ideas, reduce bottlenecks and inform the business's understanding of its customer base.
Improve customer engagement and customer experience: Knowing customers is easy with CRM, making the right offer at the right time, improved customer response and faster resolutions, correctly respond to customer needs. With the help of centralised data and easy access to information stored in CRM, you automate few communications like happy anniversary emails, payment reminders, document reminders etc. You can also use CRM to send periodic emails like offers, festive discounts etc. These communications keep the customer engaged with your company. 
Manage complex data effectively: Keep a finger on the pulse of your business with insights into key metrics and KPIs. When you use pre-format for entering the data, you have uniformity in information presentation, this helps you easily understand what is your data, and reports. 
Save Time and Money: Automate tasks like sending multiple quotations, invoices, auto-reminders and effectively target existing customers. Uniformal data presentation not only save time to enter the data into the system; but also, help you read the reports un-mistakenly.
Improve Reporting: Easily generate reports to provide full visibility into performance. Online Sales CRM place a significant amount of information at your fingertips, and this information can be analyzed to produce valuable insights into not only customer habits and interests, but also profitability, pipeline effectiveness, goal progression, sales-conversion rates, and more. CRM that include built-in reporting software, designed to automatically quantify valuable data as it is received, help to bridge the gap between cause and effect.
Easy Installation: A deep-rooted fear with many organizations is that installing a CRM will be a long and complex process but now that is no longer true when it comes to a cloud-based CRM. A modern cloud-based CRM can be up and also running in no time. The main thing you all need is an internet connection. Once you sign in online, you might immediately start using the software and use most of its capabilities. There is no need to set up the hardware, just pay for the server and software maintenance, have an IT person on-site 24×7, or worry about the complex installation, upgrades, or even migration of the data – all these will be taken care of by your cloud-CRM service provider.
Flexible: Different organizations have different CRM needs, a cloud-based CRM will offer a solution that can be accurately tailored for all your needs. While small businesses can start with the minutest features which will help them with their current work, they can add more capacity, new features, and advanced modules as they grow. Cloud-based CRMs can be right away updated to satisfy new needs. In addition, by offering 24×7 access to the system, a cloud-based CRM offers all the employees flexibility and freedom to do what they need to do when they need to do it.


CRM literally helps to boost sales. The study by Innoppl Technologies claims that that 65% of sales reps who have used Mobile CRM achieved their sales quotas, and a staggering 78% of those who didn't use CRM did not achieve their targets.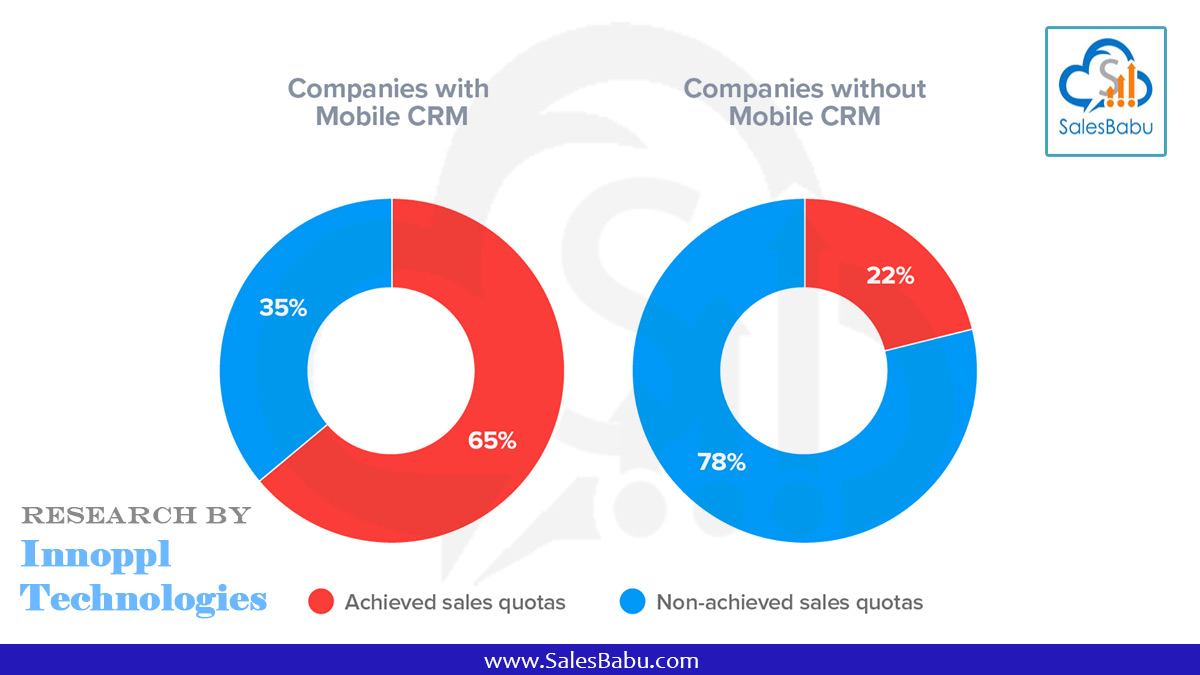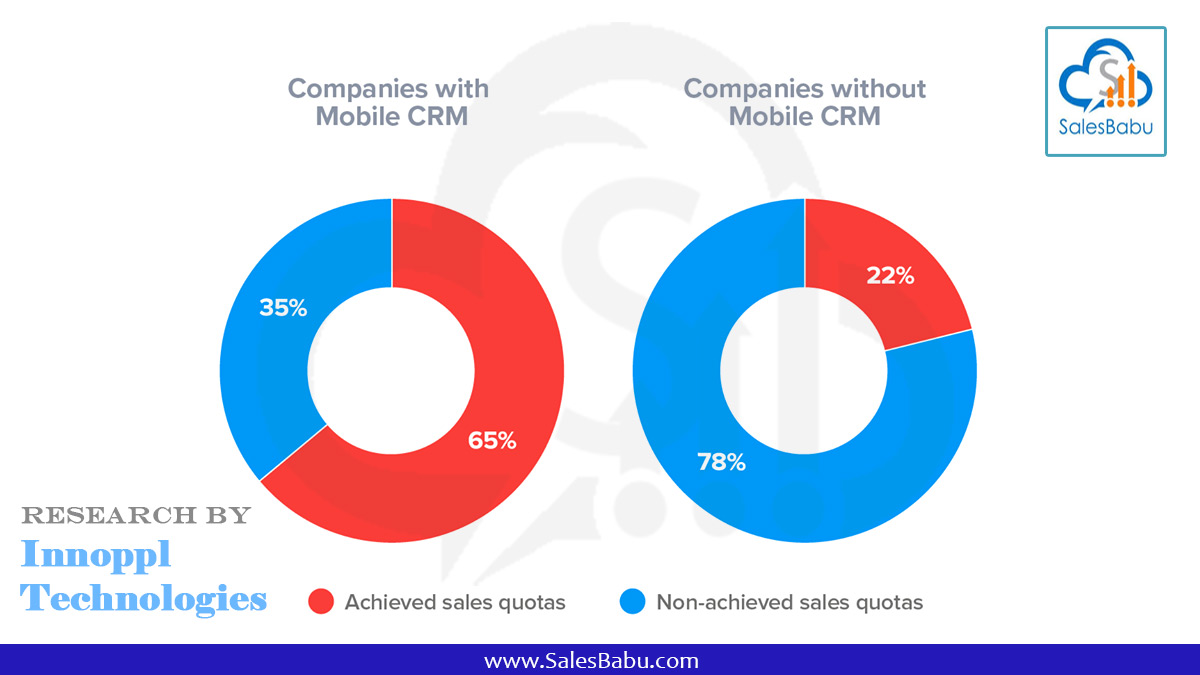 Here the main question arises is How the CRM improve the lives of salespersons and why exactly they need CRM?
Well, within this article I will give you 10 reasons – why salesperson needs CRM?
1. Centralize data storage space: CRM helps salespeople to safely and centrally store their contacts, sales opportunities, activities and scheduled plans in one place, and have uninterrupted access to the database from multiple locations. Rest assured that your data won't just get lost.
2. Spare time to plan and manage: CRM helps salespeople to optimize their daily schedules and prioritize tasks to make sure customers are not ignored and the key prospects are contacted on time. In fact, CRM allows salespeople to spend more time with customers, which leads to more deals closed and a stronger customer base.
3. Easy Activity Reports: With CRM you have access to your daily, monthly Activity and you can get your Activity reports with a click anytime you require. It increases your efficiency and saves time. The benefit of the activity report is quickly knowing what is happening, make informed decisions, focus on what matters, align and organize your work according to priorities.
4. More organized sales leads and opportunities: Leads are the heart of sales. This is first level interaction with prospects which filter later to be opportunities and finally sales. Companies spend lots of money and effort to generate leads; correct nurturing of those, are the only way to get most business out of those. Salespeople first need to collect or generate leads from all the possible resources. CRM makes this task easy for them. CRM can save each lead coming from different resources. The second thing salespeople want to sort out target-oriented leads ( lead nurturing), with the help of CRM you can generate different criteria reports and sort the data according to your requirements. Then comes Opportunity management, where sales pipelines are managed to drag the prospects to sales funnel. With CRM you are getting all your sales leads and opportunities on your dashboard according to priority. That's not only save your time but also you can focus more on targeting.
5. Update Salesforce information anytime: Cloud CRM offers online shared calendars, document templates, and email integration, uniting all team members and keeping everyone up-to-date. Sharing selling patterns and processes allows salespeople to see what works best. CRM also increases communication between the sales force and sales management.
6. Increase new Sales from the existing database: For example, if you know your customer has contacted your service department more than 5 times for the service of a compressor, you might be interested to sell a new compressor to him with an extended warranty. CRM helps you to find out these opportunities easily.
7. Rationalize your sales cycle: CRM helps streamline the entire sales cycle, which results in closing deals in your sales pipeline and helping everyone in the team to reach targets faster. Since order processing and preparing quotes are automated in CRM, sales teams are able to reduce production costs and increase sales revenue.
8. Get closer to your customer: CRM not only has a contact list, but it also helps automatically create customer database with each important date and occasion. You get more opportunities to communicate with your customers. More communication, stronger relationships. CRM is not just finding the right customer for your business, it is making a loyal customer for your company. You get closer to your customers, you know their challenges, you work out the solutions and they become more loyal to you; because you care for their needs. CRM helps you to get your customer engaged with you while you are working on a solution for him for his needs. Every customer wants to be heard and Loved to be treated important.
9. Cut down the repeated task and save time: CRM releases the sales teams from the majority of admin tasks by reducing and even removing some of the repetitive actions that take a lot of time, but yield little profitability. CRM stores product and price details trigger reminders for activities and take salespeople through the sales pipeline step by step.
10. Save Money on Operations and Increase Sales: Even though CRM systems are not cheap, they actually help you save your money! With salespeople, it is the reduction of errors (for example, in orders or quotes) that CRM can help with. Effort and cost related to correcting those errors may be much higher. You save time, make error-free moves and make more sales. Save money and make more sales.
Conclusion:
In short, if salespeople adopt and use CRM correctly, it is going to boot the performance of any sales team and will help salespeople to excel in better search, sort and qualify leads; follow-up on sales opportunities and increase target reach rates faster.
Better search, lead sort and audience identification with the smooth funnel are what salespeople can achieve with CRM if they agree to use it seriously. More importantly, they need to accept the idea of registering activities and following exiting sales practice, they are more likely to achieve their goals. Salespeople must understand the importance of sharing information with their managers and getting the right guidance in light of the information from them.