Generally 9 out of 10 people think CRM is for sales only the main reason is for the same is CRM makes "sales managers" more effective and efficient. Not only they find all the sales data stored centrally; but easily accessible anytime, anywhere. The easy to follow formats allow them to effectively monitor their team working, staff performance, thereby optimizing Sales.
Whereas for managers CRM work as monitoring tool and organizing machine FOR other sale people this is an extra work which keep them away from the main work which is Selling. They think like that because, they need to fill the regular data for reporting and monitoring purpose, though they get benefited from the same other way around; but initially it is quite a work for them.
CRM literally helps to boost sales. The study by Innoppl Technologies claims that that 65% of sales reps who have used Mobile CRM achieved their sales quotas, and a staggering 78% of those who didn't use CRM did not achieve their targets.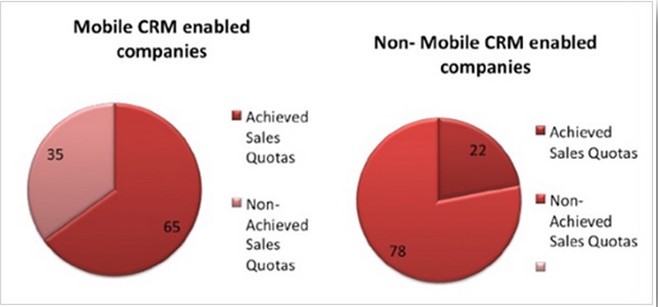 Despite all the "pros", not all sales people seem to be excited by the idea of introducing CRM in their daily routine.
Following are some reasons why do sales people need CRM ?
Centralize data storage space: CRM helps sales people to safely and centrally store their contacts, sales opportunities, activities and scheduled plans in one place, and have uninterrupted access to the database from multiple locations. Rest assured that your data won't just get lost.
Spare time to plan and manage: CRM helps sales people to optimize their daily schedules and prioritize tasks to make sure customers are not ignored and the key prospects are contacted on time. In fact, CRM allows sales people to spend more time with customers, which leads to more deals closed and a stronger customer base.
Easy Activity Reports: With CRM you have access to your daily, monthly Activity and you can get your Activity reports with a click anytime you require. It increase your efficiency and save your time.
More organized sales leads and opportunities: With CRM you are getting all your sales leads and opportunities on your dashboard according to priority. That not only save your time; but also you can more focus on targeting.
Update Sales force information anytime: CRM offers shared calendars, document templates and e-mail integration, uniting all team members and keeping everyone up-to-date. Sharing selling patterns and processes allows sales people to see what works best. CRM also increases communication between the sales force and sales management.
Increase new Sales from existing database: For example if you know your customer has contacted your service department more than 5 times for service of a compressor, you might be interested to sell a new compressor to him with extended warranty. CRM help you to find out these opportunities easily.
Rationalize your sales cycle: CRM helps streamline the entire sales cycle, which results in closing deals in your sales pipeline and helping everyone in the team to reach targets faster. Since order processing and preparing quotes is automated in CRM, sales teams are able to reduce production costs and increase sales revenue.
Get closer to your customer: CRM not only has contact list, it help automatically create customer database with their each important dates and occasions. You get more opportunities to communicate with your customer. More communication, stronger relationship.
Cut down the repeated task and save time: CRM releases the sales teams from the majority of admin tasks by reducing and even removing some of the repetitive actions that take a lot of time, but yield little profitability. CRM stores product and price details, triggers reminders for activities, and takes sales people through the sales pipeline step by step.
Save Money on Operations and Increase Sales: Even though CRM systems are not cheap, they actually help you save your money! With sales people, it is the reduction of errors (for example, in orders or quotes) that CRM can help with. Effort and cost related to correcting those errors may be much higher. You save time, make error free moves and make more sales. Save money and make more sales.
In short if sales people adopt and used CRM correctly CRM is going to boot the performance of any sales team and will help sale people to excel in better search, sort and qualify leads; follow-up on sales opportunities and increase target reach rates faster.