Online CRM Software and Salespeople are in Love and Hate Relationship – As CRM loves Salespeople; but Salespeople Hate Online CRM Software. Let us discuss this statement in this article.
Being an Online CRM development and distribution company SalesBabu CRM come across many such companies who accept that previously the CRM implementation in their companies has failed because Sales Team doesn't maintain its record in it. They don't enter the data. They do not enter the correct data. They don't want to learn how to use it, they are happy with their excel sheet. Ultimately, entire system fall down because we did not receive the initial input at all or correctly from Salespeople.
Sean McPheat, MD of MTD Sales Training, believes that the challenge that organisations face are the various natures– salespeople love interacting with people, not with CRM programmes. According to him " Salespeople like to meet 2 extra people or make 10 extra calls instead of entering records in computer/CRM system" because, they believe that this increase in their prospects of making sales, which is going to pay them money ( the paychecks).
Moreover, most of the time "Sale" is considered as an individual effort that is getting the payment to a salesperson and sharing the record with anyone makes him insecure losing his hardcore money with others, which certainly – you also would not like to do. Well, this is one of the mindsets which I will be discussing with you later on. Though, there are many other mind sets behind not using CRM by SalesPerson.
They see the sale as a personal success.
They don't want to see the benefit of information for organisations.
They have a risk of losing prospects
They have to work extra hours for managing records in CRM
According to one more mindset – CRM is a tool for a manager to drill down into their work, they cannot freely work if they use CRM.
"Rather doing sales I am doing data entry and making reports." is the most common thought we receive while we ask a salesperson to use Sales CRM App
All the above mindsets revealed by different industry experts have one thing in common – Sales People Hate Cloud Sales CRM – because
They do not want to share the information they have,
They don't want to spend extra hours doing data entries,
They want to work freely rather than working in the continuously staring eyes of their managers.
They love to have all the credit for their Sales and get extra paychecks for the extra business they make.
This is the Hate Story of Salespeople against CRM. Now See How CRM Love Sales People?
No doubt traditional sales handling methods have been fruitful since ages; but, with the revolution of social media and many other ways to generate leads, you need to have an updated system which can cut your labour cost and maximize the profit, while shaping a customer experience that lift your reputation.
SalesBabu as best Cloud Sales CRM covers campaigns, lead management, opportunity management, orders & invoicing, and even customer service. This online sales CRM software shapes your user experience around the feel of social media while giving you relevant metrics and in-depth yet easy-to-understand reporting.
What Online Sales CRM to do for Salespeople?
Online Sales CRM acts as your personal assistant, which not only helps you organise your big fat data; but also streamlines many related processes to make smooth functioning and achieve customer satisfaction on each level ultimately making loyal clientele.
Organise Complex Data: Customers today need 0% response time, without a 360-degree customer view it is impossible, which excel sheet cannot help… sorry, but it is true. Salesperson is the first face of the company in front of customers, and customer judge company – how much they know about their needs and care about them by salesperson knowledge, behavior, and gestures.
Uniformity in Record format: Each customer data is fed into the system in a uniform manner, which helps a salesperson to understand quickly what is the exact meaning of information recorded. And when he needs to enter the records, it is easy for him to remember where and what needs to be filled.
Cloud Sales CRM: It is just another name of online sales CRM. Sales CRM System hosted on Cloud Hosting platform is called cloud sales CRM. It facilitates you to log in to any internet connecting device, log-in and start using your CRM system. You get all your software updates and data anytime, anywhere.
Mobile Sales App: This feature of Cloud Sales CRM, enables you to use a specific easy, user friendly mobile version of Sales CRM App on your mobiles. You can record your conversations, send quotations, mark followups, quick view opportunities and also see a few reports on your mobile with this application.
Sales Tracking App: Online CRM Software does have a feature of sales tracking app, which enables you to have stronger overview of your sales activities, business transactions and what is working or what is not working. Your decisions will be more data-driven. You can analyze what product is actually required more attention and providing more sales. With the sales tracking app you will see how people are making the decision to buy your products and letting you see what seems to be the clincher – and the killer.  
Activity Management: This activity management feature will make the life of sales reps by having a record of all their activities which includes performed and also scheduled ones. This functionality will reduce the chance of missing the opportunities. It also helps to keep a track of all the scheduled meetings, tasks, calls, etc, and provides a comprehensive view so that nothing will be left unattended. Moreover, you will be able to utilize the CRM and Telephony integration to easily make the calls and provide the best customer service. 
Sales Forecasting: CRM will provide management mechanisms with real-time data which can be analyzed to optimize the performance of the organizations. By keeping track of the data sets which are related to case times, revenue per call, call volume, up-sell rates, etc, managers can frame up the strategies by purchasing the Sales CRM to retain all the clients and increase the sales.
Email Tracking: Sending email campaigns to all the customers and not knowing that how they received on the other end might be dejected. With the email tracking feature, sales reps can have full knowledge of who opens all their emails. With access to real-time data, you can act instantly while your leads are still hot.
Read our Blog How to Boost Employee productivity


How Sales CRM Help Sales People to Sell Smarter and Faster?
Online Customer Relationship Management Software – in first glance is known for centralised data sharing system, which enables you to not only share data with other users who require similar information, also you can generate many reports, and this enables Sales representatives take more Calculative actions rather than assumptions.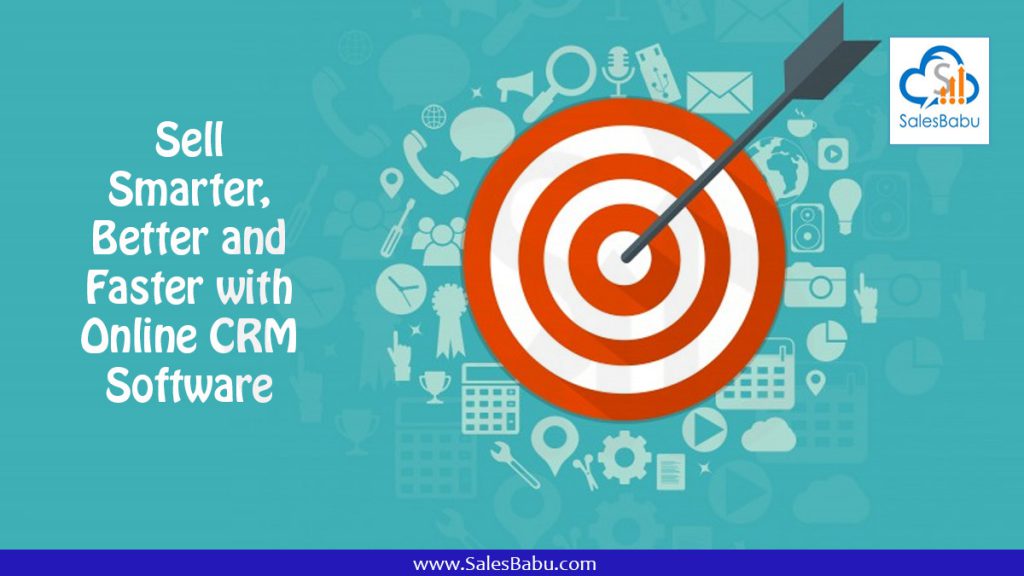 Cloud Sales CRM Software help executives in many ways like:
Greater Insights: With maximum data in one place with reporting capability you can access the required information even on your mobile sales app, this speedup your response capacity and increase your efficiency.
Higher productivity: With online sales CRM software you get facility to access sales data anywhere and update any information from internet connected device like mobile, laptop, desktop, tablet. This helps you to quickly respond to your customers, and ready made quotations, invoice facilities decrease sales closing time and thus increase your productivity.
Shorter sales cycle: From lead generation to sales closer, you can track all the sales activity in your Sales Tracking App connected to Online Sales CRM Software. You can quickly see your opportunities, follow ups and high priority leads and take actions. Automated emails reminders and many other automated processes makes the Sales Cycle shorter then you manage without CRM.
Increased revenue: Because of shorter sales cycle, quick response time, increased efficiency, you start getting better sales and this increase revenue. Your customers are happy and they became loyal as the communication grows with them.
Read our blog Implement CRM to boost your revenue
Marketing and sales alignment : Marketing and Sales are two pillars of any business and they cannot work without one another. Marketing generates leads and Sales nurture them to get revenues and make loyal customers. CRM help in both ways. You can collect each and every lead generated from different marketing campaigns in your CRM Automatically and Sales Team use this data as ready Sales Data for The Sales Activities. Sales Team then use the same CRM Software to nurture the leads and generate Sales and make customer relationships too.


Read our Blog How to streamline your sales process and increase your revenue
How We can make SalesPerson Love CRM?
New Generation is not as difficult as they are using many applications and already aware of the benefits of using the application in daily routine. Yes when it comes to recording the data entries or sharing the leads, the case remain the same. Still, we can do the following to increase the chances of Online Sales CRM acceptance from SalesPersons:-
Consider the Trial Period: Nobody is an expert from day one when it comes to using new software, so consider a trial period even while you expect someone should use CRM, entering records, sending quotations, invoicing, etc. Let them be comfortable using the same
Involve them from starting: If you are introducing CRM for the first time in your company then involve the Sales Team to search and try different Sales CRM's from starting and take their views on them. This way not only they will feel important, but they will also know the software from the very first day and since they chose the same, they will love to use it.
Provide proper training to them: Please understand Salespersons are generally not technical enough to use any software. They are being trained to sell the products with set specifications in the target market. Their main skill is Selling, for using the software they need another specific training up to the level of their understanding.
Educate them about the benefits of using Sales CRM: Selling is their job and getting their paychecks. If they spend time making records and using the software, they run short of time to make more calls, visits. According to them, they can utilize that time making more opportunities than making records. You need to educate them about how Sales CRM Software helps them automate the sales process and speed-up various processes like quotations, invoicing and reporting. How follow-ups, automatic reminders, and opportunity management to help to sort their time management.
Give them incentives: The sales team loves to have incentives and if you give incentives for clean records, quick and accurate reports, the more loyal customer they will love to use the CRM system and maintain further records.
Conclusion:
Though, we see Salespeople and CRM have a love and hate relationship; but as discussed above – by using small tips a company can achieve Sales CRM adoption by Sales Persons and they will start loving to use the same. It is mandatory to have their opinion while shortlisting a software, because they are the one who is actually going to use it , then only company can have other benefits of CRM. It is also understood that like any other new software – CRM also takes time to be understood by non-technical staff, so it is also important to give them time and space to understand the working and benefits of CRM software. Sales stands for money and Sales people love incentives, it is also important for a company to offer incentives to their sales team for correctly and regularly using CRM and keep the data uptodate.