We travel for many reasons. It can be for recreation with the family, official team outings, tourism purpose, can be for vacationing, all is to go one place to another, during these holidays. Some they book the tickets or plan their program self, but majorly people they approach travel Industry who cater to tourism activities. They are known as travel agents and for them it's a business. They suggest the travel packages and plans taking people out of their home environments to other leisure locations. The Travel Industry facilitates and enhances our travel experiences in the form of hospitality and transportation services like cars, railways, airplanes etc. Majority of the country's economy is dependent on the travel & tourism business, because the travel Industry is a significant sector for revenue generation.
Travel agencies' as an agent who is selling travel products of the different vendors – who provide packages, boarding and lodging facilities, cab service for travelling to see sightseeing places. These agents maintain the records of the pre booked hotel rooms or cabs for pick up and drop, also the events organised for weddings, honeymoon, company meetings or staff outings.
The travel houses help their customers to organize travels by air, rail, road & water. They seek activities that satisfy the rejuvenating & recreational needs of their customers. They organize travel tours in many countries, states, provinces, or districts. These travel houses have access to destinations and activities with acceptable infrastructures in the form of good accommodations, facilities, and transportation systems.


Efficiently & effectively, travel agents serve their customers, so that more customers have faith in the travel agent & his services. Hence, travel houses started adopting the travel agency CRM, which helps them effectively entertain customers enquiries, but easy tracking of the information about the customers and their bookings.
A travel agent needed an online travel CRM to manage the demands of the customers anytime, anywhere. Travel agency CRM software, helping the travel agents to work collaboratively with their teammates on a single platform and streamlining the complete sales process. In the travel CRM lead management, order booking management, travel coordination, managing the hotels, managing the details related to packages, daily follow up and many more is possible.
Travel CRM is being used by the travel Houses because it increases the sales and all the customers enquiries are properly followed.
Read our blog
Features of Travel-CRM:
Customer's Database : It allows tracking all available information regarding a customer, travel itinerary, pre-sales and post-sales communication. By the help of travel agency CRM software, travel agents will be able to cater customers more effectively.
Assigning the Leads : Whenever the leads are registered and said lead is related to the particular region, then it can be allocated and assigned to the said sales person. Giving the sales person access to an online travel CRM, where he will focus on the enquiry, get the requirements and review the next proceedings.
Multi-Branch Access : Since, the travel agency CRM is based on Multiple User based model & moreover it is online, it can be logged in by many different users, anytime & anywhere. If in case any travel set up has multiple branches, then, it will be very fruitful for them & it also helps in internal coordination.
Email campaigns for marketing mailers : With the help of travel agency software India, travel agents can send bulk emails to the existing loyal customers, by providing the upcoming Tour packages and tourism plans.
Managing from Enquiries to Booking stage : By using the best online travel agency software, enquiries progress seen, after the several reviews done with the customer by the travel agent. Gradually, these leads move to the sales funnel, wherein it is getting filtered and prospective cases are moving to the booking stage. In the booking module a travel agent fills the necessary details about the package and trip, hotel and clients arrival details.
Follow-Up Management : Travel agency CRM software helps to make reminders and activity follow ups for any particular customer, which makes the whole process more active & never break the cycle of continuous follow up of a customer.
Customer discussions history maintained : Number of times the interactions happening with the customer which is done daily basily over activity, and those records are well maintained in the customer account. By accessing the customer information in the online travel CRM, all the information related to his contact details, past discussions and which package holiday he has booked can be availed.
Customer related Documents : In the travel agency CRM software, saving of the important documents like identification proof ID, address related documents, passports into the customers account.
Maintain Customer Relations : In the SalesBabu travel agency CRM, it has this convenience to store each & every details of an individual customer at one single platform, even carry the details of personal events of customer like, birthdays, anniversaries etc. It helps you to maintain cordial relationships with the customers.
MIS & Reports : By the help of travel agency CRM software, Travel set-up can track down all the reports related to customers, bookings done/cancellation, payments collection & moreover, the overall performance of complete setup.


Benefits from the SalesBabu Online Travel CRM Software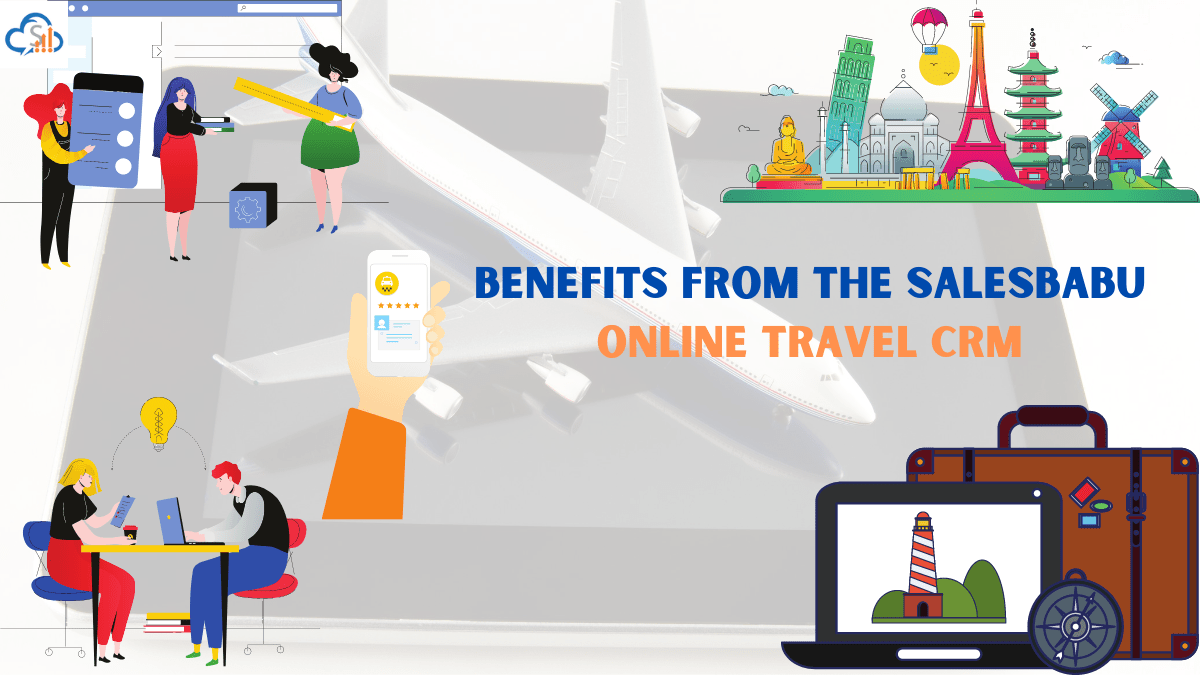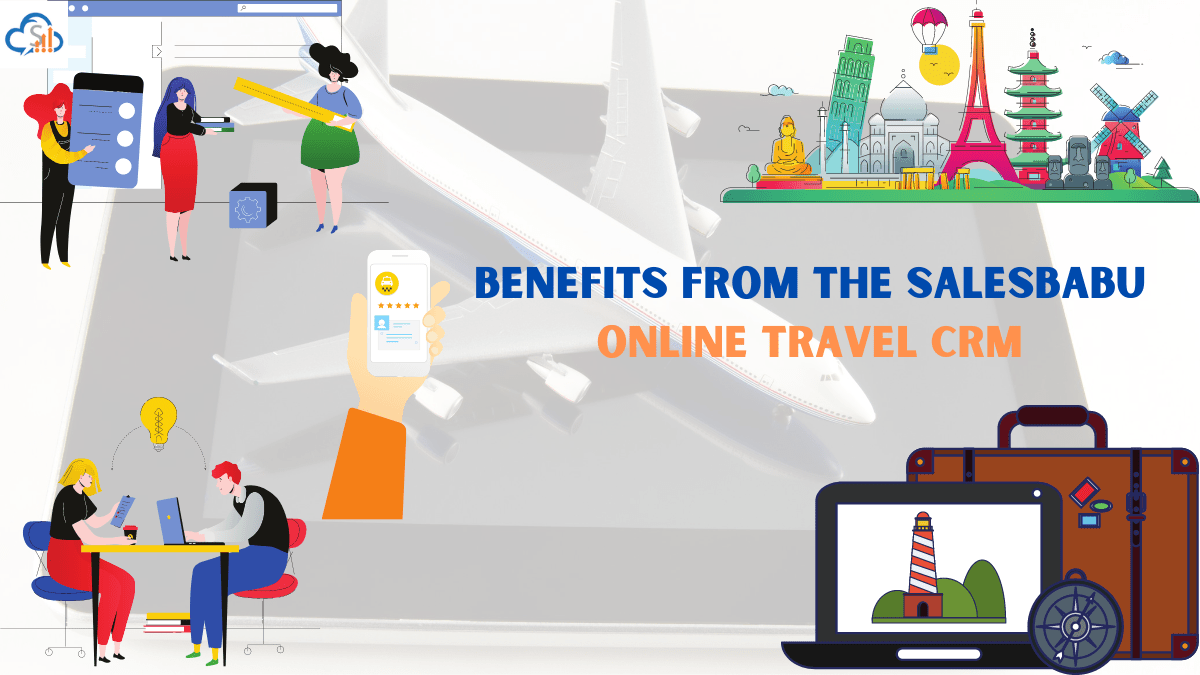 Organized way of lead management and allocation to the sales agents.
Maximize the sales follow up by the agents for the productivity
Everyone uses the single window solution and are on one platform working collaboratively.
Centralized data storage, able to access from anywhere, anytime.
Enquiries – follow up scheduling and meetings assigning.
Through the email marketing campaigns, get more reach to the customers.
Read our blog
Benefits of CRMs for Travel Agencies
Personalized Traveler Experience
Each and every traveler is different, with their own unique interests, preferences, and choices. Some travelers will like to explore the wilderness and stay in a peaceful habitat, while some of them enjoy the buzz of big cities and want to be close to the local festivities or open marketplaces. As travelers' ideal vacations are very much different, the experience they receive from your company must also be unique to each of them.
With the help of a CRM tool, you will be able to easily understand the key preferences of your target audience, allowing you to customize or personalize the experience that you offer to travelers. For instance, you can offer relevant recommendations to a specific traveler based on their interests or past destinations or even modify your communications based on their tastes.
Increased Number of Customers
Your travel business will only grow if customers find it useful. Having a CRM will not only help you keep your current customers happy, but it also puts you in the best position to land new ones.
Improved Customer Experience
With a travel agency CRM, you will be able to easily determine the wants and needs of your current customers and target audience. CRM software contains a considerable amount of information about customers and your target groups, which you can use to enhance your customer experience. Having detailed records of previous interactions will help your staff to provide personalized customer service and more effective sales and marketing pitches.
Conclusion
SalesBabu is providing the solution to a travel agency software India, to help the Travel Industry to manage their customers' travels and bookings. With the usage of travel CRM by the travel agents, they can have a good client's experience in providing the incredible tour packages and also see the teams operational efficiencies are doubled.
By using the best online travel agency software – travel agents are able to manage and streamlines their sales agents. It also helps the travel agencies to work smartly, responding faster and providing the packages accurately as per the customers budget. SalesBabu travel CRM is providing a fully automated solution and helping the travel agents to have the customers' information instantly anywhere, anytime.