SalesBabu CRM – (On–Demand) Web Based CRM Software
SalesBabu CRM (Customer Relationship Management) is a Cloud Based CRM Software. With a focus to sales management, the software enables sales team to capture enquiries, facilitate validation of enquiries, allow en-number of follow-ups with customers and helping you to capture maximum information about customer needs. SalesBabu CRM enables the organization to manage multiple contacts for the same customer, provide record interaction remarks and customer transaction history. This enable organization to create its own Customer data without any additional Data Base Management System Cost. SalesBabu CRM enable companies to track and analyze their sales team's productivity on a daily basis, so that organization can predict on their sales funnel and accordingly they can plan demand and supply. CRM System enables companies to track their leads and its sources, route the leads to sales person, this provides an opportunity for planning and strategies for future improvements in your business process.
Why SalesBabu CRM Software?
CRM industry is a vast industry where there are multiple options on the market and it is quite difficult to judge which online CRM will fit in your business processes. Customers always believe on a proven track record and trusted infrastructure. As obvious customer satisfaction is an essential key to enhance any kind of business.
CRM is an important component for the business strategy which will enable all the business to keep track of all the customers and interact with them. Implementation of  CRM software is a complex and little complicated process as it requires keeping track of lots of moving parts.  CRM software will certainly help with this but you should need a plan to make sure that you are using software to create a CRM framework that will support your business efforts.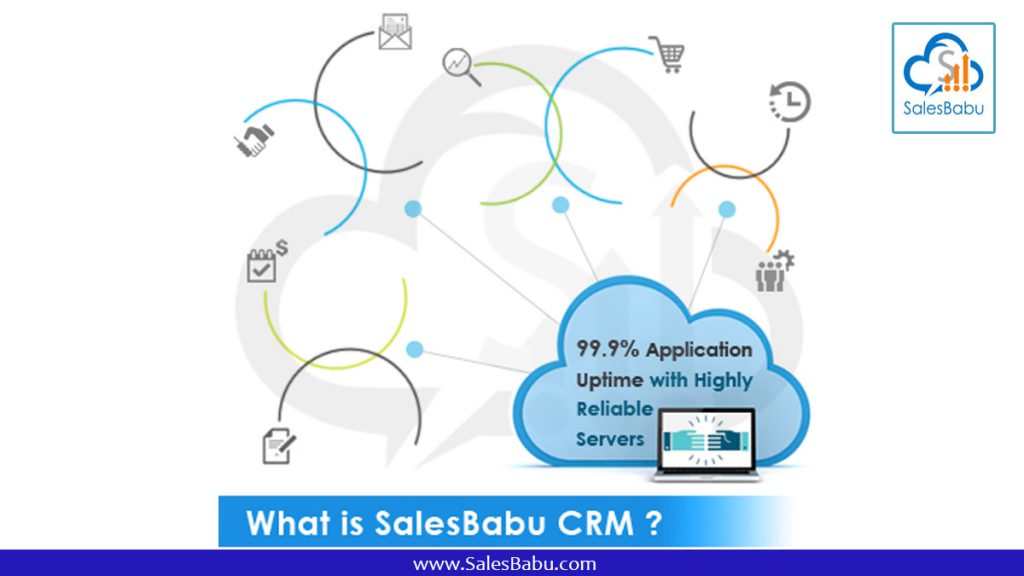 What SalesBabu CRM delivers towards the customer satisfaction?
99.9% application uptime with highly reliable servers
Data access in less than 350 Mille Second to ensure high performance
Guarantee data security on highly Reliable Servers & Data Encryption Algorithms
No IT Infrastructure Cost
Fast Implementation
24x7x365 Days robust Technical Support
All Standard Application Upgrades @ no cost
Read our blog – 8 Reasons to choose cloud based CRM for your business



Benefits of SalesBabu CRM
SalesBabu CRM system allows companies to keep a vigil eye on their Sales business processes, so that they can easily manage customer data, manage customer inquiries ,enable sales team to do Customer follow ups and for Customer order processing.
Lead Nurturer
SalesBabu CRM system is best Lead Nurturer and it does allow you to manage, find the crux and potential customer in to vast inquiry pool. This helps you out with the bifurcation of valid & genuine inquires to increase more business.
Accounts Handling
SalesBabu CRM software enables companies to handle client accounts with its data on a single screen without any hardware storage, which reduce the Data Handling Cost. This also helps organizations with data Complexity and data Redundancy at their end.
Task Management
SalesBabu CRM software enables companies to create follow up activities with customers and get automatic reminder alerts on same. This help you out with the scheduling of Pending Activities and enable you to create future activity for the same and get closer site on all the business activities.
Quotation & Order Handling
SalesBabu CRM software enables companies to manage their Sales Quotations more easily & effectively. SalesBabu CRM system helps you out with the problem of quotation management because poor quotation management leads to poor follow-ups leading to almost 50% of your business. This helps companies to manage customer's orders and enable them to see sales order analysis @real time window.

Read our blog – Why Every Business, No Matter the Size, Should Use CRM Software
SalesBabu Online CRM Software records and monitors each and every activity of a sales team. Manages all details which are related to leads, measures abandonment and close rate. Guides sales team to adopt a focused approach to achieve sales target. SalesBabu CRM software enables you to categorize customers in all the possible criteria. You can register date wise sales, region, sales details of products to never miss an opportunity. SalesBabu Online Solutions is basically a cloud based CRM software. It can be accessed from anywhere and anytime from any corner of the world. And it is also cost effective as no IT infrastructure is required to run the software application.
The SalesBabu Cloud CRM software is not just providing the best features for the business to enhance its customer relationship but also making things easier and quicker for the sales and marketing reps.
Read our blog – Why You Should Invest In CRM Software


SalesBabu CRM is more advantageous because of its ability to manage and access data from anywhere you are located, Data Encryption Algorithms security model, reduce the computer hardware dependency, and It get fits to all industry verticals easily. The final word about the use of cloud based CRM software to grow business is to enhance the business activities, save money and time, be aware of the complexities faced by the customers and stay ahead of the competitors in the game. The cloud CRM application can be used in your smartphones with a single click and you can be more productive throughout. If you are still not using a cloud based CRM, then visit our website https://www.salesbabu.com/ at SalesBabu CRM Solutions and request for a free demo. You can also have a look at our emerging trends at SalesBabu Online CRM. We assure you to provide quality work and you will never regret investing on our cloud solutions. 
Some Trends of CRM:
Handling Big data – As the data penetrates from the multiple channels with high velocity, variety, and volume, the CRM solution provider explores how this big data can manage well and be able to use it effectively.
Creating the best customer experience – The life of everyone is not segregated between the black and white moments, but for customers and businesses, it is. The customers remember the business products with the best experience and worst experiences. The businesses that use CRM are now placing the activities related to satisfying the customer and making them feel good at the top of their priority lists. 
CRM software systems with wearables -The wearable is a device that is worn by consumers to track the health of them and fitness information. If all the CRM applications are integrated with wearable devices then it will be beneficial to have real-time information of the customers and access their account data. The businesses can be engaged effectively with the customers and also can discover the opportunities selling the products and enhancing their relationship with the customers.
Shifting to cloud-based CRM – All the businesses are preferring cloud-based CRM software to overcome all the problems with this CRM software in which each and every new feature development needs an expensive upgrade. This cloud-based CRM software helps to lessen all the burden businesses on investing in the infrastructure.