Many latest technologies are arising each day. Cloud-based technologies are one of them, they have many benefits which are helpful for any business organization and company. These cloud-based technologies save a lot of time, effort, and resources for many business organizations and enterprises. When these technologies are utilized wisely and to the fullest, they increase productivity and improve business operations.
Going paperless is taking a step forward towards automation, fast execution, effectiveness, and progress. When your business organization has got the right tools, then your business will be able to store, manage, and analyze huge amounts of data and information in one place. The SalesBabu CRM software tools are one of the ways that can help your business organization in automation and progress with effective business operations.
To increase efficiency and run your business well, you need to start automating things rather than just the manual work. Many technologies help your business in automation. Hence, making wise use of the latest technologies that include cloud-based technologies will be very beneficial to your business organization to grow well and run business operations effectively. With the SalesBabu CRM software, achieving the task becomes easier, flexible, and more effective.
Read our blog – 5 Best Practices of Automation in Customer Support
Advantages of automation in business operations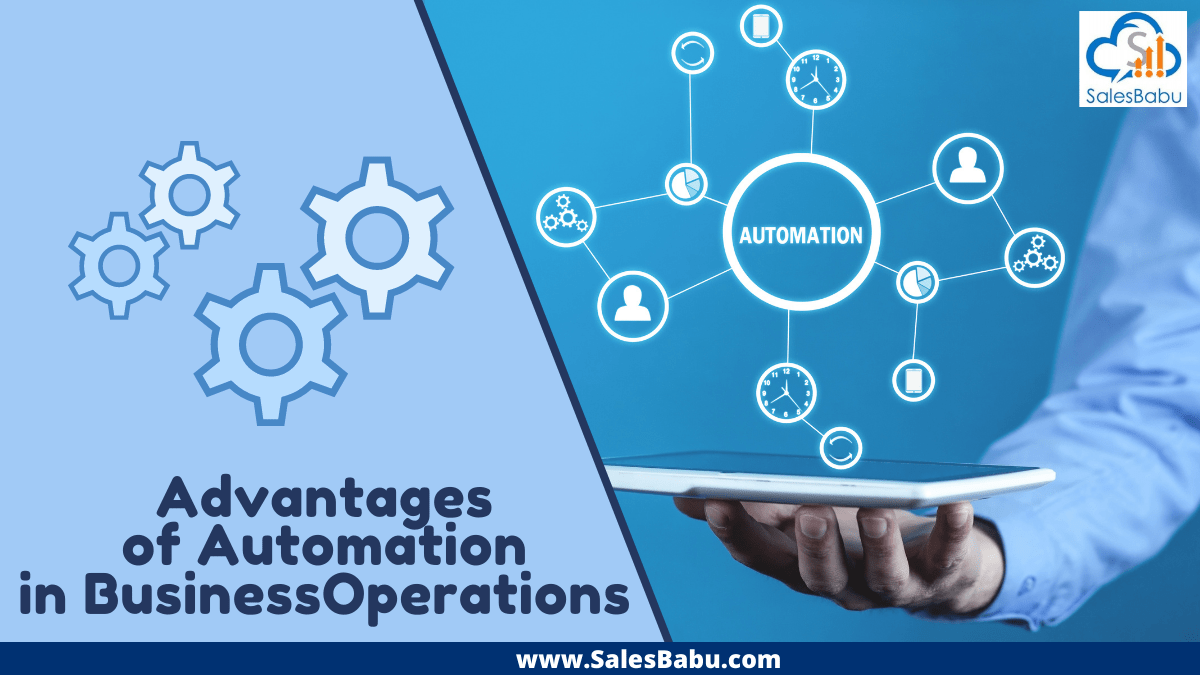 Cost-Effective
When your business organization has decided to go paperless, there are many advantages. Reducing a lot of expenses is one such advantage. The cost for the machinery, paper, ink, and documentation will be completely eliminated. When you start using cloud-based technologies instead of paper, you will be able to store every data in the cloud and have access to it 24/7. You will be able to deliver these documentations overseas without the requirement of any postal service. You can use the monthly or yearly subscription services and keep a record of all the important data. This will help you reduce a lot of cost expenditures and improve your revenue system.
Easy to Retrieve
When your business organization has decided to use cloud-based technology for automation instead of paper, you will have many benefits such as easy access to documents, customer information, and all the other important data and information. This will save a lot of time and effort for your employees making them more autonomous. While working remotely, the data and information will be more important than usual. As everything will be updated in real-time that helps your employees to view updated data and information on their respective screens. This will increase the speed of work and it will help your employees work more efficiently and effectively. This will help your business grow well and accomplish tasks more easily and fastly.
Read our blog – How Field Service Automation Enhances Efficiency with Reduced Costs


Speeds up services and operations
Automation helps to speed up things and complete the business operations effectively. Without the intervention of human help, the output of the previous stage process or operation can be shifted directly to the first stage of the next process or operation. Many business processes can be done or completed without any delay in the workflow since the cloud-based technologies allow access to the important data at any time, this feature helps to prevent any delay in your business process or operation. Hence, this increases the speed of services and operations allowing the work to be completed in time. There is another added advantage when your business organization has decided to go for automation, you do not have to monitor your data and information constantly. Even though there is no human intervention to overlook the business processes and operations, the tools will function overnight and get the work completed. Hence, making proper use of the automation in the cloud will boost your business operations and processes.
Increase in productivity
When your business organization chooses to get automated, most of your business processes and operations will save you a lot of time, this helps you and your team to focus more on other important tasks. Now that the tasks are distributed well, more work will be accomplished in less time compared to before automation. Hence, this will increase the productivity of your team and business. This will in turn help your business grow well as more work is being done in less time. This will increase your business deals and help you grab the attention of more people. With this, there is no need for you to increase your staff too. We humans can cause errors while doing a task, but with automation, many such errors done by humans can be reduced. Automation has the capacity to reduce error, complete the task in time, help you yield more productivity, and overall helps your business grow and grab more deals. This will in turn help you increase your revenue. You can use the analytics tool to oversee the productivity rate and improve the parts where required. Hence, making good use of the automation software and tools will help your business grow.
Read our blog – What is a Sales Order? The Benefits of Sales Order Automation
Increased security
If you choose to automate your complete business, you will reduce the risk of losing important customer data and information. When you choose to use cloud-based automation technology, you will be able to enjoy the benefit of all your information saved as backup. The users of the cloud-based automation technologies will have their important data and information protected by multiple layers. The automation technology has a strong authentication system with unique passwords that will protect your important data of customers and business. The automation system provides more security compared to before. Since the data is backed up, you will have to worry less about losing important information. Therefore, the important data and information of your business organization will be protected and safeguarded more than usual. Hence, adopting cloud automation technology to your business organization will be very beneficial to your business and will boost your business processes and operations.
Promotes Collaboration
Collaboration is an attribute of any thriving team, within or outside a company. The cloud improves it by enabling groups to work all together on projects with the help of technology, instead of making paper copies for every member in the staff. Hence, documents organized in the cloud can be accessed only by those with the accurate authorization, which displays that there's security with any kind of information in the system. The staff members can look into the project through the cloud either within the similar room or remotely, and work all together irrespective of their destination.
Those organizations unraveling to streamline their operation and enhance their workflow environment with technology, document management software with the facility of cloud integration may be good enough for the investment. Those companies that transform to paperless become greener, much more efficient, and better able to deliver prompt solutions for their clients and employees. As the technology continues to grow, so do programs that promotes the paperless offices, as they're always enhancing by integrating the latest features and advantages.
After your brand introduces cloud-based helpdesk software, your customers and agents do not have to go through lengthy forms and then print the documents on sheets of paper. Implementing digitization allows your brand to significantly decrease its carbon footprint.
Along with digitalization, a person no longer has to invest in hefty file cabinets to restore valuable information. Hence, digital storage can be wound up in seconds, and retrieval includes rapid computer research. Trimming down the employees work hours spent on menial jobs is significant.
The advantage received from innovation, prompt provisioning of supporting resources for your agents and customers, helps to deliver a real-time target on your customer's journey, uncomplicated integration along with rapid and effortless addition of latest features and functionality.
Various ways SalesBabu CRM software can help in automation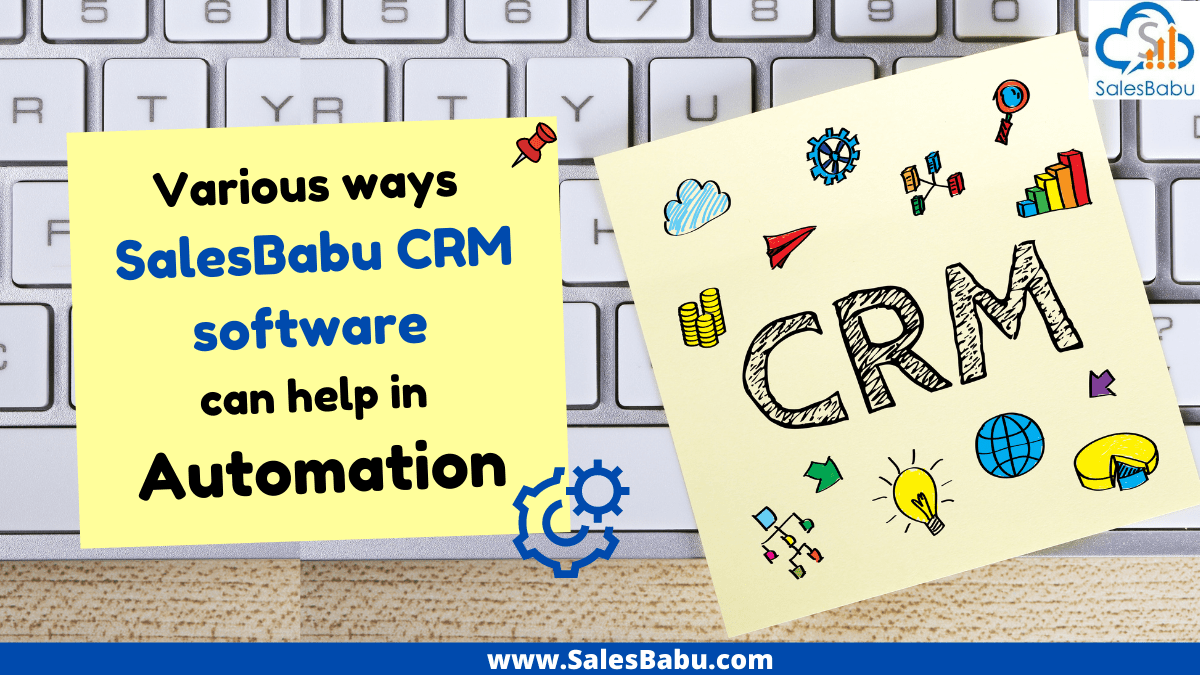 Read our blog – Marketing Automation Software| The Best Emerging Sales Tool | SalesBabu CRM
With the help of SalesBabu CRM software, you will be able to accomplish all your business processes or operations automatically. From the time of converting leads to generating transaction receipts, everything will be automated with our SalesBabu CRM software. This will save a lot of time and effort for your employees and team. SalesBabu CRM software has automation in every step and stage that helps you to accomplish your goals faster and easier.
Below are the ways for how your project will be streamlined and structured by using SalesBabu CRM software in your business:-
When you have identified your lead, you have to convert it into an opportunity. You can do this by constantly contacting them and analyzing to understand their depth of interest in your brand and product. You will realize their level of interest in your brand and product through the conversations made, this will help you identify the enthusiastic leads. Once you have identified the enthusiastic leads, you need to move further to the next phase where you assign a salesman to them, this can be achieved with just a click on the button.
For the next phase, the salesman who has got a depth knowledge of the finances of the services will allow him to create a quote. This will help the customer gain more detailed information on the pricing of your brand and products. Now your client will have a chance to decide on the change and estimate negotiation. Once the salesman and the client have agreed upon the estimation, then the opportunity will be converted into an order.
Now the various teams of your business organization will come together on a single platform to identify the ways to deliver and more. This will then be sent out to the customer or prospect on the estimated date and time so that the customer can pick it up at his or her comfort.
Once the shipment is done, a detailed transaction receipt will be generated automatically that shows every little detail keenly.
Read our blog – What is a Sales Order? The Benefits of Sales Order Automation


Conclusion
Without the adoption of automation tools to your business, you might have faced a lot of losses in data and more. When you choose to use automation technologies for your business, you will save a lot of time, effort, and resources for your business organization. Your employees will be able to work more effectively with the use of automation tools. Hence, adopting cloud-based automation technology to your business organization will be very beneficial allowing your business to grow well and boost your business processes or operations, this will in turn help you to maintain a good revenue system for your business organization.