In every business organization, customers getting connected to the brand and products is much required and it takes many stages of sales to achieve this task. With the sales stages themselves as the methods to attract customers as soon as they enter the sales funnel is the point where you can monitor and make them your long-term customers. Every stage in sales is very important to be analyzed and every business must make sure to attract customers by providing the best services possible.
Customers play a very important role in every business organization as they are the key to a successful business. When a lead is interested in your product but has not yet confirmed on buying your products, it is your responsibility to convince them that your brand and products are good and has got different features compared to the others, and make sure that these leads are converted into long term customers and are connected to your business with a positive experience throughout their journey.
There are five main important stages of sales in every business strategy. Let us dive deep into the sales and its stages and analyze how Salesbabu CRM software's applications and solutions help in managing your sales and converting the leads.
Read our blog – Various Stages of Sales
Stages of a Customer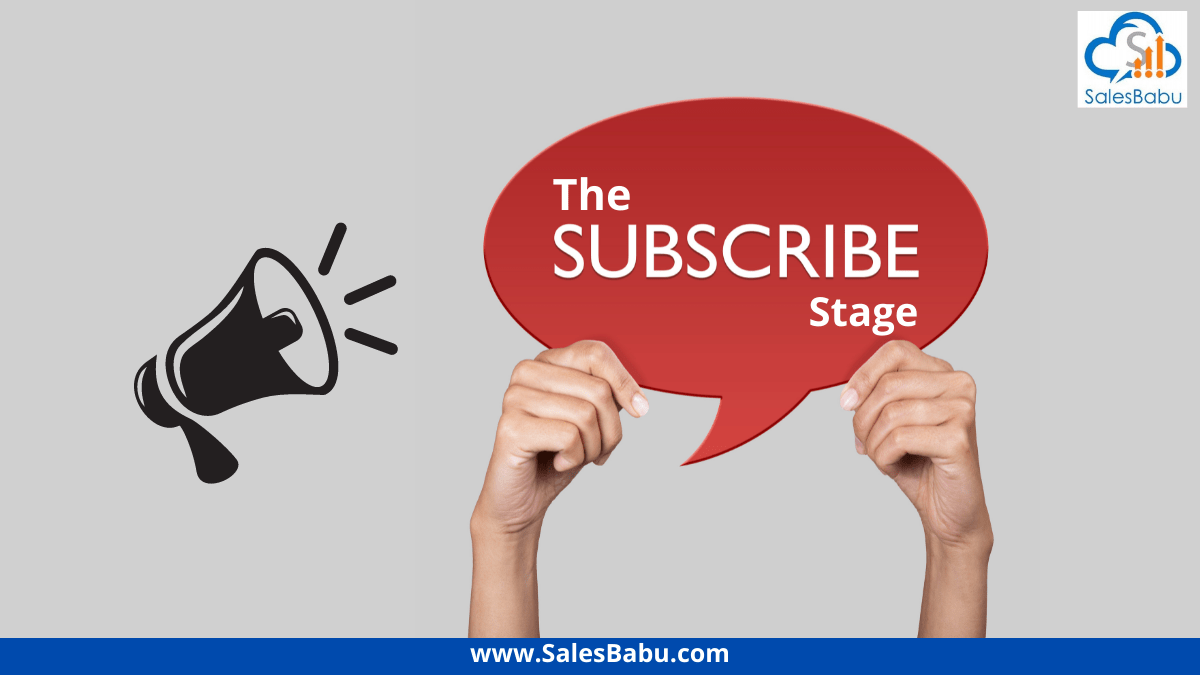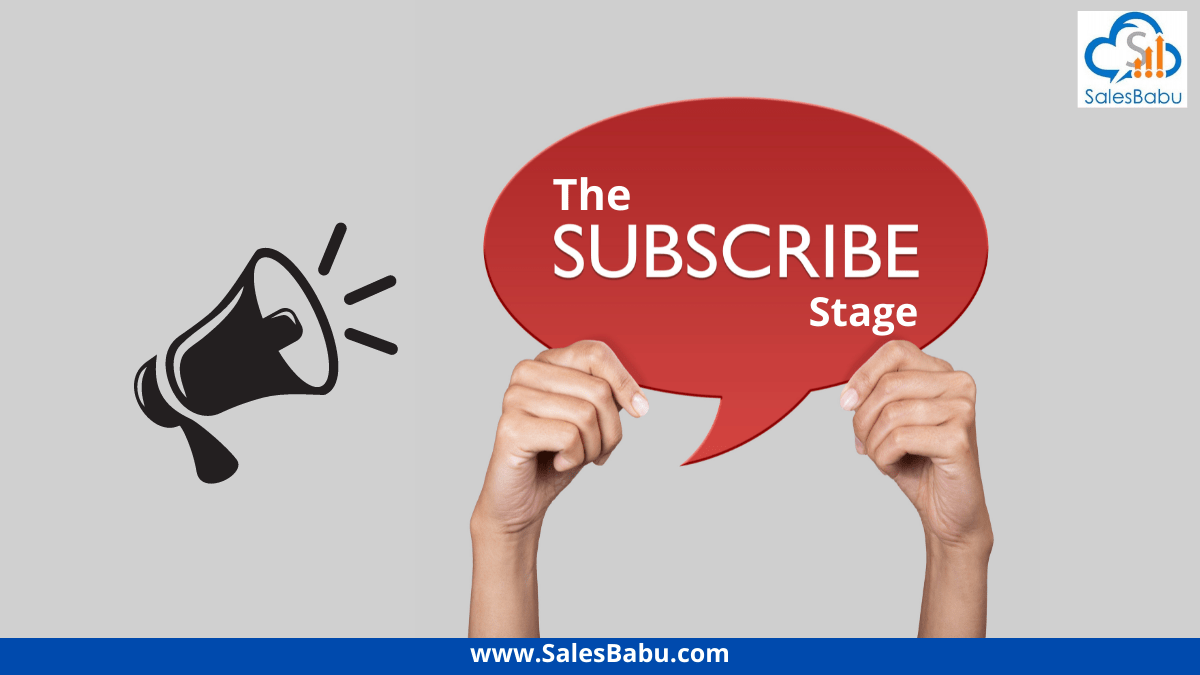 Usually, a person comes in touch with the internet looking for various services and products of their choice. Once they find the product and brand that is close to their taste, they will start exploring more on that particular product and try to analyze the various features of the product and brand. When the internet has understood the requirements and taste of the person it will start displaying advertisements and commercial banners related to his interest and taste. When these advertisements and commercial banners keep on appearing on their screen, they will tend to open them and visit their sites as it is of their interest. This will eventually make the person get connected to the brand and its products. This will end up in making the person get subscribed using the email or phone number to their site as it has drawn his or her attention towards the products. Through this, the person will get connected to their valuable information such as e-books, brochures, checklists, etc. Therefore, before deciding on your leads, you need to access your business sales stages and understand your business more to identify the type of customers that are already existing. This will help you understand the type of customers and prospects you need to grab and hold on to. Using this method, you will be able to understand your sales process and identify various ways to plan the stages of your sales more effectively.
Below are the sales stages that are often applied to attract leads in most business organizations:-
The Subscriber Stage
The subscriber stage is the first stage of any business organization where they try to grab the attention of the leads by displaying the advertisements and commercials with the content of the lead's interest and choice. These content-oriented advertisements and commercials are usually displayed through social media platforms such as Facebook, Instagram, Linked In, Google Ads, etc. which gets the leads directed to the company's subscription page. Once the person is drawn towards the company's page, the lead will be able to provide his personal information such as email id or phone number for further subscription process. This will help the company get leads added to their sales process. At this sales stage, the person only becomes the lead to the business organization and not yet the prospect. It is the responsibility of the business organization to grab the attention of the leads and make sure they become loyal long-term customers to your business. With SalesBabu CRM software's lead application, you will be able to collect and record the lead information and identify the important leads to your company allowing them to become permanent loyal customers. SalesBabu CRM solutions application will provide complete automated features that help you draw the attention of your leads and maintain a good relationship and provide a positive experience to them for a long time.
Read our blog – Sales Cycle Stages


The Lead Development Stage
After the subscriber stage, once the person has subscribed to your business site, it is solely your responsibility to contact the lead with the correct information and at the right interval of time with a well-planned strategy. You need to make sure to contact the lead frequently with appropriate intervals of time because you should not bother them too much and that does not mean you have to contact too less, you need to make sure to have an appropriate count and plan on contacting and getting connected with your leads. Contacting them is definitely important but contacting them at the right time is more important, you cannot call or contact your leads at odd times, you need to make sure to choose the appropriate time and then get connected to your leads. This will eventually make them aware that they are important to your business and you respect their personal space and time. With this, he or she will get connected to your brand and products. They might start visiting your page more often and eventually, they will want to buy your products. Therefore, in this stage, you need to be very cautious in contacting your leads. This is the stage where the chances of them getting connected to your brand are high. You need to give them more importance and make sure they get engaged in your brand and products. The SalesBabu CRM software helps you get connected to your leads and provides you with an effective sales pipeline that would help you grab more leads and make them your permanent customers.
The MQL Stage
Once the lead gets connected to your brand and products, it will be easier to explain your product in more detail with an informative explanation. You must make sure to grab the attention of your leads and must make them understand why your product is reliable and you must make sure to explain the different features of your brand and product so that the lead will be compromised and will show interest in buying your products. You must be capable enough to identify if the lead is the right fit for your organization and if he or she has the qualities of being a permanent loyal customer to your business organization. Therefore, through this process, you will be able to identify the best and quality leads to your business organizations which will help your business run well and experience more success. The SalesBabu CRM software will give you and your team the best, simple, and detailed outlook of opportunities that will help your business run well.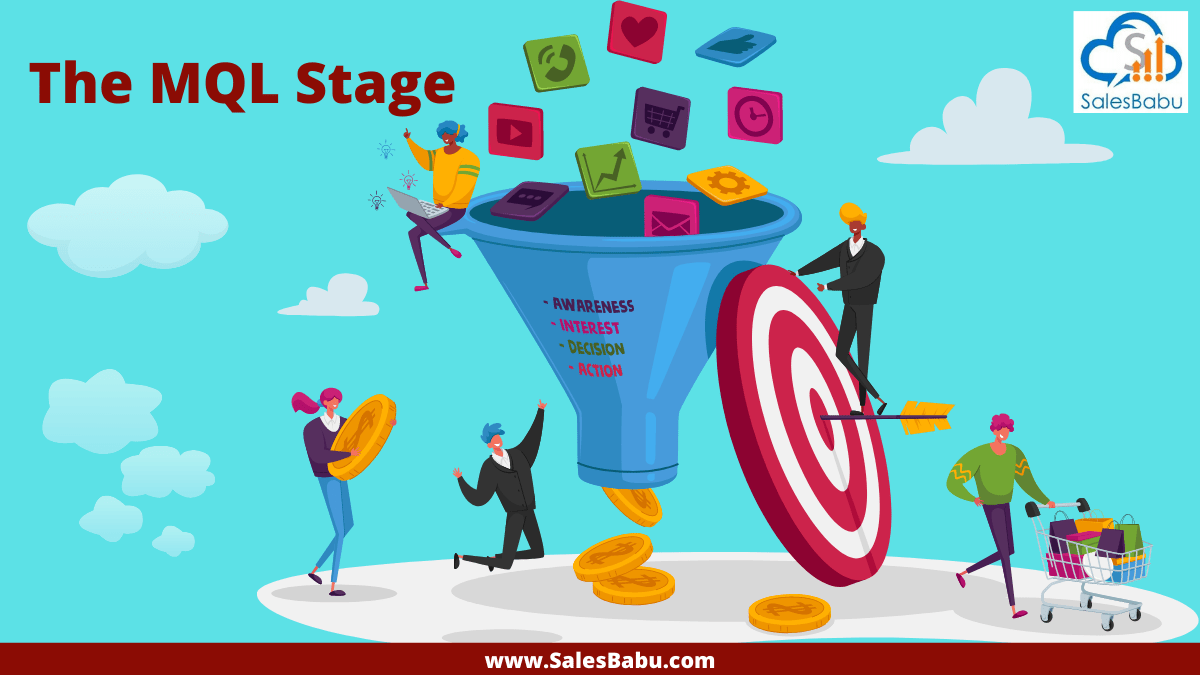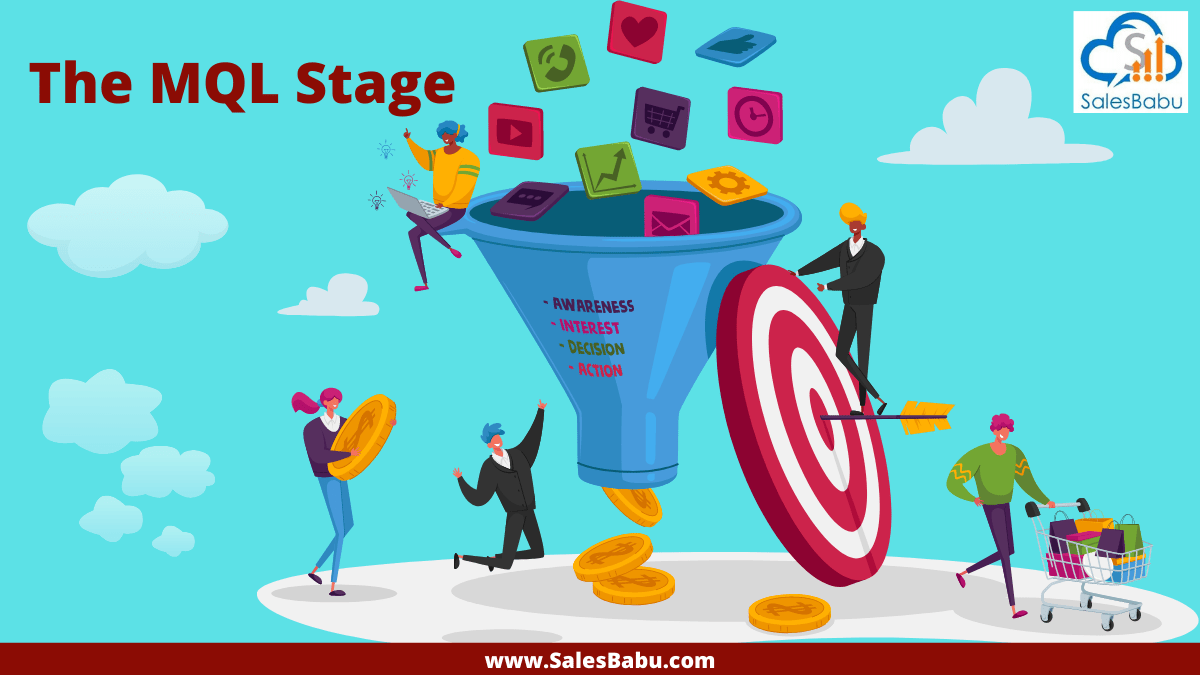 Read our blog – Stages of the Sales Cycle


The Sales Qualification Stage
At this sales stage, you need to make sure to send a qualified marketing lead so that you will be able to grab a business opportunity by attracting the leads to purchase your products. When the lead has shown interest in your brand and products, now it is your responsibility to grab the lead and convert them into your long-term loyal customers who would be connected to you and your business with a positive vibe and provide good vibes. You need to provide enough contact channels, and you must be active on all your social media accounts and platforms where the leads would contact you for further procedure. You must be active enough to get their queries at any time. You need to adopt important measures to achieve this task. SalesBabu CRM software provides you a platform where interaction with customers is easy and it will allow access to the software at any time allowing you to stay connected to the leads at any time and on any device irrespective of the geographical location. This helps you get connected to your customers even more and it will make your business successful.
Read our blog – How To Master Sales Strategy In 2021 Using SalesBabu CRM Software
The Opportunity Stage
In the previous consultation stage, wherever the user gets to understand a lot of details regarding your product does not essentially mean that he or she is going to be a customer or prospect. He or she could get your complete product to be subjected to the competitors and so, compare the products and goods. Therefore, if a lead has developed an interest in your product, he or she is also willing to purchase it or get shifted from another option.
Understanding a journey of a customer where he searches for a product after coming across an issue or problem they require to resolve. Such a stage is known as a reach because it is a sales team member's chance to approach the customer while they're still deliberating.
The bottom line of this stage is that your customer is still comparing products among the other competing brands including yours as well, examining through research, and going through customer reviews. Managing social media marketing, SEO, search engine marketing, and other inbound and outbound techniques should keep your brand on this customer's findings.
Hence, such a stage is successful when the customer approaches you for further information, seeking to either educate themselves further or get a definitive cost.
A CRM software keeps the input of the contact information, name, business and any further identifying information they provide. At such a point, they are a cold lead, make sure to identify that in the CRM software profile.
Opportunity stage also indicates that a deal is still in the process and is being tracked to close at some point. Sales team members should also make sure that the active opportunity type should always be tracked, as it helps to understand where a deal currently lies in the sales pipeline.
Such an Active Opportunity Type can provide sales teams a clear perception into when a deal has been formed and when it is required to be closed which is mostly supportive during tracking every step in the sales process and determining where any problem may arise.
Sales team members should utilize such details to stay ahead of potential roadblocks and to analyze what strategies may be required to be employed to progress a sale rapidly and effectively.
Conclusion
With the help of sales stages, you will be able to reach out to different types of customers and their needs. Throughout their journey with your business organization, you must be able to grab their attention and make sure to provide a positive experience where they will be happy and purchase your product not once but for a long time. SaleBabu CRM software has all the potential features that will help you analyze the leads and grab the attention of the quality ones, which will make your business grow and be successful.