What is the purpose of implementing CRM Software for Medical Device Manufacturers?
The Gartner magic quadrant for CRM – Customer Engagement explains the most critical questions of flexibility and scalability that the manufacturing industries must address in order to boost customer service levels. The manufacturing industry is facing identical issues and needs to adapt to market changes without much impact on the overall costs. They are using modernized machinery and equipment to gain successful digital transformation. However, the shift from being distribution-centric to customer-centric services has resulted in inventory losses.
Every company needs to be alert, prepared and build competitiveness to carve a niche in the very dynamic medical equipment industry. Sales processes and team needs to be active and quick and always ready with insights and data about their operations. SalesBabu CRM assists the manufacturers, suppliers or speciality suppliers to align the sales process in a better way. It supports to project and track the potential buyers. It expedite the sales activities and tracking of regular customers for better service and on time order delivery. Online CRM software helps to add value to your present sales skill and improve the sales and service process to retain your existing customers.
If you are a pharmacy equipment manufacturer or medical supplies, it's important that your brand name exude customer trust and confidence. Needless to say, the pharmacy or the healthcare institute that sells the medical device will definitely choose a medical brand that has built the most reputation for its product safety and quality. SalesBabu CRM for medical device manufacturers helps you build and maintain good relationships with a diverse customer base that includes pharmacy stores, hospitals and clinics.
Thus, SalesBabu Online Pharma CRM enables and empowers you to optimally utilize these relationships to generate more product orders and higher visibility for your entire product line-up among your target customers. Some of India's leading medical equipment manufacturers use SalesBabu Pharma CRM to organize their operations and ease the selling process.
In this blog, we'll explore how an Online CRM For medical device companies will expedite better market demand and helps you to optimally meet those customer demands. A Pharma CRM software will also help you to expand and maintain your existing market position among Medical Device Manufacturers and Medical Care Equipment providers.
Read More – Sales Force Automation Software | Cloud Based CRM Software
Putting CRM System to Work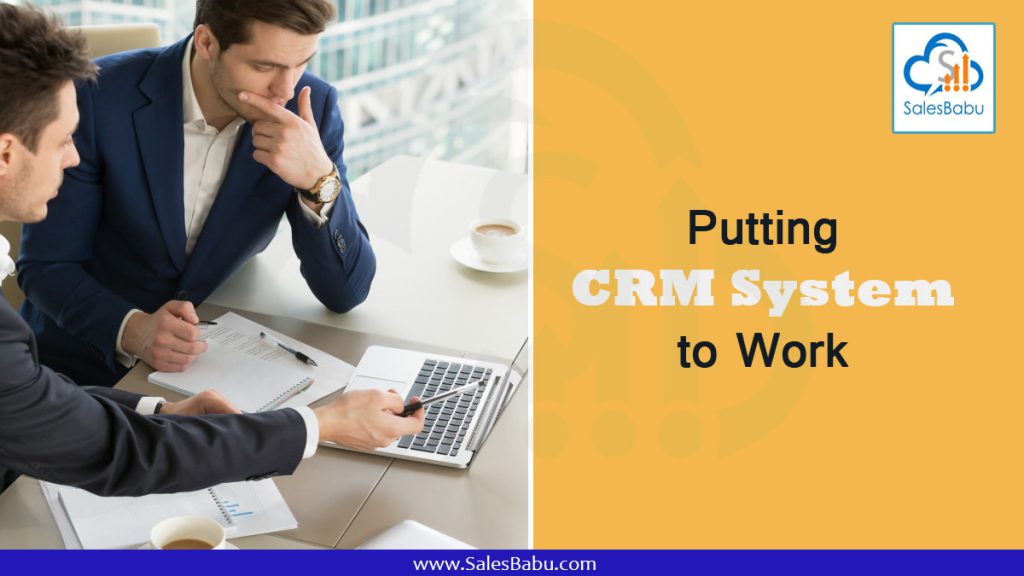 As a medical device marketer, what you really want to know is what Cloud CRM can do for you and how to make the most of your efforts successful. To stand and stay in business, you need to spread the word about your brand and your products in ways that distinguish you from competitors. To grow your business, you need not only more new customers, but more repeat business from existing and increasingly loyal customers. Repeat business is critical because it is so much more expensive to acquire new customers than to retain current ones. CRM system pulls it all together into a seamless upward spiral.
It begins with content – digital contributions that are catchy because they catch your target's attention. Great content is both relevant and timely – exactly the information a particular prospect is searching for right now. You have what they want or need, and that's the perfect meetup. It's also the perfect follow-up, because great content speaks to those who are farther along on their buying journey as well as brand new searchers.
That's where the management side of CRM system comes into play. When someone visits your website and clicks to download your whitepaper or watch a webinar, they provide their email address to complete the transaction. They convert from prospect to lead, and you now have a way to communicate with them digitally. It is the start of a beautiful, long relationship — if you manage the engagement process well.
In order to reach out effectively – that is, in the way each lead or prospect prefers — you need to make your content available everywhere those targets are. That includes:
Your website
Landing pages
Blog
Social media
Email marketing
Online advertising
Offline advertising
Special events


Well-crafted content presents information in a variety of formats (text, audio podcasts, videos, webinars, slide share presentations, etc.), to accommodate different learning styles and because different types of content lend themselves better to one format or another. Strategically-crafted content empowers you to connect directly to each of your audience types. That puts your brand in front of the most prospects.
CRM Supports Sales as well as Marketing
One reason CRM software solution is so essential for manufacturers is that the customer-sales rep relationship has changed dramatically in recent years. People don't have to depend on a sales people to learn about or compare new devices. And they don't want to. They want to manage the sales process, researching on their own until they are much farther along in their decision making.
By knowing and understanding your target audiences, crafting extremely valuable and relevant content, and making it easy for your targets to find that content (or delivering it right into their hands), you are feeding their desire for self-help. Your specific content and the continuous engagement process speak to leads as they prefer, and that builds trust and confidence in your brand and your products.
When the time is right and that lead wants to speak with a sales people (or your distributor), the transition will be a comfortable and productive experience for both parties. Your lead will be well-informed about your brand and your devices, and your sales rep will be well-informed about that lead. CRM system software not only empower you to automate and otherwise manage your marketing and ongoing communications, it captures data about each lead and their digital interactions with your company. That puts important information about each prospect's pain points, desires, and preferences right at the sales person's fingertips.
Read More – How To Implement CRM Successfully
Increase your product priority amongst the local geography
If you are a provider or supplier of medical equipment, you need to ensure that your medical products are available across the retail POS in all cities and towns. This ensures you acquire more orders while building core trust and reputation.
SalesBabu online CRM helps you systematically cover the different retail outlets in a single cloud-based platform. It helps you collect, organize and segregate the different customer list in a single order management dashboard.
Afterward, this gives you the option to track the product sales across each retail POS and predict the upcoming demand for the different products. By managing every customer through a single cloud based CRm application platform, you can systematically plan repeat visits and gain more product orders from your existing customers.
Create and manage field plans across cities
A medical equipment manufacturing company can significantly improve the overall sales by availing the products across different towns and cities. At the same time, it might be impractical to have state-of-the-art offices across multiple cities and local towns.
In order to sell more medical equipment across PAN India, you should be able to persuade the local healthcare institutions and pharmacies at these locations. This will need various independent sales teams for each different location. These independent sales teams could manage the sales for big cities, small cities, smaller towns and even remote areas.
In this case, a sales team equipped with mobile CRM app would be able to tackle and overcome this challenge. By having a GPS-enabled Mobile CRM app system, you can arrange meetings and track field operations through a cloud-based CRM system application.
Basically, the manager can view all the upcoming and pending meetings in a cloud-based 'daily planner' CRM system dashboard. This allows you to efficiently assign meetings to the sales reps. Later, you can track the transit of these sales reps across the different locations.
In this way, the CRM system for medical device companies helps them to ensure that all your sales reps are actually meeting their necessary tasks on a strict timeline. This empowers and allows you to track and ensure whether sales reps are fulfilling the assigned field meetings, collecting the requisite number of orders etc.
Key Features Of CRM Software For Medical Equipment Manufacturer
Enquiry & Key Account Management
Details are essential while recording key accounts and enquiries. Cloud Based CRM for medical equipment company helps by enabling the user to manage enquiries and latest status for each prospect on demand with segregation across Doctor, Hospital, Clinic and Lab.
Segregation of Lead OEM wise
Sales manager and team segregate the leads as per product wise or OEM wise for analyze
Quotation and Order Management
Online CRM software allows the users a unique distinction of not only managing quotations but also filter them based on different type of institute. It also helps manage quotation and order with complete history and filter report with OEM wise.
Time Management
No time and efforts are required to be spent by the sales rep in preparing regular review papers resulting in Increasing ratio of selling time to non-selling time.
Preventive Maintenance & AMC Reminder
Cloud-Based CRM software helps the sales team by sending reminder and alert on Preventive Maintenance Schedule (PMS). CRM also helps processes auto reminder on every AMC due, Pending and received.
Read More – Improve your Sales Process
Every Company's Future Depends on Customer Relationships
For your company to succeed, the medical devices you design and manufacture must offer cutting-edge benefits, including substantial ROI, to those who will buy and use them. In exactly the same way, rewarding marketing must harness the latest, most relevant strategies and tactics to attract prospects and guide them to choose you when they're ready to buy. However, like the medical field itself, the marketplace and your customers are also constantly changing. It's virtually impossible to keep up without the right strategy and tools.
By effectively using CRM system– the right marketing content and the right relationship management practices; you can allocate resources where they will do their best work for you. And, as you monitor and track your marketing outcome and relationship management efforts, you will learn how to boost your marketing and even how to improve or expand product offerings to meet future customer needs.
Managing your Medical Catalogue
Usually, the medical equipment manufacturer or supplier would have a large product catalogue, where each product has individual specifications and suitability. It could be painful for a commuting sales team to always be updated about the intricate product specs across the board.
Instead, a Mobile CRM app enables your entire sales team to manage an in-depth product catalogue for each product within a single cloud-based centralized database. By having easy and quick access to all product information, the concerned sales representative can try to score new business by pitching new products or easily answering other product-related questions. By mobile CRM app for medical equipment manufacturer or supplier, the visiting sales rep can procure the maximum number of orders and avoid having to refer to a 3rd person for extra product information.
Read More – 9 Dangerous Sins of Lead Management System
Some reasons why Medical equipment company need to adopt CRM :
Medical device quoting and approvals
The format of a medical device company's sales quotes might range from a single-page to multi-page document with some paragraphs of descriptive text. The quote may also include images. For some of the companies, there might be some of the certain quote line items that will only display based on which the other line items have been selected. In other words, sales quotes are rules-based. Once all the quoting requirements are completely defined, CRM will be configured to address all those requirements. If the quotes are needed to be approved before they are sent out, workflows created which will automate the approval process with the help of CRM.
Presentation of ERP data to salespeople
When the CRM system is integrated with the ERP system like SAP or Epicor, sales reps will have access to the order history of the customer sales within the application that they log in every day. Reports about the customer's buying activity are now no longer needed to be distributed to the salespeople as email attachments. Assets of the customer are stored in the ERP which can also be made visible in the CRM. Assets within the CRM can be linked to the support tickets. By linking the assets to the tickets, a device's complete support history can be viewed by any CRM user with some of the appropriate permissions. The problematic assets can be identified very much easily.
---


How Can Medical Equipment Manufacturing Companies Benefit?
#1 CRM boost customer engagement
Identifies high-value accounts to deliver a proper quality of service and product
Explore new opportunities to cross-sell and upsell through buying history of your customers
Connects your sales rep with prospects at the right time
Empowers with real-time notifications to alert customers about new campaigns
Delivers personalized marketing and segmentation to improve the lead generation process
#2 CRM increases business scalability
Automates tasks to eliminate human errors and duplication
Allows managing workflows and processes through a single interface
Implements industry best practices to bring out business profit
Increases productivity due to efficient time management
Encourages positive work culture through effective collaboration between various departments
Boost value of existing technology and tools
#3 CRM build up organizational security
Restricts access for account managers to only view their own database
Serves with advanced hierarchy of security to manage access between senior rep and subordinates
Withholds delete permissions based on defined user's access privilege
Prevents users from exporting CRM data to excel sheet
Clears CRM data if mobile devices are lost, or if individuals leave the company
Protects critical data with field-level security access controls
Conclusion:-
SalesBabu CRM for medical device manufacturers and supplies would be certainly impactful whether you are selling medical device supplies such as syringes, blades, tubes or high-end medical equipment such as scanners. SalesBabu Pharma CRM system helps you to maintain high levels of service quality and operational efficiency while handling large volume of stocks.
In this situation, SalesBabu CRM for medical device manufacturers and supplies companies makes an appreciable difference. We help you smartly manage the field operations, handling orders, streamline delivery and generate insightful reports based on the collected data.
In short, SalesBabu Pharma CRM for medical equipment providers enables you to better understand and meet the customer requirements in a systematic basis.