What's best for the customer, is the best for the business!!
A customer centric company is more than just a business concern that offers good service for its customers. It has huge business value in the market. If you want to survive in the present competitive market, you need to be customer centric.
So, what is customer centric?
Customer centric is the act of creating a positive experience to the consumers at the time of sales and post sales. The main focus of the business is to gain trust and create a good relationship with their customers.
Being a customer centric organization is not as easy and convenient as it always looks like. There are many challenges for being a customer centric company, few of them are as below:
Businesses are unaware of customer needs.
Unorganised and traditional method of data management.
Employees and staff members are unaware of customer centric process.
Inefficient customer care and after sales services.
Improper data analytics.
Etc
And being a pharmaceutical industry it becomes important for the companies to build lifetime relationship with doctors, stockists, chemists etc. The pharma CRM software helps the Pharmaceutical Industry to focus on organising and maintaining a good relationship with clients, customers and service agents. The pharma CRM software helps the pharmaceutical firms to determine strategies in order to acquire competitive customer value and advantage in marketing through the leading Pharmaceutical CRM technology.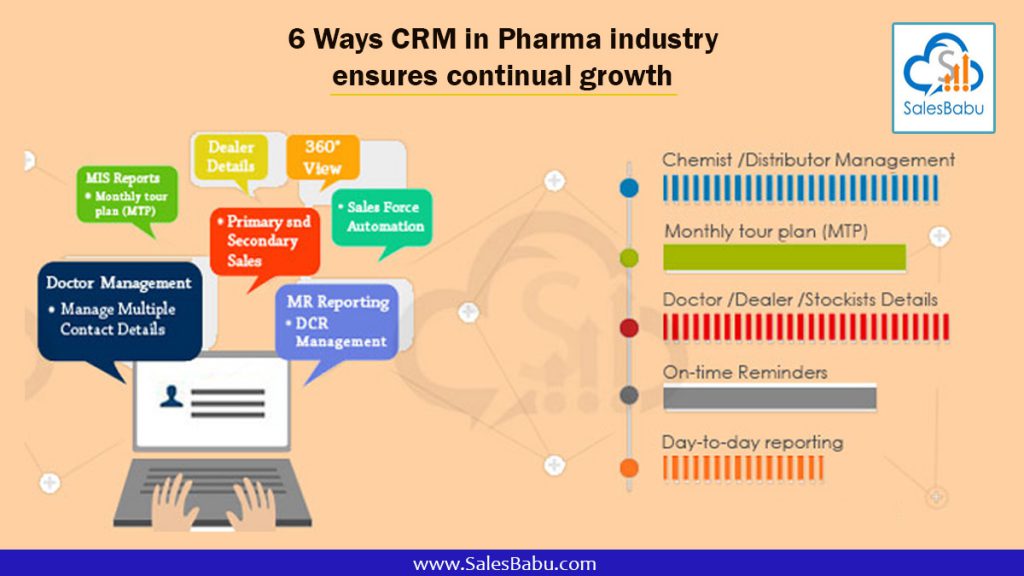 Read our blog – Introduce Pharma CRM in your Pharmaceutical Company
India is the largest provider of generic drugs in the world. It supplies over 50% of the global demand. Presently, Indian pharmaceutical concerns are supplying over 80% of antiretroviral drugs to combat AIDS (Acquired Immune Deficiency Syndrome). As India has a large count of scientists and engineers to steer the industry ahead in the pharmaceutical market, it just needs the right management.
In a recent post from India Brand Equity Foundation (IBEF) which is a trust established by the Department of Commerce, Ministry of Commerce and Industry, Government of India stated that 'Medicine spending in India is projected to grow 9-12% over the time period of five years'. And India would be among the 10 top countries in terms of medical spending. The Indian government has taken many steps in order to reduce the costs and also bring down the healthcare expenses for the citizens.
Stay competitive in the techno age
Staying competitive in the techno world becomes very important. In every sector of the business, technology plays a very important role to work smartly. Using a Pharma CRM software to work effectively in the Pharma industry helps you to stay ahead of your competitors.
The Pharma industry is one of those most growing industries as drugs are a requirement of the people. With the use of a customized software that meets the requirements of Pharma is the best possible way to be benefited.
Put client's need above the sale
Being a pharmaceutical industry the client's well being and welfare must be your priority. When you choose to provide the best sales service which promotes your client's well-being, their trust will set you on the way of customer satisfaction and will also help you to get a loyal customer for your business.
With the help of the Pharmaceutical software you can know your clients well and provide products or drugs according to their needs and requirements. As Pharma CRM software comes with features that lets you to record each and every detail or prior interaction with the client, it becomes easy for the MR to understand the requirements and provide products accordingly.
Acknowledge your mistakes
The pharma industry is one of the fast paced industries in the market. Your MRs should have enough knowledge about every drug. And sometimes mistakes happen without their knowledge. If you made a mistake by chance, be ready to accept it and be honest. When you accept your mistake it makes the client or the prospect build trust over you.
The Pharmaceutical software acts as a bridge of communication between your client and you. Thus, when you listen to your clients and acknowledge your mistake it will help you to attain a good relationship with your clients.
Treat them special
Your customers or clients love being treated special. When you put it some effort to recognize them amongst your thousands of customers, they tend to value you.
CRM for pharmaceutical industry helps you to send customized emails and SMS with the prospect's name. You can wish your clients on special occasions, birthdays, anniversaries or festivals with the help of the Pharma CRM software. You can also set reminders in order to remind you during the busy schedule.
Build long lasting relationships
The biggest challenge for the MRs is to break into the busy schedules of the doctors, chemists or any healthcare centres to pitch the sale. But when you are successful in gaining their trust, they tend to listen to you.
Do not make your clients feel like you are doing this for mere sales, let them understand that you want to help them and solve their problems if any. And when you successfully build a good relationship with your clients you tend to build a long lasting relationship with them. Moreover, when you create a good relationship with your loyal clients, they will recommend four more people to go with your product. Thus, Pharma CRM software helps you to build long lasting relationship with your clients.


To draw a conclusion about the improvement in customer centricity in a Pharmaceutical industry is a difficult thing. CRM for Pharmaceutical industry can be a business strategy to improve your customer centricity. There may be various methods, tricks and tips when it comes to attaining customer centricity. But there are plenty of barriers and problems when it comes to customer centricity or client satisfaction in Pharma. Here the customers are the patients and the decider is the doctor. But the customer cannot make any decisions regarding the purchase of drugs. One of the biggest challenges in customer development is the differentiation between the decider, payer, user and supplier etc. Thus, the Pharma CRM software helps them to gather the data with statistical significance on improving customer centricity.
Choose the right Pharma CRM software which is able to meet your requirements. Every Pharma is different from the other and you may need different customizations based on your business activities. SalesBabu Pharma CRM, one of the most trusted Cloud based CRM Solution comes with various features and functionalities that will help your MRs to work efficiently and also attain high customer satisfaction.
Over the years MR pharma Reporting software or pharmaceutical software has earned immense popularity and appreciation of the pharma industry. SalesBabu's MR pharma Reporting software is a dedicated cloud based pharma CRM solution (CRM for the pharmaceutical industry) that actually increases sales force effectiveness by over 30% and reduces operating cost by over 80% which finally translates into higher Profits. Many of our customers have rated our CRM for the pharmaceutical industry (medSFA On Demand) as one of the best pharma CRM and prestigious Best Pharmaceutical Software. We provide the best MR pharmaceutical software – the Reporting software for Pharma CRM


SalesBabu is delighted to introduce an all new MR pharmaceutical software – the Reporting Mobile App, that brings your field staff information and our services closer to you. Our MR Reporting Mobile App is now even more user friendly ensuring a delightful experience on mobile while tracking DCR, tour plan, expense status viewing and much more. To know more about our features you can visit our website https://www.salesbabu.com/. You can also request for a free demo.