Technology is rapidly growing in the present world. These technologies run our lives these days. Our day starts with smartphones, computers and laptops with internet connections. And when there are so many upgradations in the society, you need to update yourself in your business. These technologies are one of the factors that are making us smart workers. With the changing business trends, most of the businesses are turning towards the cloud services. Cloud computing has become the powerhouse behind the smooth running of the organisation.
What is Cloud Computing?
Cloud computing is an On-Demand availability of the computer system resources which offers IT as a service. You get the complete hosting facility from a dedicated cloud solutions provider without any bugs in working to store all your database. The cloud provider save all your data and protect them from any of the virus attacks, malfunctioning etc.
In a cloud computing system, the workload is handled by network of computers or the cloud system handles the load, and the end user computer load is reduced to minimal. The cloud interface is required for the client machines to connect to cloud system and all the applications are run on the cloud system. This reduces significant shift in the work load from client/end-user computers to cloud computers. Even the hardware and software requirement is reduced for the end user. Cloud computing can also be called as an internet based technology, provided as a service and on demand to the customers. The user can access the resources through the cloud provider over the internet as and when required.
Read our blog – What Is Cloud Computing?
The advantages of cloud computing
1. The Cloud is always on
You can always access to your work tasks from anywhere, at anytime with just an internet connection. You can also access to your business data even if you are not at work place.
2. All your data is secure and safe
Cloud computing offers security benefits and keeps all your necessary data safe and secured. You need not have to worry about hacking or unappropriate access of your confidential data. Incase you tend to lose the data unfortunately, you are benefited with an option to back-up the data. The cloud providers perform regular security audits which makes all your sensitive data under airtight. Just, make sure you are working with a trusted Cloud vendor.
3. Cloud is a cost-effective option
Implementing a cloud system is a cost effective option as you need not have to invest lakhs on hardware systems. Cloud computing benefits subscription plans where you use as you pay. Neither do you have to assign people nor pay them for installation of softwares or updation; managing of email servers. You can get customised application at a cost effective price which makes your work easier and quicker. In the long run, the cloud system will turn out to be one of the best investments in your business processes.
4. Cloud gives Unlimited space
The cloud system lets you to store all your business data on a single platform and does not restrict on space. You can store a large amount of business data and information for further references.
5. Cloud is modernized and upto date
The Cloud computing incorporates the latest developments which make it an even better platform for data storage, data centralization as well as data communication.
Read our blog – 5 Reasons you need to keep your CRM upto date
6. Cloud computing reduces paperwork
Cloud computing benefits you to store all your data in the cloud system and access to the data as and when required. The paperwork is reduced as you need not have printouts of the files or documents, instead you can share files or documents with other users.
7. Cloud is an easy implementation
Use of cloud computing system is not rocket science. Data updation or storage is not a difficult task. Making the right decisions for the implementation of cloud system can help your company to grow in the market.
8. Cloud is a reliable solution
Cloud computing is a reliable solution provided by your cloud provider. Just see to that you are working with a well-known cloud provider, as they have access to your business data and information. We at SalesBabu cloud based CRM Solutions are a reliable cloud provider who provide the best Cloud services for your business.
9. Cloud is a centralized database
The cloud system collects all the stored data in its database and provides the data to its users at a centralized platform.
10.Scalability
Your business might scale up or scale down all your operations and storage needs quickly to suit your situations, allowing flexibility as your needs change. In place of buying and installing expensive upgrades by yourself, your cloud computer service provider will handle all these for you. Using the cloud will free up your time so that you can get on with running your business.
11. Collaboration Efficiency
Collaboration in a cloud environment will provide your business the ability to communicate and share much easily outside of the traditional methods. If you are acting on a project across from different locations, you will be able to use cloud computing to provide employees, contractors and third parties access to the same files. You will also be able to choose a cloud computing model which makes it easy for you to share your records with your advisers ( for e.g. a quick and secure way to share the accounting records along with your accountant or a financial adviser).
12.Flexibility of work practices
Cloud computing will allow your employees to be more flexible in their work practices. For instance, you have the capability to access all the data from your home, on holiday, or via the commute to and from work. If you need access to your data while you are off-site, you will be able to connect to your virtual office, very much rapidly and also easily.
Which is the best cloud computing delivery model?
The three major cloud computing delivery models are –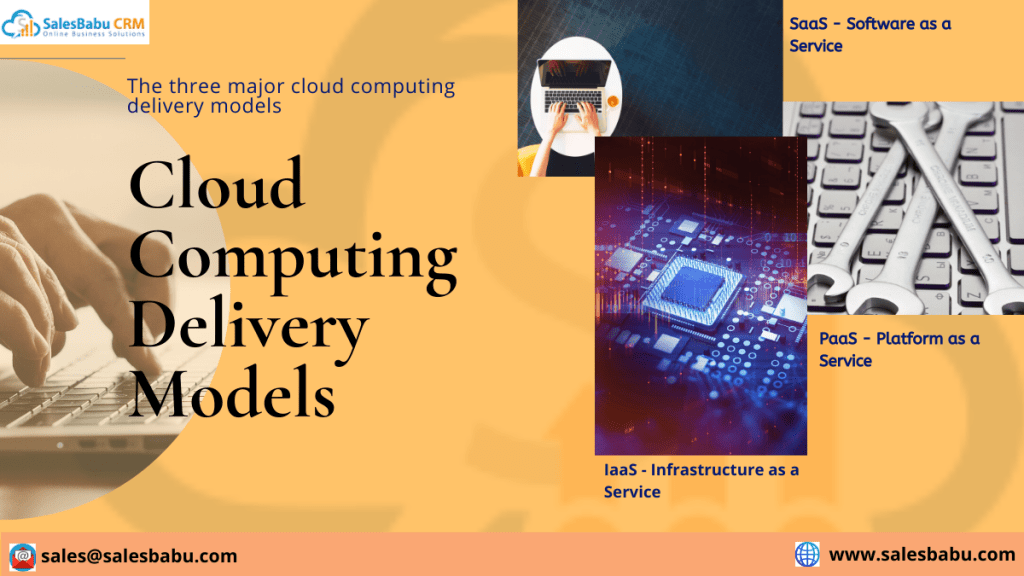 SaaS – Software as a Service
The SaaS platform is a monthly subscription plan provided by a third-party vendor. The users can make use of the software over the internet. The advantages of SaaS Platform are –
You can access your data from anywhere at anytime from any device i.e, smartphones, system, tablet etc. Just make sure you have an internet connection to the device.
All the data and information is available on the system when you log in to your account.
You need not have to install and run the applications on your system.
You can use as you pay which is certainly a cost-effective option.
Offers security, compliance and maintenance as per the cost of the cloud system.
Make the best use of SaaS cloud platform to run smoothly and reliably with minimum input.
Read our blog – Why it makes sense for mid sized businesses to use CRM as a SaaS



IaaS – Infrastructure as a Service
IaaS is a cloud based service which offers pay-as-you-go storage, networking and virtualization available over the internet. The advantages of IaaS Cloud platforms are –
IaaS is highly flexible and scalable. It can be replaced as and when necessary.
You can access IaaS platform as per your wish without being dependant on external IT contractor.
It can be accessed by multiple users.
PaaS – Platform as a Service
PaaS provides hardware and software tools over the internet which is used to develop applications over the internet. The advantages of PaaS are –
PaaS is suitable for developers as it saves time and energy of the developer. The developer can create customizable and creative software as per his/her plan.
It is one of the best ways to create a unique application for the business.
It is accessible by multiple users.
It is a scalable system.
It is a cost effective and time-efficient way to develop a unique application according to the needs and requirements.
Every Cloud Computing delivery model is worth implementing. The Cloud Computing platforms can work best for you depending upon your requirement and needs. Thus, drawing a conclusion about which is the best cloud computing delivery model could be a challenging task.
Why switch to Cloud Computing?
Switching to cloud computing for your business can turn out to be a valuable asset because the cloud computing comes with a technology such as cloud storage, cloud backup and cloud hosting.
No matter if you are a small business or a start up, but when you stay organised and try to maintain consistency while growing, it is an effort worth contributing. Any business for that matter has loads of data to be stored depending upon the size of the business. You cannot just make use of the excel sheets and spend time on manual enterings. Whereas, with a cloud system can keep your work organised because the advantages of cloud computing helps in right management of the organisation.
Read our blog – Switch to Cloud Based CRM



Which is one of the Best Cloud Based CRM providers in the market?
Cloud system has definitely changed the dynamics of the IT Industry. The cloud computing has certainly proven to offer tremendous benefits to the business firms.
SalesBabu Cloud Based Software System provides customer management support to all sectors of the society from various business models to educational fields. From CRM to marketing, all our solutions are cloud based. Every aspect of people or sales and marketing management can be handled and integrated at a common location by using the most trusted and versatile cloud computing technology like SalesBabu cloud based system.
SalesBabu is catering customers globally and pioneering in providing software solutions on the cloud. SalesBabu On-Demand CRM based on SaaS Platform is helping out SME sector and businesses to grow with the help of Cloud Computing. If you are looking for a cost effective cloud computing technology then contact the best cloud provider. You can also request for a free CRM demo at https://www.salesbabu.com/.