"Cloud CRM" is the latest word in the industry today and is rapidly changing our economic and business value.
Before we start with the advantages of using a Cloud CRM software, let's first understand the basics of both the words.
Cloud computing can be defined as a real time service, hosted over a network of computers or internet, access resources of the cloud system from anywhere or any system using a simple interface to connect end user computers to the cloud computers. In a cloud computing system the supported applications, data storage facilities, all placed on a network of computers under a cloud. The end user access these applications, data over the internet using a cloud interface software like web browser etc.
In a cloud computing system, the workload is handled by the network of computers or the cloud handles the load, and the end user computers load is reduced to minimal. A web page or interface is required for the client machines to connect to the cloud system and run applications on the cloud systems.This reduces a significant shift in the workload from client/end-user computers to cloud computers. Users need not worry about any unlying hardware and software requirement for this cloud setup. Cloud computing can also be called as an internet based technology, provided as a service and on demand to customers.The user can access the resources through the provider over the internet as and when required.
What is a cloud based CRM?
Customer Relationship managements(CRM) software which is hosted on the cloud is popular known as Cloud CRM. Cloud based CRM systems can be accessed anywhere and anytime using the internet and hence provides a one stop solution for all your business needs.
With today's world of technology, every customer wants a service which can be provided on their fingertips, a cloud CRM software can be accessed through various modes of communications like mobile, tablets, laptops and provide on the go functionalities.

Why Cloud CRM?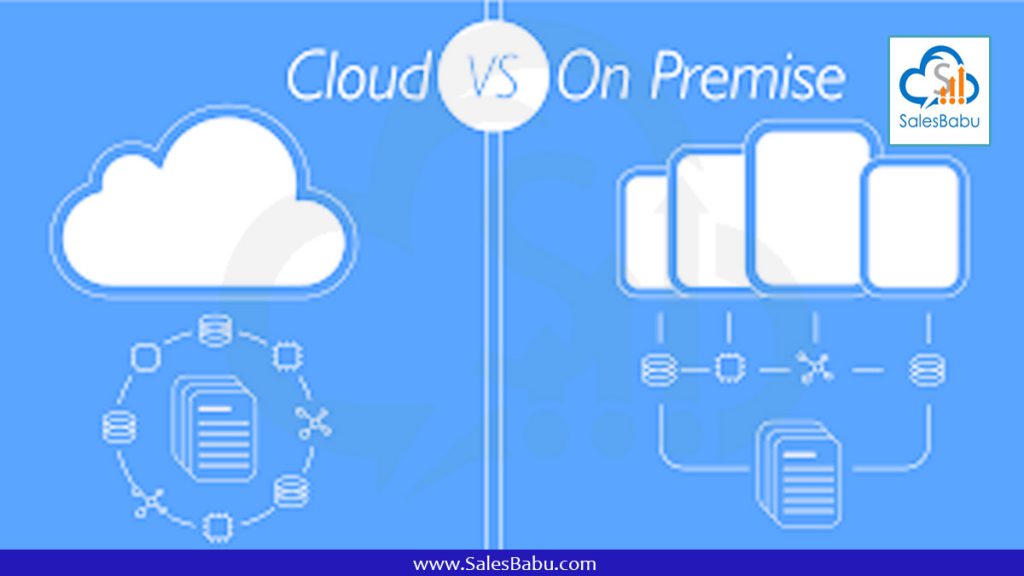 Many conventional small scale business still feel that an inhouse sales CRM software is still a better option than a cloud based CRM system. These traditional businesses think setting up an internet network and depending on online CRM softwares will be very skeptical and difficult to maintain activity. It is something new that they are dealing with and are not aware of its side effects or hidden charges etc. These and many other issues may come up with first time users of online sales CRM software, but once they understand the benefits of CRM software then there will be no looking back.
With various benefits of CRM software, from maintenance cost to ease in scalability , every big or small scale business model can use a good online CRM software to increase their company's revenue.
Let's now discuss further on the advantages of using a cloud based CRM softwares:-
Easy installation/deployment.
On-premise CRM software needs to be hosted on a company's owned server. It requires the purchase of hardware, software licenses to install, and regular updates must be carried out by an on-site IT team to keep the system secure and up-to-date. It's not customisable, also very expensive and time-consuming to maintain. This contributes to a major expenditure for all small and big scale industries.
With cloud based CRM systems, all we need to do is to have a licenced version of the software, install it via an internet network and we are ready to use it on any device of our choice. This system allows customers to have services not only on their premises but also on their tablets, mobiles, laptops etc. All installation or updates are done from the backend cloud CRM software and no maintenance is needed from any in-house IT team. This considerably reduces the software maintenance cost for the company.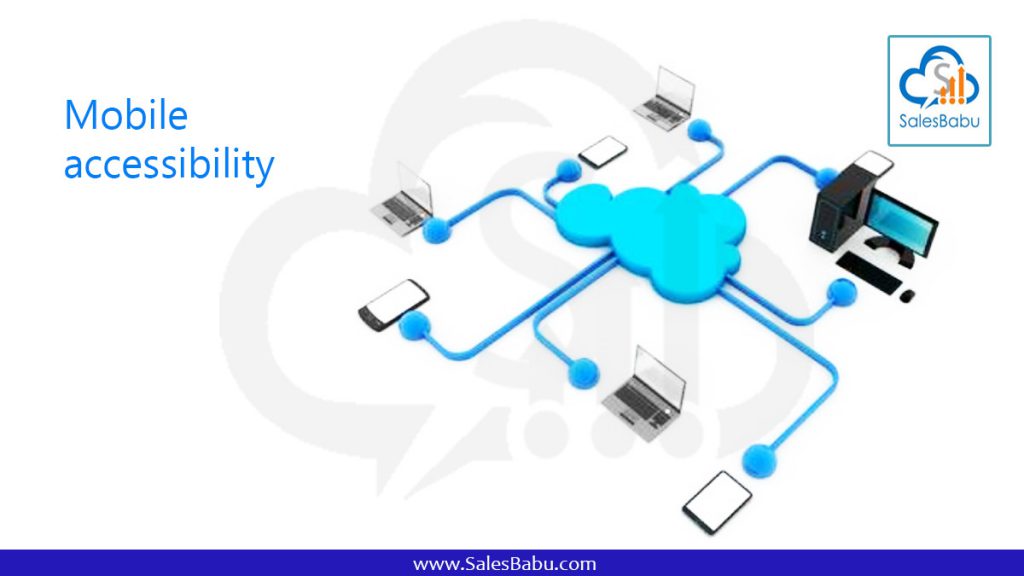 Gone are the days where only IT team use to access the CRM softwares and deal with daytoday business workflows in a server room. In today's world of technology every company wants a setup where all the stakeholders are well connected and responsible for dealing with various workloads in the team. With smart cloud CRM software, every team member from service agent to sales person is always connected through their mobiles and other modes of communication. Customers can be updated on the go with their quotations or payments modes along with any other changes to the sales orders. With online CRM softwares, international teams based out of different countries and time zones can access the CRM system whenever and however they need to. All of the customer and company's data is stored at a centralised location, and will update in real-time to reflect the most recent changes through cloud computation.
One of the key benefits of cloud based CRM system is that , everything and everyone in always connected irrespective of their current location which makes it very easy to provide effective business solutions to the end customers without any location specific restrictions.
On-premises CRM softwares need different teams to manage different aspects of customer relationship activities. This may require a lot of money investment on the human resources team who can integrate all the customer data and provide an integrated report for customer management. This is definitely a huge cost occuring activity and also cause a lot of mismanagement and errors in customer tracking.
Whereas in a cloud based sales CRM software, every aspect of customer management from accounting to sales order is taken care of by one online CRM software. Everything related to a customer from its Lead status to the quotation sent for the final payments is tracked and recorded in a centralised database. Everything is automated and no extra cost is applicable for generating these details and using it in our daily work items.
With local CRM setup, every lead tracking and report generations are done using spreadsheets and various manual tracking methods. This may require a lot of manual intervention and result in numerous errors and missing lead details. With cloud CRM softwares, every lead detail is tracked and maintained in centralised database with all related data about the lead information. Automated processes of changing leads to opportunities and tracking them with appropriate activities will help in converting more lead to prospective client. With proper tracking channels, every record and lead details are correctly documented with a minimum window of errors and missing information.
Various inbuilt reports are added to CRM software to help in generating automated reports which can be used on daily basis. Along with these inbuilt reports, users can create custom reports to fetch various metrics based on their personal requirements.
A good sales CRM software helps users to generate automated reports and metrics which helps in making productive measures for enhancing company's sales and overall turnover.

One of the most important benefits of cloud CRM is an integrated system of monitoring your sales and marketing team. Live location updates and overall sales and marketing performance reports help in tracking complete view on business productivity and efficient customer serviceability.
Smart Cloud CRM system, integrates with various applications like social media website, email services etc, which helps in providing great marketing and tracking system to enhance business visibility in the market. Various automated feeds on your business can be updated on social network without any extra cost, which can help to advertise your company's details without any additional investment on the marketing and sales team.
Cost effective and secure
Best online CRM software in the market provide various customization facilities which allows business to scale up to new models and ventures without any extra cost on servers and hardware requirements. Customised features on these cloud CRM softwares help in creating user based interfaces which helps in better customer experience.
With cloud based CRM softwares, every information is stored and backed up in the cloud environment which gives 100% data reliability to the businesses. With various firewalls and secure networks, company's data is kept secure and protected from any kind of intrusion and breach. Online CRM softwares have various access levels which can be assigned to different service agents and sales team according to their credibility and visibility in the company.
Why choose SalesBabuCRM?
The best and most trusted online CRM softwares like SalesBabuCRM uses the latest cloud computing technology and provide a secure data storage on a cloud system.The clients only require a computer with an internet connection to access the application.This greatly reduces user's hardware, software burden and significant reduction in terms of financial and manpower to handle the application in case of premise hosted. It takes care of the required hardware, software requirements through our cloud computing technology. This makes our clients concentrate only on streamlining there business through SalesBabuCRM software.
SalesBabu CRM software provides customer management support to all sectors of the society from various business model to educational fields.Every aspect of people or sales and marketing management can be handled and integrated at a common location by using the most trusted and versatile software like SalesBabuCRM.