Cloud computing, cloud hosting and cloud services have become one of those recent trends in the present market. Every industry irrespective of the size of the business is focusing on cloud technologies in order to enhance the economic as well as business value.
Let us know about cloud computing technology in detail.
What is cloud computing?
Cloud computing can be defined as a real time service, hosted over a network of computers or internet, access the resources of the cloud system from anywhere or any system using a simple interface to connect end user computers to the cloud computers.
In a cloud computing technology the supported applications, data storage facilities, all placed on a network of computers under a cloud. The end user access these applications, data over the internet using a cloud interface software like web browser etc.
Types of cloud computing :
Not all the clouds are the same and not one type of cloud computing will be right for everyone. Different models, types, and services are evolved to offer the right solution for your needs. There are three different ways to demonstrate cloud services: on a public cloud, private cloud, and a hybrid cloud.
Public Cloud – Public cloud is owned by third-party cloud service providers, which will deliver their computing resources such as storage, servers over the internet. With the help of public cloud computing, all the hardware, software, and other supporting infrastructures can be owned and managed by the cloud provider. You can access all these services and manage your account using a web browser.
Private Cloud – Private cloud refers to the cloud computing resources used exclusively by a single organization or a business. A private cloud might be physically located on the company's on-site data center. Some of the companies will also pay third-party service providers to host their private cloud. A private cloud is the one in which the services and the infrastructures are maintained in a private network.
Hybrid Cloud – Hybrid cloud is combined with the public and private clouds, it is bound together with the technology which allows the data and applications to be shared between them. By allowing the data and application to move between the private and public clouds, a hybrid cloud will give your business greater flexibility, more development options and will also help to optimize your existing infrastructure, security and compliance.
Use of cloud computing technology in business
The cloud computing technology is used in businesses for –
Cloud storage
The cloud storage is data storage option in which the digital data is stored in logical pools. The data is stored in multiple servers and the physical environment is owned by a hosting company. The hosting company or the cloud providers are responsible for storing, protecting and managing the data.
Cloud backup
Cloud backup is the practice of copying data storage in one cloud backup service to another. You need not have to worry about losing the data or lost data because data backup is too easy with the cloud.
Cloud hosting
Cloud hosting is a process of outsourcing an organisation's computing and storage resources to a service provider.
SaaS in cloud computing technology (Software-as-a-Service)
SaaS means Software as a Service. It is a software model which is licenced on a subscription basis and is centrally hosted. It basically means that you can access and use cloud based system over the internet.
Read our blog – Why it makes sense for mid sized businesses to use CRM as a SaaS
Advantages of cloud computing
1. Work flexibility
The cloud computing technology allows employees and employers to be flexible with their work. As the cloud computing gives you access to the data from anywhere on the earth (provided you have an internet connection) it becomes easy for you to connect easily and quickly.
For instance you are working from home, on field service or out of the office, you can still access the required information without going to the office. With just a click in your mobile phone, all the essential data is in your fingertips.
2. Reduces IT costs
The cloud computing reduces the cost of managing your IT costs. It is a cost effective solution as you need not have to invest extra funds on new hardware and software system. All you require is an internet connection.
3. Scalability
Depending upon the expansion of your business you can increase your storage and operation needs as per the requirements or changes. Thus, cloud computing technology offers the ability to scale their computing resources when required.
4. Privacy and data security in cloud computing
The cloud provider, provide privacy to the users who store the data in the cloud. Cloud computing offers security when any important data is lost and the data can also be protected by inappropriate access.
5. Easily accessible
The applications required can be accessed at anytime. The cloud provider are reliable when it comes to providing service. The only thing that is necessary is the internet connection. And most of the applications are also available offline.
6. Modernized and upto date
The Cloud computing technology incorporates the latest developments which make it an even better platform for data storage, data centralization as well as data communication.
7. Easy sharing of data and information
The cloud benefits you by making it easy for you to share data and information beyond the traditional methods. You can provide access to the file or document to multiple individuals present in various other locations.
8. Automated software updates
Depending upon your cloud provider your system will be automatically updated as per the latest technology.
9. Reliable solution
Cloud computing technology is a reliable solution provided by your cloud provider. Just see to that you are working with a well-known cloud provider, as they have access to your business data and information. We at SalesBabu cloud based system are a reliable cloud provider who provide the best Cloud CRM for your business.
Read our blog – Re-engineering your business with cloud computing
Disadvantages of cloud computing
1. Network unavailability
Internet connection is one of the basic essential factors for accessing the data and information. For instance if you are out of town and have no internet availability in the particular region, you cannot make use of cloud computing technology.
2. Cloud outrage
Cloud outrage is a time period when you are unable to make use of the cloud services. The reasons for cloud outrage may be – loss of power, software bugs, environmental climate changes and hack of data etc.
3. Data Security in cloud computing issues
You may be a small or large business but the business information that you have stored in the system is sensitive and you cannot afford to lose the data at any cost. Just make sure that you are working with a trusted cloud provider.
Why choose SalesBabu?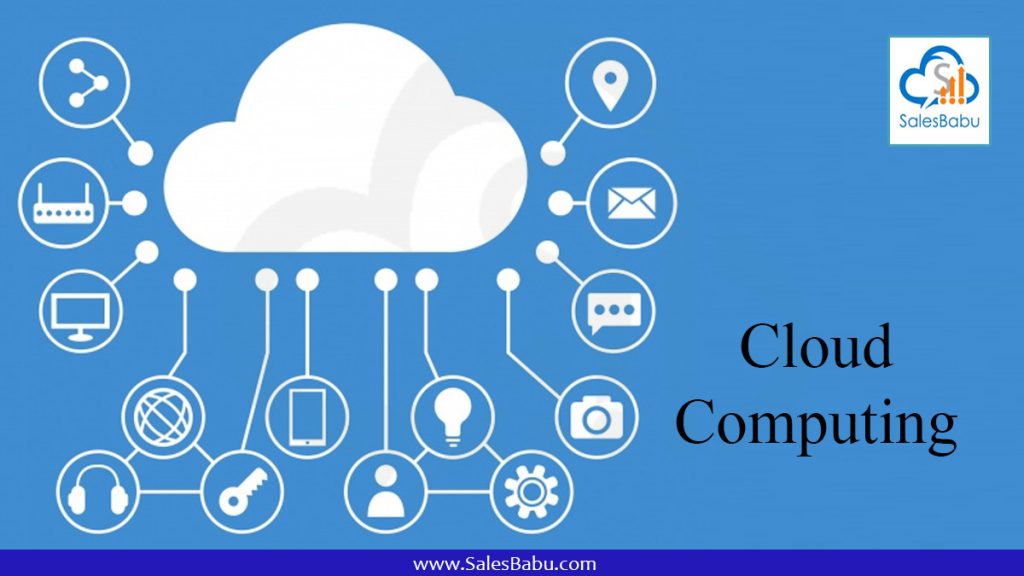 The best and most trusted cloud computing system like SalesBabu uses the latest cloud computing technology and provide a secure data storage on a cloud system. The clients only require a computer with an internet connection to access the application. This greatly reduces user's hardware, software burden and significant reduction in terms of financial and manpower to handle the application in case of premise hosted. It takes care of the required hardware, software requirements through our cloud computing technology. This makes our clients concentrate only on streamlining their business through SalesBabu cloud based system.


SalesBabu Cloud based system provides customer management support to all sectors of the society from various business models to educational fields. Every aspect of people or sales and marketing management can be handled and integrated at a common location by using the most trusted and versatile cloud computing technology like SalesBabu cloud based system.



SalesBabu is catering customers globally and pioneering in providing software solutions on the cloud. SalesBabu On-Demand CRM based on SaaS Platform is helping out SME sector and businesses to grow with the help of Cloud Computing. If you are looking for a cost effective cloud computing technology then contact the best cloud provider. You can also request for a free CRM demo at https://www.salesbabu.com/.