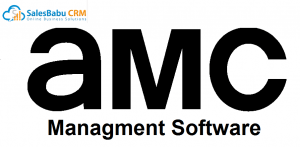 There is no doubt in that the quality of the customer care you provides; matters to your customers. A second way to Increase revenue is – through after-sales service, product warranties & repairs.
Rapid globalization of new markets has brought a great surge in Service Industry. Most of the industries that manufacture or sell products bearing after-sales -service and warranty as a mandatory requirement of customer service management tier which play a crucial role in the growth of company.
AMC management software keeps track of all the information related to a particular annual maintenance contract which is accessible by just one click of a computer Keyboard. It manages all your customer details and their product purchase information. Manage Annual Maintenance Contracts, Preventive Maintenance Contracts, and Complaint Service Calls for any type of products that could have warranty contracts and needs regular servicing.
Easy Customer Management
AMC management software keep the details of customer in details like his contacts, product purchases, spare parts requested and delivered, service request and their updates, PMS visit scheduling,  PMS checklists, AMC renewal reminders, AMC pending notification and much more, in conclusion, it keeps the service information handy for better customer assistance after the installation of machine at customer end and AMC start, since AMC a paid contract between customer and vendor.
Maintain Call History
With each PMS visit AMC management software manage automatic feedback in the software, as call history. This call history is help full for tracking continuous improvement areas by management team. Each case can be different and handling each case differently only satisfies customer service. To provide better customer service these case histories works like readymade input for improvements. It helps getting more satisfy customers.
Manage your Service Call Reminder efficiently
Automatic call reminder feature will keep reminding you for pending AMC renewal or PMS visit till you change the status "done". This feature helps work to be done in timely manner.