What is mobile CRM?
Technology has made it easy to complete most of the work with handheld smartphones and tablets. Customer relationship management (CRM) is the key to enterprise success. CRM dynamics involve capturing data about the customer, their dealings with the company, and other details. The company then uses this information to create a database, which can be used to track client relationships with the enterprise.
As everyone has become more accustomed to the use of smartphones and tablets, Mobile CRM is picking pace in the industry. Due to the credibility that mobile CRM offers, it has become a necessity rather than just an option for companies today.
Mobile CRM delivers a full CRM experience on internet-enabled devices like smartphones, tablets and other devices. It empowers sales, marketing and customer service teams to access and manage important information in real-time, wherever they are.
Mobile CRM is a CRM tool designed for mobile devices – smartphones and tablets. By connecting through a mobile CRM application, you allow your sales rep access to customer data through a mobile CRM app or through an online browser with a mobile CRM app. A key benefit of using the best mobile CRM app is to allow your sales force to access real-time data while out in the fields meeting prospects and customers.
Why Mobile CRM App is important
The mass migration of internet users from desktop to smartphones/tabs means users now expect real-time information to be available from anywhere, anytime.
Hand-held devices like Mobile phones and Tablets have become a necessity in our day-to-day lives. Right from the office work to managing your household, everything can be done at your fingertips with your smartphone or tab.
Increase in usability of smartphones has introduced a new concept 'Mobile CRM' – for sales and marketing department. This feature of CRM App has proven to be powerful and useful for many businesses to maintain customer relationships and to provide better sales and operations experience. Best Mobile CRM application can help maintain and track business transactions, communications, and dealings with the enterprise.
Global internet traffic of mobile device user is growing bigger. In the second quarter of 2019, mobile devices (excluding tablets) generated 48.91 percent of global website traffic, consistently hovering around the 50 percent mark since the beginning of 2017. A CRM application needs to be able to match this growth.
A best mobile CRM app enables users to access important business data no matter where they are. In a sense, it allows them to run their business on the go.
Read More – 8 Ways CRM Software Can Help Reduce Costs For Your Business
Why Mobile CRM Matters?
Most people use a smartphone/tablet to complete their regular activities. Mobile sales CRM app has become instrumental in providing the necessary and important data to companies about the customer to make the sales process more efficient and fruitful. 
Enterprises are increasingly using mobile customer relationship management application as it provides real-time access to the customer's information whenever required. Some of the benefits that mobile CRM app gives to business are below:
Mobile CRM app provides businesses access to the most critical information in real time
Research revealed that over 65% – 68% of sales reps who have adopted mobile CRM application have seen a considerable increase in sales
Sales representatives can directly interact with the customers, which will speed up the sales cycle and improve customer relationship
Sales planning based on the customer needs becomes more effective
Ultimately, best mobile CRM app is helping companies maintain a mutually beneficial relationship with customers by enhancing sales processes and ensuring timely follow-ups.
Mobile CRM App – Important for Employees
Office employees are no longer tied to their working desks; they're working on the go as well as per the requirement. Sales reps travel between offices and customer location to meet them. Field-force need access to schedules and work orders even when they're out of the office to meet the prospects.
Even jobs that just four years ago would require an employee's presence in the office are made more productive when they are given the option to access their work remotely. Research has shown that organization gain an extra 240 hours of work annually from the employees using mobile devices for work-related purposes.
This is because devices like smartphones or tablets allow users the freedom to work from wherever suits them best.
Even if they aren't in the same building, or even the same country, departments across your entire organization get to access the same data, irrespective of compatibility issues related to platforms, promoting a more collaborative work environment.
Mobile CRM App – Important for Customers
Beyond the advantage of granting employees to more flexible in their work environment, customers also benefit from having mobile CRM app availability for your company.
A mobile CRM application can help to make sure that your customers are getting the best service available always. Employees have access to real-time updates and key information; meaning they are completely equipped to provide customers with the reliable information they need quickly.
Even those who are not working directly with customers can use mobile CRM app to manage schedules, perform data analysis, generate reports, and organize important files all in one secure centralized location.
Read More – Sales Force Automation Software | Cloud Based CRM Software
Benefits of Mobile CRM Application
With mobile CRM app, mobile devices such as smartphones and tablets can deliver all the classic features functionality of a system hosted on a desktop computer or laptop, but with the added advantages of on-the-go access through cloud computing. This enables users to run their business from their hand-held devices.
Mobile CRM Application has many benefits for remote workers, when they're away from their desk. Mobile CRM App enables them to:
Plan using calendar integration
Dial into meetings with click-to-call
Access and update leads, contacts and opportunities
Open and share files
Access dashboards when they are moving
Track, manage, and respond to customer service cases
Access to up-to-date data at all times
Automatic updates mean every sales rep has the benefit of full CRM data, analytics and customer-facing material at their fingertips, on any device. It means that no one is left out of the loop and sales reps can move forward with their prospects with confidence to achieve their goals.
The best CRM application will also be equipped with extensive security features built in. New features and security updates within the mobile CRM app automatically update without users having to manually upgrade or re-download.
Why you need mobile CRM application
If you're still confused and not sure if mobile CRM application is a must-have for your business, consider the following:
Do you ever battled and faced difficulties in managing your sales team, including tracking their daily activity, getting real-time updates from them, or sharing actual insights and ideas with team members?
Do your sales people push back when you ask them to come into the office after every client meeting to share the latest updates on customers and prospects?
Are you getting impatient with lengthy sales cycles? Do your sales team spend more time than they should to close a deal?
Are you facing information overload, struggling with how to leverage all the data that constantly pours in?
Finding the right mobile CRM app may help you address all these challenges. Read on to learn about some of the specific benefits of going mobile with your CRM system in your company.
Advantages of using mobile CRM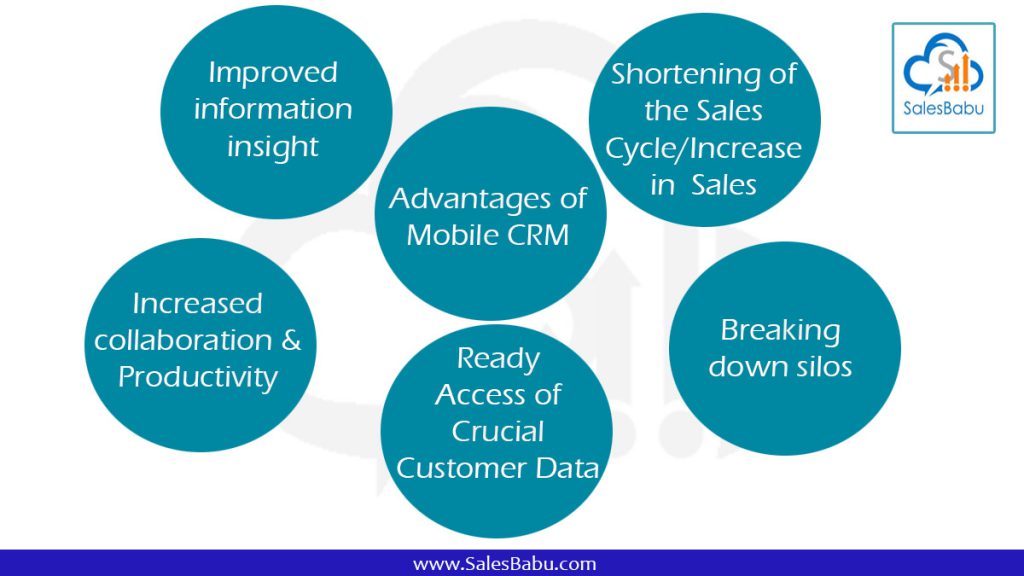 Read More – SalesBabu CRM : Boon for Small Scale Enterprises
Getting started with Mobile CRM Application
Pre implementing your mobile CRM application, it is essential that you define goals on what you want to achieve by using a mobile CRM app; and what your workforce needs in order to take advantage of real time data access. Three highly important areas have been outlined here, that you will need to address before adding to your business:
Internal buy-in
Pre implementation of a mobile CRM app, it is necessary that you get internal buy-in from the sales force in your company. Your sales reps are the ones who will be using the smartphone app daily. And in order to get their buy-in, you need to plan extensive in-house training on how to use the application in the form of user guides and training programs as well as explaining the key benefits of what they can achieve by working with the mobile CRM software.
Provide the device
People love and appreciate getting things for free. One of the simplest ways to get your sales team to adopt a smartphone CRM app is to provide the device to your field sales-force and include the application pre-installed. Although most CRM mobile apps are supported by Android and iOS, ensure that you check with the CRM application provider before giving it to your sales team.
CRM – Mobile app usability
Your sales team will rarely need access to full functionality on their CRM mobile app to all the same data and reporting they would access via their desktop. Begin with by providing only basic access that the teams use on a daily basis. For example, sending an email, scheduling a meeting or follow ups and updating contact information of the customers.
Things to consider before choosing an Mobile CRM :
Simplicity
An app is only as good as its level of adoption, and that can suffer if the experience of the user is not that great, or if there are too many features that are raising the learning curve. While choosing a mobile CRM, it is a very good idea to pare down the features to what exactly is necessary "on the road" while leaving some technical stuff to the office.
Security
We all are more likely to lose our mobile devices than computers. Mobile CRM will contain a lot of information about your company and the customers, so a compromised smartphone might cause a serious violation of the information, not to mention the trust. Good security for the app, therefore, is a key attribute to look for.
Works offline
When you are on the go, like on the bus, train, plane or sometimes in another country, you will occasionally find yourself without any data or wifi. This does not mean to be an end though, mobile CRM with offline mode will allow you to work with your CRM data, look up the information and be productive from anywhere. When you get online mode again, your work will be saved.