The fast-moving consumer goods (FMCG) segment in our country India is already one of the fourth largest sectors of the Indian economy. While the last accounting year saw a growth of a decent 11% in this sector, according to IBEF reports, the zone is poised to grow at 27% CAGR for the next few years.
The more interesting fact is that the small and regional players and rural India will be the two most significant growth drivers for this industry.
According to retail sales information of the FMCG sector provided by market research firm Nielsen, while the top 50 companies, contributed to 60% of profit margin in the calendar year 2018 with a healthy growth of 10.6%, the smaller firms grew by a much higher 18.5%.
What is more interesting is that the improvement difference is having a surging trend in four successive quarters.
On the other side, with expanding disposable income in rural India, direct cash transfer subsidy, the commencement of food security bill, and other government policy support, rural India is almost contributing 45% of the overall FMCG profit margin and this figure is only going to move in a positive direction.
With that kind of increment on the table and the entire pie up for grabs, may an FMCG firm really take the risk of not automating its sales deals and distribution process end to end?
Even though there would be numerous and multiple challenges starting from multi-brand distributor issues to integration woes, the answer is 'NO'.
While we may park the discussion on what will be the challenges and how to counter those for some other day, let's focus on the key advantages a company can reap by using a Distributor Management System (DMS). While the advantages are probably endless, we have pointed out a few which are probably the most significant: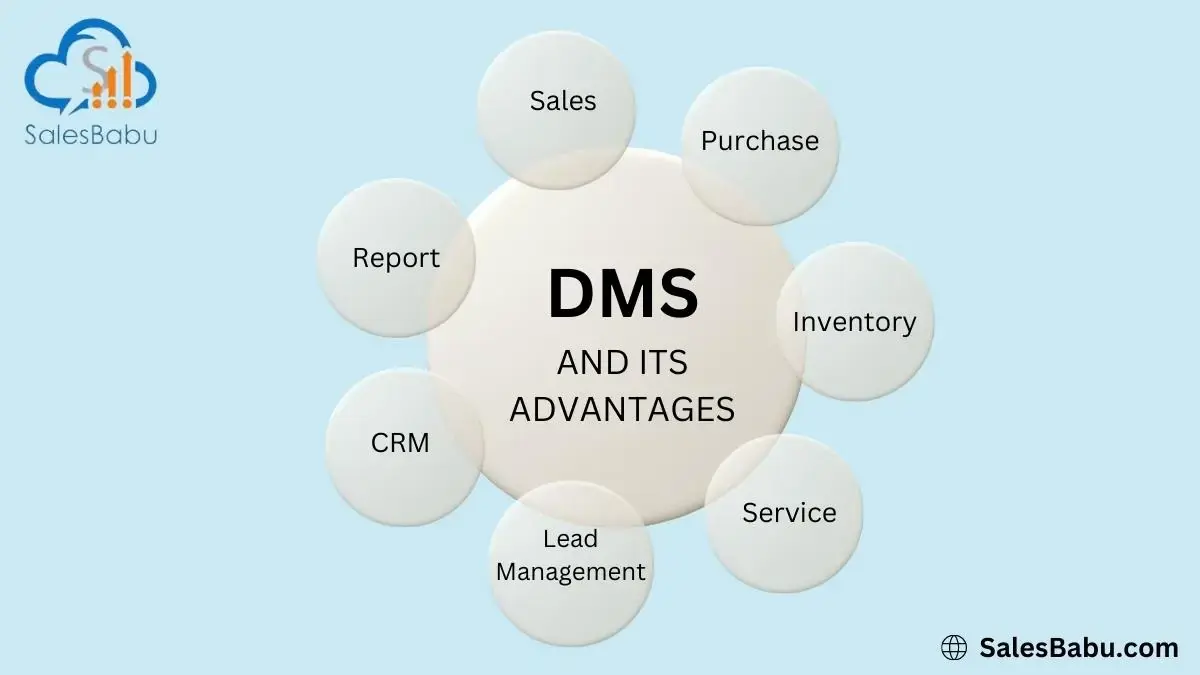 1) A huge support for your distributors:
While your company may initially face resistance from your distributors when your company throws the idea of installing a Distributor Management System, it is actually a great solution that shall be nothing but extremely helpful in terms of automating and streamlining a lot of their daily processes.
Automation of all kind of product movement, details of outstanding payments, system-generated invoicing, and intelligent alerts is a few examples of how a distributor's life is going to change significantly with a Distributor Management System.
Read More- Grow with SalesBabu CRM


2) Real-time visibility of all company's data:
As an FMCG firm, it is very vital for your company to have real-time visibility of all company's data from your distribution channels. If your company is not using a Distributor Management System, your company shall have to rely on the offline data shared by your distributors on a certain interval of time, which is neither authentic nor real-time.
But your company cannot really compromise on some of the important information such as current stock available with distributors, orders being returned by the retailers, orders pending fulfillment, and many more. Hence, to manage your distributors smartly, a Distributor Management System is needed.
Read More- How SalesBabu CRM helps Organization to Enhance Sales Productivity?
3) Process Standardization:
Finally with one composed system in place for all the distributors, as a firm, you may ensure all your required processes related to distribution are standardized, and most significantly, as all the parties involved are referring to one particular system only, there shall be only one version of the truth which shall remove unnecessary back and forth at the time of any conflict.
Read More- What Is SalesBabu CRM Software?
4) Know what is happening even in the most remote place:
With increasing profit margin growth in rural India, FMCG firms are setting up distribution networks almost in all the small regions or districts of the country to facilitate and help faster product movement from manufacturing plant to the retailer and to the customer.
With such a huge volume and at times remote geographical location of the distributor, it really becomes impossible to improve visibility on your product movement from all your company's distributors.
With a Distributor Management System in place, your company shall l have all the information at your fingertips even for a distributor having its set up in the remote northeast or in difficult terrain to reach the district of Chattisgarh.
Read More- Importance of Sales Tracking Software For Your Business Growth
5) Quicker claim settlement:
Another big benefit is that your distributors shall get Distributor Management Systems in place is better for the turnaround time for claim settlement. With schemes, return,damaged receipts everything automated through Distributor Management System, there shall always be transparency to distributors and the firm on the receivables and payables.
Further with online claim settlements through DMS, all the claims will be settled much faster than with a manual system which may usually go through multiple rounds of iterations between both parties.
6) Quicker stock replenishment: We all know how that how important it is for FMCG firms to maintain the optimum stock levels at different touch-points such as distributor, retailer, stockiest, etc.
As a Distributor Management System gives your company exact visibility on the expiry date, stock, batch number, return, etc. at distributor points, your company may get intelligent notice well in advance and plan replenishment much earlier and in advance than otherwise.
Read More – Lead Management Software System
7) Better control of trade schemes and promotion:
For an FMCG company, schemes and promotions are two of the major drivers of the business. Firms usually spend a huge sum of money in these stages.
But there are two important questions which many times or always remain unanswered –
Are the advantages being passed on to the retailers?
How successful are my ongoing schemes?
One of the easiest ways to get answers to these problem questions is to implement a Distributor Management System (DMS) which shall ensure all necessary checks and balances at the time of invoicing and shall also provide your company with an analysis of the performance of each scheme.
Read More- What is CRM Software ?
8) Better production planning:
Your Distributor Management System should be integrated with the demand planning module of your ERP. Once that is done, the production planning engine of your ERP shall have data on the current stock level, and orders pending for fulfillment at your distributor points.
That shall eventually ensure better manufacturing planning resulting in less or zero wastage of your manufacturing resources.
9) Automated solution for claim processing
An automated distribution software that helps processing business and managing multiple tasks and processing claims becomes simplified for manufacturers.
A distributor management software system is an ultimate tool that can enable FMCG companies to get hold over their sales execution of their business. Even though it is a challenging operation for a company to convince distributors to adopt such software, such a platform becomes an ideal solution to the fear of accepting once and for all supply chain management for your company.
10) Expertise in expense management 
A strong distributor management software can support you in dealing with the management of expenses in the sales and distribution channels with complete clarity. Manage your field work with efficiency with the support of such software that your sales representatives could gather and upload the details and invoices instantly for better organizing of business operations. It is essential to figure out transaction related issues irrespective of the area.
11) Complete business insights 
An increased productivity in business requires a consistent examination of the business operation to analyze more about the efficient delivery of tasks and the areas that require management. A Distributor software helps deliver an instant invoice and performance reports through wish one can trace the business activities. Such presentations of reports are precise and appropriate as there is no intervention by any sales or marketing individual which results in figuring out the error free operation in the business and to further deliver more successful tasks.


Conclusion
Distributor Management System boosts the FMCG company in a significant way. For free demos contact us.