What is CRM?
Customer Relationship Management is an approach in order to manage the company's interaction with the current customer. It is one such management process in which the companies can maintain a good relationship and stay connected to the customers. In turn it also improves the profitability of the company.
Customer relationship management is the most helpful tool that systematically improves relationships with customers.
Software professionally manages the record of interactions with the leads and customers
It offers advanced technology that automates, synchronizes and organizes services, sales, marketing and support.
Online CRM Software records each activity, automation of tasks and improved workflow enables companies to focus more on grasping and creating opportunities keeps a record of all leads and inquiries by customers.
Details of customer's needs and other details helps team members to achieve set target with the focussed approach.
Cloud based CRM Software streamlines sales process of the company because it enables you to assign leads, enquiries and customers to the suitable team member to handle them professionally.
You can prioritize your activities to ensure sale in the smarter way.
Online CRM Software empowers you to set reminders for tasks, call and important assignments.
It provides real-time 360-degree view of activities in the organization.
Read our blog – The What, Why And How Of 360 Degree Customer View
It enables you to sell faster as it helps you to focus on customers according to the top priority.
View offered by cloud based CRM software also improves the interaction with the customers because with correct details of the need communication of team members will be more focussed and satisfactory.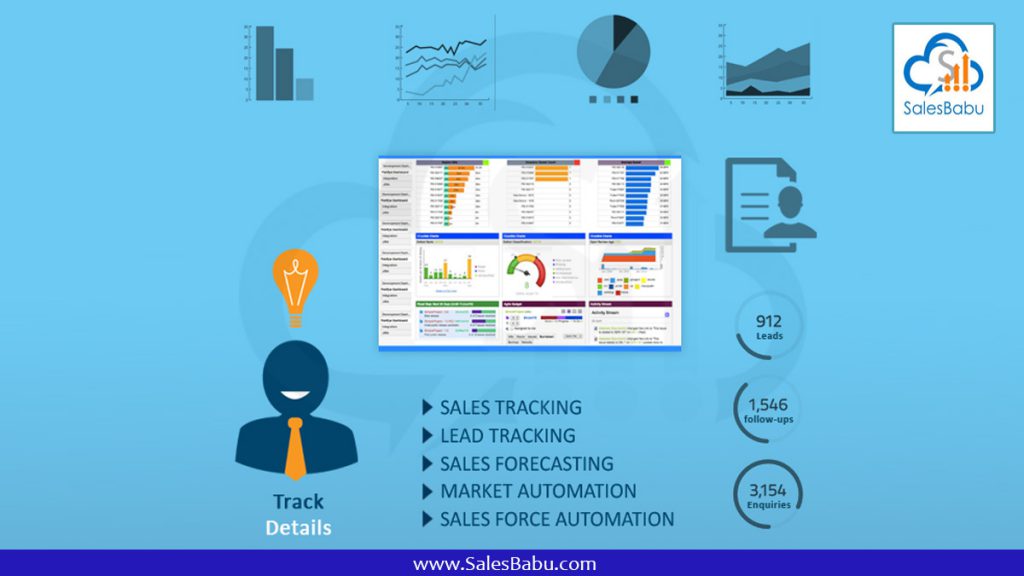 CRM system also tracks and improves marketing activities like campaigns, bulk emails and performance of advertisement thus it ensures better returns on your investment. CRM system efficiently follow and track all leads and capture complete conversation with them in the database. It helps you effectively analyse all sales activities to ensure fast conversion of leads into sales.
CRM Software from SalesBabu professionally manages and track all sales activities of the company. It helps you to manage the details of the customers, contact details, sales in the cycle, order quantity and competitors activities information. Dynamic reports and real-time activity dashboards gives you exact picture of all activities. Feedback from customers and sales team help you to modify and improve efforts for sales. Real-time information helps you to understand sales in pipeline. Software enables you to connect deals with the forecast to easily set targets for sales team. It helps you to track progress and ensure the best utilisation of resources to achieve the set target.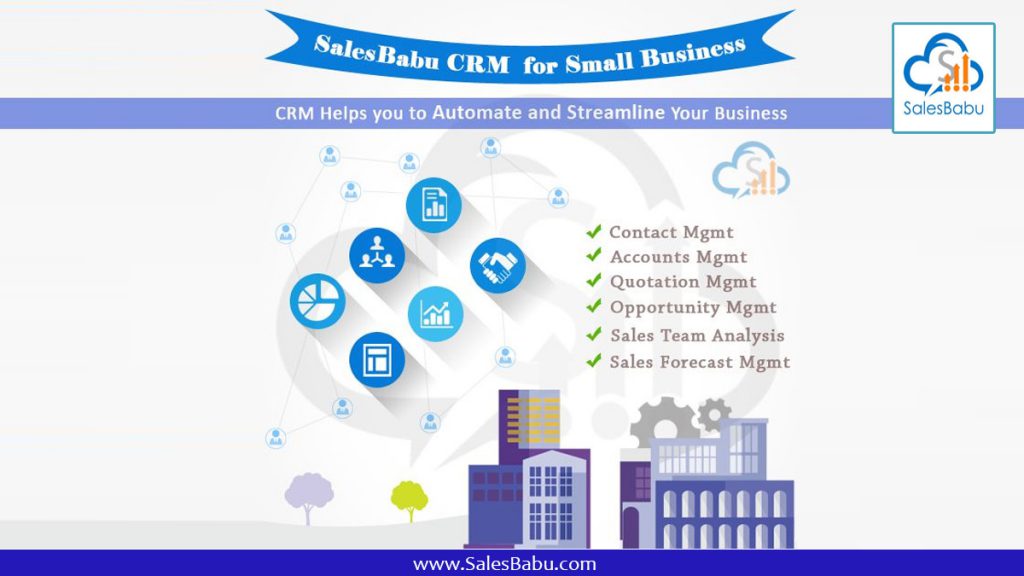 CRM Software is also a business strategy!
Cloud based CRM software records and maintain all the essential details of your business process. One can easily map and monitor the sales activities. It removes the time spent on unnecessary admin tasks, provides up-to-date and easy access to any information, improves the response time to the customers and prospects. It also helps businesses to close deals faster. CRM system not only helps to develop better communication between all the departments but also ensures higher customer retention. And undoubtedly makes it much easier to identify potential clients. Are you still stuck on which is the best CRM Software?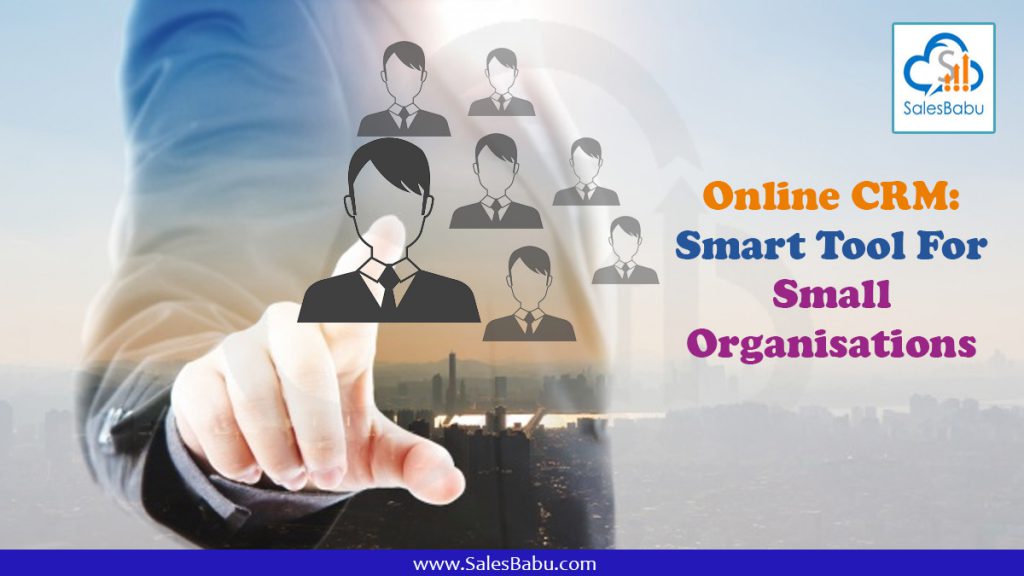 Sales Babu CRM Business Solutions
SalesBabu Online CRM Solution records and monitor each activity of a sales team. Manages all details related to leads, measures abandonment and close rate. Guides sales team to adopt a focused approach to achieve sales target. SalesBabu CRM enables you to categorize customers with all possible criteria. Can register date wise sales, region, sales details of products to never miss an opportunity.
SalesBabu Online Solutions is totally cloud based software. It can be accessed from anywhere and anytime. It is cost effective as no IT infrastructure is required to run the software application. If you are yet to get the best CRM Software which is basically cloud based CRM, then visit our website https://www.salesbabu.com/


Your customers are one of the most important parts of your business concern. Keeping them satisfied and happy is one among the top priorities for the establishment of a long term organisation in this competitive market. Invest in the best quality CRM software tool and let your clients be aware that your vision also lies in their satisfaction. Request for a free demo and get your best CRM