SaaS refers to Software as a Service. It is a cloud based service where you access an application via an internet browser. The SaaS platform is a monthly subscription plan provided by a third-party vendor. The users can make use of the software over the internet.
How does SaaS work?
With SaaS, software is centrally provided as a service through the internet.
The users of the SaaS software create their individual accounts. The user needs to log into the tool with the login data.
The applications do not run on their own computer but are called up online.
The cost is incurred as per usage on a monthly or annual basis.
SaaS Programs
The SaaS programs include –
Project management apps
Financial accounting
Payroll and accounting programs
Customer relationship management
Content management system '
E-commerce
HR management software
Archive management etc..
Here companies need not have to install multiple programs or purchase and manage licences for the programs to run them on the system. 
SaaS Characteristics :
Easy Customization
The ability for each and every user to simply customize all the applications to suit their business processes without affecting the common infrastructure. Due to the way SaaS is architected, these customizations are eccentric to every company or user and are always conserved through upgrades. Meaning SaaS providers can make considerable upgrades very much frequently, with less customer risk and far lower adoption cost.
SaaS Trends
Organizations are flourishing SaaS integration platforms to create extra SaaS applications. The business with Saugatuck Technology calls this the "third wave" in software adoption: when SaaS moves beyond standalone software performance to become a platform for mission-condemning applications.
Multitenant Architecture
A multitenant architecture, through which all the users and applications share one, common infrastructure and code base that centrally sustains. Because SaaS vendor clients are all on a similar infrastructure and code base, vendors can innovate very much quickly and save the precious time that is previously spent on maintaining various versions of outdated code.
Saas Harnesses the Consumer Web
Anyone accustomed to Amazon.com or My Yahoo! Is going to be acquainted with the net interface of typical SaaS applications. With the help of the SaaS model, you can customize easily with a point-and-click, making the weeks or months that it takes to update traditional business software seem hopelessly old-fashioned.
Advantages and Disadvantages of SaaS
The SaaS platform offers a variety of advantages and disadvantages that makes it a complete platform. Let us discuss more about SaaS –
Advantages of SaaS
Accessibility
One of the best advantages of using SaaS is its ability to run through the internet browser. You can access your data from anywhere at anytime from any device i.e, smartphones, system, tablet etc. Just make sure you have an internet connection to the device. Thus, it makes SaaS an incredible versatile application in multiple ways.
Cost effective
Investing on a SaaS platform is going to be a cost effective option because you pay as you use. Mid-sized and small businesses who are more concerned about the budget into the new system can afford the platform without any financial issues. The monthly payments make it easy and simple for these companies as well.
High Security level
The SaaS vendor is responsible for the maintenance of your entire business data. SaaS offers security benefits and keeps all your necessary data safe and secured. You need not have to worry about hacking or unappropriate access of your confidential data. Incase you tend to lose the data unfortunately, you are benefited with an option to back-up the data. The cloud providers perform regular security audits which makes all your sensitive data under airtight. Just, make sure you are working with a trusted Cloud vendor.
Data and analytics
The SaaS system collects all the stored data in its database and provides the data to its users at a centralized platform. All the data and information is available on the system when you log in to your account. Businesses using SaaS software usually have access to intelligence tools and reporting system.
Work anywhere at anytime
You can always access to your work tasks from anywhere, at anytime with just an internet connection. You can also access to your business data even if you are not at work place.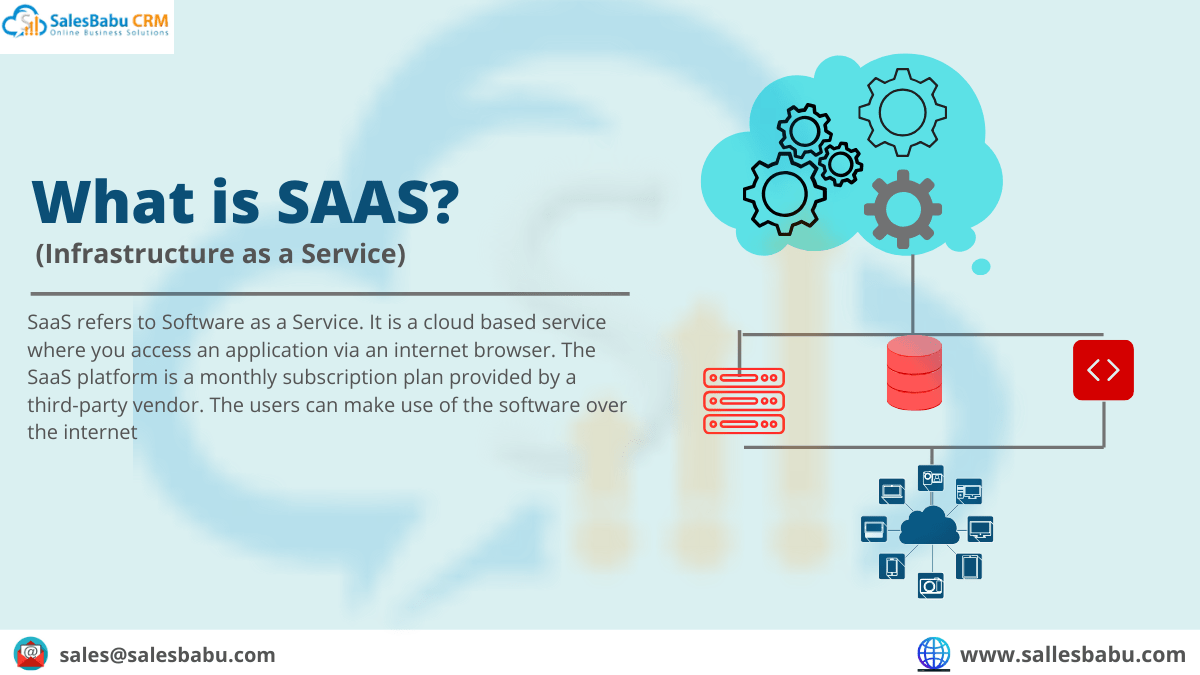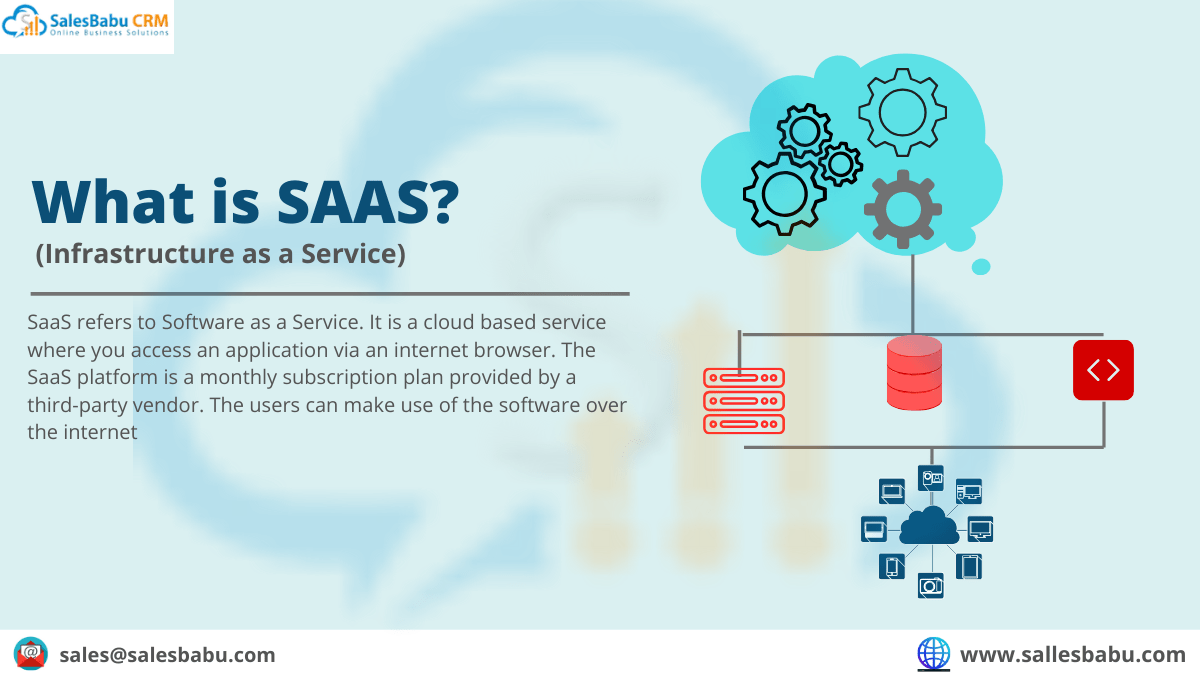 Disadvantages of SaaS
Lack of control
As the SaaS vendor has the entire access to your data, the control resides with the third party. Thus, it lacks the control to entire business data.
Network connectivity
When there are network connectivity issues with regard to the location, climate or any unavoidable conditions, the SaaS system will be of no use.
Data security
As the security of the data is managed by the SaaS vendor there may be security risks like – inappropriate access, loss of data, disclosure of data, enabling access to hackers or any malware practices etc can result into unsecure data.
SaaS are more widely cloud computing, can help you make the most of a limited IT budget.
Read our blog – Why it makes sense for mid sized businesses to use CRM as a SaaS
What is Cloud computing?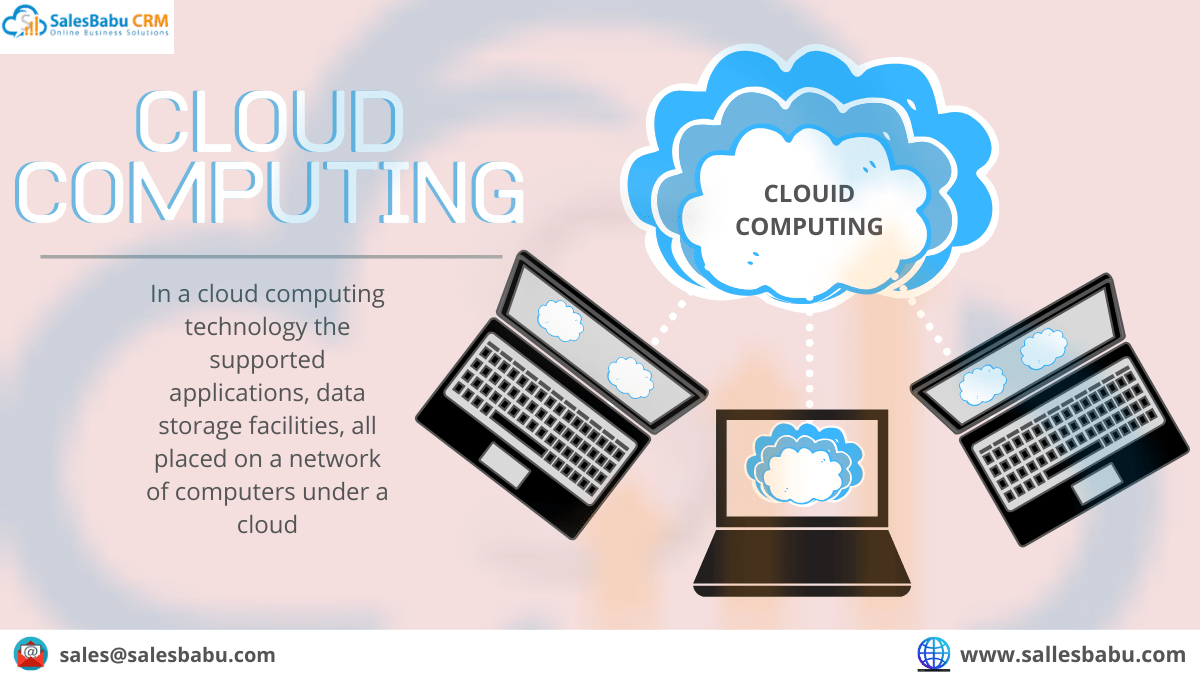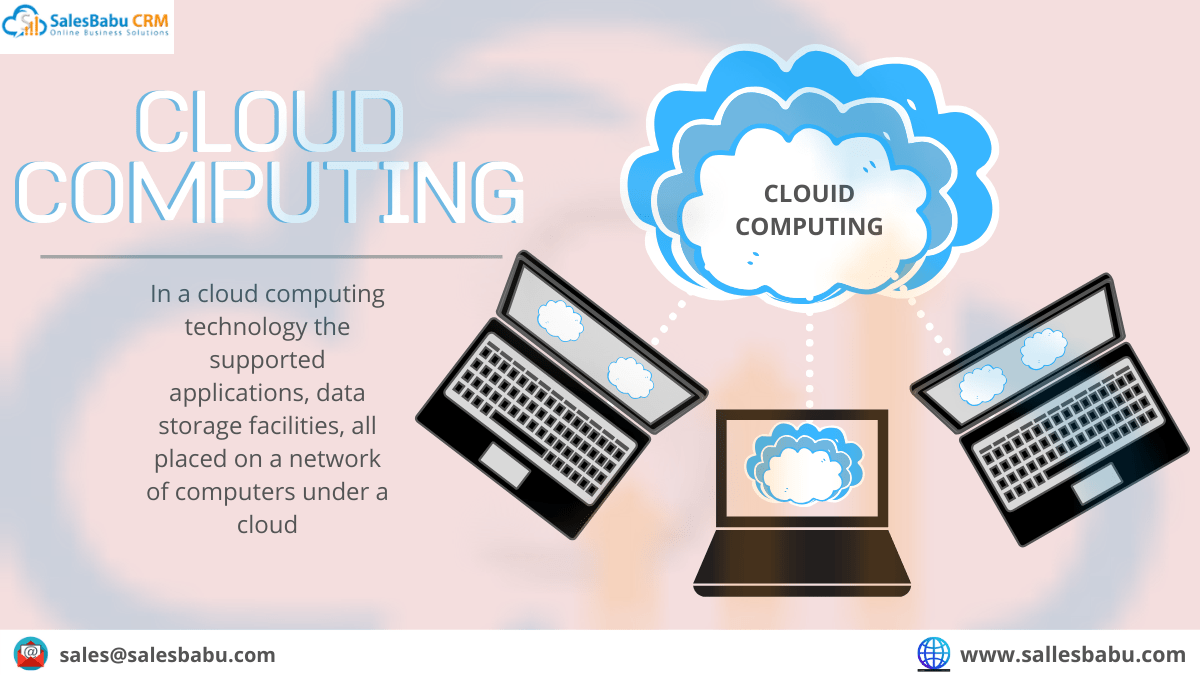 Cloud computing can be defined as a real time service, hosted over a network of computers or internet, access the resources of the cloud system from anywhere or any system using a simple interface to connect end user computers to the cloud computers.
In a cloud computing technology the supported applications, data storage facilities, all placed on a network of computers under a cloud. The end user access these applications, data over the internet using a cloud interface software like web browser etc.
Read our blog – What Is Cloud Computing?


Benefits of cloud computing?
Cloud computing gives you access to the data from anywhere on the earth (provided you have an internet connection) it becomes easy for you to connect easily and quickly.
The cloud computing reduces the cost of managing your IT costs. It is a cost effective solution as you need not have to invest extra funds on new hardware and software system.
Depending upon the expansion of your business you can increase your storage and operation needs as per the requirements or changes.
Cloud computing offers security when any important data is lost and the data can also be protected by inappropriate access.
The Cloud computing technology incorporates the latest developments which make it an even better platform for data storage, data centralization as well as data communication.
The cloud benefits you by making it easy for you to share data and information beyond the traditional methods. You can provide access to the file or document to multiple individuals present in various other locations.
In a cloud computing system, the workload is handled by network of computers or the cloud handles the load, and the end user computers load is reduced to minimal. The cloud interface is required for the client machines to connect to cloud system and all the applications are run on the cloud systems.This reduces significant shift in the work load from client/end-user computers to cloud computers. Even the hardware and software requirement is reduced for the end user. Cloud computing can also be called as an internet based technology, which is provided as a service and on demand to customers.The user can access the resources through the provider over the internet as and when required.
Read our blog – Cloud computing and CRM software



Conclusion
CRM Applications are one of the best strategies the businesses encounter when it comes to using a software as a SaaS. The present CRM Application are basically cloud based CRM softwares which provide cloud computing facilities. You can also make the fullest use of Mobile CRM that can be accessible from anywhere at anytime.
Overall the SaaS CRM application provides various functionalities for your business. And when it comes to mid sized businesses, the SaaS can be the best business tool for you.