About Pharmaceutical Industry
Globally known India is one of the largest countries providing generic medicine, vaccines supplies. India is having a good position in the global pharmaceutical segment. Medicines produced by the pharmaceutical companies are prescribed by the Doctors.
The Role of Doctors in Pharma CRM Software
Doctors' role is to diagnose the diseases, provide treatment to prevent from the disease and make the patients healthy, either medication or treating through the medical requirements. During the diagnosis, patients are prescribed the relevant medicine to cure the illness or do the related tests which are done through the use of Medical Equipment. There have been different specialty doctors – Cardiology, Oncology – Cancer Care, Neurology, Urology, Surgical Gastroenterology, Medical Gastroenterology, Obstetrics and Gynaecology, Bone Marrow Transplant, Dental, Physiotherapist, etc., who have been treating the patients. Pharmaceutical companies produce the medicines for different kinds of symptoms, Medical representatives who meet Doctors to promote their products by detailing their medicines and treating processes in their regular interval visits. Doctors give yes nod for prescribing the medicines which are available and suitable in the hospitals for treating the ailments of patients.
The Role of Medical Representative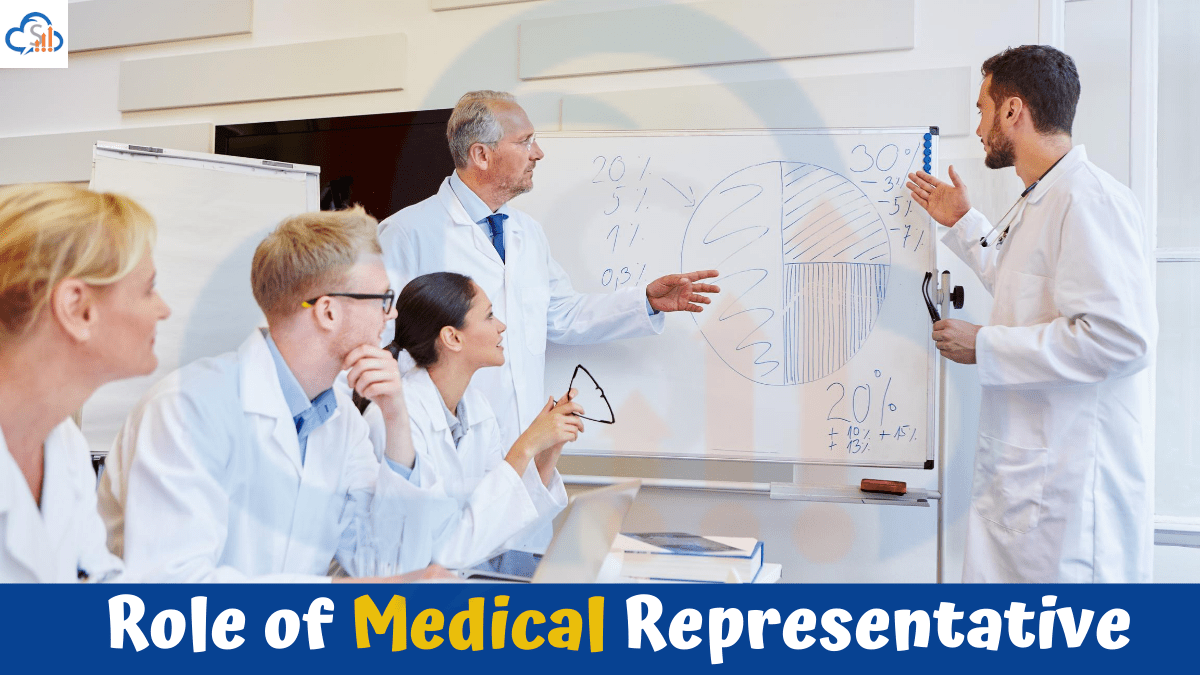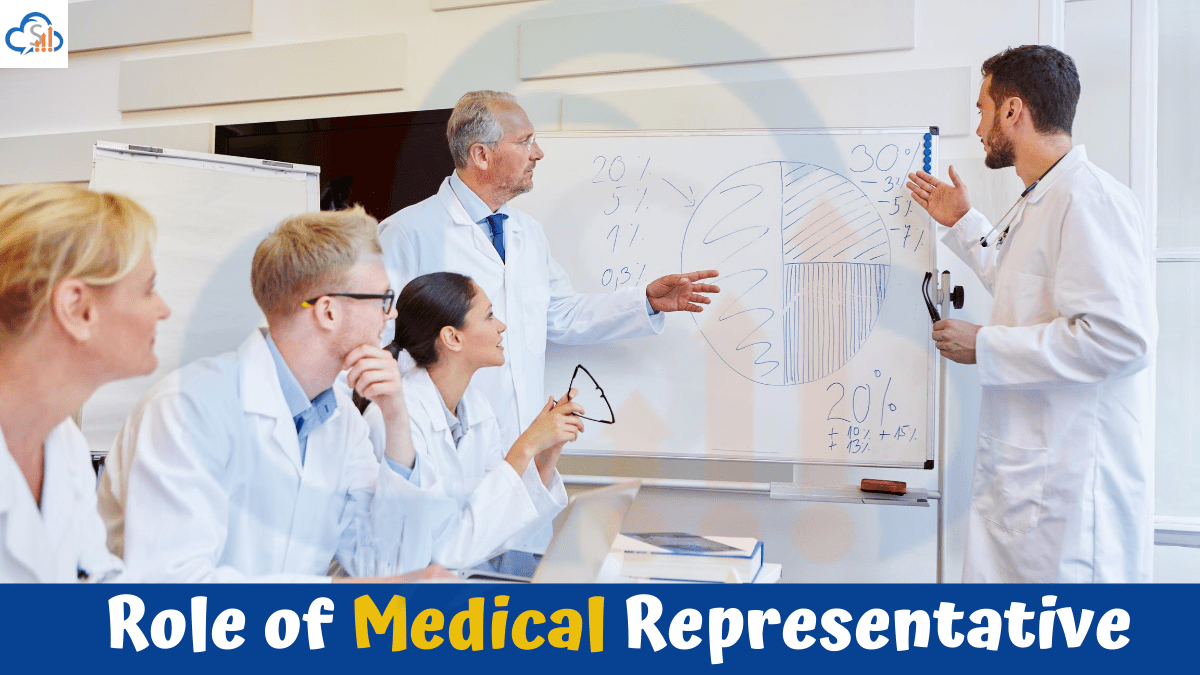 Medical representative's job profile is to promote doctors and sell a company's product – medicines to the hospitals. For the MR's their customers are doctors, nurses and pharmacists or medical stores. Medical representative job is to increase the product awareness, addressing the queries related to the medicines or medical reactionst and introducing the new launch products to Doctors and pharmacies.
Pharma CRM software manages the entire workflow of the pharmaceutical industry vertical. It helps medical representatives schedule their doctor visits, manages doctor details and their appointments, order punch-in, reminders and alerts and much more.
Key responsibilities of the Medical Representatives include:
Identifying the new businesses and adding the data – Doctors, Medical Stores, Hospitals, Institutions
Organizing appointments and meetings with Doctors, Pharmacies, Distributors or Dealers – healthcare staff and scientific equipment needs for healthcare professionals
Monthly Travel Plan submission
Anytime and anyplace submission of DCR (Daily Calling Report)
Data entry of the Demonstrating products or Detailing medicines to Doctors, Nurses and Pharmacists
Streamlining the sales process effectively
Provides the complete tracking of Doctor Visits and Dealers Visits
Issues of the Samples managed easily
Monthly & Daily Expense reports submission and managed.
Saving the stationery and courier costs
Raises sales force performance of Representatives
Complete Sales Process gets more transparency
Read our blog
Mobile Pharma SFA App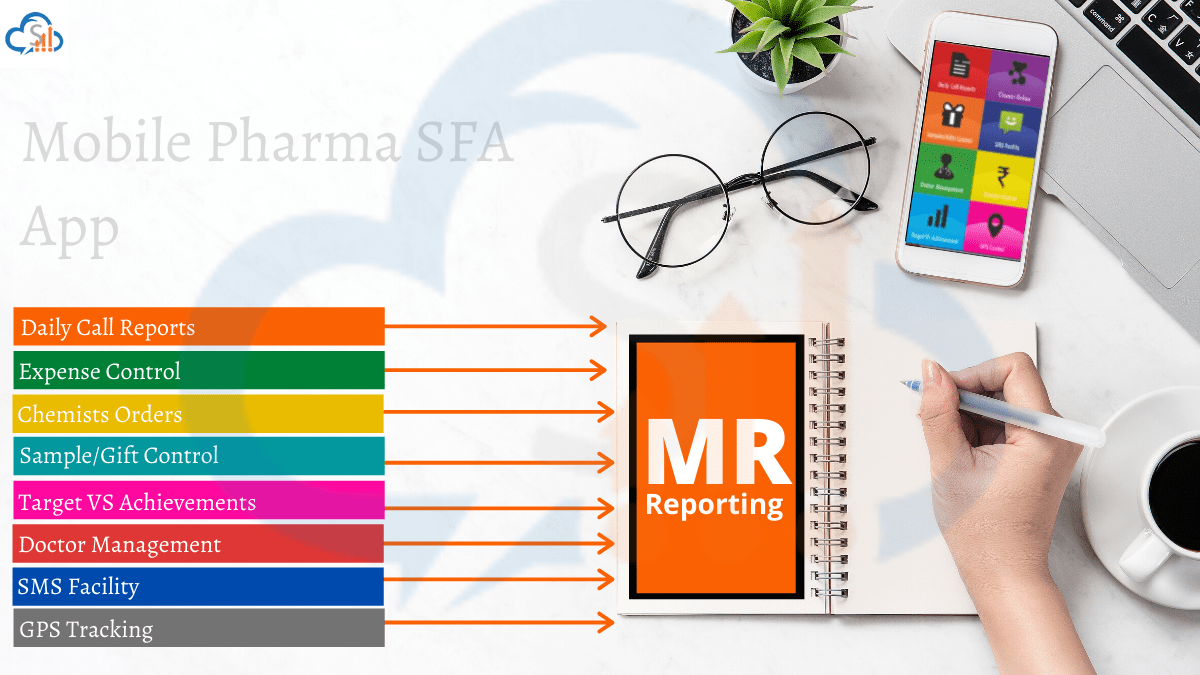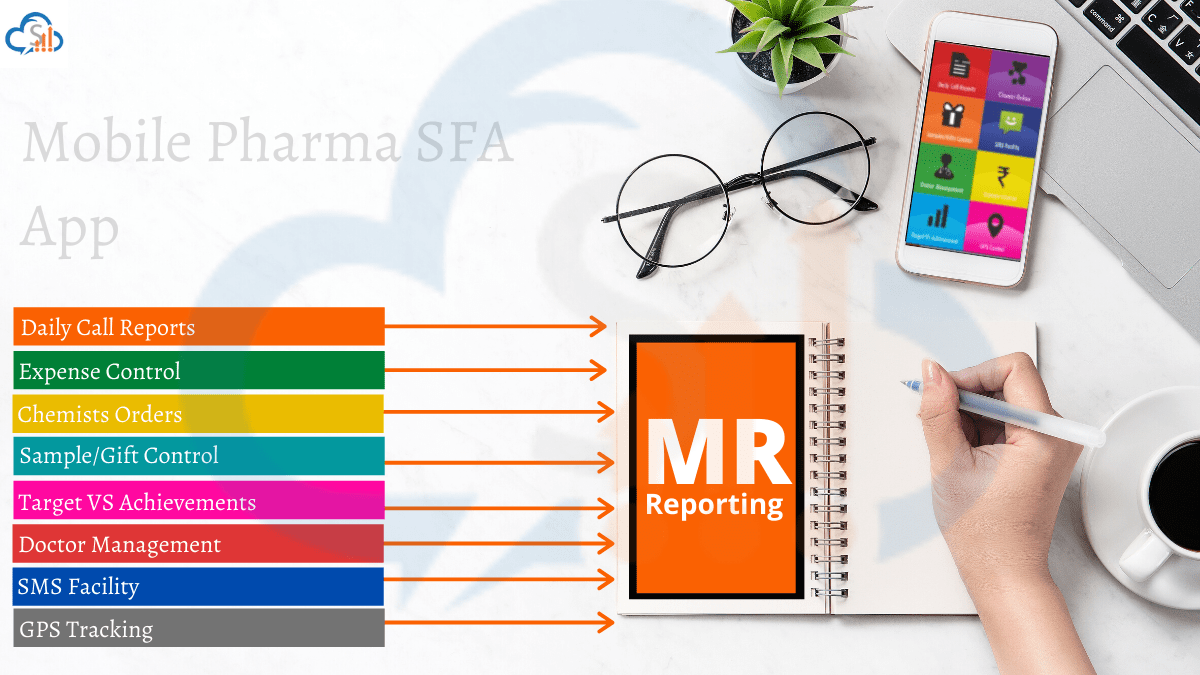 When it comes to the tracking of the medical representatives, they often lose track of their meetings and orders received. MR reporting tool is to be used by the representative. In the mobile pharma SFA their day to day challenges pertaining to visits of doctors and pharmacies, product catalogs, expenses and submissions, primary and secondary order received, inventory records of the stockists and other paperwork, which cannot be ruled out, hence their performance is adversely affected and the sales revenue of the pharmaceutical company is dipped.
It can effectively reduce those all hurdles from the medical representatives – day to day work through the pharma marketing software. They will be able to plan, manage and organize their day to day sales activity with the help of pharma reporting software. Medical representative by using the mobile pharma SFA, he is enabled to manage his meetings and targets of doctors and pharmacies meetings. Through the pharmaceutical software, paperwork can be eliminated. There is no delay in submission of DCR's, expenses statements and orders received details.


Benefits of Pharma CRM
The main benefits offered by the pharma reporting software is the improvement in data analysis and streamlining the mr reporting system, moreover creating a strong relationship with the Doctors, Pharmacist and Hospital. Pharmaceutical companies are able to enhance their sales processes, region or territory wise management, Doctors and medical stores daily call activities through the pharmaceutical CRM.
MR Reporting Tool
Reporting is a complex task in any process and when it comes to sales and support, executive accuracy of the reports does matter.
Monthly Tour Plan
Daily Call Reports (DCRs)
Sample/Gift Inventory
Sales Target & Product Order Booking
Read our blog – 3 Simple Secrets to Stay Ahead in The Generic Pharma Competition Using a CRM for Pharmaceutical Companies
Manage Detailed Records
In the CRM for pharmaceutical companies, the system is using an electronic way to store the information, there is generally no limit of entering the information. Pharmaceutical CRM helps you to measure & improve the communication with the management, Chemists or physicians and medical representatives. Medical representatives can make use of their digital tools for detailing and enter the feedback into the pharma CRM, which keeps a track record of the representative. Moreover, entered data in structured form which can be utilized for various other purposes at the same time.
Manage detailed product details
Customer contact details
Doctors appointment with their professional details
Samples records and other images store facility


Information Based Decision
Pharma CRM software helps managers and executives to make information based decisions. Real Time information update helps managers to communicate necessary directions on time, which not only improves the performance of the medical representatives, but also improves the quality of decision taken in the process.
Pharma reporting software is a SFA for the pharma industry. This pharma SFA is providing a territory wise or region wise, real-time reports and it is an online solution hence, it is always accessible any time with the help of internet connection. This pharma sales software records all the relevant data entered by the medical representative at every stage as per the pharma sales process.
Provides management control on Field Staff activities.
Takes Cares of all Market Information needed to the company.
Manage & track physician visits, as well as monitor and project sales quotas.
Real-Time Dashboard and Reporting
MIS & Reports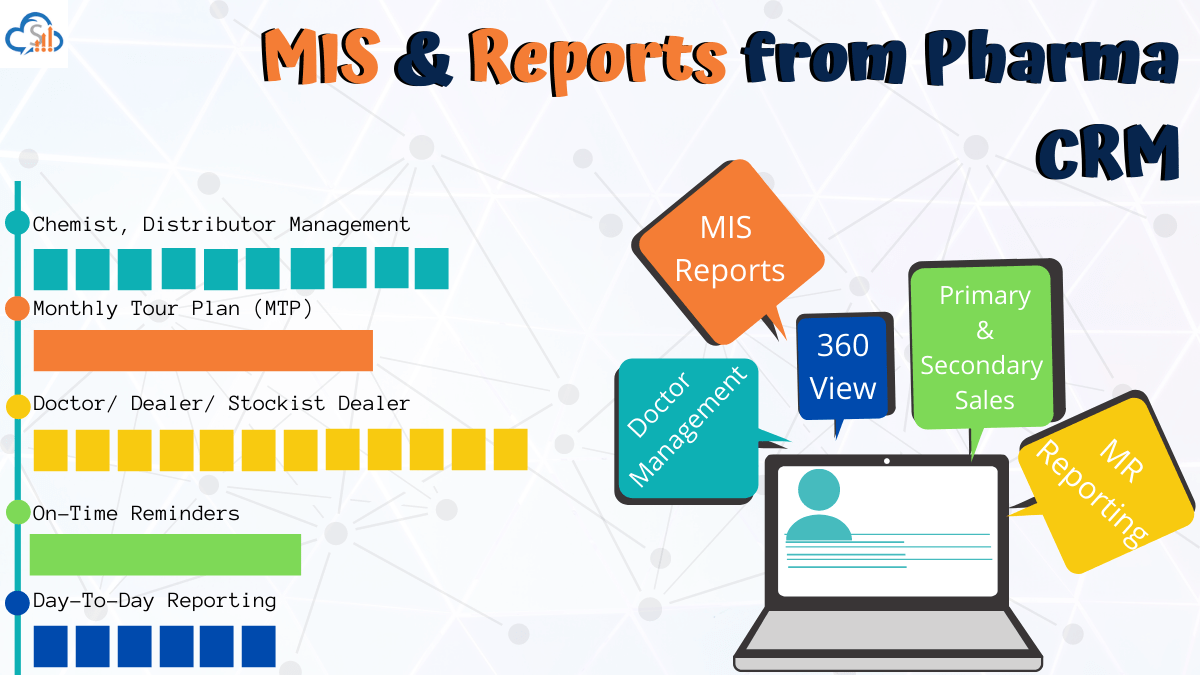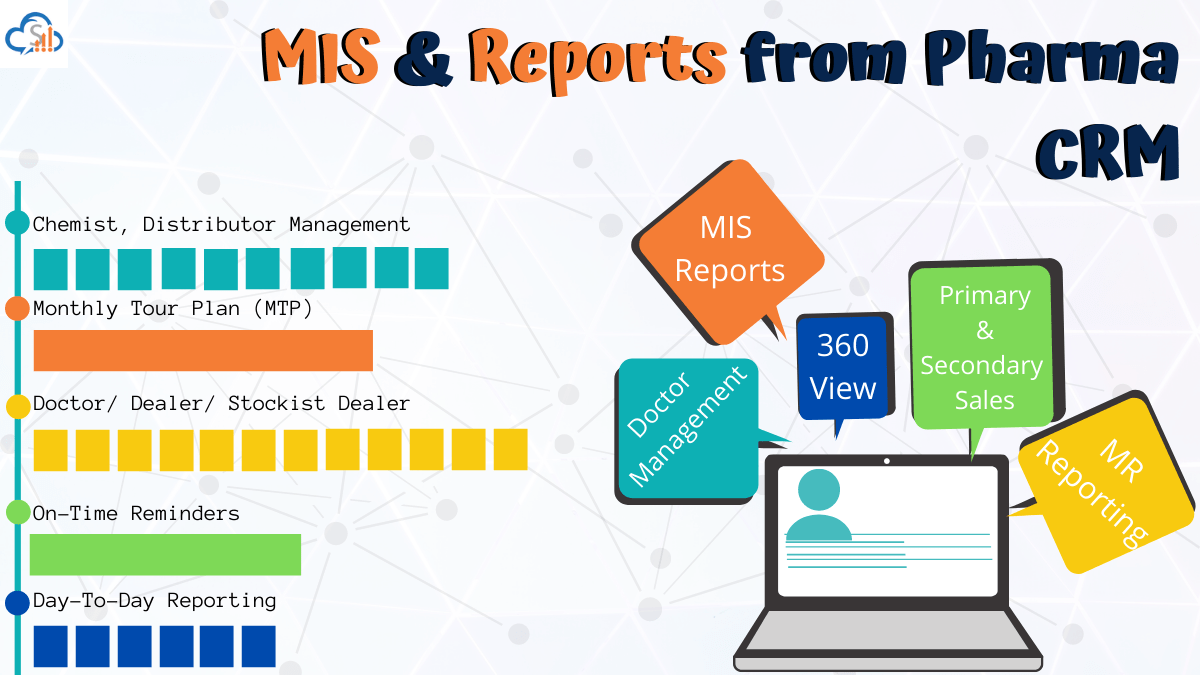 Pharmaceutical software provides the management information systems to improve management decision-making, with help of pharma CRM information that is captured is accurate, timely, relevant and complete. Pharmaceutical companies use the MIS & reports to ensure reps, managers they all work on the same set of data and management is able to make their decisions based on information punched into the pharma sales software.
At the end of day, companies require some reports to measure the performance & pharmaceutical CRM is highly capable of generating these reports.
Gives a complete performance report according to property or executive users.
Reports can be downloaded in excel formats.
Manage pending Enquiries, with their sources. That can be helpful in evaluating the source's usefulness.
Daily call reports of the executives, that helps the organizations to track, what they have done all day
Key Benefits of CRM for Pharmaceutical Companies
Well-Optimized Products and Services
The pharmaceutical sector frequently requires promoting various products and services to capture customer attention. Campaigns serve as a systematic technique to marketing your business. The moment you leverage a CRM software tool for marketing operations, you gather particular advantages. CRM systems provide a distinct and effective method to deliver automated campaigns. Such attributes provided by CRM encourages your sales team members to conduct well-planned marketing activities, ultimately leading to increased sales.
Automated Campaign Management
Generally, the pharmaceutical industry needs to promote various products and services to get the attention of the customers. Campaigns are a systematic way to promote your business. But, when you select a tool to run the marketing operation, you will have add-on benefits. A CRM provides an exclusive way to run an automated campaign smartly. The facilities from CRM qualify the sales team to execute well-planned marketing activities to drive more sales.
Integrated Customer Database
One of the foremost functions of CRM is to centralize customer information, making it easily accessible for data driven decision-making. Such operation considerably supports your sales team members by saving time during customer communication. Furthermore, with a large customer database, you no longer need to get tensed about sorting and classifying information manually. Such a CRM system automated such tasks, making you use the information productively, thus enhancing your customer relationship management.
Conclusion
SalesBabu CRM for pharmaceutical companies is providing MR instant updates on the Doctors meetings schedules and pharmacies updates on the products availability with them and status on the stocks available with them. Through the pharma CRM performance is improved by medical representatives. Management is able to have the geographical location tracking instantly. Medical representatives can receive their targets and instructions even if they are working remotely. To have the pharma industry continual growth, then pharma marketing software has to be implemented.
Managers are able to track activities of the MR's on an hourly, daily, weekly, monthly quarterly and yearly basis. Reports of the MR's can be generated on the parameters set – region, zone, city, doctors speciality, etc. Able to get the necessary information on the competitors and their products available in the market. Facts on the data available, graphical charts present on the dashboards.