The sales plays an important role for the success of the business. Sales is one such aspect which plays the role of a bridge between the potential customer's needs and the product or services which the organisation is offering, to fulfill the needs and wants of the customer. Trust and loyalty are the two reasons why the customer would stick on to your products and services. And when a positive feedback gets passed from one person to another about your organisation, it creates an immense growth in your business through increased brand recognition and sales.
A sales process is a set of repeatable steps taken by the sales rep to take a prospect from the early stage of awareness to the closing of the sale.


Key elements of SalesBabu CRM to improve sales
SalesBabu CRM comes with an user-friendly interface.
It is flexible and powerful system.
It is a cloud based CRM which is accessible from anywhere at anytime.
It provides default sales stages.
It provides some easy and quick to use features like Dashboards, Things to do, Team today, birthday and anniversary wishes etc
The Sales tracking app enables the managers to know what their sales reps are upto.
It provides real-time dashboards which gives graphical formulation of the input and expected outputs.
It has the Speedometer and Probability that automatically predicts the sales realization.
Records and monitor the activities of the sales reps.
Categorizes customers with all the possible criteria. You can register date wise sales, region, sales details of products to never miss an opportunity.
Helps you to keep automated reminders and alerts.
Helps you to bifurcate your work with respect to priorities.
Makes your work faster.
Reduces the time spent on non-sales activities and promotes work productivity.
Helps to target customers on multiple sources.
Read our blog – 5 Amazing automation features of CRMs you need to be using
Most of us consider the cloud based CRM, with respect to storing relevant customer data. Have you ever thought of how CRM can be effectively used to streamline sales process and in turn increase sales productivity?
Key features to streamline and increase sales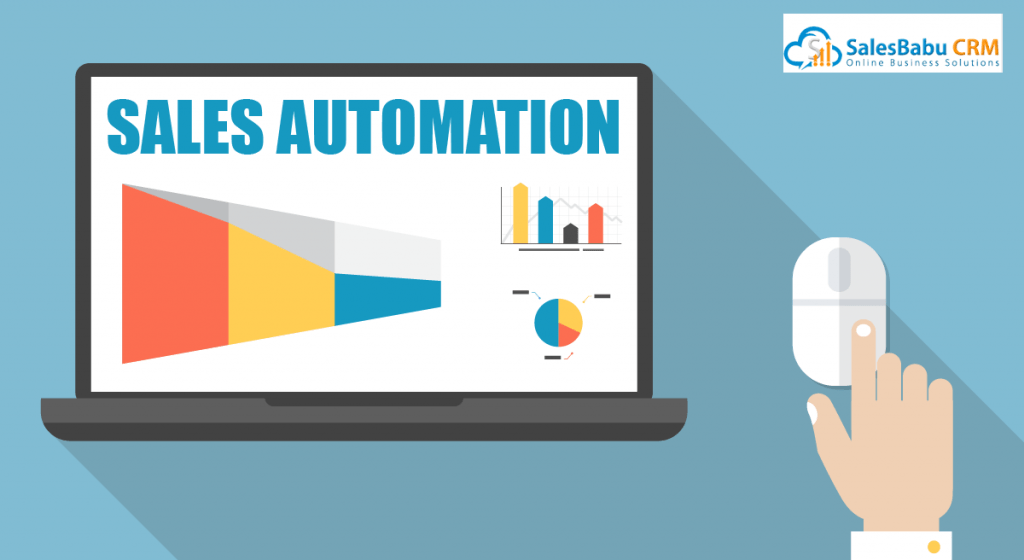 Sales force automation CRM software you can automate and streamline a few business tasks like Account Management, Contact Management, Opportunity Management, Sales Pipeline Management, Sales Forecasting Analysis, Sales Activity Management and Sales Team Performance Evaluation. 
Advantages of Sales force automation
Less time is taken by the sales manager to prepare the daily, monthly or weekly reports.
Increases the productivity
A competitive advantage of revenue, market share and a cost
Information regarding the sales is done on time.
Keeps proper records of the customers which can be tracked easily
Proper utilization of time from the staff members
Forecast of sales can be done very accurately with help of past data of sales.
Utilization of scarce resources efficiently.
Increases the satisfaction of customers in less response time.
The sales tracking CRM helps you maintain effective sales forecasting and capabilities that automate, streamline, synchronize all the sales activities like new sales opportunities, comprehensive view of the customer interactions, follow up reminders, record history, contact information and much more.
Benefits of Sales tracking software
Performances of individual customers can be determined.
Manages the quote process.
Helps to plan the inventory supplies
Does the review analysis for the losses occurred
Manages the relationships with staff, customers and growth, also the growth of them.
The sales forecasting provides strategic value, increase your visibility into the supply chain management process, and drive your growth. 
Sales leaders and business leaders are faced with major decisions. Decisions are influenced by the factors like:
Efficiency of sales team
Cultural and sales forces
Competitive industry
Condition of economy
Development of technology
Sales leaders need proper sales forecasting software that can make sense of these random factors to make crucial business decisions, accelerate growth, improve the cash flow, increase retention.
We provide Cloud & Mobile based Software for Managing Field Sales Force. With SalesBabu Mobile Sales App you can quickly gain pipeline visibility, track team performance, and uncover opportunities to grow the business.
As the investment in the mobile CRM software, the platform can pay dividends throughout your organization far beyond the traditional users of CRM. As mobile usage continues to boom, the users are everywhere.
Sales – Sales get efficient savings, reduces the overhead of admins and overtime. 
Marketing – Can be able to talk to the customers in many new and different ways, by creating personalized experiences and tracking the activity of social media with familiar and easy-to-use-tools.
Customer Services –  Can pick the cases very quickly, track them across different channels and resolve them using knowledge of the whole organization.
Read our blog – Three ways How Cloud CRM Software can take your Sales to next level



Usually what happens is, your sales reps do not prefer using the cloud CRM software and forcefully pushing them towards using an online CRM software, can be a little difficult in a few cases. They may end up giving reasons like it takes a lot of time or anything like that. Unless and until your sales reps do not enter in the data, you are unable to get the updates in your sales CRM software. Moreover, your sales reps and marketing reps are the ones who are going to use the software daily in order to make their work easier and faster. So it becomes your responsibility to choose an online CRM which is user friendly and mobile friendly as well. Make them understand how sales CRM software is vital in order to make their work much smarter.
The world of cloud CRM will come up with much more solid changes which will help you to achieve tremendous success in the long run. At SalesBabu Online CRM software we have taken up the valuable customer suggestions and feedback, we have also had constant communication with them and our partners, without which we would be just another cloud CRM provider. Are you still thinking about which is the best CRM software which is basically a cloud based CRM software? Then don't waste time and feel free to request a free Demo at SalesBabu CRM. You can visit our website https://www.salesbabu.com/ to know more.