What is a lead?
A Lead is an individual or an organisation who have shown interest in what you are selling but have not yet made a purchase of your product or service. The interest here refers to providing contact number, email ID or social media username.
What is lead qualification?
Lead qualification is a process of categorizing a qualified sales or marketing lead as a customer who has been contacted by the sales and marketing team, and so is further along the sales process than other leads. 
Lead qualification is crucial to ensure that your sales and marketing resources are allocated as efficiently as possible. If you are investing an equal amount of resources into all potential customers without first assessing their qualifications, you will end up spending time and money on leads who can be less likely to make a purchase, no matter how well you engage with them.
Lead qualification is a multistage process. Firstly the marketing team will collect the contact information of the leads as part of inbound marketing operations, then assesses whether the lead is likely to fit an established customer profile for your target audience. If the lead is considered to fit, he or she will become a prospect. At some point, a sales rep will get involved by scheduling a call in which they will discuss the needs of the prospect, buying timeline, authority to make a purchase, and budgetary requirements. Based on all this information, the sales team will make a final resolution about whether the prospect is a good candidate for pursuing further.
Why lead qualification is important?
Nurturing and qualifying leads becomes important because –
Lead qualification saves your time and allows you to interact with the right ones.
Lead qualification improves close rates and boosts revenue.
Nurturing prospects before having direct conversation, increases the efficiency and overall performance.
Lead qualification also helps you to identify which of your sales and marketing channels generates better quality leads.
Lead qualification helps you to identify which sales team closes most sales.
Lead qualification provides better focus for your sales as well as marketing team by ensuring resources are not wasted while chasing leads.
How lead qualification helps to align sales and marketing?
Right targeting
If your sales or marketing team is targeting the wrong audience it will not help them in closing the leads. Lead management software helps you in the qualification of interested lead. It tells the prospective opportunities for sales which helps your sales department to draw effective focus on the leads and moreover helps to decide to take all necessary majors & efforts to close a fruitful deals.
The sales department can help the marketing department understand which kind of leads are turning into sales or say deals. As the sales reps are the ones who act as a bridge of communication between the prospects/customers and the company, the sales reps can help the marketing reps in understanding the right target customers. Thus, the sales and marketing team can work together to qualify quality leads.
Read our blog – Win more Customers with Lead Management Software
Lead generation
Lead generation is a process of attracting and converting prospects into active leads who has indicated interest in your company's product or service. Lead generation is a part of sales as well as marketing in the digital era. Sales and marketing alignment leads us to modern lead life-cycle management.
The best lead generation sources are –
SEO – SEO is Search Engine Optimization. It is a process that lets you to get traffic from natural search results on the search engines.
Social media – Social media is one of the most trendings and easy form of generating sales leads by marketing and advertising to larger set of consumers. It is also one of the most versatile and cost effective strategies of marketing.
Email campaigns – Email marketing campaigns are the email sent from a business concern to large numbers of customers or prospects. It is one of the basic online lead generation strategies which helps you to get more leads and sales.
Online advertisements – Online advertisements are one of the most effective forms of advertising at the present world because pictures speak more than words.
Use a lead management software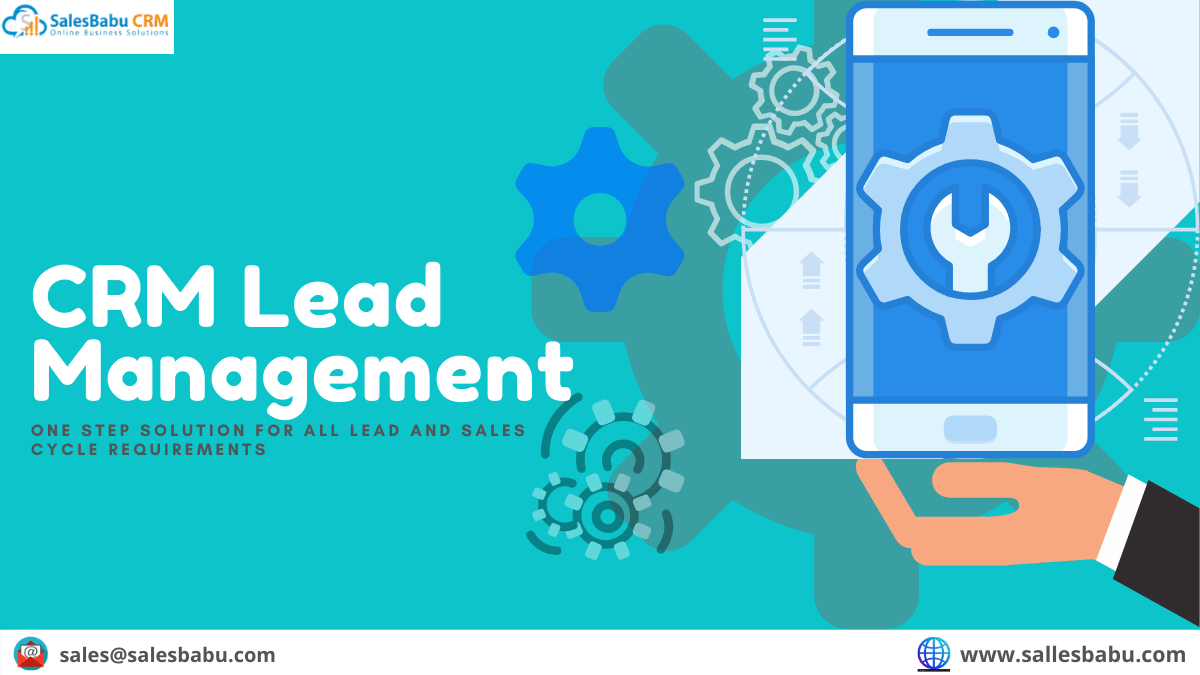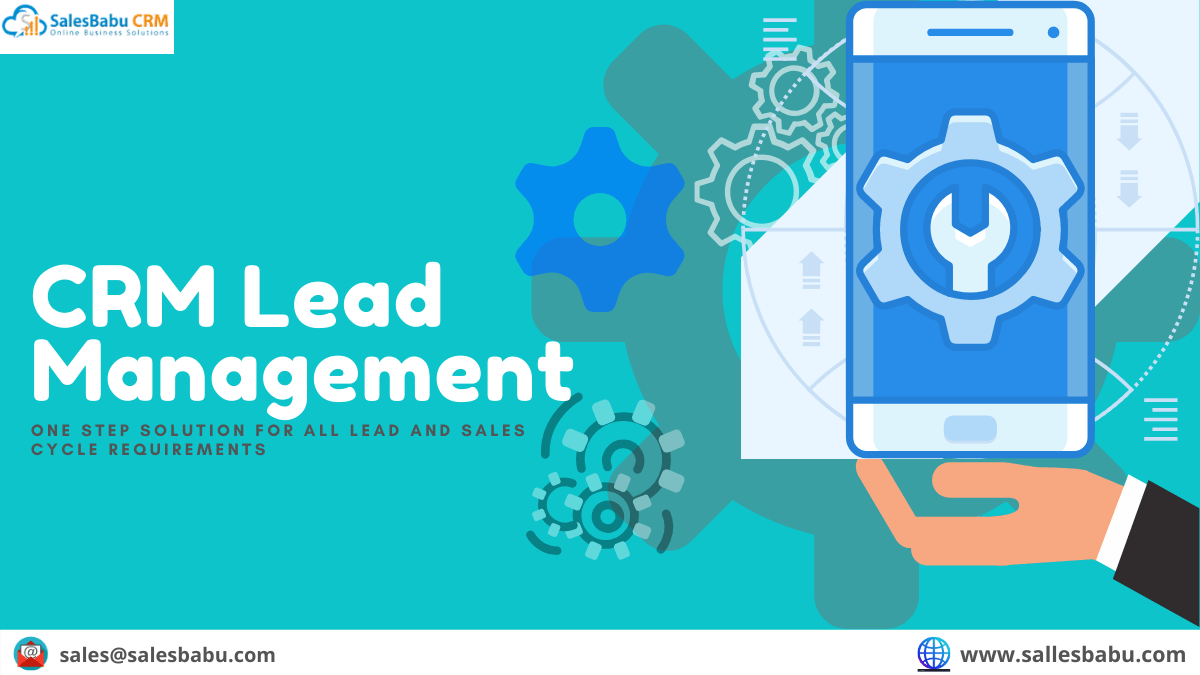 The CRM lead management system is a one step solution for all lead and sales cycle requirements. A lead management software stores entire information about the prospects and customers in a cloud integrated database.
Lead Management Software is an effective tool not only to track inquiries but also to capture details like lead source, date, industry, competitors, website, multiple contacts and a host of many other fields. You can easily get all the details of the customers and prospects in a single click. Once you have entered the lead or enquiry details in the software, you can make activities according to your interaction like follow-ups, e-mails, meetings, appointments and payment collections and also assign the lead and activity to an efficient sales rep.


Read our blog – Online Lead Management Software | SalesBabu CRM Software
Features of SalesBabu Lead Management Software
Leads database
The lead management software helps you to store all the collected leads data in the cloud system. It helps you to store all the necessary lead data including their preferences, requirements and future references etc. The lead database gives you an easy accessibility to the stored data within a single click.
Leads sources
The lead management helps you to track the lead sources that helps you to have an idea of the form of enquiry, what your customers think, decisions regarding the marketing campaigns. This feature saves your time and also lets you to understand your target customers better.
Leads assignments
The lead management software helps the managers or top level management to assign leads to different sales reps. You will not face any issues during the assignment of leads to your sales reps. Assignment of leads to efficient sales reps can make a lot of difference in the conversion of leads into sales.
Leads management
The lead management software helps you to manage and organise your leads efficiently. It lets you to prioritize your leads depending upon the requirement or interest. It also helps in further follow-ups and sales pipeline.

Leads follow-up
The lead management software helps you to manage follow-ups of day to day activities. It also acts as a guide to the sales reps based on the follow-up strategies.

Lead tracking app
A lead tracking app will capture sales productivity and also help in customer satisfaction. It also provides a clear vision of the future sales forecast. It also helps you to run reports, set reminders and alerts, access the sales cycle and many more. The lead tracking app can be installed on your smartphone or tab etc. Thus, it eliminates the need for spreadsheets or whiteboards.

Leads qualification
The main feature in the lead management helps you to qualify leads based on the client's interests. It helps the sales team to draw effective focus on the leads and helps to decide the necessary steps to convert the lead to a fruitful sale/deal. 
Lead Report and Tracking
You should have precise reports so that you will be able to analyze the quality of the leads. This automatic software will help to generate accurate sales reports in which you get the right picture of what is happening in your business from these leads. This facility will also help you to track your sales team via GPS. Analyzing the productivity of your sales team will become easy with this software.
Alignment of sales and marketing
Alignment of sales and marketing department helps in the creation of more and more leads ultimate for sales. The sales leads may fall through the cracks of the sales funnel if the sales team judges leads to be a lower quality. Marketing team can gather prospect data which can be further used by the sales reps in the sales process. Lead qualification also helps the sales and marketing team to make decisions with regard to the leads. Once the sales representative has gathered the feedback regarding the customer's pain points by the customer during sales calls, the marketing team can work on creating new messages in order to refine the product or services provided. Thus, the sales and marketing team improves their data gathering and assessment efforts in order to get better insight on leads.

Read our blog – How Your CRM Helps You Align Your Sales & Marketing Strategy



Conclusion
The business firm that focuses on alignment of sales and marketing in order to work more productively are the companies which are able to outshine in the market and push their competition into the background. You can use the best CRM software which is basically a cloud based CRM application for small businesses as well. If you have not yet got one, then feel free to request for a free demo on our website https://www.salesbabu.com/. You will surely not regret the use of Cloud based CRM software for your business.