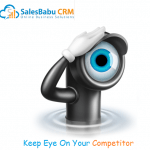 In Business world is really competitive and there is a Rat race everywhere. Be it in organization, between employees or even in close quarters of society. Competition is heavy in market ,to introduce new products and new technologies , to take on the customer demand completely the quest goes on.With the help of incoming high end technological assets, competitor tracking is also gaining momentum in the market .This helps one to get a complete picture of what his competitor pace. Now competitor tracking is been given a prime importance in organizations so that they can keep an eye on their competitor and proceed accordingly.
Importance Of Competitor Tracking In Sales And CRM
Sales people often face a cut throat competition in market and there is always a bid as to which organization gets favoured by the organization. To keep them up in competition, they must know what their competitors are offering to clients so that they can customize offers accordingly. In sales , generally you need to know your competitor's
Range of products
official price structure
slab structure
discount structure
Strengths of competitor products
Weakness of competitor's products
Market Share
Marketing strategies.
Extra offers to customers if any.
Knowing your competitor's strategies pays a crucial role in today's sales structure. You must identify the pros & cons of our competitor so that you can efficiently handle the questions and competitor comparison of your customer.
How Does SalesBabu CRM Helps you perform Micro Level competitor tracking?
SalesBabu CRM offers you a well-managed competitor tracking mechanism throughout your sales cycle. Right from the lead management till the sales closure, there is provision of tracking competitor column where you can jot down all the necessary details pertaining to your customers. Be it during lead capturing stage or quotation management stage or be it the sales order management stage, everywhere there is columns which help you capture all the important details of your competitor.