Sales could be individual effort but to be a successful Sales Manager is a Team Oriented work. Only a good salesperson can't become a good & effective manager. With sound sales experience, the manager should poise skills to manage team & tasks. Managing a great sales team is no less than a challenge. No matter even if you have a good brand image or your product outstands the market, but if you don't have a great sales team it's of no use.
The qualities like confidence, focus, ability to create the best impression by just talks and the trait to maintain good relationships with others, etc are the main qualities you look for in a sales rep. When these like-minded people with similar qualities collaborate to achieve the organizational goals they can do wonders.
Sales Manager is responsible for driving sales and sales team. Being a manager, he/she stands responsible for the success and failure of the sales department. He/she should be an inspiration for his team to be productive and successful to achieve targets. He/she is responsible for training his team for best results and develop executive's negotiation skills. He/she should always monitor performance of sales team, each product and services offered by the company and take corrective step for content high sales performance in the interest of the company.
Skills for a Successful Sales Manager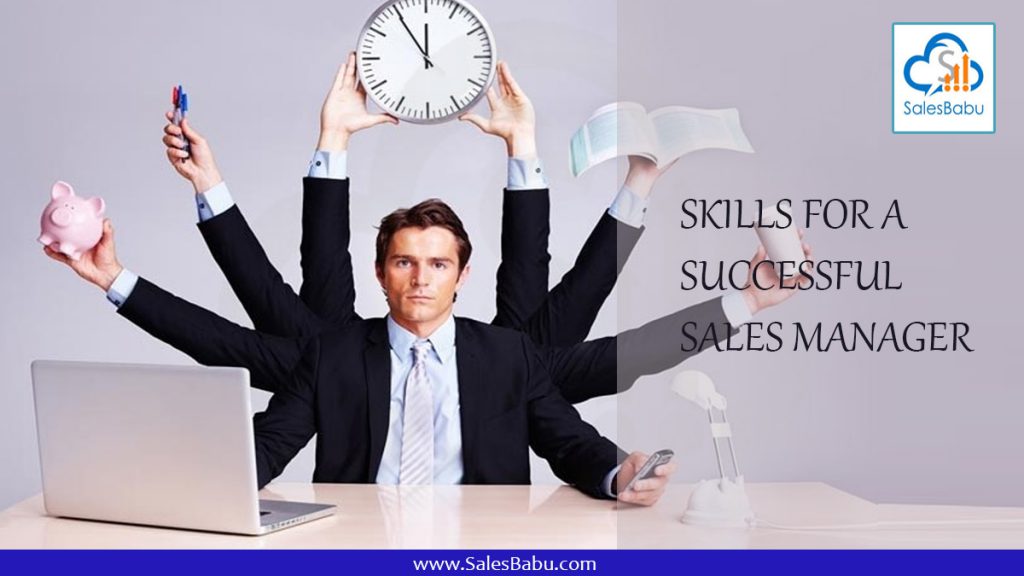 Ability to Plan & Direct

Ability to plan everything and being result oriented can help the team to be lead in the right path.
On basis of sales type & required results, manager has to plan, hire team & set action plan directing to results.
Correct hiring is most critical and challenging part.
All factors like environment people will get, remuneration expectations, skills, the ability to work & experiences are to be kept in mind while recruitment.
Appropriate recruitment of team & Direction given to them, decide the future of Sales.
Excellent Trainer

Sales managers should have in-depth knowledge of their product & have the capability to impart his knowledge and experience to his team.
He/she should train his/her team to handle each and every question & challenge, the customer brings on the table, along with negotiation technique & tricks to convince clients and close the sales call.
A good sales manager should prepare his team to step out with confidence to meet & beat all the challenges.
Quick Solution provider

Sale manager should have the ability to provide quick solutions to his team. Many times sales calls fail at last stage due to delay in last moment decisions.
Motivation is required in all areas of life. In sales, every day sales people see failures and successes but at times, the ratio of failures increase with uncontrolled reason. This breaks down their energy levels.
Keeping team enthusiasm & moral high is the responsibility of sales manager by motivating them as per situations.
Sales manager should bring lucrative offers and flexibility in the plans to keep the team spirits high.
In tough times incentives and lucrative offers drives fuel sale people to extend their limits and reach targets.
Read our blog – Sales Motivation tips: How to improve Employee Productivity
Good Team Leader

With targets achievement & leading sales, sales manager should also focus on team relation building, team unity & see to that there should be mutual respect towards each other & their profiles. 
Defining, implementing and sales plans
The two main essential things for maintaining a successful business are to implement the process and regular planning which helps to grow your sales team and increase the scales of your company.
Having easy-to-follow sales plans, packed with the documentation, templates, scripts, and training will ensure all your team members are on the same level, and will also make sure that your team members are inevitably performing. A sales plan is a living instrument in which it is actively shaped in real-time as your organization will grow, it will mainly learn many things. A good sales plan considers three sections :
Market and customer research
Prospecting and partnership
Sales forecasting and goal-setting
Interpersonal and communication skills
Today most of the sales manager job postings are highlighted by how much they have to hop on the phone, show up on the presentations, thrust into the partnership development, and also try to be involved in the sales process with some of the key accounts from starting off it to the end. Hence, interpersonal and communication skills are the key.
The more you are as a salesperson, it is very much difficult to put yourself back in the beginner's mindset – also making it more difficult to communicate effectively with the sales reps who are at your level yet. If this kind of communication is not very much a good suit for, it's okay do not fear. You can always work by going out of your way with your co-workers to communicate with them.
Roles and Responsibilities of the Sales Manager
Sales Manager is responsible to meet sales targets with effective budgeting and planning.
He/she sets targets for the sales team and ensure that the target should be achievable.
Duty of Sales Manager includes to map potential customers and to generate more opportunities for the organization.
Sales Manager is also responsible for the promotion of brand.
Being a manager – team motivation is one of the important responsibilities of a sales manager. He/she should make his/her team work towards achieving a common goal. His/her team members should share pleasant relationship with each other.
When team is encouraged they will deliver their best, thus appreciate them when you get the desired work done, provide incentives and bonus etc.
Track team's performance and manage performance reports
A Sales Manager should be able to understand who can perform particular tasks better. He should extract the best from each employee.
Being a Team Manager give your sales team the tool that they need.
Tips or strategies to manage your sales team smartly
Know your sales reps
Build trust amongst sales reps
Build a good rapport with your sales team
Be honest
Set goals for your sales team
Lay destinations but let them choose the path
Let your sales reps provide ideas or suggestions
Give right recognition at the right time
Provide compensations
Respond when required
To know more in detail, read more – Sales Force Motivation Tips
Educate your sales reps about the 5 ways to make a sale!!!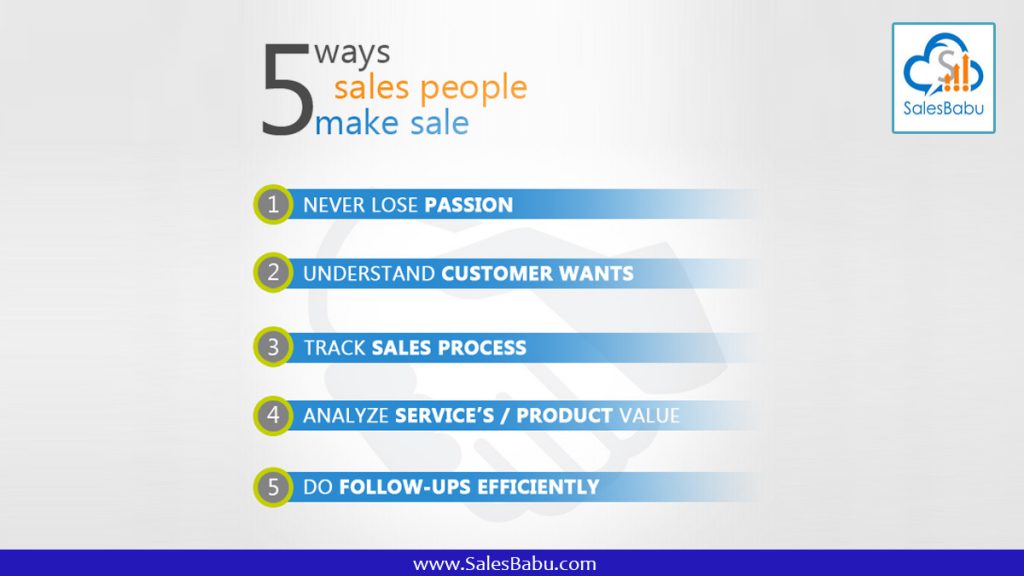 Never lose passion
Track sales process
Analyze service or product value
Do follow-ups effectively
To know more in detail, read more – Things to keep in mind to Increase Sale
In a sales team when you put competitive people together who have the drive to achieve higher and better, you can get the right outcome. As a manager you need to keep them motivated, you need to help them during bad times and most importantly you need to manage every sales activity with efficiency. There are multiple tips, tricks and roles for being a successful sales manager. But, end of all, you need to commit yourself to never-ending improvements as a smart manager.