Customer Relationship Management software entered the market in the '90s. In 1958 the Rolodex was introduced in the market which became a revolutionary contact management device for business people.
In the 1980s when the PCs and server architecture began to collect information and data of the customers in a kind of digital Rolodex i.e, on computers. And finally in the 1990's Sales Force Automation, which is widely referred to as SFA took evolution from contact management software to SFA.
The SFA got in many features of database marketing, conversion of leads into sales with automation and also combined them with contact management. In the early 2000's Online CRM software started gaining attention from business people.
It became a common thing by the end of the decade. In 2007 the famous cloud-based CRM software was introduced into the industry which was then followed by the Social CRM. And today, CRM adoption is one of the prime business strategies implemented by businesses irrespective of the size of their business.
The evolution of CRM System, its hosting infrastructure, model, features and functionalities etc have witnessed progression gradually.
Earlier there was only on-premise CRM but now you have choices between the On-premise and cloud CRM. So, which suits better for the organisation? Before we make the best choice, let us talk about the On-premise CRM and Cloud CRM in detail.
What is On-Premise CRM and Cloud CRM?
On-Premise CRM
The 'on-premise CRM' refers to hosting CRM software on the company's server. Here the CRM Software licenses are brought as per the number of users using it. The CRM system database is installed on the company's server and managed on-site by an internal IT-team.
Cloud-based CRM
The cloud based CRM software refers to the CRM system being hosted in the cloud. The cloud CRM is a subscription based model where the database is stored in the cloud and the database is hosted on third-party servers. You can access information from anywhere at anytime and carry out your business activities easily from any corner of the world.
Cloud CRM vs On-premise CRM – The Basics
Cloud-based and on-premise CRM will offer two different hosting models with different capabilities. The excellence between both lies basically in where the data is stored.
While on-premise software can make use of on-site servers for storing and reclaiming information, the cloud system will allow your data and CRM software to be stored on remote systems and requires a net connection to assess.
Storing your CRM software and data over the internet means there will be no need to acquire hardware or neither will you need to stress about software upgrades. Rather, you choose a subscription service that may include updates and fixing support in addition to the CRM and user license.
The Cloud-based CRM option is best for small businesses without a budget for computers or IT infrastructure. The subscription service is frequently best suited for small businesses.
Cloud-based CRM allows the much-needed flexibility that is required to assist any significant growth during a business. When there is a requirement to extend capacity, all you will need to do is switch to a subscription that suits your needs better.
Therefore, there won't be a need for additional infrastructure. This service will also encourage real-time collaboration between teams regardless of their location.
Advantages of On-Premise CRM and Cloud CRM
Advantages of On-Premise CRM
The entire control of your business data is under your control.
The On-Premise CRM can be customized and upgraded as per your requirement.
The On-Premise CRM eliminates data theft as the entire business data is available on your own organisation's server.
Advantages of Cloud CRM
All your business data is safe and secured in the cloud. Incase you tend to lose the data unfortunately, you are benefited with an option to back-up the data. The cloud providers perform regular security audits which makes all your sensitive data under airtight.
You can access data from any corner of the earth provided you have a good internet connectivity.
The Cloud computing incorporates the latest developments which make it an even better platform for data storage, data centralization as well as data communication.
The cloud system lets you to store all your business data on a single platform and does not restrict on space.
Implementing a cloud system is a cost effective option as you need not have to invest lakhs on hardware systems. Cloud computing benefits subscription plans where you use as you pay.
Read our blog – Benefits of Cloud Computing


Disadvantages of On-Premise CRM and Cloud CRM
Disadvantages of On-Premise CRM
Upgrading the On-Premise CRM software would turn out to be expensive for the company and may also take time for deployment.
The users can access and control the data based on IP addresses.
Building an On-Premise CRM mobile app can be a hassle.
Small or medium sized businesses may find it difficult to afford a On-Premise CRM as the maintenance cost is high.
Disadvantages of Cloud CRM
There is no complete control of the business data as the data is managed by the third-party vendor.
You have no control on upgradations of the system as it is entirely managed by the cloud CRM provider.
Downtimes may occur when the servers are repaired.
Number of users for On-Premise CRM and Cloud CRM
On-Premise CRM – Users
If there are few users in your company and do not use CRM Software after working hours, the On-Premise CRM would be an effective CRM for you.
Cloud CRM – Users
If there are several users in your company and make use of the CRM Software outside the organisation or even after working hours, the Cloud CRM will be an effective system as it provides all time accessibility to the users from anywhere. The cloud based CRM also comes with cloud CRM apps installed on smartphones which becomes more convenient for the users.
Data Transfer and Security for On-Premise CRM and Cloud CRM
Data Transfer and Security for On-Premise CRM
The data transfer and security on an On-Premise CRM is secured as the entire data is stored on their organisation's server. But, the data is prone to employee frauds or carelessness if not managed efficiently.
Data transfer and Security for Cloud CRM
The data transfer and security on a cloud based CRM is a reliable solution provided by your cloud provider. Just see to that you are working with a well-known cloud provider, as they have access to your business data and information. Worried about cloud security concerns? Check this out – Get Over your Cloud Security Concerns


IT Support and Resources for On-Premise CRM and Cloud CRM
IT Support and Resources for On-Premise CRM
The On-Premise CRM needs the support of a dedicated IT department as well as a huge budget to maintain the department.
IT Support and Resources for Cloud CRM
The Cloud CRM does not require any IT support or cost as it managed by the Cloud provider themselves.
On-Premise VS. Cloud CRM – Which is better?
The On-Premise CRM and the Cloud CRM both offer certain values to the organisation. Which CRM Solution suits your business totally depends on your organisation's priorities and requirements.
Presently, the businesses are opting for Cloud based CRM system as Cloud CRM has made businesses stay ahead of the game in the industry.
Check out our blog – How to select a CRM system?
Why switch to Cloud based CRM?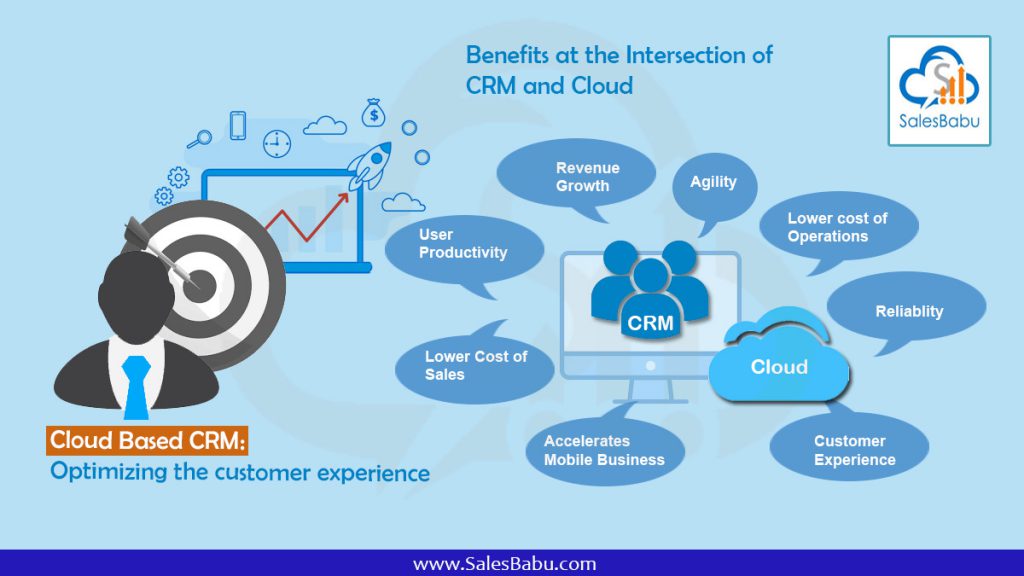 Switching to a cloud CRM for your business can turn out to be a valuable asset because the cloud-based CRM comes with technology such as cloud storage, cloud backup and cloud hosting.
No matter if you run a small business or a start-up when you stay organised and try to maintain consistency while growing, it is an effort worth contributing. Any business for that matter has loads of data to be stored depending upon the size of the business.
You cannot just make use of the excel sheets and spend time on manual entries. Whereas, with a cloud system you can keep your work organised because the advantages of cloud computing help in the right management of the organisation.
Which is the best option for a cloud-based CRM?
SalesBabu CRM Software provides cloud-based CRM. We, SalesBabu CRM Solutions are trusted Cloud CRM providers who provide secured data storage on cloud systems.
The clients only require a computer with an internet connection to access the application. This greatly reduces the user's hardware, and software burden and a significant reduction in terms of financial and manpower to handle the application in case of premise hosted.
It takes care of the required hardware and software requirements through our cloud computing technology. This makes our clients concentrate only on streamlining their business through SalesBabu Online CRM Software.
If you are looking for the best Cloud-based CRM for your business, you can contact us at SalesBabu CRM Solutions. You can also request a free CRM demo at our website https://www.salesbabu.com/.
Wrap up
The On-Premise vs. Cloud CRM are two most used CRM systems by businesses based on their business requirements. The cloud based CRM software makes Customer Relationship Management effortless and smooth for your business with its automated features and functionalities.
If you have any questions on choosing the CRM system for your business, you can talk to our CRM expert at SalesBabu CRM Business Solutions.