There are multiple factors that operate and drive the sales and revenue of a company. Skilled and technical sales professionals, a sustainable business environment, and efficient business tools are some of the main factors that take the business to the next level.
In most cases, companies have skilled employees, who are capable of making the business environment healthy but fail to equip them with sufficient and modern business tools to do their tasks and sales duties on time.
If the company can provide its salesman with excellent business tools then they can be smart enough in selling products and meeting the company's expectations to achieve sales goals. So, it is necessary to use a proven and modern tool solution so that the sales performance management can keep up sales performance without any delays and can perform their best in achieving their goal.
Sales performance management software like online sales CRM is a modern sales strategy that manages everything in real-time.
This software solution is feature-rich and helps the company to drive sales and accelerate in collecting revenue under any circumstances. Getting the right sales performance management tool in the contemporary world and helping your company's sales executives to stay competitive in the market space is quite tricky.


How to drive sales and accelerate revenue with the best sales CRM tool?
1. Recognizing the potential customers and managing them in real-time
With cloud-based sales CRM, you can gain more customers by providing them with excellent services. From the customer profiles and the database of the customer stored at the central location, you can get to know their expectations and their raising demand. Based on that, you can customize your products and services.
2. Better sales pipeline management
The online sales CRM tool provides great support for finding new and sustainable sales opportunities for your company. It helps you in multiple ways like collecting sales leads from various online and offline platforms.
Then you can quickly manage the lead distribution, lead tracking, and lead nurturing for better conversion to sales. Moreover, you can have a 360-degree view of the sales pipeline in real-time that also help your company to find and resolve any hindrances in sales activity management at the very early stages.
Read More: Improve Sales With Best CRM Software
3. Centralized customer data
With the best sales CRM software, you can view all your customer profiles at a single location which helps sales executives to make fast customer interactions. With accurate information in place, sales executives can answer customer queries with ease. Hence, it drives sales and accelerates revenue.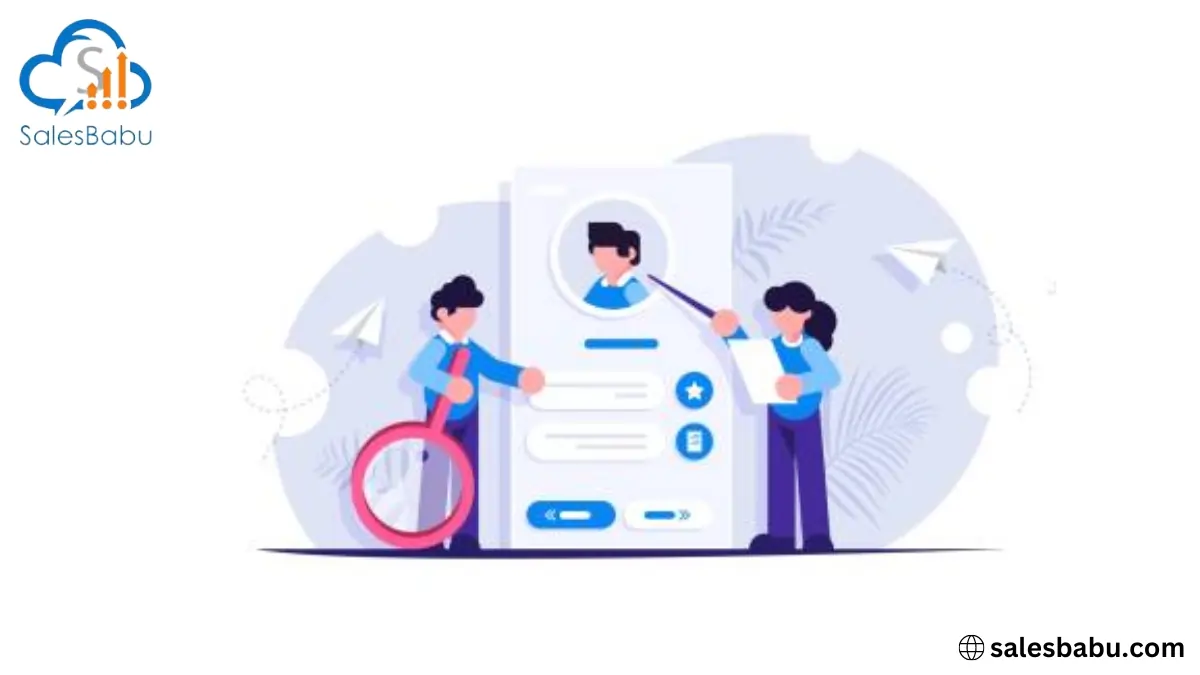 4. Real-time activity tracking
The sales tracking app helps the CEO and the sales department to collect all the activities done or done by the sales executives. Sales tracking App pairs up with a web dashboard operated by back-end officers and mobile applications by field sales executives.
Both ends are connected to a centralized system as well as each other for sharing sales status and ease in business communication. Yes, the sales tracking app tool is an effective solution that you can seamlessly use to drive revenue and accelerate sales.
Tracking, monitoring, and controlling sales operations in real-time and streamlining sales management activities to achieve business goals. It will result in a high performance of sales and improved revenue.
Read More-Streamlining & Increasing Sales through SalesBabu CRM
5. Connecting marketing with sales, finance, and production
When you integrate your CRM sales app system with the rest of your business management applications, you'll see the major outcomes from every department.
For example, it would be very easy for you to transfer and view the customer-related database between marketing, sales, finance, and production. You can able to automate the ordering process, connect purchasing with inventory, and find out what parts of your business are most profitable, and which area needs more focus.
You can boost profits by improving customer service.
6. Gain visibility into real-time customer insights and trends
Cloud-based sales CRM has mobile-friendly dashboards, easy in reporting, can do real-time monitoring of the marketing and can achieve sales goals by providing a whole new level of insight into your customers.
By using CRM and by achieving immense knowledge, you can allocate your resources in a better way, you can boost your sales, and reduce purchase costs, all of which will help your company in achieving good income.
7. Using built-in engagement tools to connect with prospects
Connecting with prospects on social channels or social platforms allows your team to build rapport and help your company in building trust with leads, identify influencers and decision-maker, and can easily share information customers need to make their buying decisions.
With the right CRM solution, you can boost your sales and increase profits.
8. Accelerate the sales wheel
By using cloud-based sales CRM you will be able to know how long prospects stay in the funnel, and you can even identify when prospects have stalled out or left in the middle of their buying journey.
Read More- Implement CRM to boost your revenue
9. Predict buying of client's behaviors
A sales app application can use machine learning and artificial intelligence to analyze your company's sales and can monitor the performance, and help in predicting that how the clients buying behaviors might change over time.
Using these advanced analytics you can give more focus to your efforts on prospects who are most likely to buy and keep resources flowing in the right direction, you can even ensure accurate inventory, fulfill orders faster, and can notice negative trends before they start impacting your business.
10. Upsell Immediately
Sales will increase above average for the best upsells when the products or services are complementary to your earliest product, and that they are favorable to go together. A CRM software can be utilized to support you quickly to present an upsell offer to the prompt customer. Therefore,once a purchase has been done by a customer, try utilizing their purchase history to figure out present related products that they haven't yet bought in the mean time, whether such products are related products, recommended products or products that the customer might prefer.
11. Upsell Later on
Another optimum method to enhance the size of the average sale value is to provide the prompt customer with an upsell further down the purchase cycle, after the earliest purchase has been in use for quite some time.
However, it is almost identical to buying frequency, it differs in the manner that rather than purchasing the similar product again, you are offering a sizable, efficient, rapid version to the product. A CRM software will guide you exactly what product the customer has, for how long they kept the product and if you know the expected duration of serviceability of your product or service, you can then upsell the customer at the optimum time.
To make the customer buy it again, knowing the customer has enjoyed utilizing the product in such a case the company can encourage further new offers. Such an upsell could boost the original purchase value which is all figured out through a CRM Software that maintains a track of where in the complete sales process the customer is, and therefore offers a relevant and on time upsell opportunity to customers.


Conclusion
SalesBabu Online CRM Solution monitors each activity of a sales team. Manages all details related to leads and can measure abandonment and close rate. Cloud-based sales CRM SalesBabu CRM enables you to categorize customers with all possible criteria. Can able to register date-wise sales, region, and sales details of products to never miss an opportunity.SalesBabu Online CRM Solutions is totally based on cloud-based CRM software and It can be accessed from anywhere and anytime. It is very much cost-effective in nature as no IT infrastructure or any IT department is required to run the software application you can run it by yourself. If you are yet to get the best CRM Software which is basically a cloud-based CRM application, then visit our website https://www.salesbabu.com/