SalesBabu Inventory management Software keeps a vigil eye upon the total inflow and total outflow of the raw material which helps you to accomplish all the relevant information pertaining to the stock availability, keep entire track of your product sold and entire material purchased.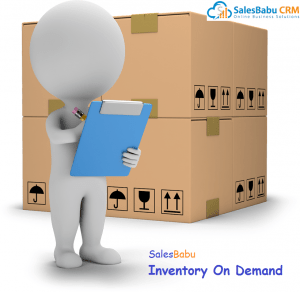 Major obstacles in Inventory Management
How to handle Stock transactions?
How to do Material Receipt Note?
How to Check Buffer Stock?
How to do inventory evaluation?
How to control stock cost?
How to Manage Stock Types (BOM and FG)?
How to handle Bill of materials?
How to bifurcate separately finished goods and Semi finished good stock?
How to handle vendor levels?
How to define product masters and product categories?
How to do Actual stock adjustment?
How to increase Inventory Productivity?
How to handle material movement cycle?
Benefits of SalesBabu Inventory On –Demand
Tracking @ segregate Stock Levels ,like BOM, FG, Semi FG
Allow to do Product Level Bifurcation
Maintain all the GRN's (Good Receipt Note) on single screen
Facilitates Returnable GRN's
Facilitates Returnable DC's
Facilitates Product Sampling
Track entire Sales Returns by Customer END
Facilitates Vendor's Mapping with multiple products
Get real time Inventory Status & MIS
Facilitates Integrity & Consistency on entire inventory process loop
Centralized & Synchronize entire information @ single Screen
Facilitates Purchase Returns
Reduce the chance of forgery
Avoid Stock MIS- Management
Facilitates inventory Evaluation on single computer screen
Facilitates Material wastage or Material Scrap tracking
Facilitates Material Movement Tracking
Enable to check Internal Inventory levels
Moreover SalesBabu Inventory  On- Demand ,helps organizations to Streamline& Synchronize entire Stock levels and Inventory work force at single screen. SalesBabu Facilitates organization with such a robust Inventory Management Software, where they can handle entire inventory tasks in  lucrative manner ,which can keep track all the Material Movement (Inward & outwards),Handle Bill of Materials, allow to do Material GRN and can manage all the Delivery challan's on one platform.