Rapid globalization and the emergence of new markets has brought a great surge in Service Industry. Most of the industries that manufacture or sell products bearing after-sales -service and warranty as a mandatory requirement of customer service management tier which play a crucial role in the growth of company. With the drastic change in technological advancements, businesses are also changing the way they work. These revolutionations in field service markets are driving organisations to implement a field service management software for their on-field workforce.
What is Field Service Management?
Field service management (FSM) refers to the management of the company's end-to-end activities which includes inventory, billing, accounting and installation etc. 
What is a Field Service Management software?
The field service management software aims at improving the productivity of the field service terms. It improves deliverability, reduces operational overheads, improves the management of mobile workforce and is accessible from anywhere at anytime. A reduction or elimination in the paperwork, printing, fuel, energy, packaging cost and transport can make a huge difference in the management of the business activities.
The principle of Agile methodology focuses on delivering continuous value to the customer through product development cycle. The Agile methodology is applied to the software product development and delivery. The first principle states to satisfy the customers through early and continuous delivery of valuable software. 
A field service management software concentrates on automation and customer centric experiences. The best field management software enables you to automate your after sales activities such as complaint management, AMC management, warranty management, spare parts consumption and installation process etc. 
Need for a Field Service management software
Provides real-time automated workforce planning
Accurate work management
No paperwork
Centralized database
Assignment of work to the on-field workers
Tracking of on-field workforce
Right management of field service lifecycle
Increases work productivity
Automated reports
Control TAT (Turn Around Time)
Read our blog – Field Service Management Software
Making field service workforce flexible and agile 
Bringing in flexibility into the field service workforce is surely worth the time and cost. As agility becomes a centre point for all operations as it can add flexible factor to the operations. Agile methods and processes helps the organisation to keep up with the ever-evolving technologies. Agility in business can prove to be the competitive edge for the organisation. When there are changes in the businesses they will be positively impacted with regard to customer satisfaction, customer retention and customer relationship. It is an easy method through which the organisation can attain flexibility with regard to improved operation, consistency, organised process etc. 
The field force management software improves the business process as it gives an overall view of the operation and areas of improvement which can make it a flexible entity. Right from the phone call with the customer to the after sales service, every stage is documented and tracked for better management as well as better customer relationship management. 
Cloud based field service software enables you to manage your customers at centric point, and whatever and whenever you required, you can easily retrieve and check all the certain activities which have been actually done with this customer. Customers are always a prior necessity for any organization. SaleBabu field worker managemenet software – Service On Demand allows you to maintain all the details of your existing customer on one single platform and makes a fruitful database for your organization.
With the help of a field force management software you need not have to spend time on extra paperwork, instead you can go digital in order to streamline your workforce and business operations. 
Field Service Engineer Management Software is designed to manage all activities of service process. It will also boost your staff's productivity. One can instantly assign activities to the service technicians. You only need to login and can view the details. In a click you can get monthly installation reports, Closed complaints, service calls and more. Customers always want best services from you but if you are unable to provide, they will go elsewhere.
The best field service management app enables customer service team to track, record of installation to process of installation at the customer end. The installation team can add instant installation remarks, add requirement of additional accessories of main product, maintain PMS visits.


Mobility of best Field Service Management app 
The best field service management app is accessible from anywhere at anytime. It comes with a user-friendly interface as it is designed keeping the engineers and field workers in mind. It helps the on-field workforce to complete complex work orders, service reports and much more to be listed. 
Advanced ticket management on mobile app to update the status of the job. The on-field workforce are alloted with jobs based on priority, skill, availability etc. Thus, implementation of a field service management software ensures instant updates for the on field workforce. 
It also keeps an organised collaboration with other team members with information sharing, invoicing, feedback and exchange information with the back office fosters.
Instead of maintaining spreadsheets, a cloud based field service software can be a better option to track, schedule and manage after sales services efficiently. Thus, your workforce will end up working more efficiently.  
SalesBabu's CRM software for Service Industry is a cloud based field service software which facilitates the workforce to run their businesses on their phones or web portals. It is fully integrated and can be accessed from any location. Investing on the best field management software helps you to eliminate paperwork and go digital in order to streamline the after sales service process.
Best Field service management app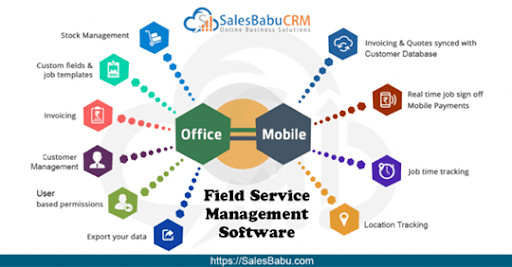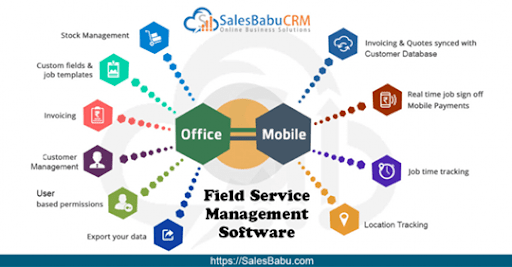 Investing in a CRM software will not go in vain until and unless you are not able to make the right use of the software. A field service management app becomes very helpful and necessary for direct selling teams, especially when there are large locations to be covered. It helps to track the activities, travel, meetings and many more of the sales team. 
The benefits of a field service management app are –
Find leads nearest to your sales
Track the travel
Work from anywhere
Understand your leads better
Your customers might be complaining that the techs don't arrive on time, or your techs have to reach the same location multiple times, or you are unable to keep a track of your techs or may be your customers have a lot of complaints etc etc. You are not the only one facing these challenges, but you can surely overcome these challenges by implementing a field force management software.



SalesBabu Service CRM software is a cloud based system which comes with high-end features and functionalities that can be run on smartphones as well as web portals. The platform is completely integrated to be accessed from anywhere with the availability of internet connections. We at SalesBabu provide an effective, efficient and smart workforce management solution for businesses. Post implementing our service CRM software, it helps to save time and improve efficiency by enabling companies to enhance their workflow capabilities. The field service management app is user friendly, simple and easy to use and yet offers robust features that help users to easily complete their workforce tasks. Additionally, the platform integrates smoothly with widely used business programs to enhance the workforce management experience. To know more about the working of our Field force management software visit our website https://www.salesbabu.com/. You can also request for a free demo at SalesBabu for better understanding of the high-end features and functionalities.