The Following are the Latest CRM Trends
1. Mobile CRM Acceptance Is Rapidly Improving
While mobile CRM itself is not new, its rate of acceptance has risen very sharply in recent times and shall continue to do so in the 2023 year. More and more businesses realize that mobile CRM has gone from an optional tool to a very needy tool for many workforces to become increasingly remote, a shift driven in large part by the great impact of the COVID-19 pandemic.
Indeed, firms are seeing a growing need for a CRM experience that is widely acceptable and accessible on different devices, as universal tools and components that work seamlessly across operating systems, platforms, and screen sizes allow sales deals and marketing professionals to be more fruitful without being tied to their desks.
Read More- CRM for Channel Sales Maintaining Relations with Partner
2. Social CRM Evolving from Social Networking Platforms
Most CRM software includes implanting social features, and this social tech emergence is only looking forward to evolving. Platforms such as Instagram, Facebook, Instagram, LinkedIn, and Twitter provide easy and dedicated tools that facilitate direct sales deals and service transactions, representing a major shift in sales deals and customer relationship management practices.
These platforms serve as a social CRM system, and the success of social media sellers has not gone unnoticed among software vendors.
Leading CRM systems shall go beyond simple integrations for social media platforms channels by transforming them into social CRM. This means social media sales and service stages may play an integral role in each step of the purchaser's journey, the pipeline or sales funnel, relationship building, and customer service management.
Integrating social media platforms' information might be the most significant aspect of social CRM systems, as it provides businesses with valuable insight regarding various parts of the business and market.
Read More – Channel Visibility in SalesBabu CRM Software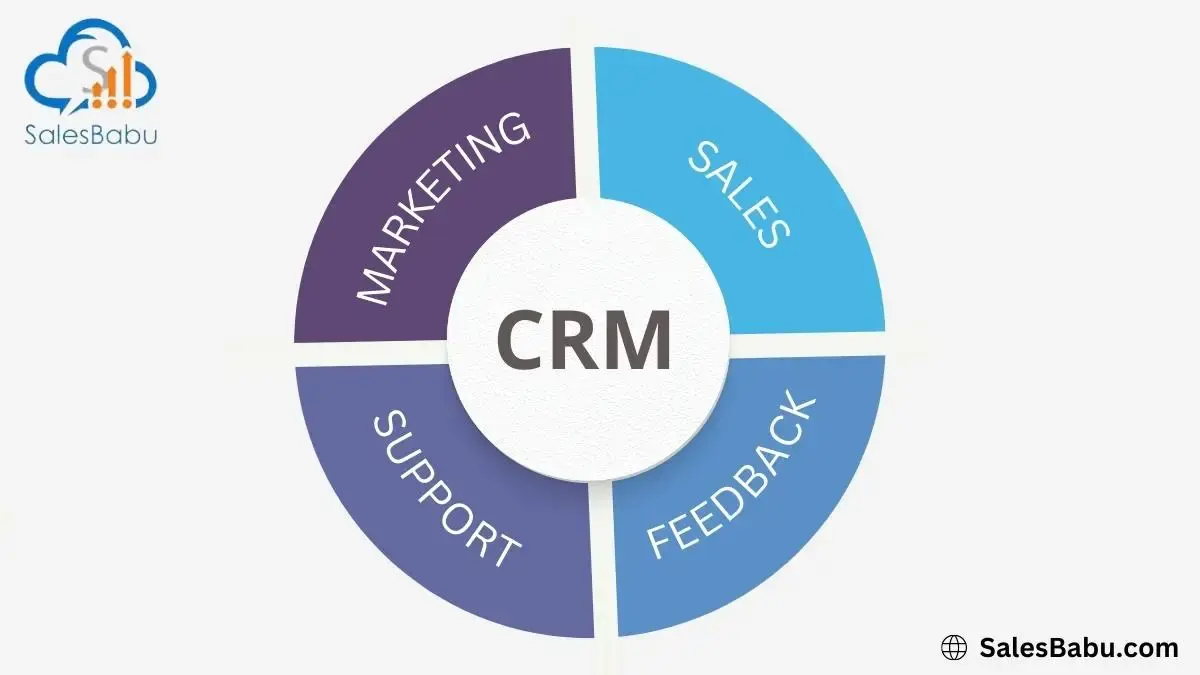 3. Clients Data Platforms Become Essential for CRM
Clients' data platforms which become integral to all available customer touchpoints, interactions, and other required data, represent a significant advancement for CRM practices.
Sales departments may rapidly create correct purchaser personas from all available sources through the Client Data Platforms, significantly augmenting the client analysis capabilities of CRM systems as an outcome.
Similarly, the marketing department will use an integrated Clients Data platform to greatly improve personalisation for communications and campaigns carried out through the CRM. Decision-takers may also access the Clients Data Platform to obtain a more comprehensive information set for calculating clients' lifetime value, acquisition costs, and other important metrics.
CRM includes numerous and various features to help businesses to manage their customer base and better understand clients' expectations.
Read More – What is a Distribution Management System?
4. Light CRM Through Increased Self-Service and Automation
Automation is on demand or we can say very rise in nearly all aspects of CRM technology. This includes talk bots that can automatically direct clients to web pages, marketing campaigns that facilitate automated messaging and communications, or systems that may solve some customer service issues without any human intervention.
For many companies, automation lessens costs, expedites marketing, and increases productivity, and customer service processes. Clients benefit from CRM automation when the system saves them money, time, and frustration.
Automation even supports self-service and the emerging do-it-yourself trend in online shopping and e-commerce. For example, instead of waiting to speak with any sales executives during business hours, clients may access self-service systems at a time that suits them best.
Even staff members also get benefit from automated systems that can handle simple, repetitive tasks, and time-consuming tasks. Typically, an amalgamation of human expertise and automation yields the best result.
Read More – Right Approach To Distribution Management Software (DMS)


5. Personalized Experiences Crafted by Client Data
Naturally, client experience is always been a focal point in CRM trends. This trend also coincides with the increase in information sources that marketers expect to rely on over the next year.
In fact, client data platforms shall play a vital role in efficiently crafting hyper-personalized experiences. For example, every homepage that Flipkart creates is unique to each client and consumer, depending on that client's shopping, browsing, wish lists, and many other data points.
Part of the challenge in this top CRM trend shall be interpreting client data in the correct context, a hurdle that Artificial intelligence and natural language processing may help users clear. Many clients are willing to trade some of their private information for the sake of convenience, which may also contribute to improved client experience overall.
That said, when giving up some of their privacy, clients rightfully expect to see tangible advantages in exchange. 
6. Cloud Based Software
A cloud based software services continue to increase, where CRM software has not been ignored behind in such cases. A cloud-based software is a cost-efficient source of gathering customer information. Instead recruiting on-site resources no longer requires scouting for leads to input into a system for future sales interactions. Now the sources of customer information are already available. Cloud-based CRM will gain momentum as cloud based software application which will continue to progress.
7. Adaptability
A product strategy construdes that the flexibility for CRM software users is important because it allows them to customize the software to meet their requirements.
Facility of integration and multichannel publishing using social media are the most prompt corporate considerations. As a result, an adaptable and accessible CRM software platform is becoming increasingly valuable for users these days.
8. Crowdsourcing
While audiences are gaining voice through social media platforms, business enterprises are increasingly able to take advantage of such crowdsourcing for business developments.
Interacting with the current customers for latest ideas, features, and further expectations can support employees across an organization and provide the innovation and communicative relationship that has been improving in the number of customers now expect. Such theory highlights that CRM will no longer be just for generation of leads and marketing but it will also provide a source for further innovation to come.
Read More : What is CRM Software?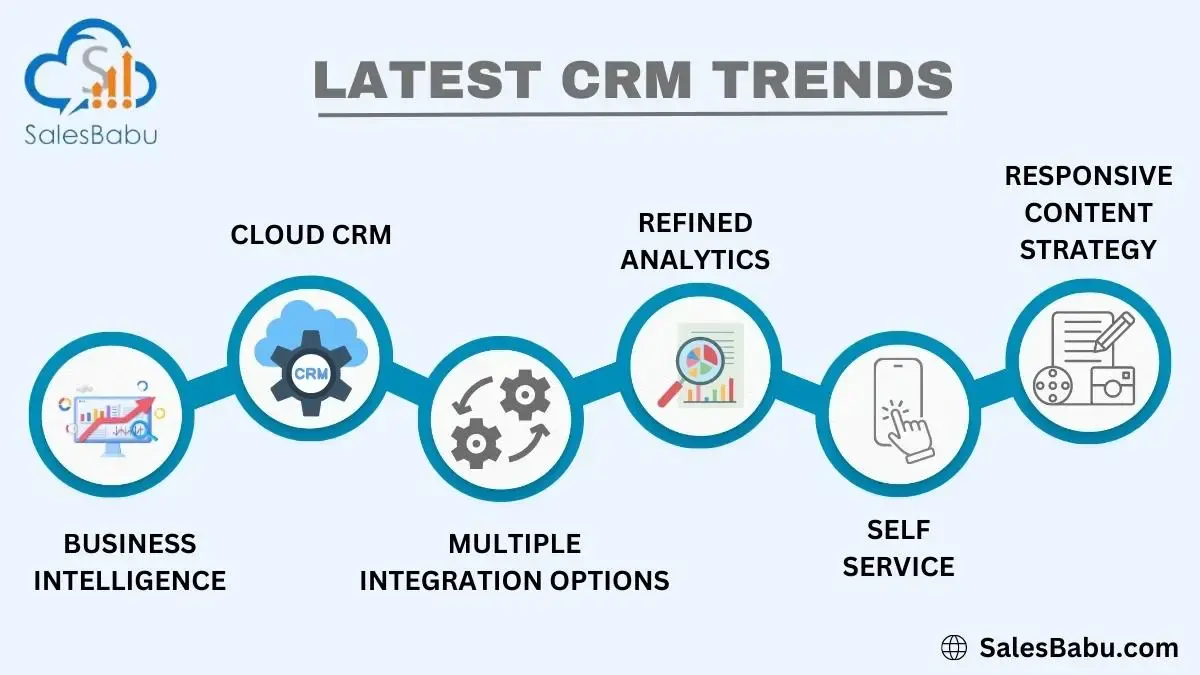 9. CRM also Helps in the Growth of Account-Based Marketing
Account-based marketing (ABM) seeks to generate more business and more profits at regular intervals by targeting specific companies or accounts with a client offers or value propositions, rather than taking a general motion to target groups or companies.
Read More – What Is SalesBabu CRM Software?
Account-based marketing was once exclusively the domain of big corporations, but CRM is now enabling smaller businesses to engage in account-based marketing in order to improve sales and generate more profit and value with significant clients. The right CRM solution allows the companies to
Automatic workflows
Automatic social media posts
Identify important accounts to target
Understand the interests and problems of those accounts
Syndicate content effectively
Facilitate alignment between sales teams and marketing teams
Many businesses are finding success with account-based marketing.
In 2023, some of the lead players in the CRM space will include:
Salesforce
Microsoft
SAP
Oracle
SalesBabu CRM
Zoho


Conclusion
CRM is a game changer for many business entities. More than ever, companies have access to system software tools and information that may accurately reveal clients' expectations from goods and services to the client experience.
Companies that successfully adapt to these top CRM trends shall flourish, while purchasers shall migrate away from firms unable to deliver the expectations and experiences that modern consumers and clients demand.