Sales could be an individual effort but to be a successful Sales Manager is a Team Oriented work.
77% of the time, company heads makes a mistake by promoting a sales rep into a sales manager, according to an in-house research done by Drew Stevens Ph.D. Only a good salesperson can't become a good & effective manager. With sound sales experience, the manager should poise skills to manage team & tasks.
In many companies, sales managers are often considered as a redundant job, but if we see it closely, sales managers are the ones who take care of the whole sales team and make sure people who are actually working on important sales work, complete their jobs with utmost diligence and sincerity.
Let's have a close look at the work schedule of a successful sales manager.

Skills To Be Successful A Sales Manager
Right attitude
"The sales reps who make the best managers are often the least successful at sales execution," says David Lewis, President and CEO of OperationsInc. "They cannot as easily executed. But they understand the game. They can plan. They can organize. They can strategize."
By contrast, "The best salespeople usually make the worst managers, given they cannot be patient in letting a 'student' learn through failure," he says. "Instead, they're always stepping into take over so as not to lose the sale."
Hence we should have a sales managers who can balance out to be the perfect combination of great sales management skills and attitude towards his subordinates.
Ability to Plan & Direct
A good sales manager should have the ability to plan things in advance and should be results oriented. On the basis of sales type & required results, the manager has to plan, hire specific team & set action plan directing to the expected results. Appropriate skill set hiring, is one of the most critical and challenging parts. All factors like technical background, remuneration expectations, skills, the ability to work & experiences are to be kept in mind while recruitment. Appropriate recruitment of team & the work instructions provided to them, decides the future of sales and creates the best game plan for a successful sales management process.
An efficient sales manager, also makes sure he uses various sales management tools to understand and strategies the different sales stages and organise the overall workflow of the sales process. Understanding the demand trends of the various products and making futuristic plans for every item's sales trajectory, help in better coordination within the team and standardize the sales process in the team.
Read More – The What, Why And How Of 360 Degree Customer View
Excellent Trainer-
Sales managers should have in-depth knowledge of their product & have the capability to impart their knowledge and experience to his team. Many sales managers move in from different backgrounds and have no clue about the processes of the sales lifecycle. In such cases, the sales team find themselves in a state of jeopardy with no leader to guide them for a successful sales process.
A good sales manager should be well aware of the know how of the company's sales strategies and should train his team to handle each and every question & challenge customer brings on the table, along with negotiation technique & tricks to convince the client and close sales deals for the firm.
The good sales manager should prepare his team to step out with confidence to meet & beat all the challenges. These can be done through using old sales cases and scenarios which can be used to explain the different sales strategies applied for bagging better sales deals. 
Quick Solution provider-
As we all know, customers in today's world have a huge set of options on their fingertips, which makes them more demanding with respect to quick and productive solutions for their enquiries. As a sales manager, it's more of a requirement than a luxury to have the ability to provide quick solutions to his team. At the same time, he should have foresight to plan for any escalations which comes to his team and customers can't wait to get it escalated to the sales managers.
Many times sales calls fail at last stage due to delay in last moment decisions. In such cases, sales agents should be well prepared to handle the situation and close the enquiry or deals with efficient solutions at their disposal.
Good Motivator-
"The best sales managers are the ones who align themselves strategically with the organization's mission and values, while servicing the clients in the best manner possible," Drew Stevens Ph.D., a business development consultant to the medical industry and the author of Split Second Selling says.
Motivation is required in all areas of life. In sales, every day sales people see failures and successes but a sometimes ratio of failures increase with uncontrolled reason, this breaks down their energy levels. Keeping team enthusiasm & moral high is the responsibility of sales manager by motivating them as per situations. As and when need felt sales manager should bring lucrative offers and flexible plans to keep the team spirits high. In tough time's incentives and lucrative offers drives fuel sale people to extend their limits and reach targets.
Good Team Leader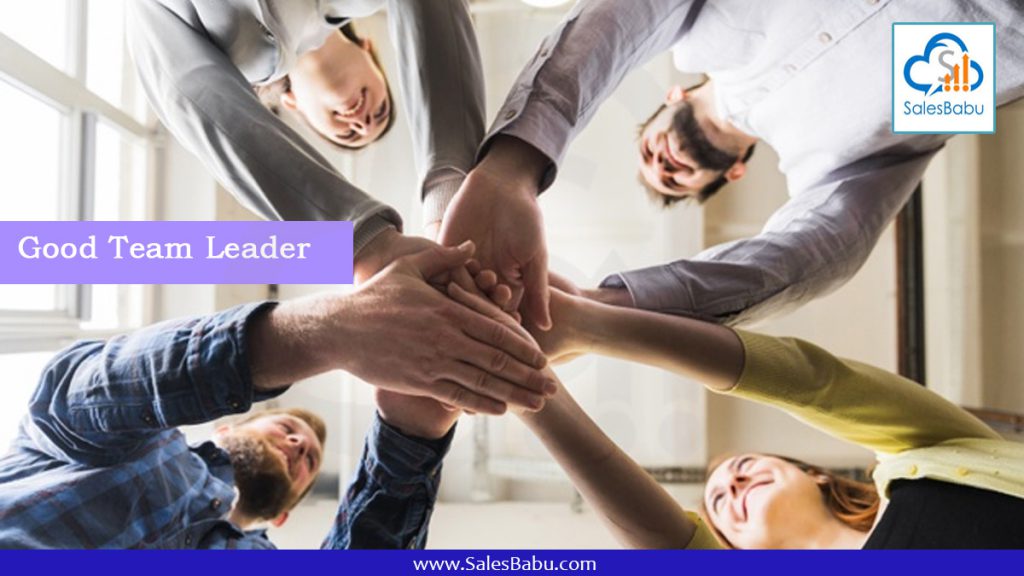 With targets achievement & leading sales, the sales manager should also focus on team relation building, team unity & see there should be mutual respect towards each other & their profiles. He should build a team which can watch each other's backs in cases of emergency and supporting each other to a common goal.
A good sales manager is the one who can tap ones back for good work but at the same time be strict to discipline the sales agents when things are not in place. Sales Managers should understand the value of deadlines and should make sure he has regular check on the individual performance of every sales agent when it comes to achieving respective targets. With the use of an efficient sales management software, sales managers should record and analyze the different criteria of work performance for every sales agent and make sure they achieve their work goals in designated time limits.
Read more –  Three ways How Cloud CRM Software can take your Sales to next level
Conclusion
An efficient sales manager is the one who can not only manage the whole team but keep them together as one force to organise the whole sales process for the organisation.