The manufacturing industry has been the backbone of every economic business. With hundreds of new business kickstarting everyday, we need a good management tool to manage our daytoday inventory and business requirements. This is where an all-in-one CRM software like SalesBabuCRM comes into picture which not only helps us to organise our business processes but also provides an efficient support system for inventory management.
The manufacturing industry has changed a lot with the rapid advancement of technology. Every inventory planning in current era is based on achieving Industry 4.0 standards which provides a fusion of traditional manufacturing practices with advanced technologies. Industry 4.0 is the buzzword for every industry practices which includes using large-scale M2M and Internet of Things (IoT) deployments to help manufacturers to improve productivity with less cost and minimum wastage.
These technologies provide increased automation, improve product and customer monitoring, along with numerous analytical tools to provide a truly productive future.
An inventory management system is where this fusion of technology is being implemented to assure better productivity from the manufacturing industry.
Let's talk more on Inventory management software and its uses in the manufacturing business.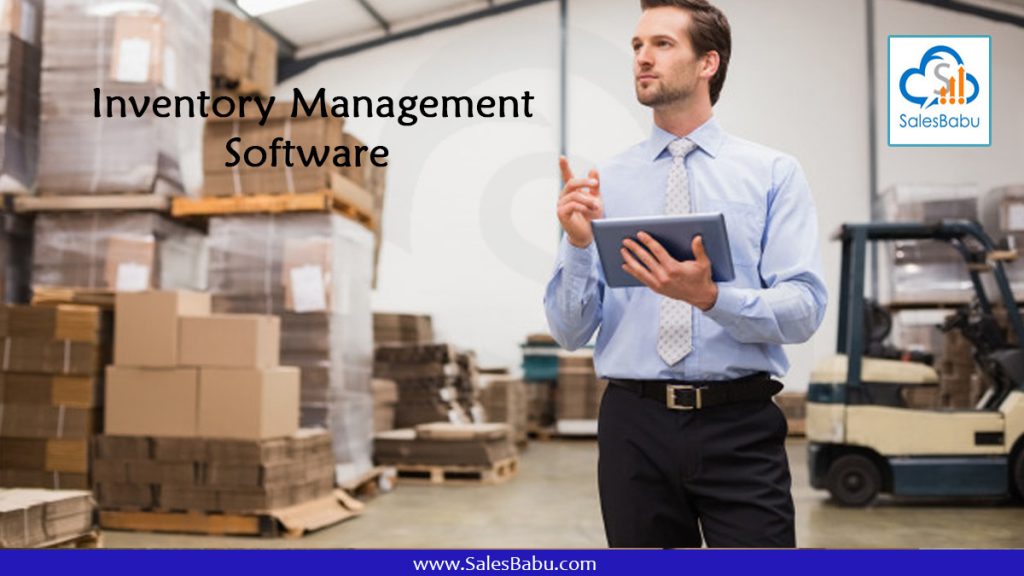 Inventory management software is an integrated system that helps businesses to manage and plan their manufacturing, production and other sales activities. This process management is achieved by implementing automated methods and organised inventory tracking methods. This software basically automates and organise every inventory tracking mechanism to remove the human error factor to improve efficiency and overall business productivity.
In other words, inventory management means maintaining optimal stock levels that avoid unnecessary expenditures, while ensuring you can meet your business demand and don't run into out of stock situations.
Planning for an inventory management system needs a clear understanding of your current product and other inventory requirements along with futuristic view of your business expansion level. A good inventory management system provides a one stop solution for managing every aspect of inventory tracking from raw materials to product delivery, considering your current and future business needs.
Read More – Online Inventory Tracking Software
Traditional on-premise inventory management systems lack the real-time visibility of product requirement as they rely on old methods of cardex and spreadsheet implementation to manage their product and stock levels. These outdated methods of stock inventory planning, costs thousands of dollars for emergency replenishment or lost revenue from stock-outs and wastage.
Cloud-based inventory management offers an efficient alternative to these manual approaches for inventory management by providing real-time visibility of warehouse stock level and product location details.
Cloud inventory solutions allow anywhere, anytime access to critical inventory information. It helps to automated and analyze product information for efficient demand planning and improved financial management. Also, these automated capabilities eliminate manual errors throughout the inventory lifecycle and improve overall business revenue.
Read More – Efficient Inventory Management System
Advantages of Cloud Inventory Management system
1. Save money
One of the most efficient and simple formula to be successful in a manufacturing business is to increase productivity, reduce wastage and improve efficiency. Every company's primary goal will be to save money and deliver more, to increase its revenue generation.
In today's world of technology and business structure, traditional methods of handling our raw material, finished products and customer delivery will be the faster route towards failure in business.
With cloud based inventory managed softwares, automated practices helps to remove human errors and mismanagement thereby reducing wastage and over stocking. At the same time, under-stocking also increases the company's expenditure by reordering, product carrying and transportation cost. A good stock management software helps to manage our stock holding to balance between overstock and out of stock scenarios thereby keeping an adequate amount of stock level to cater to our customer's needs.
Also, automating manual ways of inventory management remove a lot of reworks and unproductive work items for the employees to better use their time, thereby spending less time on low value labour.
Read More – Reduce Operational Cost With Inventory Management System
2. Integrated Data
Cloud inventory control software provide integrated information related to products, its vendors, purchase history, raw materials in stock, product ready for delivered and other details at a centralized location. These details are stored in a cloud based database which can be accessed at real time by every stakeholder of the team.
With these stock software systems, employees can keep track of data and display trends that are necessary for everyday upkeep of stock and final products.
With growing business our inventory also grows and so does our product demand, manually monitoring every raw material and products are practically impossible to maintain a profitable business model. A centralised location of every minute details helps to track every product transfer, lifecycle details, and final product delivery to the customer in a more efficient way and create more futuristic plans for better performance.
3. Data Analysis
Stock maintenance is the key to maintaining a healthy warehouse state. With various metrics and data analysis, a good online inventory software provides valuable insights which can be used for stock maintenance and future planning.
Sales Tracking – Using these cloud based softwares, we can track the flow of sales in real time. By doing this, the best-selling products can be determined, and better strategic decisions can be taken on which products needs to be reduced for reordering, and which product is in demand and needs a refill.
Wastage Tracking – By maintaining product wastage history and wearout details, we can easily track the wastage for a product. If a certain product is showing high percentages of waste in metrics, the management team can take a decision on either reducing the stock up of that product or ways to optimize the wastage reduction process.
Tool life – The life of your tools and hardwares can be monitored so that proactive replacements can be ordered before a failure happens. This prepared planning model helps to minimize the downtime of the business production cycle.
Product life cycle – With continued history maintenance of the products and its wear and tear status, we can understand the product life cycle and plan to recycle or circulate the warehouse stock appropriately.
Product transfer tracking – Warehouse transfer, theft and product loss can easily be tracked using these automated inventory trackers which help to synchronize product delivery and transfers.

4. Customer satisfaction
Cloud inventory management software has the added advantage of improving customer relations. This is due to various factors, some of which are listed below:
On time delivery – With a systematic approach towards product delivery and raw material tracking, businesses can delivery product on time using automated services of the online inventory management system and provide quick challans and acknowledgement receipt to product delivery.
Quality products – Every detail starting from raw material quality to the finished good timings everything are properly documented and tracked using these stock maintenance software which in-turn improves customer experience with our business processes.
5. Scalability
Inventory management solutions should be scalable as per your business needs. We need to make sure that our stock control solutions should scales with our business as we increase our market share and penetration. It should be well equipped in handling more products, more volume, more customers over a course of time and beyond.
The cloud inventory system should be flexible to add users, functionality, warehouses and suppliers—without any large cost involvement and team efforts. Also, a new office or warehouse addition should be easily acceptable by the software and help the business to scaleup without any major cost involvement.
Read More – SalesBabu Inventory Management Software for Inventory Management for SME
6. Employee Efficiency
Imagine an employee's state of mind when he has to manually enter details of each and every raw material and finished products along with maintaining spreadsheets for every material transfer from one warehouse to the other.
Automated inventory trackers not only helps in creating more efficient stock maintenance system but also drastically reduce the time employees spend on maintaining every material in the warehouse. Automating tasks will save their time which they can use to focus on other aspects of the business and also reduce business cost occuring due to manual errors and reworks.
Conclusion
It should be well understood by now that integrating your workshop with manufacturing inventory management software can have endless benefits for your company. In the age of automation, there is an unstoppable drive to integrate everything with an efficient software systems, so don't wait for your competitors to start before you. Thanks to cloud inventory management systems which are not only cost effective but also provide end-to-end support for all inventory requirements.