When you treat your customers right, they will not just come back to you …but they will get two more customers for you. 
Repeat orders are purely proportional to customer satisfaction, attainment of loyal customers and customer retention. All these are the main priorities of the goal list in an organisation. Gaining customer satisfaction and customer loyalty is not an easy task or a quick process. It needs efforts and mainly, time. A sales person will know the difficulty behind selling a product to the customers. And similarly, there is a challenge behind retaining the customers and satisfying their expectations. 
You are not just the only product or store. But if your loyal customers are still coming to you every time, it becomes your responsibility to retain customers and value them. You might have heard that retaining your existing customers is less expensive than gaining new customers. There are different stages in the business where gaining new customers and retaining the existing customers have their own importance and benefits. 
Let us know about these stages in detail!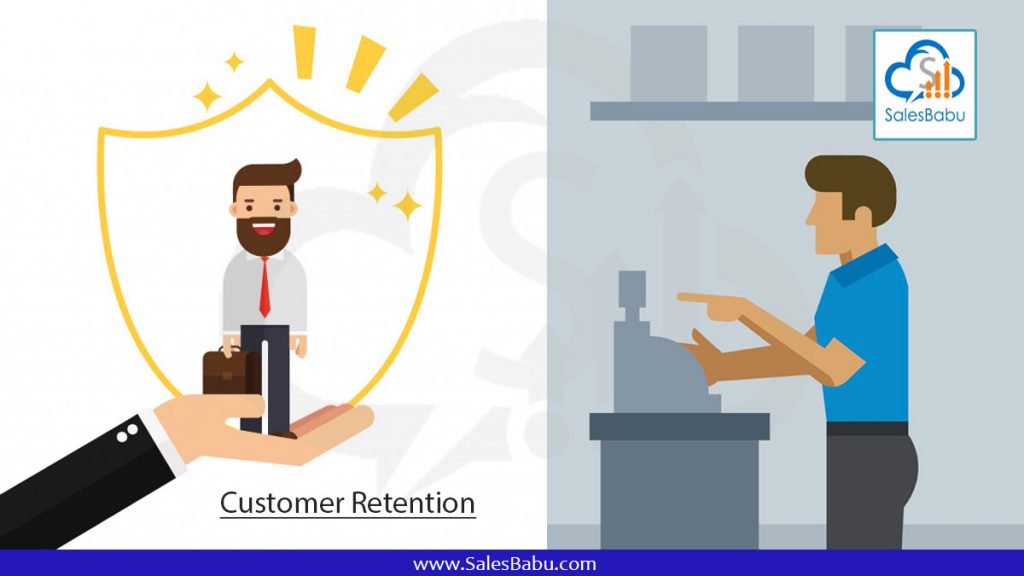 Commence of business
When you have started your business the top most focus is on gaining customers. At this point you must concentrate more on attracting customers with various strategies and tricks which will help you gain customers. It might be challenging in the beginning but you must give it your time and effort. 
Hold on the business 
And now when you have a hold on the business, things tend to change. You would have gained customers but your sales are periodic. At this point you can start making use of the retention strategies in order to keep your sales active. A cost effective and significant method can be the email campaigns, this will help you to encourage your customers to buy from you. 
 Consistent 
At this point you are neither a well established business nor down with sales. The sales are quite good and growing gradually. Here you can not just concentrate on gaining new customers but you must give equal importance to retaining your existing customers and keep them satisfied.

Established company 
Here you are on the verge of being a well established company by your efforts and patience. At this point your main focus should be over implementing strategies and tactics to continue your company's growth. By now you would have gained loyal customers. But do not forget or ignore the fact that it takes years to create trust and minutes to break it. Your responsibility to keep your customers happy and satisfied will increase a level higher at this stage. Once you are successful in getting loyal customers , your loyal customers themselves will get you four more customers. Your loyal customers can market your product and service much better than you can ever do.

Well-established 
At this stage you will be elated with the fact that your short term and long term goals are successfully achieved. You should focus on customer satisfaction and come up with new and creative ideas. Most importantly, you must concentrate on retaining your customers to come back to you everytime.

Are customer retention strategies worth the effort?
Yes, customer retention strategies is surely worth the effort you make in the long run. When you treat your loyal customers right they not only prefer your product but they will bring you two more new customers. Customer loyalty is also very necessary from the customer's side. 
All are aware about the dominance of social media in the present scenario. If you treat them well they may get you two more customers and may also share their experience with ten more. But if they had a bad experience, the whole world may get the information within seconds. There are consumers who will prefer consuming your products based on reviews and ratings. Thus, retain customers to make the utmost use of customer loyalty. 
But your retention strategies will differ from the size and type of your business. For instance a company selling high end products with a long life duration is different from a company selling daily necessities. Thus, know your stand in the market and make use of the best strategies. 
Read our blog –Customer centric CRM, the way to go
That being said, now let us throw light over the best policies to repeat orders from your loyal customers. 
There may be en number of policies, strategies, tips and tricks that you might have read, heard or thought of. Here let us discuss about a few best policies that will lead to fruitful results at the end of all. 
1. Regular interaction with your customers  
Communication can make and also break the business. Until and unless you do not interact with your customers, you cannot get them back for their next order. And silence can also be a form of communication to your customers. A regular interaction with customers will make your customer understand about the efforts you are putting forward to keep them engaged. 
2. Effective complaint resolving 
Your customers have the power to help you gain brand image overnight and also destroy the brand image within minutes. If they had a good experience, they will share their positive experience with their family and friends. And even if they had a bad experience, they will share it with the world through social media. 
Customer complaints are the school books through which you learn. So complaint tracking is one of the vital phenomena of the sales process. Listen to their problems, apologise for the inconvenience, find a solution for the inconvenience caused and follow with your customer. And after you have done this with patience, your customers will appreciate the efforts which will add on in creating good relationship with your customers.

3. Improve customer service
Customer service will help you in the process of pre and post sales. When you ensure a good customer service your customers will not flipping to other business concerns. See to that your customers are having a good experience after their purchase and ensure that there are no inconveniences.
Read our blog – How CRM Boost Your Customer Service & Overall Customer Experience

Perform different methods such as SMS-campaigning and email-campaigning. They are one of the most powerful tools in the marketing procedure as they are efficient and cost effective. 
5. On and odd exclusive offers to key customers 
Customer is King and you need to serve them in best possible ways. Most of the companies now follow the trend of remembering their key customers in all festivals, important occasions like their birthdays and anniversaries and other such occasions. This is a perfect way to say customers "We Care For You". The customers also feel obliged and gradually the bond between the customer and vendor strengthens.

How CRM software will help you with achieving the best policies for repeat orders? 
You may be still thinking CRM system is used to improve just sales and maintain good relationship with the customers. But CRM and customer retention goes hand in hand as well. You can not just improve sales but the Cloud based CRM can be used in every department of your organisation. The main and first objective of the CRM software is to retain customers and secondly it is to maintain good relationships with the customers and lastly increase the customer acquisition at a lower cost.
1. Obtain centralized data 
From sales, customer service to management all use only one centralized CRM Software. Employees can access information from anywhere. All the departments can work together effectively. It automates the process of the company and also increases the customer loyalty and revenue. With this software it is easy to get a 360 degree view of your customer's information like appointments, notes, tasks, sales opportunities, orders and complaints because it is essential to know what customers want. Right? 
2. Know your target customers
Not all products are meant for all consumers. Every specific product has a specific group of customers known as the target customers. Target marketing would revolve around positioning few techniques for a particular group of target market to attract the customers. Thus CRM system helps you to concentrate on the target customers which in turn increases the profit and revenue of the business. 
3. Ideal marketing efforts
Marketing is one of the most important aspects in a business at the present. It is very essential to understand the customer behaviour as well as needs in order to promote your product at the right time and right place. Thus, the CRM system will help you analyze and section your customers in order to give more profitable customer class.
4. Recognize your VIP customers 
The CRM software gives you all the information about the customer's purchase history and purchase patterns as well. Thus, you can recognize your VIP customers and treat them with extra concern as CRM and Customer retention will help you improve brand image.
5. Never miss a follow-up 
To effectively manage consecutive follow-ups, in response to all enquiries/leads, you are required to keep a sharp eye on each lead conversation. Using online task management software you may instantly create task/follow ups, assign them , set reminders for the due dates, and drive to completion. No need to schedule a meeting just to follow up on action items from a previous meeting.
Read our blog – 8 Reasons to choose cloud based CRM for your business

No matter what is your business size or type, the present customers you possess are the best assets for your business. They are aware about your brand, your products and services and the kind of customer service you provide. So it is in your hand to manage your customers and make them as the loyal customers of your company. If you want your customers to come back to you every time for their next order you need to follow these basic policies. You can make use of the cloud based CRM software to work smartly. If you want to be successful in retaining your customers then use the best CRM software i.e, SalesBabu CRM software which is cloud based CRM software solution. Visit our website  https://www.salesbabu.com/ to know more.