What Is Cloud Based CRM (Customer Relationship Management ) Application?
A cloud based CRM application is a CRM platform hosted in the cloud, which allows you to access data from anywhere and anytime (any place & any device with internet access). It is a crucial tool in this modern environment, with the increasing necessity to track your business remotely. Cloud based CRM software enables you to work remotely with high efficiency, which is especially important during this pandemic. As the business grows, the number of customers and contacts to keep track of also increases – which is where a robust cloud CRM system comes into play.
Cloud based CRM platforms deliver automated business processes to manage better relationships with existing customers. Best-in-class cloud CRM solutions enable you to connect marketing, sales, and customer service. It also allows companies to manage customer interactions effectively by accessing data from anywhere and at any time with the internet. Online CRM software helps in –
Real-Time Information Access
Improved Decision Making
Streamline Sales Processes
Enquiry, Leads, Quotation & Order Management
Enhance Employees Productivity
Identify Repeat Customers
Competitor Analysis
Complaint Management
AMC / Warranty Management
Real-Time Spare Part Consumption Status
Service Quotations
Installation Tracking
Secure Customer Loyalty


Benefits Of Cloud Based CRM Application:
Effortless Installation
A modern cloud-based CRM application can be installed with no effort all you need is a laptop and an internet connection. Once you get access from the cloud based CRM provider you can sign in and start using its benefits with no time at your fingertips. No need for any hardware or server setup and a large IT department for its maintenance.
2. Access At Your Convenience
You can access the system from anywhere- in the office or on the way home or on any device- a desktop, a laptop, a smartphone, or a tablet. No worries about your office time, you can access cloud based CRM at your own time. Most cloud based CRMs are mobile-friendly allows you to access the information you need about your contacts from anywhere around the clock. All you need is an internet connection and your login information to connect. From making urgent sales calls, to amend a sales proposal, quickly find a prospect's contact number, or sending an email to the manager when out of office, a cloud based CRM offers to access the centralized database and accomplish the task as desired.
3. Affordable
Small businesses don't need to invest huge capital to get started with a cloud CRM. With minimal upfront investment, cloud based CRMs reduce the cost of business without compromising the quality of services rendered to its customers. Small and regular investments in cloud based CRM will help you to revamp your business process effectively and hence their profit.
Read More – CRM Trends That Small Businesses Can Use to Improve Their Customer Relationship Approach
4. Flexibility
The need for Customer Relationship Management differs for different organizations and hence the CRM solution as well. Choose the right cloud CRM platform for your business with SalesBabu CRM, it will be easy to use and easy to grow your business. Online CRM software can be installed instantly and can be updated to your current needs. In addition, by offering anytime/anywhere access to the system, a cloud based CRM offers employees the flexibility and freedom to do their needs and satisfy their customers.
5. Automations
Automation plays its own importance in all fields. Automation is required to work smart and save time. SalesBabu cloud based CRM application helps you to keep your sales process automated and allows you to spend more time in your sales by engaging your leads across multiple channels for great success. Automatically updated data helps you to grow your business by identifying the right customers at the right place at no time. It helps you to manage, analyze and respond quickly to interactions with your clients.
Features of SalesBabu Sales Force Automation CRM Software
Streamline salesforce
Sales productivity
Sales pipeline forecast
Target vs. Achievement analysis
Manage contacts
Real-time information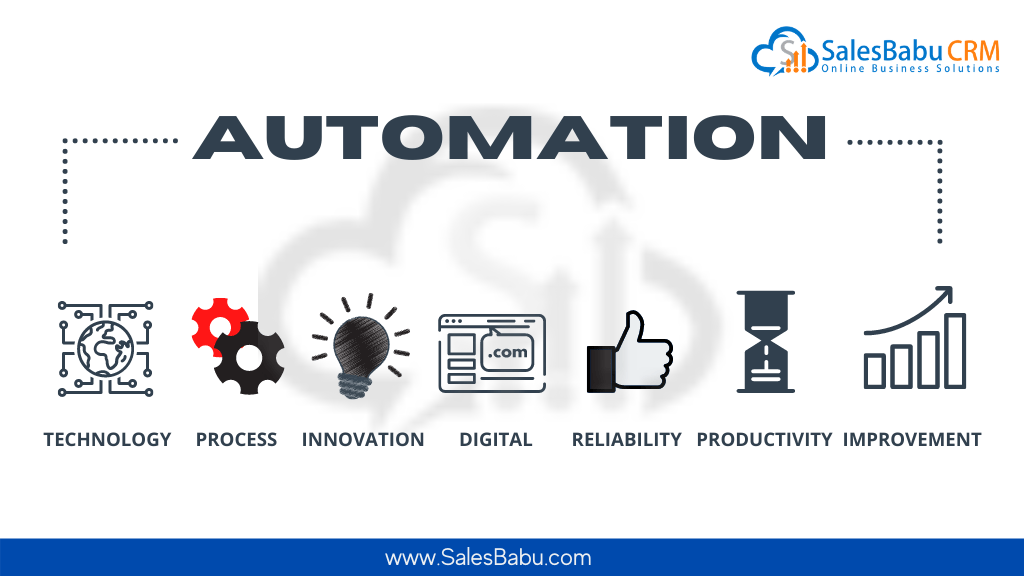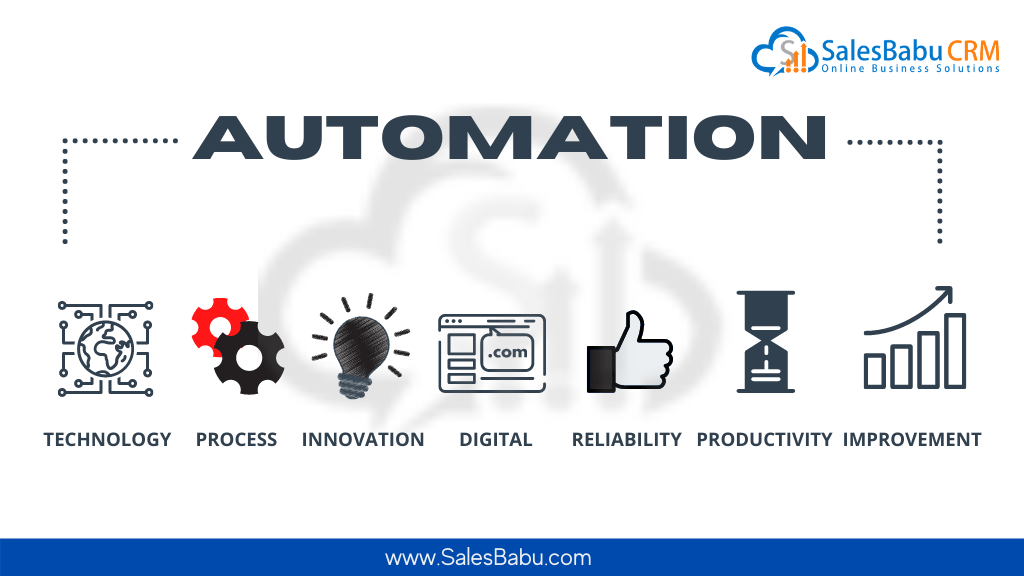 6. Easy Integration
A cloud-based CRM can be easily integrated with other applications, such as e-mail clients and productivity tools, enabling you to seamlessly carry out tasks and achieve end-to-end visibility across the entire sales process. Multitasking is most important for the present situation; easy integration of cloud-based CRM with other applications will help you in a great way. You can even integrate social media CRM with which you can take your business in social media and understand customers' needs and experiences.


Read More – Get More Social To Get More Customers
7. Security
When we move to new technologies we are more concerned with security. You might be skeptical about storing data in a centralized database on the internet. But the cloud is safe and reliable. Even in case of server breakdowns, the data has a backup on the cloud with minimum downtime.
8. Customization
Customize your cloud-based CRM software with SalesBabu CRM. You don't need to pay for the features, you don't want. With cloud-based CRM applications, you have the freedom to pick and choose your required add on with respect to your needs.
9. Identify Your Competition
Cloud-based CRM helps you to track your competitors. Competition is the most important factor which leads to new invention and development in the technologies. Track and keep an eye on your competitor to grow your business. Competition always boosts our energy to go up to the next level of achievement. Even though you are best, having a close look at your competitor strategies and tricks enable you to enhance your products for the current need of your customer.
10. Collaboration
Collaborative CRM focuses on the interaction with customers ( Personal interaction, letter, fax, phone, Internet, e-mail, etc.,) CRM includes:
Providing efficient communication with customers across varied channels of communication
Providing online services to reduce customer service costs
Providing access to customer information while interacting with customer
How Cloud-Based CRM Differs From Traditional CRM?
Traditional CRM systems are stand-alone systems with poor integration capabilities. Traditional CRM is complex in architecture with server installation, setup, and maintenance. Security of the CRM data is costly. In the case of cloud based CRM, the hardware needed to access your customer information is a laptop and a login password. The subscription fee is the only real cost to the cloud.
Cloud based CRM host all the solutions such as updates, maintenance, and storage in the cloud which reduces the need for the manpower ( in-house IT department) as in the traditional CRM
Cloud based CRM is easy to use and offers instant access to customer information across the sales cycle when compared to traditional CRM.
With traditional CRM solutions, accessibility is limited for working hours and is possible only from a system within the office premises. Cloud based CRMs offer anytime, anywhere access to important information with the internet that helps organizations improve process efficiency.
Cloud based CRM enables you to do multitasking across multiple departments with ease with its robust integration with multiple third-party products. But most of the traditional CRM systems are stand-alone systems with poor integration capabilities
SalesBabu CRM Business Solutions
Want to enjoy the benefits of an online CRM system. SalesBabu Online CRM Software is totally cloud-based software. It can be accessed from anywhere and anytime at an affordable price. Feel free to request a demo.
Conclusion
It's the right time to switch to cloud-based SalesBabu CRM and grow your business with the technology. Customers are a lifeline for the business, satisfy your customers with quality service, automate your Sales, Manage your business in a smart way. Organize yourself by tracking your daily sales activities and tasks. Monitoring and recording customer interaction help you to understand customer needs and demands. Manage your contacts effectively.