In the year 2016, it was recorded that a vast number of people have migrated to mobile services from desktop services. The usage of mobile has become a very common thing these days. Online shopping, online booking, online orders, and many such activities are being performed on mobile phones.
Since the times have changed so much, there is a need to change the business strategies and must adapt the business to the mobile revolution too, where all the information can be at the tips of your fingers. This will definitely be very helpful for another step further for any business organization or company.
There were days when solely using the desktop CRM services was completely enough for a business to run well but now those days are gone. In the present era of digitalization, you will need an effective mobile service to match the pace of today's trend, where everyone uses a mobile phone across the globe.
This is where the mobile CRM service will come to light. With the help of this CRM mobile app, you can achieve as many business goals as possible in a much more effective and efficient way. You will be able to increase the sales of your business organization with the help of the sales app, mobile sales app, and sales CRM app.
Providing the CRM services on mobile phones will be very beneficial, as it is easy to access for the employees as well as the customers can enjoy its benefits. In this section let us see why any business organization needs a mobile CRM strategy so that you can run a business well with success and profits.
Read our blog – The Value Of Having A Mobile CRM
Advantages of a mobile CRM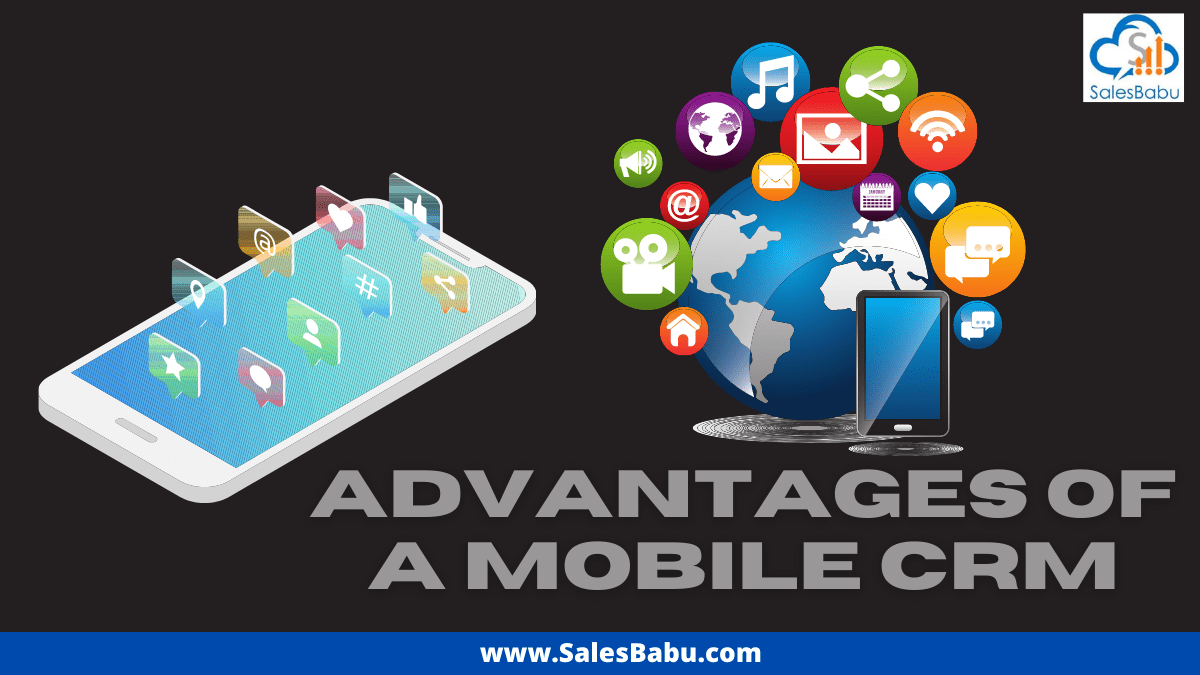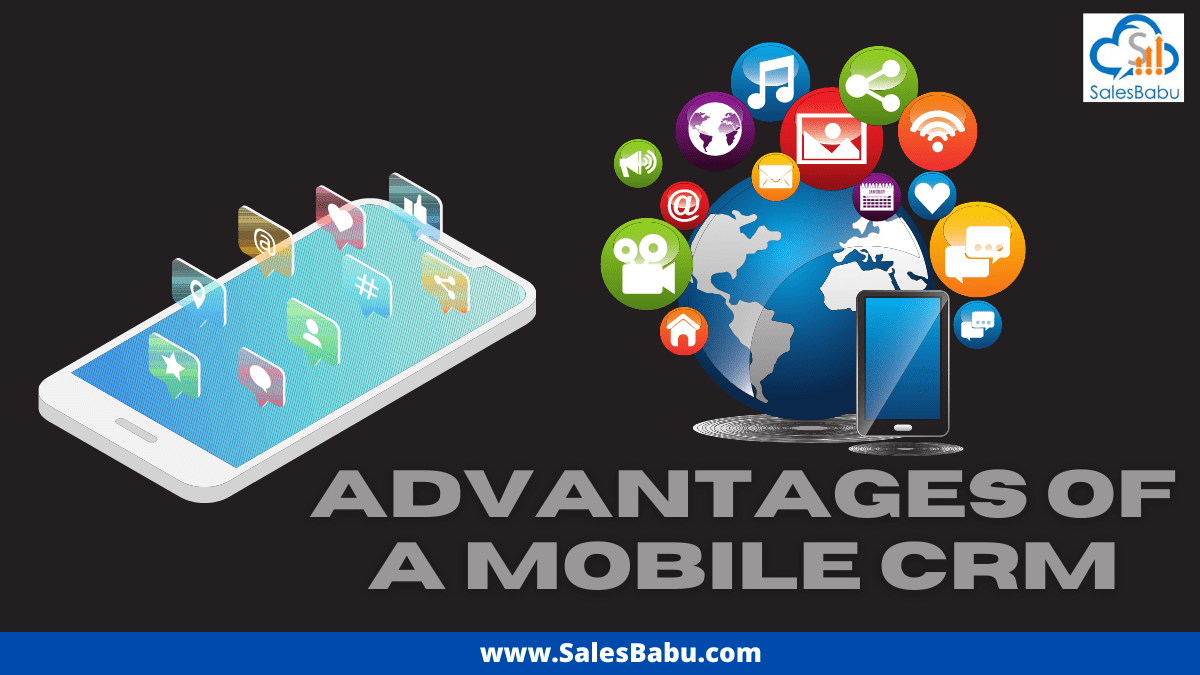 Mobile CRM services will help you take your business to another level where it can be helpful for your business to grow well with profits. There are various advantages of the CRM mobile app that will help your business gain profits and the attention of many customers:-
Overall productivity will be increased: In a survey, it was found that there was an increase in sales of the business organizations that started using mobile CRM services for their business compared to the traditional methods of CRM.

With a CRM mobile app deployed on your mobile phone, you will be able to make pivotal decisions on the spot based on updated reports and insights available, this will help you quickly respond to your customers and prospects.

You will be able to stay connected and productive to your business organization irrespective of the place you are in, with your calls and emails being automatically logged in to your contacts to deal with your customers and prospects.

This will also help shorten the sales cycles by allowing the sales reps to close deals with fewer interactions, which lets them work on new opportunities faster, ultimately increasing the conversion rates and boosting sales.

The CRM services of sales apps such as the sales tracking app, sales management app, and the sales employee tracking app will help you achieve every task that is related to your customers, employees, and prospects in a much easier way.
Read our blog – 5 Applications Of Mobile CRM That Will Boost Your Sales Results


Improved customer service: The CRM mobile app will support you to maintain a great relationship with your customers and prospects by ensuring timely follow-ups and updates. Your employees will have access to real-time updates and important information and data so that they can ensure your customers and prospects are getting the best services available 24/7.

The CRM mobile app notifications will grab your attention to the emergency actions and help you access urgent information and inquiries to respond to a potential opportunity quickly and promptly to address an issue faced by your customers and prospects.

With the help of a sales CRM app that includes the mobile sales app, sales management app, sales tracking app, and the sales employee tracking app, you will be able to have knowledge on the performance of your employees, sales team members' productivity, and the overall performance of your sales.
Improved data accessibility: With the help of the CRM mobile app and the sales app you will have access to the data and information of your customer's entire history of communications at the tip of your fingers and you will be able to access it whenever you need it.

When you integrate with the cloud services, it ensures that any interaction of a sales representative with your customer or prospect is immediately documented in the CRM mobile app for easier collaboration and simpler execution of your business deals. With the proper use of the sales CRM app, you will be able to complete all the tasks perfectly with improved data accessibility.
Read our blog – Why use mobile CRM for sales?
Easy and simple to adapt: Implementing a CRM mobile software is as easy as installing an app on your mobile phone, and data can be accessed without the need of migrating any data. This can do everything that your traditional CRM system can do, with a bonus it supports flexibility, effectiveness, and portability. 

With the help of CRM services sales apps such as the sales tracking app, sales management app, and sales employee tracking app will help you achieve every task that is related to your customers, employees, and prospects in a much easier way, hence, it is easy and simple to adapt for the betterment of your business organization.
Ease Of Accountability Issues : Those businesses working without a CRM, targeting your sales team accountable becomes easy. Such companies share the similar customer names over and over again once interacting about their sales pipeline resulting where orders don't get closed. In such situations when you interact with them, they throw excuses that you can see throughout the conversation letting you feel helpless where you cannot do anything further.
Therefore, introduction of a mobile CRM system can enable your sales team aling in line. Such software enables a technician to update activities on one go as well as no need to approach the office to provide with these details, or a case where you forget to make entries. A business can track their team's routine and weekly progress without being physically present at work operations.
Improved Sales : Boost performance and increase more revenue with a Mobile CRM that will help generate sales. Providing your sales team members prompt access to their account history, product details, pricing and promotional requisites while the team is still working in the field will support them in closing more deals and grow the overall deal value. Providing all of the required details on their phones, sales team members don't have to waste time searching for contact details or sifting through notes to memorize their last meeting or conversation with the prospect. Such decreases
SalesBabu's all-in-one CRM Mobile App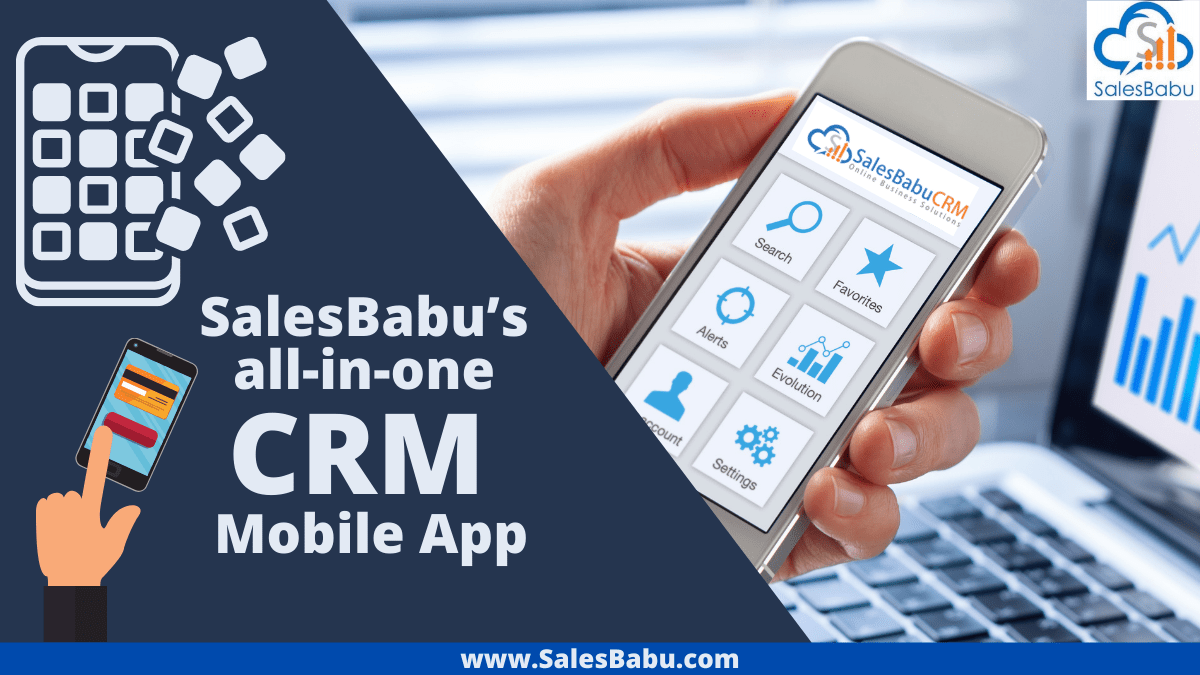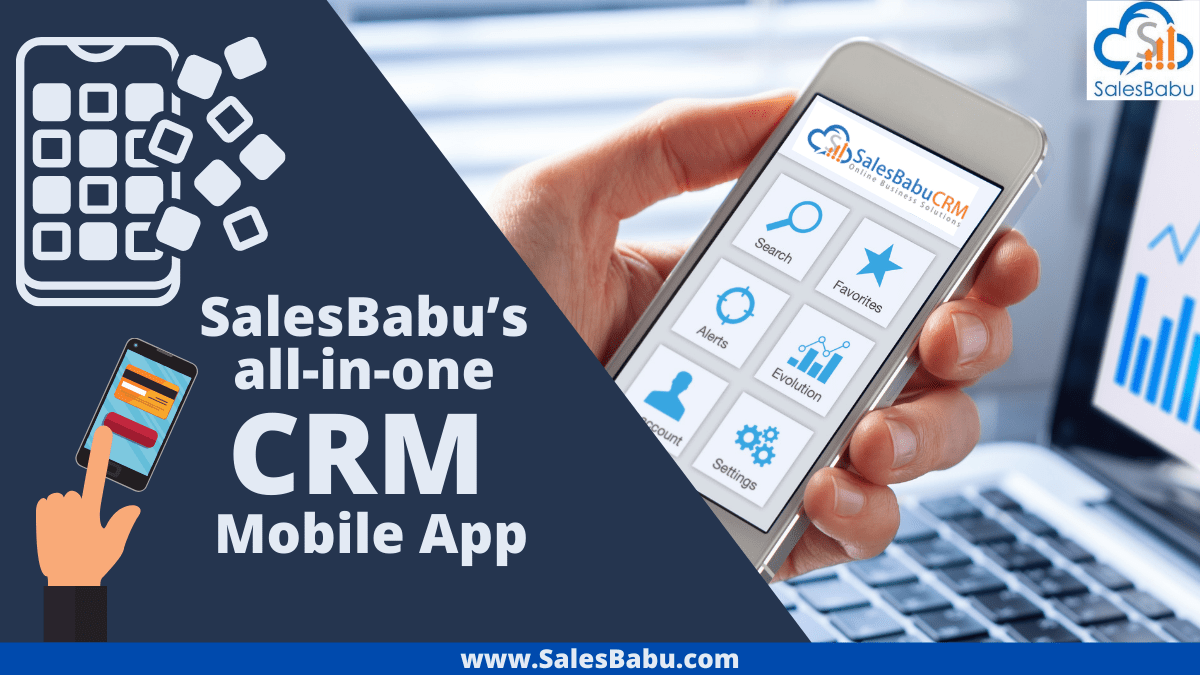 With the help of mobile CRM software, you will be able to start your day with a clear view of which leads, tasks, and emails you should focus on. Our mobile CRM app provides you with real-time information about your customers and prospects, payment details and transactions, follow-ups, and business information accessible from anywhere across the globe.
With the help of cloud services and their potential characteristics, our SalesBabu's mobile CRM application will help you stay connected to your customers and prospects, and with other external organizations for partnership.
The mobile app of our SalesBabu CRM has a comprehensive customer dashboard that highlights important statistics and metrics at an instance allowing you to run your business organization very well with success and more profits.
With SalesBabu CRM, billing is really simple as you can generate invoices at the click of a button and send them to your customers and prospects for a quick and easy online payment in an instant.
Since Android dominate the market across the globe, our CRM app has designed a very user-friendly software for your employees and team members using Android to adapt easily and in a much simpler way.
No other software offers a true view of your customers and prospects like our effective SalesBabu CRM software. When Integrated with IMAP, PayPal, and other google apps, the CRM mobile application will record and organize every business activity and event into a powerful database. This will help you to analyze your data quickly and in a simple format.
SalesBabu CRM mobile app has streamlined the transition for your business from our web application to the mobile app by retaining a good amount of web functionality for seamless navigation and easy access. All your data will be synced and backed up between the web and mobile applications.
Our CRM system has brought the entire business into a customizable and integrated CRM app starting from contacting the customers, to completing the deals successfully with high sales and increased profits. With all the CRM tools under one platform, the mobile CRM application is nothing less than the web version of the CRM service.
No more confusion and chaotic situations between various apps, just implement the SalesBabu CRM mobile application on your device and make your business tasks and work simpler and easier with its potential features.
Read our blog – Why Is Mobile CRM Important For Your Business?


Conclusion
Mobile CRM applications support the everyday tasks of your sales, marketing, and customer service personnel, increasing the overall productivity of your team and business organization.
Adopting the mobile version of CRM software takes your existing CRM system to the next level offering many benefits over the traditional CRM. With the help of SalesBaby CRM software, you will be able to make your business tasks and work simpler and easier with its potential features.