Are you still using paper and pencil to record customer conversation? Are you still noting customer contact in contact diary? Are you still printing documents and adding comments by pen? Or is it like- we have adopted modern advertising methods like social media and promoting business online but, in our office, we still have a high paper waste which costs us both time and money.
When you strive to control costs for a business, we should look for technology which should be reliable, reduce paper work, easy to understand and implement. We live in a world of technology and internet services. Many times It's equally important for your business to be tech savvy. This will help you in knowing which gadget, tool or app is best for your organisation and improvise the performance of the firm as a whole. Better to operate through technology rather than file and paper work.
The solution to all this is the implementation of a Cloud based CRM software. Online CRM Software help you get more organized and reduced costs in the office. For creating exceptional customer service and loyal customers we have to save our time and money, wasted on administering paperwork and get some creative working on place to make happy customers.
Read our blog – Cloud computing and CRM software


Also refer, 5 Ways to Decrease Costs at Your Small Business
Here are the 8 tips on how you can use to organize your work through CRM Software and reduce cost for your business:
1. Plan your tasks and activities
Organize your day, set your priorities and make a list of to do list and all set for a productive day. An online CRM Software allow you to fill in your activity list and set up reminders to remind you to do the activities so that you should not miss any. You save time and money in recording manual to do listing.
2. Record everything
Recording every move and every conversation seems too much work with pen and paper. However, in an online CRM Software you can save contacts and records all activities in comments and actions easily without wasting time and papers.
3. Avoid the print button
You can access the device on you preferred media like mobile or laptop or computer. You really don't need to use print button so you do not have to print, save, and carry papers. You can use electronic information on your own devices and that too updated all the time.
4. Share Electronically
Using a cloud CRM Software allow you to share documents and information via. doc, excel, pdf and cvv format and you can send all via email by one click. You will be storing all the information in one place, so you don't have to look for the information everywhere. You can make project groups and send group message and save your time and money.
5. Use Electronic Templates
You don't have to spend a lot of time to draft sales offers, advertising, invitations etc. CRM vendors provide standard templates of documents which can be customized for your use. This will save your time and you don't have to print those documents, rather you can directly send the same by email system integrated with an online CRM software.
6. Reporting
Especially managers spends hours and hours taking reporting and making collective reports of business and staff performance in Excel spreadsheets with latest figures; but, till not only takes lots of time; but they are not very accurate many times. Cloud based CRM Software keeps updated information and its automatic reporting tool generates reports for instant use, which saves a Manager's time and paperwork and increase his efficiency.
7. Contact Information
An online CRM Software allows you manage customer contact information stored in a structured way in a centralized database in the contact management software, from where it is accessible to all the employees of the organization. This way your employees can keep adding customer contact information and create business directory or a contact database. Since it is accessible to each department using a cloud based CRM Software and each employee can find the correct information fast, it saves their time and improve their efficiency to work.
8. Mailing Lists
Are you buying prospects list from external suppliers, like "we have 100 companies on our list ready to by xxx product"? I would recommend you start building your own prospect list, which will prove to be better qualified leads and cheaper in the long run. Add "sign-up" and call-to-action on your website, get subscribers through your blog or social media channels, or collect emails at a conference. And of course add these contacts into your CRM database so that you later can make selections (mailing lists) to send direct mailings.
Read our blog – 8 Ways to Reduce Costs in Small Business
Some other ways that CRM software will help to reduce the costs are :
# Enabling work on single system
CRM will help the companies to integrate multiple and fragmented functions which are ranging across sales, marketing, customer services, business units, etc. into a single powerful system. Certain outmoded systems will be discarded and the essential ones are seamlessly integrated. No more window hoping to get the information as a 360-degree view of the information of all the customers at your fingertips to serve them faster. This will significantly improve the efficiency of customers who are facing the team and saves time.
#Removing the duplicate customer needs
Duplications of records are a luring target for fraud and performance problems. A benefit of the CRM is reducing the duplication of the leads and records of all the customers through complete transparency in displaying and identifying the suspected names along with quick follow-up action. Because all the relevant members of the sales team will have the access to the customer account, each sales rep will be able to view who has contacted the customers and also the outcome. As a result, the sales rep will not waste the time and costs by contacting the customer who has already been approached, hence risking isolating a potential customer.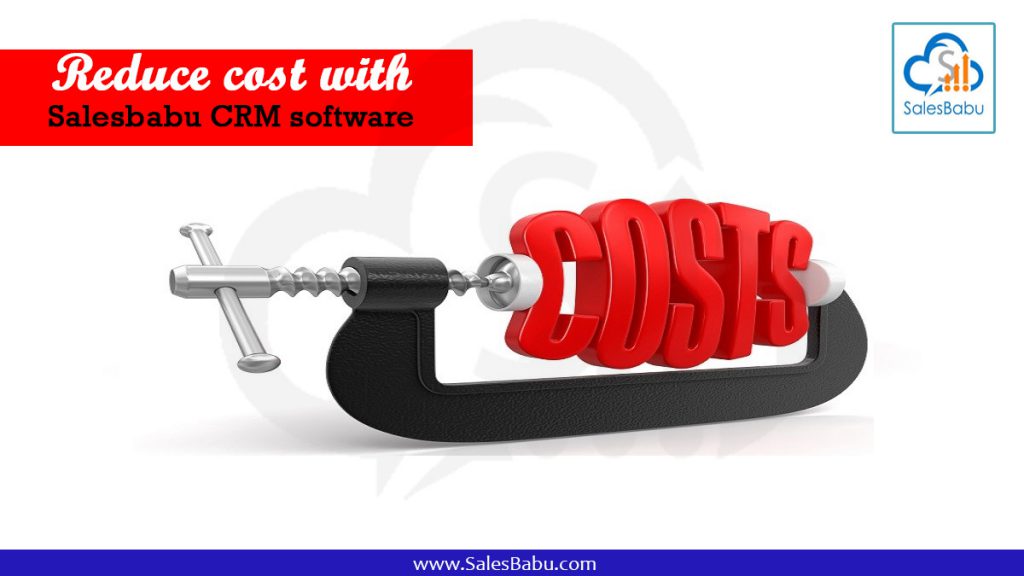 Cloud based CRM offer you digital record management system
Improve business process through faster access to information and retrieval of the same.
Great analytics for better informed decision making.
Less time consumed for searching relevant information which improved service delivery.
Improved staff performance.
Cost saving from less creation, storage, retrieval and handling of paper records.


Have you seen a reduction in cost due to implementing a CRM system? What other benefits have you gained? Practically it is very easy to say but practising the allocated budget is quite difficult. Whereas, an automated system for your business process with a cost effective strategy can be the best decision for your business. Lastly, invest on the best CRM software that provides multiple features and functionalities depending upon your business requirements. SalesBabu Cloud based CRM software provides a cost effective CRM system for your business, that you will not regret investing. If you are looking for a cost effective way to grow your business, then contact the best CRM software for a free CRM demo at https://www.salesbabu.com/.