The world has been facing a lot of issues financially and in many ways since the pandemic, COVID-19 has hit. The world has been paused for some time, malls and shops in it have been closed down for a while, there was an emptiness in the manufacturing and industries, and there has been a decline in sales of many businesses and companies, COVID-19 has troubled all of us and it has hampered the business operations and processes in all possible ways.
Business sales have declined a lot and drastically during this world pandemic and the Fast-moving consumer goods (FMCG) business sector has been affected even more. According to one of the reports from the business Market Insights and company firm, Neilson, the Fast-moving consumer goods (FMCG) industry has witnessed a sharp drop of a certain percentage in sales in the past months (April). This is due to the pandemic and mobility restrictions or limitations and supply-side business challenges that have occurred during the lockdown after registering single-digit sales growth in the first business quarter.
While in the pre-COVID global situation and world, Fast-moving consumer goods (FMCG) business sales were carried out with the olden methods, and traditionally they were the manual methods but due to the lockdown limitations and restrictions, traveling constraints, social distancing rules and regulations, and most importantly the rising health concerns, the traditional ways of Fast-moving consumer goods (FMCG) business sales have failed miserably.
As traditional and old sales methods have been completely stopped, Fast-moving consumer goods (FMCG) companies and industries are facing numerous business challenges due to these pandemic situations.
Out of many business challenges and situations that are faced by Fast-moving consumer goods (FMCG) industries and companies, one of the most important and prominent challenges is booking orders for the company retailers. Although there are some travel restrictions that are being done, these limitations have been lifted in most of the countries, booking business orders and products is still a big issue and have turned out to be more problematic in this current pandemic situation.
The frequency of business sales visits has been drastically reduced and therefore there has been a huge decrease in business sales orders. While the engagement between various industries and companies including the retailers has been totally struck, the company visibility has also been highly impacted owing to limited business opportunities to engage with the company retailers. Distribution channels and networks have also been stopped due to the unavailability of business logistics and travel restrictions and rules.
Read our blog – Ten Field Service Management Challenges and How To Solve Them
Ways to increase FMCG sales during COVID
An updated sales plan must be made
While the existing business sales plan might have done many wonders for a Fast-moving consumer goods (FMCG) business leader and owner in the pre-COVID times, a business leader and owner must make sure to change the current business sales plan to be a step ahead and gain better profits during the pandemic.
A business must definitely have to modify and update its existing sales business plan according to the current situations which give optimum and best results during the current situation, COVID-19 pandemic. Setting the right business sales plan and managing it is the starting point of updating and changing according to the situation.
Best routes must be selected for the update of business sales and it is a perfect solution for business sales leaders to monitor, manage, and set the right sales plan and hence update and change their existing business sales strategy with a complete set of business databases and facts. It will ensure that the business sales representatives are completely assigned with the right sales plan for their business territories based on current company and business goals and therefore the business sales objectives are completely achieved.
Communication with retailers must be optimized
Due to the current situation of the COVID-19 pandemic, communication has become very important and a key aspect as the frequency of business sales visits has been reduced. Understanding the company retailer mindset and tracking their business orders and certain behaviors have become difficult due to the current times of COVID-19. A communication gap might occur and it essentially means less connection between the business, company, and the retailers and therefore it will affect the sales of an organization or company.
The use of many updated digital mediums in order to keep the communication going with the company retailers has now completely become the new normal. Not only is it very easy, simple, and convenient for initiating and establishing the best communication with the retailers but also it will help in increasing the business profits and loyalty, as it includes sending exciting business offers to the existing prospects and customers.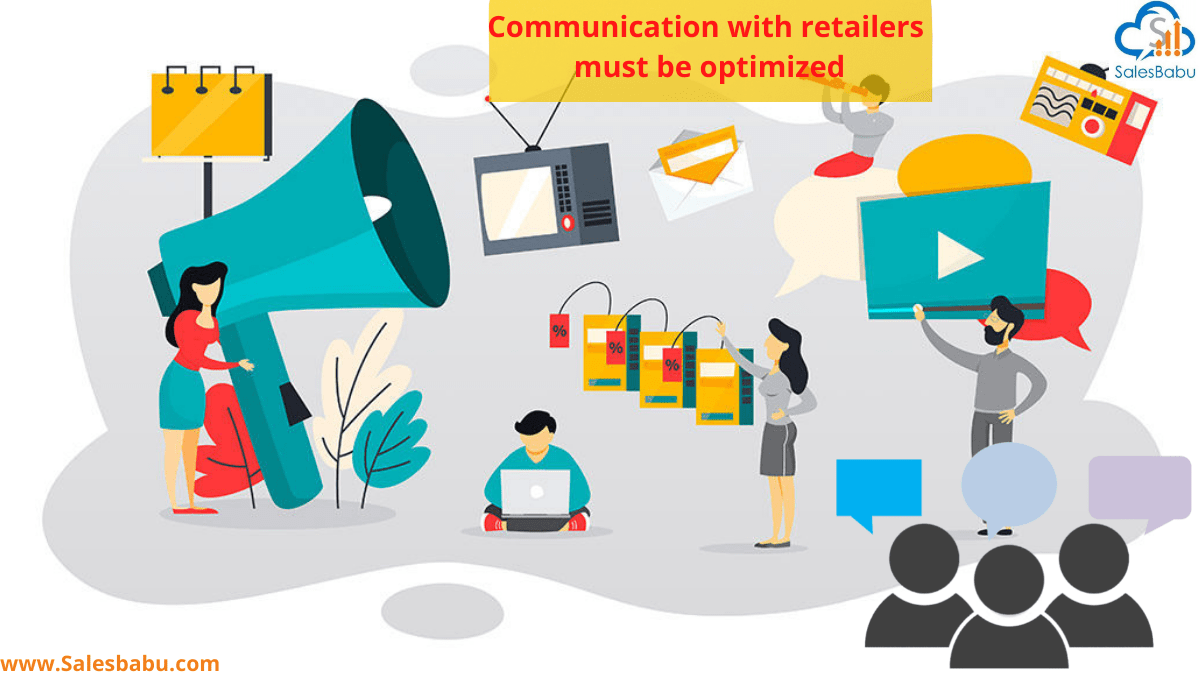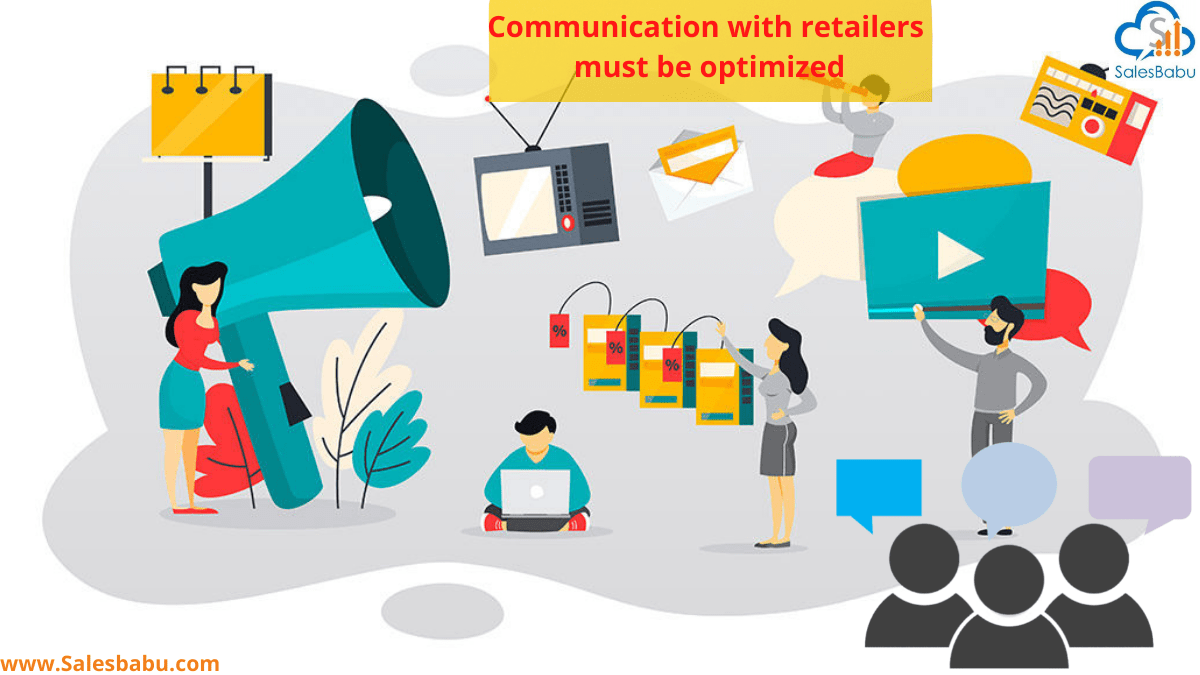 Read our blog – What is Field Service Management Software And Why Does It Matter?


Inventory must be managed efficiently
A challenge has been raised for all the Fast-moving consumer goods (FMCG) companies and industries is to ensure that their business goods and products are completely available at the company retail stores. A major decrease in the frequency of business field visits due to the current pandemic situation, COVID-19 rules and restrictions have further made it very hard for the business leaders and owners to ensure that an optimal value in inventory is maintained and managed at the retail stores.
Advanced visual merchandising must be initiated
To help the companies and businesses in these current challenging COVID situations, visual merchandising will be an effective business tool. It will ensure effective implementation and usage of the Visual merchandising techniques and also it will ensure a proper business sales funnel even during these hard situations.
It is therefore an essential part of any business and it is very important and required to incorporate an advanced and best Visual Merchandising Auditing mechanism and tools to ensure that proper and best business sales of the product and goods are maintained.
An advanced artificial intelligence-assisted Visual Merchandising tool and its functionality will help in auditing required and relevant campaigns by accumulating a feedback form and through the best photo auditing with the help and support of artificial intelligence.
This will also enable you to link many display business campaign payments and billings to the quality of Visual Merchandising and its execution at a store. Payments and billings can be disclosed only if the display quality is absolutely maintained well by the company retail store.
Read our blog – Negative Technicians – How They Affect A Field Service Company's Reputation


The field force process must be automated
Due to the current situation and COVID restrictions, it has become very hard for the business organization and company to ensure that the frontline workers are following the same rules and standards of compliance along with the business processes and operational execution regardless of their geographical location.
Simultaneously, entering, understanding, and analyzing this important data manually at the head office and must ensure that the rules and standards are enhanced by ensuring various policies that have become a headache for the business organizations and companies. Automating the business field force is the best method of capturing field business sales or service details and information in real-time by using communications trends and technology, wireless electronic devices, or smartphones.
Conclusion
Business leaders and owners have been forced to understand and accept the new normal of business in these hard days of the pandemic that is the COVID times. While many possible steps have been thought of every day by the business leaders and owners to increase their business sales, the above complete step-by-step procedure and best guide will help you to increase the Fast-moving consumer goods (FMCG) sales during the pandemic, COVID.