The quoting process has drastically improved with the help of innovative tools in the market. And managing the quotations is one of the most vital stages of the sales cycle in the organisation. Are your company's quotes getting thumbs up from all your clients?
Before we jump into creating quotes, let us have a look at these 'Quotes' .
What is a quote?
A quote is the last price to which the buyer and seller agree to buy the product or service. The quotation is indeed a document which gives the clear cost for the work.
What should you include in a quote?
A cover letter
Your company details
Your customer/client's business information
Validity of the quotation or proposal
Quotation number
Price of the product or service (incl. GST, labour cost, material cost etc if any)
Terms and conditions
Project schedule
Signoff
How to improve Sales Quote creation to Quote Acceptance rate?
Understand your client's requirements
Understanding your client's requirements completely can help you create the perfect quotes for your clients. And the perfect quotes is the one that directly speaks about your client's requirements and needs.
Tips to follow –
Understand your client's actual requirements.
Make a simple yet attractive quote.
Make sure that the content in the quote is completely relevant to your client's requirements because it must seem like the right response to your client's requirements.
Give an option of acceptance of quote to your clients.
Use sales quotation Software
The Sales Quoting module (Business Quotation Maker) empowers you to prepare an effective, professional quote for your customers' consideration, complete with rich content and full technical specifications. It's simple to add cross-sell and up-sell suggestions to maximize your potential sell-through. Also you have much more information to prepare a Sales Quote that has higher chances of winning, since it brings real-time inventory and price information from multiple distributors in a centralized location. All this is through web-based Sales Quoting software which means, getting the product information and creating a sales quote is just a few clicks away, plus your customers will be able to view and approve the quote online.
Make sure that your sales quotes are aptly constructed
A sales quote or a price quote is the first opinion of your business and will portray a little bit about your business to the leads. A simple yet clear quote will reduce the back and forth efforts and increase the chance of a sale the primary time. Leverage sales quoting software to systemize documents and drive document creation.
Have someone in the Organization that will do an analysis job on the sales quotation process
As a busy business owner, you will have various responsibilities to fulfill, and it may be a little hard for you to spare the time for long and complex quotes and the attention it deserves. Be smart and transfer the business processes reigns to someone who is capable. This person can be an employee or business partner, or you can also hire someone explicitly- quotes manager- for this important responsibility of handling the process from start to end. This person will immensely focus on how many quotes are created. As the tasks correlated with quotes will be handled by the person, you are free to focus on each thing else that needs to be done. Depending on your business type, requirement, and complication of sales quotes, you can go a step further and hire a sales quote team to work with the sales quote manager to fulfill the job.
What are the benefits of using Sales Quotation Software?
Streamline your Quotation Process
Quicker conversion of existing open quotes into contracts
Reduce Quotation Time
Have your entire customer details in one place
Catalogue your services and products
Draw insights from data-driven reports with MIS
Sell More, Manage Less
Easy Online Sales Quotation Creation
Quotation Management
Zero Complexity


Does your business require quotation software?
If you are still stuck on MS Excel or MS Word to create business sales quotation, invoice and estimates, you may be way behind the competition in the long run. I will tell you why as well.
The Word docs is merely a text processor where you can add header and footers, background or fonts etc. And creating anything different, like if you wish to edit a design in Word it is a pretty difficult task. MS Word being a text processor just texts are not enough. You need to make it impressive and catchy by adding videos and images. Thus, creating proposals on Word cannot be impressive for your prospects. And creating pale proposals make your prospects feel that you don't care much. Want to prepare impressive quotes? Learn how – Tips to Create Impressive Quotations.
Using a Quotation software helps you to create attractive yet professional quotes that can create the first and best impression on your clients. And most importantly, you can customize and send these quotes within minutes as the quotation software provides default templates. Thus, it also allows your clients to instantly close the deal and carryout payment process through a secure and encrypted web link that you have sent to the client.
What does Quotation Software come with?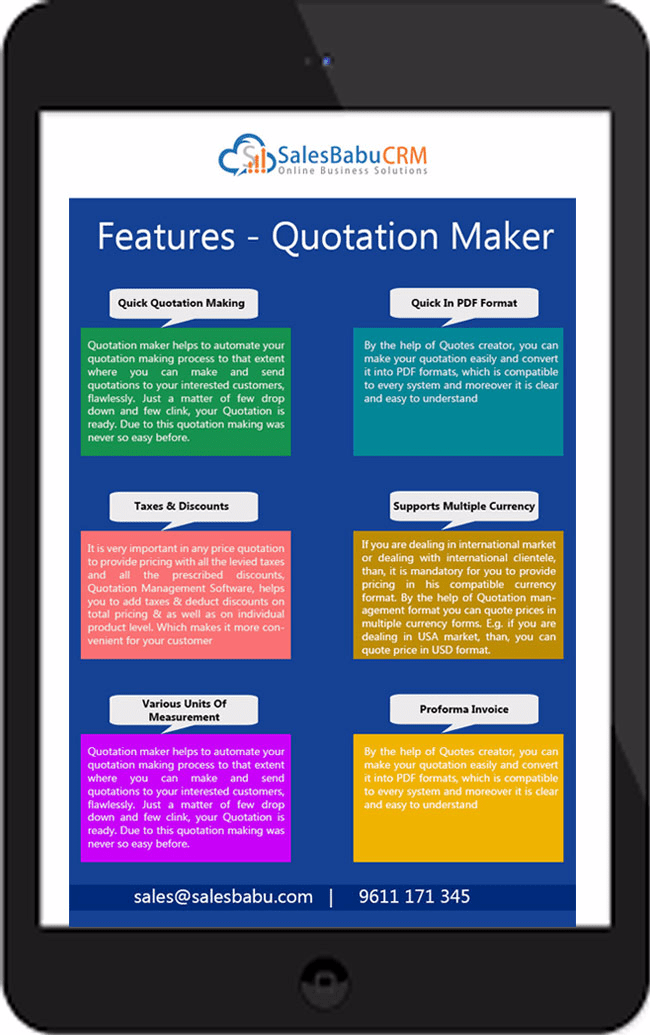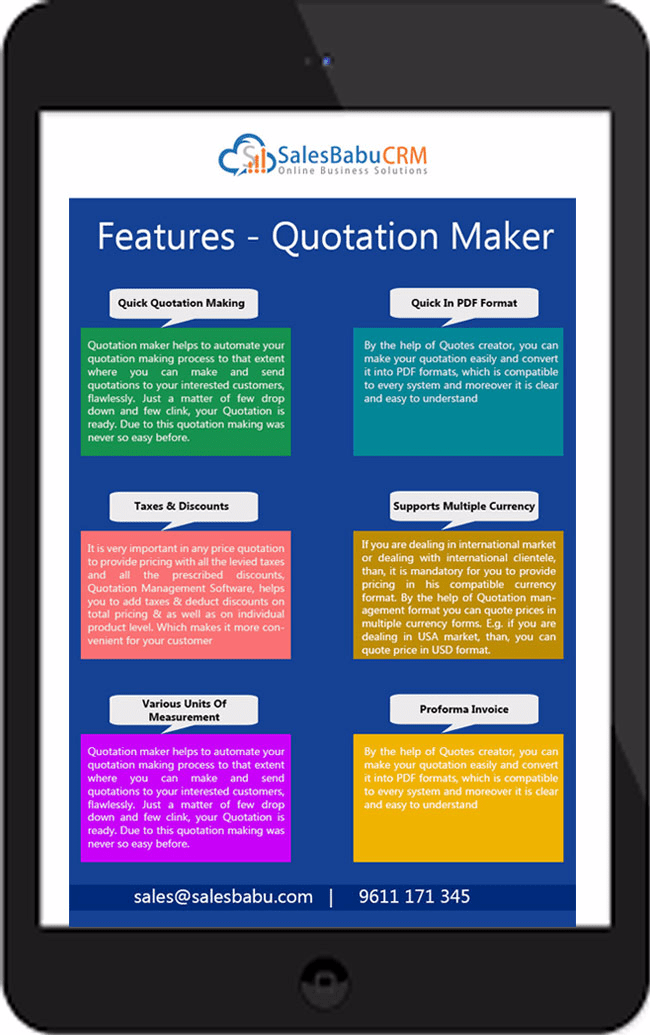 An user-friendly interface
New quotation
Edit existing quotation – Amend and Override
Create activity
GST tax configuration
Product configuration
Performa invoice
Email quotation
Print, copy, delete or PDF format of quotation
Save quotation in the cloud
Section headers
Quotation follow-up
Are you using a Quotation Software to automate your entire Quotation process? If not, get your Quotation software today! If you have any doubts about the Quotation Software, you can contact our CRM expert to request for a free demo at https://www.salesbabu.com/.
Check out our blog – Online Sales Quoting & Proposal Software
Hire a rep to handle Quotations
You may hire a capable rep to handle the entire Quotation process. The rep can completely focus on how the quotes can be created and presented to the clients. He/she can also have a check on the number of quotations created, revised, rejected etc.
Identify the loopholes
Problem 1 – There is no response from the client after the quote is sent.
Solution – Make use of a Quotation Management Software as it allows you to view when your client opened the quote and thus reach them at the right time with a quick follow-up email or call.
---
Problem 2 – Your quote is too high according to your client.
Solution – Let your clients understand the difference between a quote and an estimate. Let them know that the quote that you have provided is based on an educated pricing outline and not a rough idea or estimate. You need to remind them that the quotes are based on realities and facts and not just a number written.
---
Problem 3 – Your client is confused
Solution – Providing testimonials and references to choose a quote can help you to win clients because most of your clients rely on personal recommendations, previous work or ratings; make your happy customers count and you may end up winning your prospects.
---
Tips to create a compelling quote
Cling on to a proper quote structure – Quotation header, Quotation body, Quotation footer
Make your quotes impressive and professional – add links, videos, images and discounts or promotions etc.
Build a template with a strong brand identity – The Quotation software allows you to prepare your own templates from scratch.
Use SalesBabu Quotation Maker
Read our blog – Quotation Management: Now Easier Than Ever Before


Conclusion
Quotations are a necessary part of your business and using an online Quotation Software can help you improve your quote acceptance rate. Quotation process is not something that you learn and understand overnight. You need to give it some time and most importantly you need to understand how it works for different clients. Thus, keep learning and improving your quote process with time.
Remember that, the better and more impressive your quotes gets, the more is the quote acceptance rate!!