If a member of the team takes their eye off the ball you may suffer a temporary setback. But, if the whole team members lose sight of the goal, it's game over.
You're the mentor. If you want to win every time, then you need a seat in the stands with a wide view.
Measuring sales performance helps you with the correct information and knowledge to successfully and effectively conduct revenue prediction. It also helps in assessing how well you are implementing the sales strategy and highlights how your sales team operates and workflows are going.
As a CEO or manager or sales leader, you need to be able to realize when you need to move resources or change priorities to avoid absent targets in the sales cycles. You need to be able to be in charge of expectations for your team.
You need to discuss each and every factor that may not be related to individual sales productivity but are related to huge issues, such as the cut-throat landscape or broad economic factors.
This helps to reduce the unavoidable tensions and stresses that are typically felt by the salesman. Collectively recognizing these matters also encourages the team to come up with creative solutions to problems and explore actionable steps to fix them.
Focusing on collective performance not only helps everyone to keep the big picture top of mind, but also encourages a sense of unity, teamwork, and shared goals, which is highly motivating.
The benefits are crystal clear, but you need a simple way to introduce collective sales tracking that does not add up to your already heavy workload. You need tracking software that is simple to introduce and maintain; something that helps you, your company, and your team work smarter, not harder.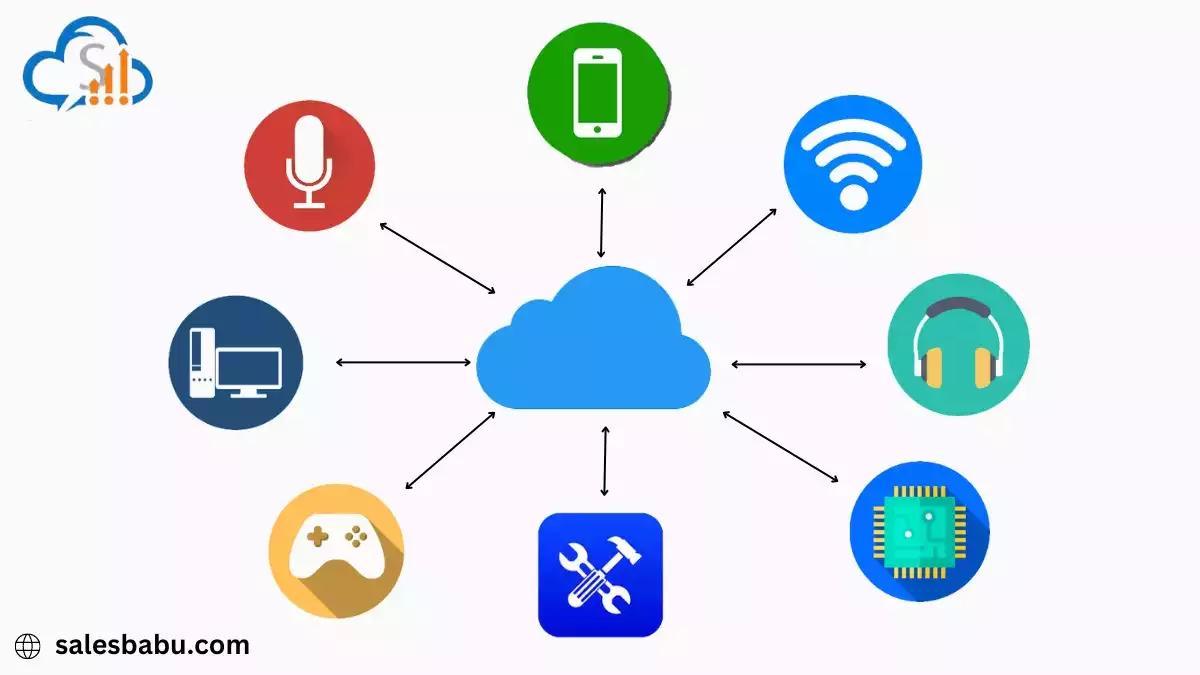 What is cloud-based CRM software?
Cloud-based CRM is customer relationship management software. This kind of software is also called software as a service (SaaS). And it's different from traditional on-premise/installed software, which has higher upfront costs and different personnel requirements.
Cloud CRM has a number of technical and pricing advantages:
So, Customer relationship management (CRM) is a technology for managing all the company's relationships and interactions with clients and potential customers. The goal is very simple: CRM Improves business relationships.
A CRM system helps companies to stay connected to customers and clients and streamline processes and improve profitability.
When people talk about CRM, they are usually referring to a CRM system or CRM Software, a tool that helps with contact management, sales management, productivity, and more.
A cloud CRM helps the company to focus on the organization's relationships with individual people — including clients, service users, colleagues, or suppliers — throughout the company lifecycle with them, including finding new customers, winning their business, and providing support and additional services throughout the relationship.


The Best CRM Software of 2022
Best for the one-stop solution of sales: SalesBabu CRM
Best for Midsize Businesses: SugarCRM
Best for Complete Client Life Cycle: Zendesk
Best for Visual Sales Pipelines: Pipedrive
Best for Ease of Use: Keep
Best for Small Businesses: Salesforce
Best for Communication: Freshsales
Best for Integrations: HubSpot CRM
Best for Remote Teams: Zoho CRM
Best for Cross-Platform Integrations: Quickbase
Best for Customer Support: Sage CRM
Best for Customization: Insightly
Best for Midsize Businesses: SugarCRM
Best for E-Commerce: Oracle NetSuite CRM
Best for Project control: mondaySales CRM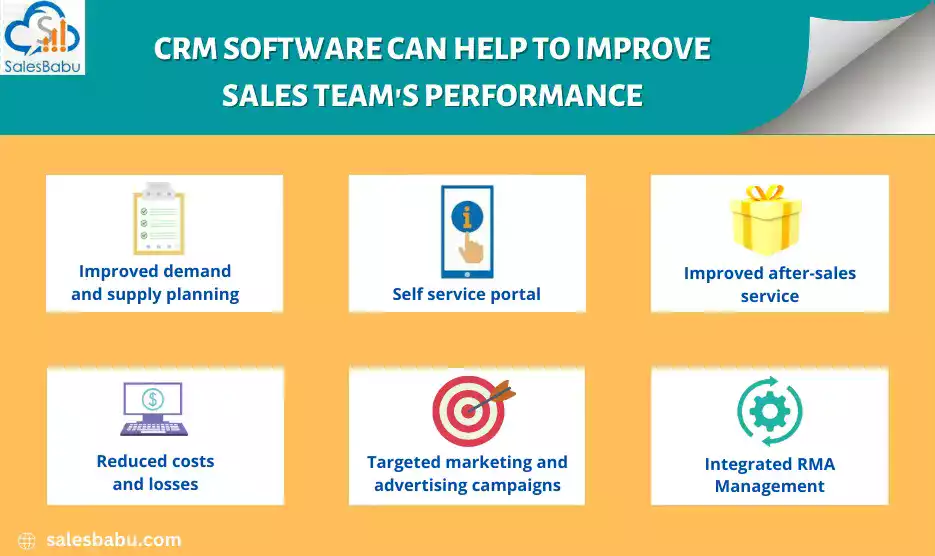 6 Ways CRM Software Can Help Improve Your Sales Team's Performance
1. Effective Follow-Up On Sales Leads
If sales leads are not being followed up timely and nurtured, sales leads won't convert. If your sales department is following up on leads, then the business won't be losing sales.
It is essential that the team has a cloud CRM system that allows them to record leads and progress each opportunity through the sales pipeline to its end and finishing line. The company will also have full visibility to effectively monitor lead follow-up and address any unfollowed-up sales leads before it's too late.
2. Organisational Understanding
The company's team needs to identify and understand each client so they target the correct person with each sales effort:
Who are deal influencers?
Who are the decision-makers?
Who are the guards?
Cloud CRM systems that capture the organizational structure of client companies will save time and get deals in front of the right and correct person.
3. Better Use Of Email Strategy
Now that GDPR is in place and how The company approaches the prospects is even more important, it's a well-known fact that customized emails improve click-through and conversion rates.
Email is the communication method of choice for many clients and prospects. It is essentially important that sales staff:
Use email to contact clients /prospects where appropriate.
File emails against clients /prospect records for future reference.
Use email templates and email automatic tools as far as possible to increase efficiency and reduce manual intervention.
Use email for new marketing strategy.
Keeping emails stored against customer records in an online system ensures a full audit trail for communication and a better understanding of each customer.
4. Long-Term Relation Building
Relationships are built on faith, which is why the sales team needs to deliver on promises. If a customer requests a callback, they must receive that call when they ask. Online CRM systems provide the ability to record all call notes and set reminders for follow-up.
5. Not A Single Opportunity Is Overlooked
Well-established client relationships provide opportunities to upsell and cross-sell. There are two key factors to make this happen:
A solid, trusting relationship between clients and account manager. The personal information required to maintain a relationship with each and every client stakeholder. Data that allows account managers to match products to client preferences for upsell opportunities.
A good understanding of the customer's needs, preferences, and company culture.
6. Attract New Customers With Customization
How does the company reach out to new customers? Get to know their daily habits. Their actual preferences?
CRMs can track and save the preferences of cold leads and turn them into warm ones. It can make each new customer's experience with the company's brand a personal one.


Conclusion
A Cloud CRM system offers many ways for sales team members to improve performance. An online CRM system enables the company to provide a higher level of customer service and achieve a greater Return on investment.