A well written and well presented proposal can often lead to winning or losing the prospective client. And what about business proposal?
What is sales proposal?
A business proposal is a document used by those businesses where the seller aims to persuade a prospective buyer into buying their goods or services.
What to include in a sales proposal?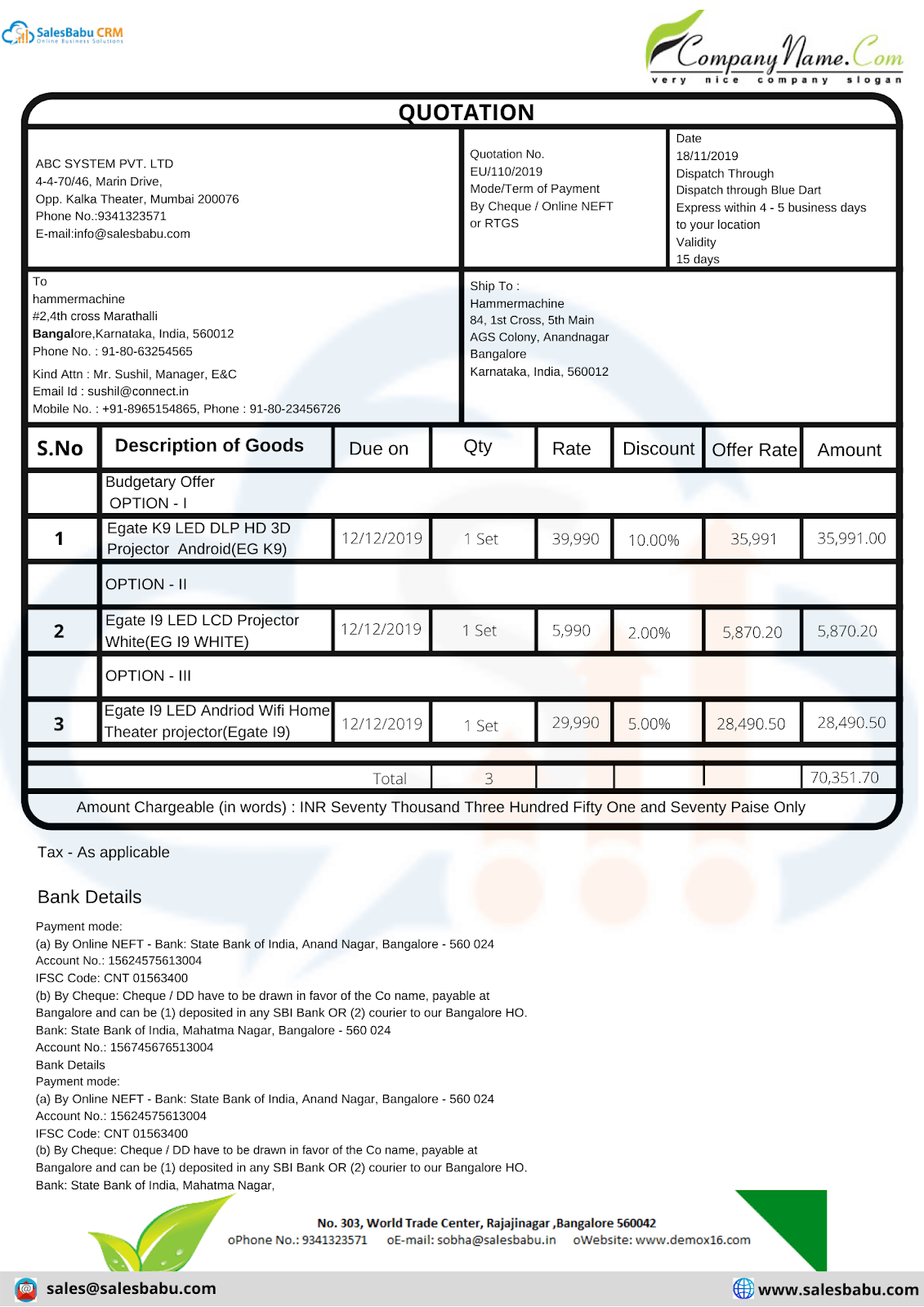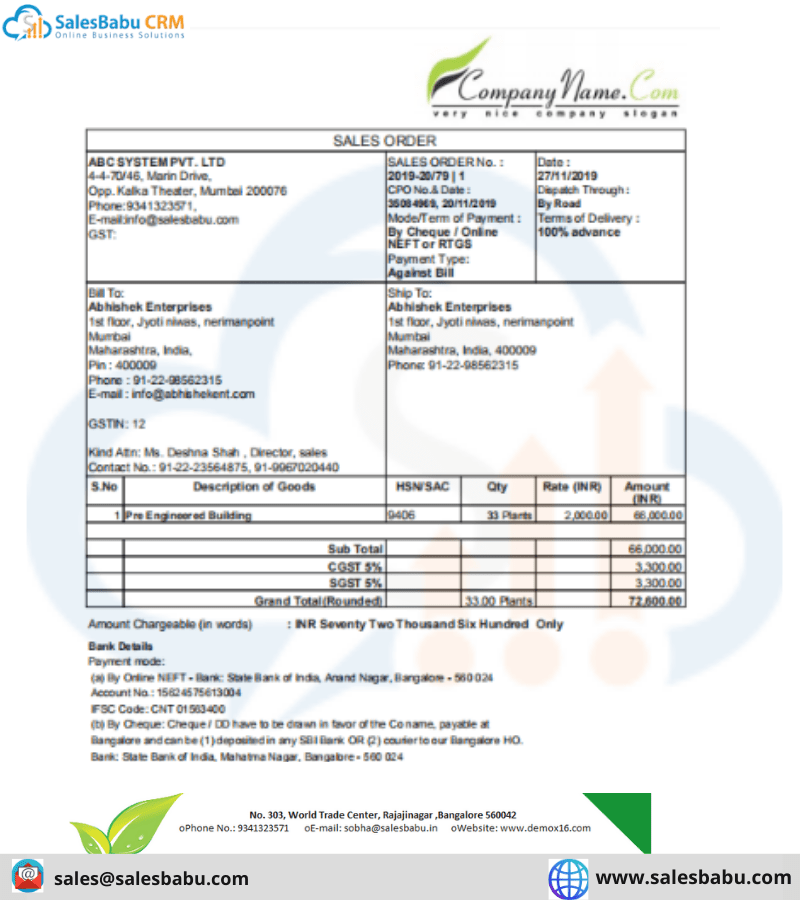 Your company details
Validity of the quotation or proposal
Price of the product or service (incl. GST, labour cost, material cost etc if any)
Customer details
Terms and conditions
What is the purpose of sales proposal for your business?
The success of the business can also rely on the ability to write winning proposals for their clients. The main purpose of providing a business proposal is to make a formal proposal for the delivery of goods. The business proposal indicates the specific terms of the transaction like – quantity, quality, price of the product or service etc.
Why use Proposal software for your business?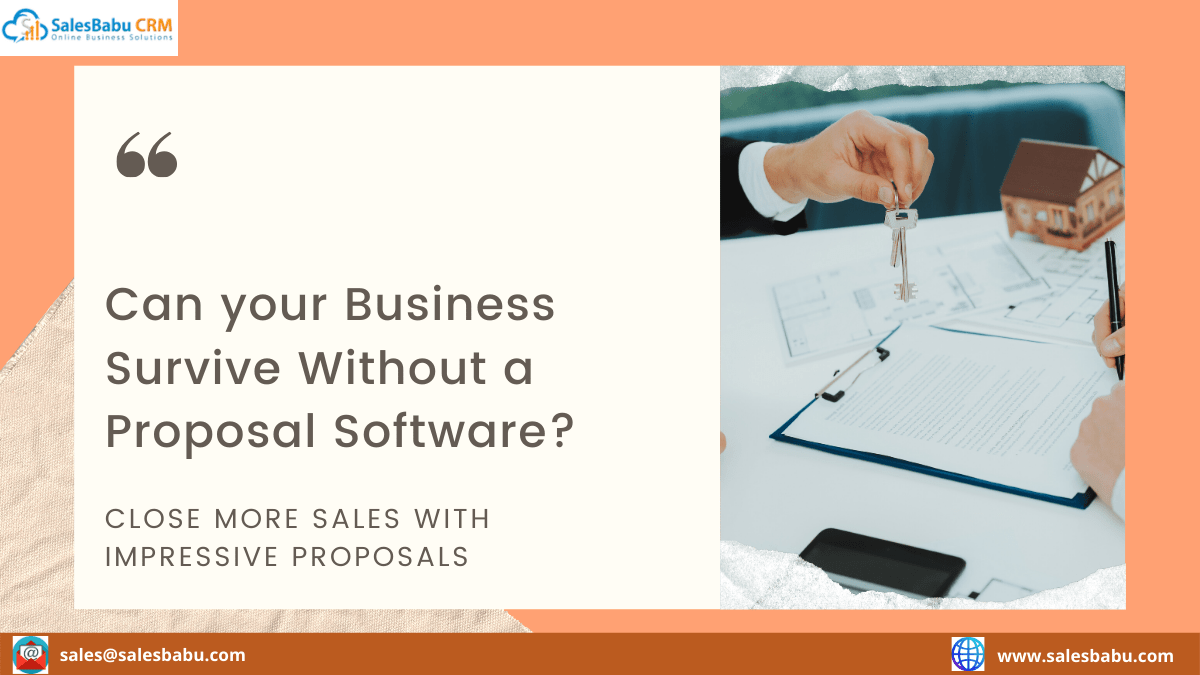 1. Grab the attention of your prospect
Today's buyers are too busy with their schedules and being a sales rep you need to be superfast to convince your prospects listen to you and put everything else down. Once you are done with the sales pitch and your prospect asks you for a proposal, you need not have to go blank or tell an excuse if you are using a proposal software.
With a proposal software you can create or generate attractive and visually engaging proposals in order to grab the attention of your customers.
2. Create impressive proposals
With the help of the Proposal software you can send instant proposals to your prospects on their demand. You just need to customize a template from the proposal software within minutes and you are all ready to send the proposals to your prospects. You can also create your own template from scratch.
3. Save time and effort
The Proposal software provides a quick and easy way to create proposals. You need not have to spend hours together preparing a proposal. The proposal software drastically reduces the time as well as effort spent on creating proposals. Thus, your prospects would be surprised about how fast you are submitting proposals to them. And most importantly, your prospects need not have to wait for the proposal.
4. Instantly close the deal
When the proposals are presented professionally, you are creating an impression on your prospects. The Proposal software allows you to generate highly attractive proposals and helps your sales reps to convince your customers that the solution you are providing them can best suit their needs and requirements. Thus, your clients can immediately sign the proposal and make the further payments from a secure and encrypted web link that you have sent the prospect or say client. 
5. It will make writing a whole lot quicker
Proposal software will ensure that you spend the least time on writing, as it comes with pre-made templates. Some apps, like Better Proposals, come with templates for different industries, such as marketing or website design. All you need to do is just fill up the blanks. On the other hand, you can create your own template based on a proposal that worked for you and edit the main information each time you create a new proposal. By spending less time on writing, you can spend more time learning about your clients and getting new leads.
6. Your proposals will be optimized for all devices
While writing proposals in word processing apps, you normally save them as text or PDF files. Unfortunately, that does not always end up looking all that great. Proposal software will make all of your proposals optimized across devices, so you create an excellent impression, irrespective of the device the client is using.
7. You can guide the client through the proposal
One of the recent developments within the world of business proposals is live chat. You will use a live chat app to speak up with the client as they're reading the proposal and answer any questions they may have. It seems that it makes a difference – you're 13.2% more likely to win the deal if you use this feature in your proposals.
How to send Proposals with a Proposal software?
Choose the best cover letter from the software or of your own.
Write up your proposal quickly.
Finally, click send.
Thus, automate and make sending proposals easy, quick and impressive with a Proposal Software!!
How SalesBabu Sales Quoting module help you send Proposals?
With the Sales Quoting module (Business Quotation Maker) in SalesBabu CRM software, it empowers you to prepare an effective, professional quote for your customers' consideration, complete with rich content and full technical specifications. It's simple to add cross-sell and up-sell suggestions to maximize your potential sell-through. Also you have much more information to prepare a Sales Quote that has higher chances of winning, since it brings real-time inventory and price information from multiple distributors in a centralized location. All this is through web-based Sales Quoting software which means, getting the product information and creating a sales quote is just a few clicks away, plus your customers will be able to view and approve the quote online. SalesBabu CRM will take your entire Sales Quotation management process Online.
SalesBabu Sales Quoting module helps you to win more customers without wasting time on writing or designing proposals.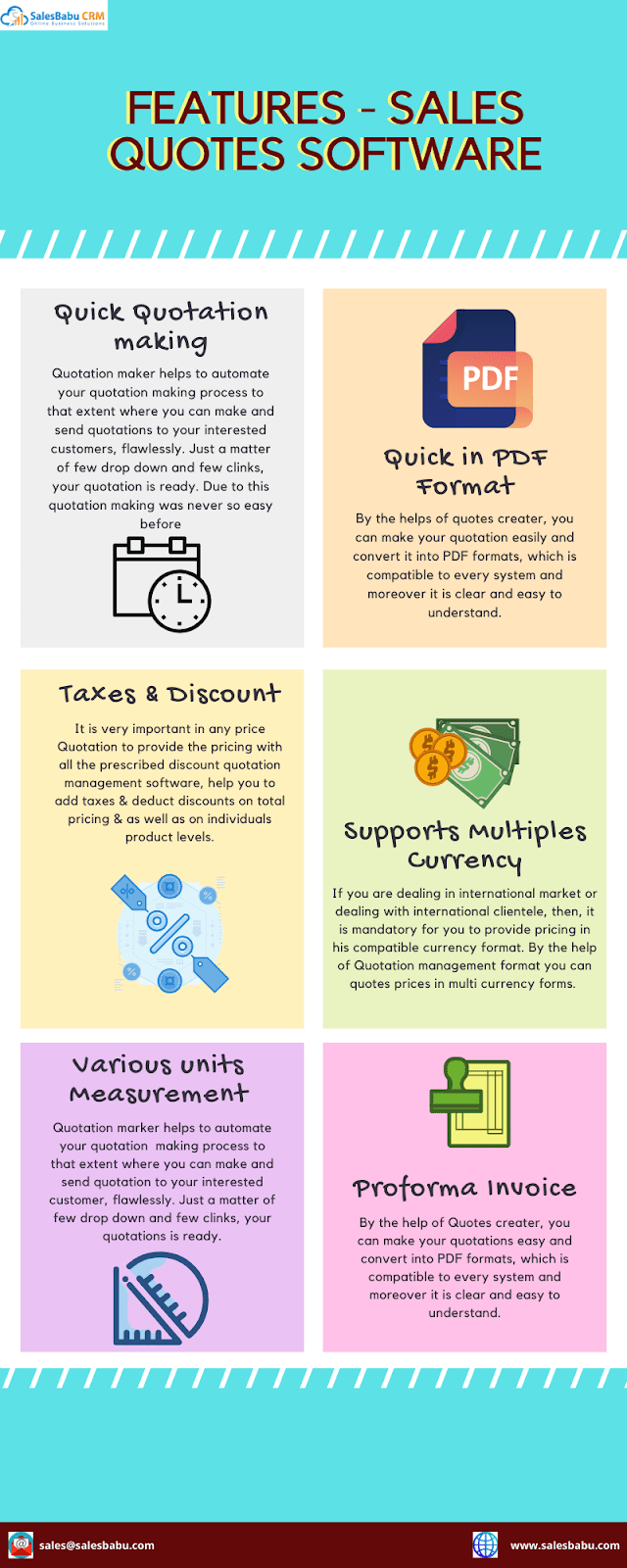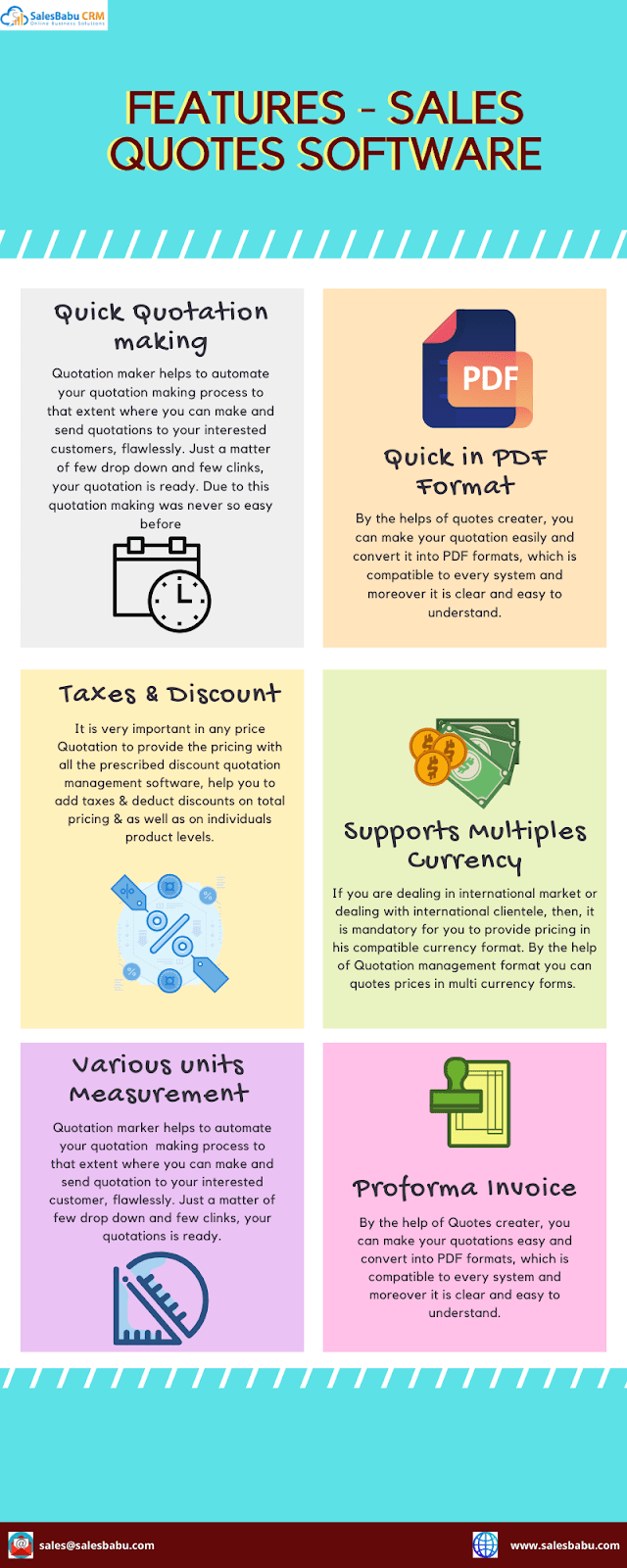 Read our blog – Online Sales Quoting & Proposal Software
Get benefited with SalesBabu Quotation Management Software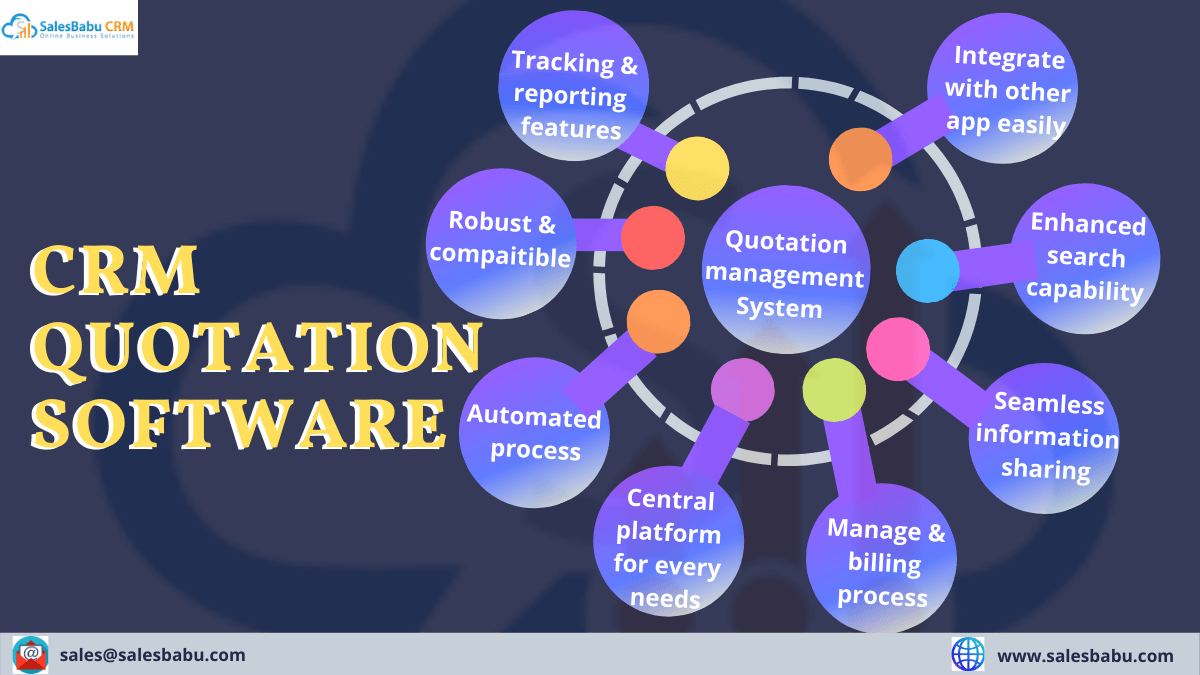 With the help of SalesBabu Sales Quotation software you are benefited in multiple ways-
Streamline your Quotation Process
Quicker conversion of existing open quotes into contracts
Reduce Quotation Time
Have your entire customer details in one place
Catalogue your services and products
Draw insights from data-driven reports with MIS
Sell More, Manage Less
Easy Online Sales Quotation Creation
Quotation Management
Zero Complexity
Can your business survive without a Proposal software?
NO!! Let me not beat around the bush and come to the point. To survive in the present technological market, you got to make use of an automated Proposal software in order to streamline your sales process. And using an automated tool to manage your sales process can lead your business towards growth and business.
If you are still stuck on MS Excel or MS Word to create business sales quotation, invoice and estimates, you may be way behind the competition in the long run. I will tell you why as well.
The Word docs is merely a text processor where you can add header and footers, background or fonts etc. And creating anything different, like if you wish to edit a design in Word it is a pretty difficult task. MS Word being a text processor just texts are not enough. You need to make it impressive and catchy by adding videos and images. Thus, creating proposals on Word cannot be impressive for your prospects. And creating pale proposals make your prospects feel that you don't care much.
Moreover, it's never too late to be organised at work. With the help of the Sales Quotation Software close more sales and work smarter with automated tools. Once the sales quotes are accepted by the customer, you can immediately convert the quotes to sales order and manage sales pipeline efficiently.
Don't waste time but start creating your first impression by instantly generating sales quotes or say proposals for your customers and provide yourself a better chance to win them. With SalesBabu Quotation maker Software get more PROFESSIONAL, ACCURATE AND EFFICIENT to survive in the competitive market. To know more about SalesBabu Cloud Sales Quotation Software you can visit our website https://www.salesbabu.com/ or for a free demo on Online Quotation generator click here.