You might be a small business or even a startup, one of the major requirements for starting your business is an active and strong sales team. And building a strong sales team requires requires training, motivating and directing by a knowledgeable leader who can manage his/her sales reps as a team.
Sales reps are the ones who form a bridge of communication between the customer and the company. They face success, ignorance, rejection and stress evenly and it becomes the responsibility of the company to motivate and encourage them to work better. Though managing a sales team is no less than a challenge, you can bring in certain strategies and tricks to keep your sales team active.
How to build a strong sales team for your small business?
Recruit sales reps who are highly motivated to lead the path of success. The right sales reps take work as a challenge and work effectively.
Motivate your sales reps. Let us discuss certain strategies to motivate your sales team –

Know your sales reps
Build trust amongst the sales team
Be honest
Set goals and walk in the path of achieving the goals
Let them make decisions
Provide suggestions
Appreciate them
Provide compensation
Respond when necessary
Provide required tools
Read our blog – Sales Force Motivation Tips
Help your sales reps to improve their efforts and tell them where they are lacking.
Encourage your sales reps with rewards and incentives.
Train them to be 'customer-centric'. Teach them how to handle customers and solve their issues. Tough customers are a part of this process. How to manage tough customers?

Be patient and calm
Do not make them feel they are a tough deal
Listen when they say
Apologize when necessary
Make them feel they are necessary
Learn to say when necessary
Stand still on your words
Read our blog – Tough Customers are Challenge
Provide useful tools to your sales reps to make their work easier and faster.


Top Tips for an Active and strong sales team for your small business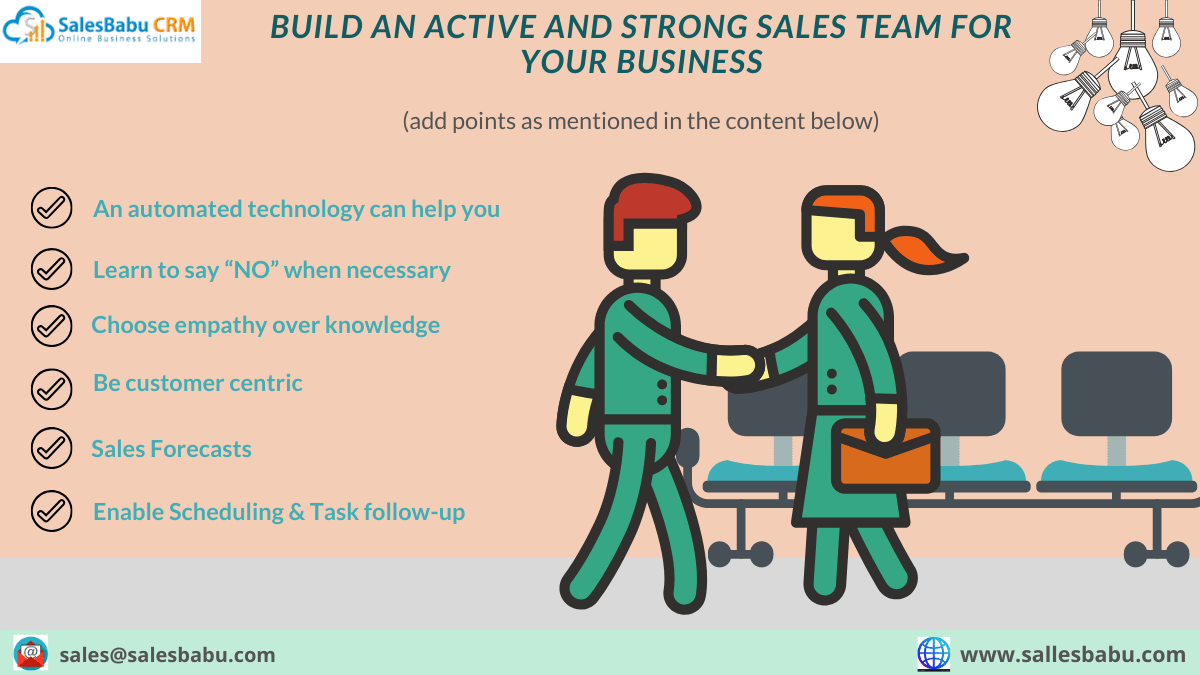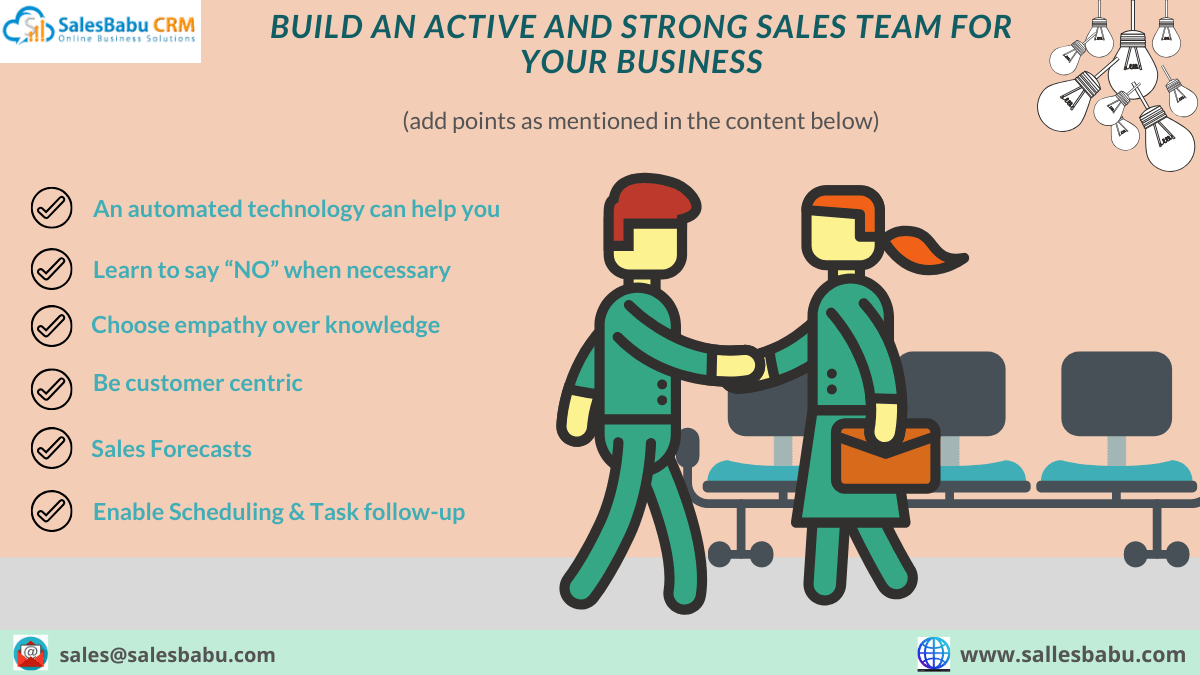 We are in an era where technology has made it possible to gain information at our fingertips within seconds. Most of your customers already have the entire information they require even before they even engage with your sales team. And that means, your customers may not be looking for a sales pitch from your sales reps. Your customers need an expert who can clarify inconsistencies, provide the best buying experience and show why your product is to be valued?
Your sales reps should be like a customer advocate who can lead the path with the right directions for the customers. This indeed can build a good relationship in between your company and the customers.
Choose empathy over knowledge
Empathy plays a vital role in customer centricity. We are all bound with a kind of relationship that makes us stay connected to each other. Learning sales process and gaining enough knowledge with regard to the product is indeed an easy task. But soft skills are self developed.
Your sales reps need to have the soft skills of maintaining a good relationship with their customers or say clients. Their sales tricks should seem like a genuine help to their customers rather than mere sales strategies. Thus, recruit employees who have empathy to survive in the real market conditions.
Learn to say "NO" when necessary
Sometimes you need to say 'no' to your customers if you want to win them. It may sound weird to you but you need to create your stand and ensure that you believe in trust and honesty. You need to make them understand how much you value them but are unable to fulfill their expectations as per their requirements.
An automated technology can help you
Providing Automated business tools for your sales team can help them manage the entire sales activities with ease. The sales reps and sales manager can work in an organised manner with the help of a CRM system. A Customer Relationship Management system is a cloud based software that helps in managing sales activities smoothly. It helps organizations to track sales force activities and streamlines the sales process.
Hire people with drive and determination. Create an environment that is noticeably transparent and oriented on key sales metrics. Ultimately, after you put competitive people together in a transparent environment, it drives the whole organization up and to the proper. Ensure that you simply emphasize outcomes to prevent people from confusing activity with productivity.
Make continuous learning a part of the culture; emphasize and invest in training and professional development. Each and every successful sales organization must have a daily cadence of coaching that is consistently developing the basics of product knowledge, competitive intelligence, prospecting, opportunity management, territory planning, and professional communications.
How CRM helps to enhance sales productivity?
A Sales CRM software comes with multiple features and functionalities to manage sales activities.
Sales forecasting is a process of estimating future sales. The availability of right sales forecast at the right time can help the company to make informed decisions and also have a blue print of the sales performance. SalesBabu CRM application allows you to do sales forecast of your sales funnel, which enable you to take prior action to improve sales productivity and can reduce the risk of sales in business.
Enable Scheduling & Task follow-up
Scheduling and follow ups are one of the major requirements for increasing the sales productivity of the company. SalesBabu cloud based CRM Solution enables companies to do follow up with its customers. This helps you out, to maintain better relations with your customer which can improve the company SLA (Service level management).
The major benefits of follow-ups are –
Know your customer well
Able to fulfill customer expectations
Customers feel valued
Indirectly working for "word of mouth" marketing
Customers becomes more loyal
Increases up-sell and cross-sell
Better Quotation Management
The quotation management software helps your organisation to create, submit and track quotes and invoices. Benefits of a better quotation management software are –
Streamlines quotation process
Quicker conversion of existing open quotes into contracts
Reduces quotation time
Sell more and manage less
SalesBabu CRM application enables organizations to make automated quotation easily via application. This helps you to reduce the timing of making quotation in word formats and thus, the sales rep can concentrate more on client handling and increase work productivity.
Manage Customer Order's & Improve Order Processing
An order management is all about keeping track of orders and management of people, customers, process etc required to fulfill them. Here many related functions work together for the order management to run smoothly. SalesBabu cloud based CRM software enables companies to handle all customer orders & interactions on a single screen. This helps you out with the complex process of order management in sales. SalesBabu CRM software facilitates and enhances both tires (Pre & Post) Sales process equally.
Mobile CRM for sales reps/ field reps
Smartphones have overruled us in the present date. Our day starts and ends with smartphones and internet. The CRM app can be installed on your smartphones which makes your work much easier. No matter even if you are not in your workplace, you can still be updated with the sales CRM App software. The benefits of mobile CRM are as follows –
Your employees can communicate with their co-workers of any department and send documents or messages easily. 
As it can be accessed from anywhere you can be updated always. 
It allows sales teams to attend client meetings with real-time client data. 
Your sales reps get the facility to use the various features of the app which indeed makes their work easier and faster.
You can manage your sales pipeline. 
Task management is important to handle your most required responsibilities. Having the ability to manage the customer accounts adequately will make directing upsells and cross-sells to them much easier and may generate more business for you. A CRM system will automatically prioritize and notify you of any actions that require to be taken on immediately so that the connection and dialogue which you have with your customers will be effectively maintained and developed.
Capturing leads could be a very simple and direct way of increasing sales. CRM can look after form fills, which allows your team to be notified of any interest during a particular landing page on your website. This offers you the ability to abreast on this interest with a phone call. You will be able to customize your CRM software so you can be notified when someone has clicked onto your site, providing the maximum amount of information possible for your pitch to them.


Conclusion
Sales team development is a never ending process. There will always be better tips, strategies, new objections to overcome, new technologies and competitors etc.
The Sales CRM has numerous features that helps the sales team to achieve tremendous success in the long run. At SalesBabu Online CRM software we have taken up the valuable customer suggestions and feedback, we have also had constant communication with them and our partners, without which we would be just another CRM provider.
Are you still thinking about which is the best CRM software which is basically a cloud based CRM software? Then don't waste time and feel free to request a free Demo at SalesBabu CRM. You can visit our website https://www.salesbabu.com/ to know more.