Why Customer Relationship is important for you? – I hope every business owner knows the answer to the same. Business cannot exist without customers, and without having good relations with your customers, you can't make them buy your product and service. Good relations with your customers not only give you a good buyer – you get a loyal customer. Who promote your name and services. All progressive organisations know this. This fact is subconsciously accepted that CRM software's are the basic need for business to enhance their efficiency and build harmonious relationships. It is even now a requirement of small businesses too. This article will tell you enough reasons why you should have CRM software for small businesses.
The trend is showing a reversal graph, i.e. the small organisations and businesses are opting and religiously accepting CRM software than big multinationals. Reasons are obvious – growth, desire for larger customer reach. The probability of having an actual customer is 1/100 for a small organisation. Therefore, they cannot afford to leave even one potential customer. So they strive even harder and CRM software's like SalesBabu CRM Software for Small Business comes handy to them.
That is why the entire concept of CRM software is vital for small or progressive business firms. Today's customer is looking for these main things from any organisation, Such as prompt response, value for money and satisfactory service delivery. So once the organisations have software with them then, this is the list of things that a small business can achieve after getting CRM software updated with them.
Harmony in your business increases.
Time money labour is saved by this smart decision.
Human errors are reduced by up to 99%.
It helps in the growth of the business by attracting new customers because of the best customer services.
Here are some steps which can help you in the implementation of CRM software for your business:
Make a list of your needs related to the CRM software so that you can choose the best CRM software which fulfills all your requirements.
Once you are prepared with the list of CRM software which fits in your budget and full fill your entire requirement you can take experts opinion to make final purchases.
Make sure that you first have a demo of the software and go through the post selling records of the software to make sure that you choose the perfect one's among all.
Merits of procuring CRM software for Small Business are one convenient way of handling your customers and business processes. Secondly, provide a quick and prompt solution to your customer's grievances. Customer satisfaction is a major factor in generating that success story of business which can only be attained if you have CRM software.
So it is profitably correct to say that Software is best while promoting CRM.
However, we cannot deny this fact that fortune 500 firms are also looking for new software as a solution provider in this zone. There is a lot that the software firms can do to provide the best software while aiding these firms. Being constant in change is the need of the hour for everyone.
Let's talk about Customer Relationship Management – CRM is considered as an approach where a company manages its interaction with current and potential customers. The company uses a customer history of interaction to improve its services, products and retain them for deriving sales. CRM is also referred to as a tool to manage the following :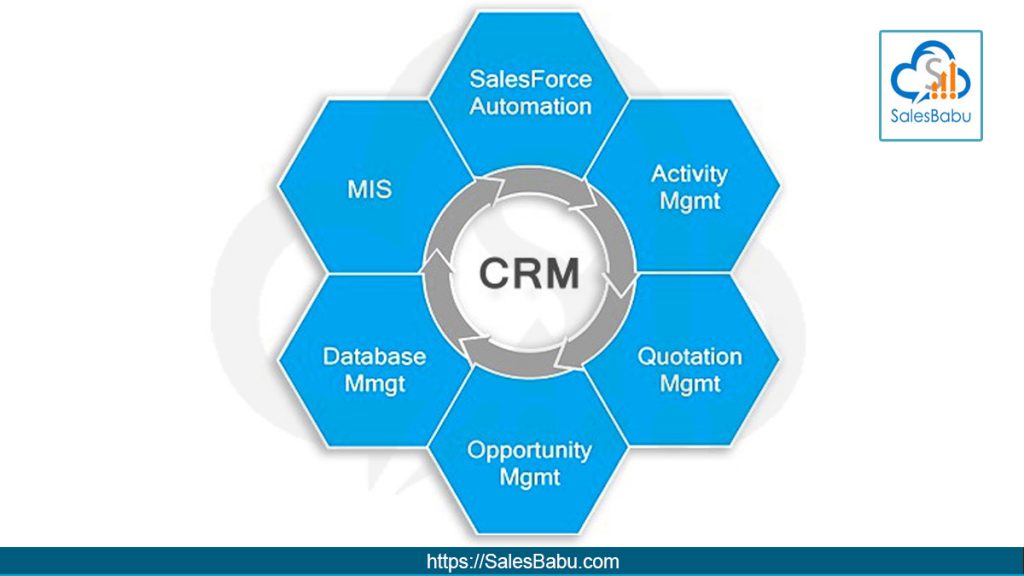 The data collected while interacting with your customer is a great source of education about your customer behavior, needs, and expectations. Online CRM for small business enables you to not only record the contact and interaction history of your prospects/existing customer; but also gives you sharp insight on Sales Activities. Relations with customers build on how you treat them when they contact you at every stage of business. How quick you are to understand their queries and how efficiently you address their concerns. For customer relationship, it is also important that you know their pain points and address them before they reach you.
SalesBabu is a simple CRM for small businesses. It is user-friendly, easy to access and simple to understand by its user. You will get initial setup help from the SaleBabu team. Now let's have a look How CRM Help Small Business:
Converting more leads into customers:
Every business grows when marketing and sales both departments can work in hands. Their most important work is generating and nurturing leads. It is also important that the process of generating and nurturing leads should be transparent to the departments. CRM for small business enables them to connect email, social, marketing automation to a CRM platform. By which sales and marketing both can have a complete view of leads and prospects. This way filtering leads and targeting decision-makers get easier and an engaging communication run to turn prospects into customers.
Read more at: How CRM helps you to Enhance Sales Productivity

Make a long term relationship with your customers:
"You don't close a sale; you open a relationship if you want to build a long-term, successful enterprise." –Patricia Fripp
Business exists because of the customer and successful relationships make a business win in any aspect. Customer Relationship Management for Small Businesses is equally important to grow and sustain the business in the market. Hence, a deep understanding of customer's business starts with a complete view of customer conversation history with your company. A SME CRM Solution can help an organization to:
a. Know customer challenges
b. Make relevant conversations
c. Enhance customer experience
Cut Costs on Sales And Marketing:
"The probability of selling to a new prospect is 5%–20%. The probability of selling to an existing customer is 60%–70%." – MARKETING METRICS
New customers are needed to have continuous growth, but this is not easy and it is costly too. But if you are using SMB CRM Software – this will help you to have clear visibility of up-sell and cross-sell opportunity apart from renewals of existing customers. CRM help you improve business performance by:
a. Improving Sales Efficiency
b. Boosting Sales Opportunities
c. Increasing up-sell and cross-sell opportunities
d. Reducing time to close
Increased Employee Productivity:
CRM Software for Small Businesses sort out the contact hunting and manual data entering types of massive jobs for salespeople. Now they get more time to spend with their customers and look for new selling opportunities. Automation of marketing leads not only speed-up the lead nurturing process, but it also helps to delegate the most suitable job to the most deserving candidate. This way the company can use the most out of their employee talent and time, thereby increasing their productivity and efficiency.
Read our blog : Improve Sales Targets By Using CRM Software

Manage a good customer service:
"How you gather, manage and use information will determine whether you win or lose." -Bill Gates
It is said that customers like to pay a little more where he is treated well. It is not just the product and services; but even before purchase and after purchase behavior of the company's employee makes a difference. When you are using CRM your entire team will have access to customer information and this information can help you quick assist with customer's need.
Customer Retention:
CRM  create visibility across departments, which help the company to keep an eye on customer conversation at all levels. In this case, customer pain or needs can be easily identified and addressed by the concern department quickly and efficiently. Before customers think to leave the company for his dis-satisfaction, you can make your efforts to solve the issues . 
7.Improved Customer Satisfaction :
CRM solutions will improve customer satisfaction. It is the key benefit of using a CRM for your small business because you can organize all dealings with customers in a structured manner. You can know everything about your clients, their preferences, past purchases, or any other issues and will be able to solve them promptly.
8.Optimized Marketing :
While analyzing the benefits of CRM for business, we could not leave out this point. Thanks to this powerful software will help one to develop a more cost-effective marketing program. As a result, you can be able to understand your customer's needs and identify the most effective time for online promotions. Moreover, you will be able to fragment all your clients and understand what group of customers brings more profit.
9.Helps to organize team collaboration :
Nowadays, there are many CRM systems, and all of them will allow you to collaborate with your team online. For instance, if one of the members of your team communicates with a client who is facing some issues with your services or products, he or she can input the data about all this issue so that all other members of your team will be notified of it.
Read our blog : Become A Better Customer's Resource
Conclusion:
CRM software for small businesses gives businesses liberty of having customer insight through the company communication. A transparent conversation history enables the company to keep an eye on customer pain areas and changing requirements. Accordingly company can maintain customer records on a centralised database system. Sales team save time on recording any entering information. If you think CRM for only big business, then think again because customer is more important for growing business. Relationship with customer decide success or failure of any business. So, whatever the size of your company; you can't ignore customer relationship management. If you use CRM, you can manage your customer relationship effectively, increase sales and boost customer retention. You can improve profit margins and cut costs on marketing and sales efforts.
Despite the fact that CRM for small businesses allow you to access all the customer information from one place, you get to know your customer's personally through the data collected in the process of various communications with the customer. You also analyse buying patterns and identify them as value customers. Analyse and refine your marketing strategies and improve your sales figures.
More targeted and informed customer service boost customer retention and you get more by up-selling. Best CRM for small businesses is key to success your brand and company.