The business whether small or big every CEO has concerns few are listed below:
How to manage cost
How to Improve Rate of Interest
How to Increase Utilization or resources
How to ensure Security and compliance
How and when to collaborate
Above are the common questions faced by most of the CEO's  and it always put CEO's in dilemma how to resolve these major issues. Here are the three highly influential business software tools for SME's sector which once implemented will be able to resolve the organisations major problems as listed above.
CRM for Small Business
ERP for Small Business
Inventory for Small Business
CRM for Small Business
Customer Relation Management (CRM) streamlines whole organizational process sales, marketing and support.  It also improves internal overall communication process. Small business CRM software can be used to improve organizational efficiency and effectiveness.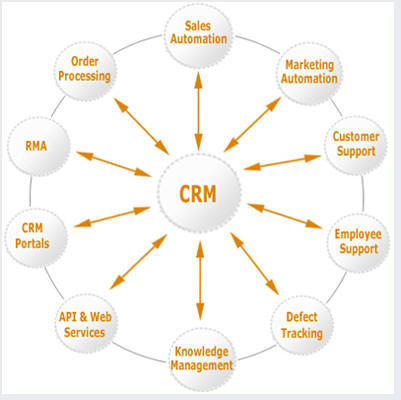 Streamlines Sale Process
The top management is always worried about managing the salesforce. But with CRM the first thing which can be streamlined is sales force of the company. By implementing CRM in the organisational system you can manage your sales force in efficient manner, which will accelerate your growth better. They can track the performance of each sales guy on a single platform and also take corrective action to improve further.
Manage Inventory Process
For new start-up another biggest challenge is to manage Delivery Challan and in and out material . By the help of CRM you can manage all your inventory related issues on  a single platform that can help you to focus on other works
Effective Customer Interactions
Especially in Small scale business In any start-up, the first step even before starting selling is to make good relation with the customers. CRM helps to keep all the data centralize with all the important details that make your daily interactions with the customers more effective
Centralize Approach
Since CRM in an online software, keeping all the important data related to business cycle  process on one single platform. The data can be accessed  anytime and from anywhere.
Easy to set-up
CRM is online and is delivered over the Web/internet which eliminate Installation charges and as soon as you subscribe CRM software it is running. So, it reduces overhead and operation cost of the company.
Predictable Expenses
Since CRM services operates on set fees, the costs is predicable. The low per-user rate eliminates escalating installation and features costs. It enable the organization to focus on other's expected expenses.
Apart from Above it CRM software manages efficiently
Contact Database Management
In small business CRM software helps to manage all the contact on one platform. Since, for small business, database is a kind of capital asset, CRM facilitates them to save all the data in one centralize place.
Inquiry Management
Managing inquiries, not only for small business, but also a important yet complicated task for every business, but in small business, every inquiry is important. CRM enables them to manage all the inquiries generated very efficiently.
Quotation Management
If any customer seems interested, he will definitely require quotation from your side. By CRM Software quotation can be generated in proper PDF formats and they are editable.
To find more information about CRM for small and mid sized business Read More 
Inventory for Small Business
Inventory management Software for Small Business can manage all the gaps between the demand from the customer.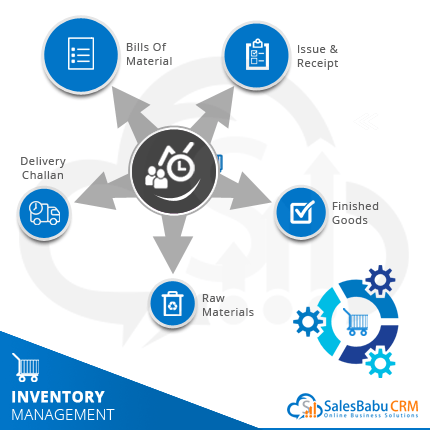 For small scale industry it is important for them to keep a note on all the stocks available in their inventory, as this helps to do better planning to produce the final product. Small business Inventory management software can solve many problems of any type of industry. The main components of Inventory software are.
Purchase Order
In inventory main thing is to get the material from the vendors and for that the software should be able to generate Purchase order and from their email directly to vendors
It has ability to store the full contact details of a contact. It can maintain a database of customers and suppliers
Mostly it is very difficult to keep a record of the parts used in the product and difficult to manage the quantity of the parts but the Inventory software can set low-level warnings so that you know when to order
Purchase order can be customized according to the companies policies and norms
Raw material monitoring
The inventory Software monitors and updates the stock levels of raw material.
The software can  manages inventory stock location wise.
The software can show Product history like when the items were received or sold
Finished Goods
This  software can notify the demand of your product in the market and on that basis you can plan your production and can also determine how much raw material is required and how much need to reorder. It helps to maintain the full details of the product.
Bills Of Material(BOM) 
BOM contains the information about the final product along with the spare parts it has consumed. It contains list of the components to complete the final product.
Delivery Challan or Delivery Note,
The software should be able to generate delivery challans. It is very important document even for compliance. Delivery Challan is a complete list of products that are being delivered by the vendor, that are ready to be delivered to the customer. Delivery Challan signed by the receiver and sent back again to the vendor along with the Purchase Bill. It tracks product delivery, this document is proof of delivery and how quantity of items delivered.
ERP for Small Business
ERP for small business was developed to cater to the limited resource availability and limited cash in hand. Understanding this need of the hour, the technology provider made ERP scaled up and brought forward ERP for Small Business.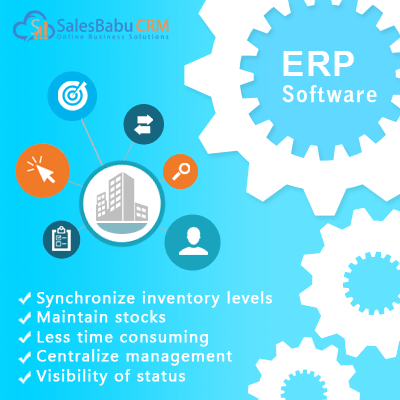 Process Automation
ERP for small business automate the complete process of your day-to -day operations in such a manner, where you can see a tremendous growth in the overall performance of an organization.
All process Centralization
By the help of ERP for small business, you can manage all the important departments of the company . It manages all the process of sales, purchase & inventory on one single platform.
Track Raw Materials
Since it manages both purchase & stock process of the organization, you can easily track down the total availability of raw materials in the store and accordingly plan for further requirements from the vendor.
Reporting and Analytic
ERP for small business is capable to generate several reports within the system, that speed-up report process for different department. With these reports you get actual inside of Purchase, Inventory, Orders and plan resources and finance accordingly.
Get more info about ERP 360° Degree Approach read
Hence it is very important for small scale industries to adopt a software as per their requirement as it can make their live sorted  and instead of concentrating on trivial issues they can work on other issues important for company.