These days everything is getting online without the chance of meeting people directly and getting them to know more, for instance, making phone calls, online video conferencing, and so on has become the limit. Many new technologies including phone calls have become a replacement for meeting people directly. To stay safe and healthy, not meeting people directly is the best thing to do during the current pandemic situation, but the impact of meeting the person directly is not the same as online connection and communication.
There are many online software applications and solutions to get connected to your clients and prospects, some of which include the online CRM system, online CRM software, cloud-based CRM software, and so on. Making wise use of the CRM platform and the CRM solutions for your business organization will be very beneficial during such a pandemic situation where no one can come in contact with anyone.
Due to the pandemic, COVID-19, every business organization has been adopting these online technologies to get in touch with the customers and prospects, to conduct conferences and meetings via online CRM software and various online CRM applications. Since we need to maintain social distance and follow certain protocols to survive the pandemic there is no other option for the business people to get connected to their customers and prospects, they need to use the online meeting software, phone calls, and so on until everything gets back to normal. It has become more essential for every business organization to strive and work more for the success of their business especially during the current pandemic situation. Every business organization must definitely find ways to stay connected and communicate with their customers and prospects to create stronger bonds in any situation. Now, let us see how SalesBabu CRM software and its CRM solutions can help your business organization to build strong business relationships and ensure retention.
Read our blog – CRM And Customer Experience: How Online CRM Helps In Providing Better Customer Relationships
Challenges faced while creating relationships
A trustworthy relationship is an essential requirement for any business organization, mostly when you have to establish corporate partnerships with external organization. Forming strong correlations with customers and prospects is the most necessary, as prosperous customer relationships are a foundation of business success.
One considerable obstacle lies in the prevailing landscape of online communications. The strategy of virtual meetings has difficulties in promoting trust. An adaptable support team member is beneficial to convince customers and external organizations to trust your business. Forming online meetings and phone calls tends to possess caution, as persuading individuals and gathering their trust without in-person communication can be demanding. The transformation towards remote work has made people more attentive to professional characteristics, resulting in a formal approach in business communications.
To overcome these obstacles and determine prompt relationships in the virtual domain, comprehensive observation and clarity are the most important. During online interaction and conversations with the team representatives, it's pivotal to view beyond professional activities and characteristics. Understanding every person as human beings is pivotal to form strong connections and foster trust. Gaining this needs a close and observant approach.
While such obstacles may seem formidable, they are not insurmountable. Our SalesBabu CRM software, armed with its potent attributes and online CRM system, provides a solution. It can support in forming and maintaining positive relationships, assuring customer retention in the developing landscape of virtual interactions.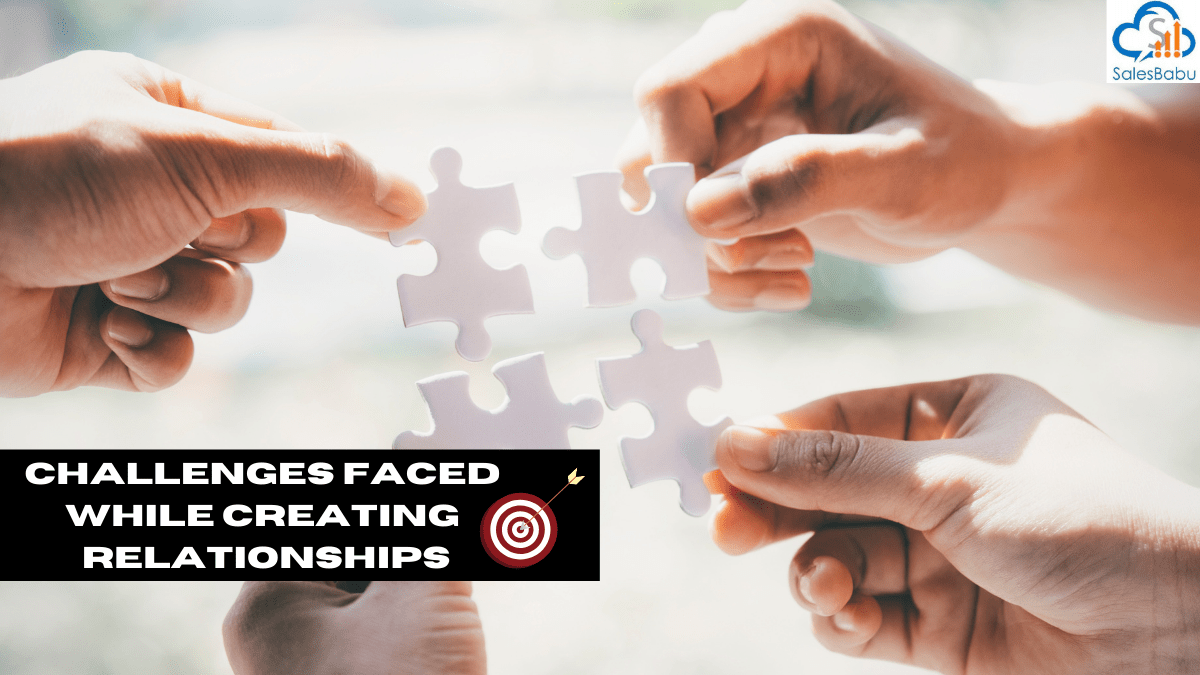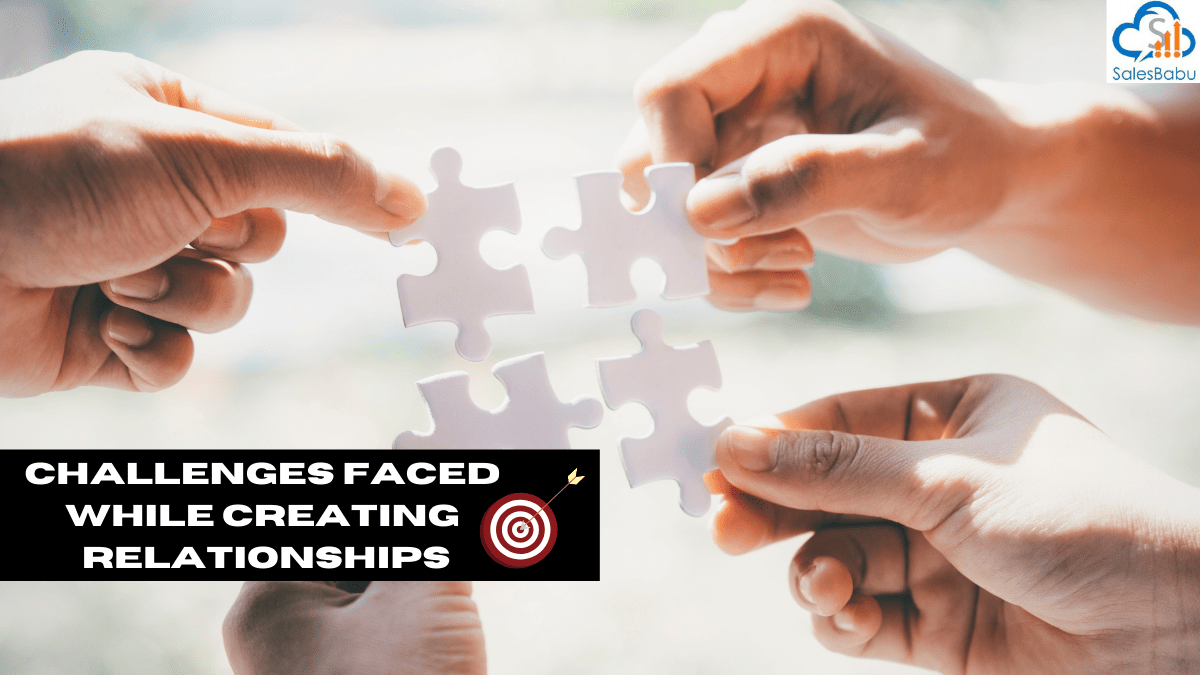 Read our blog – How to Leverage Relationship through Online CRM software?


Role of SalesBabu CRM software in building relationships
In the current situation and the virtual era, many problems and issues are arising due to the inconvenience of meetings and the physical absence of people. The main thing that you need to keep in while conducting virtual meetings and conferences is that you need to provide your complete presence during the virtual connection, only then you will be able to gain trust and build a strong relationship with the customers and external organizations.
Many online CRM platforms help you conduct virtual meetings and conferences successfully. The SalesBabu online CRM applications help you to organize your business schedules well and handle the customers, prospects, and external business organizations really well and will make sure to provide opportunities to gain their trust and relationship. The online CRM systems are highly advantageous for any business organization to build strong business relationships and ensure customer retention.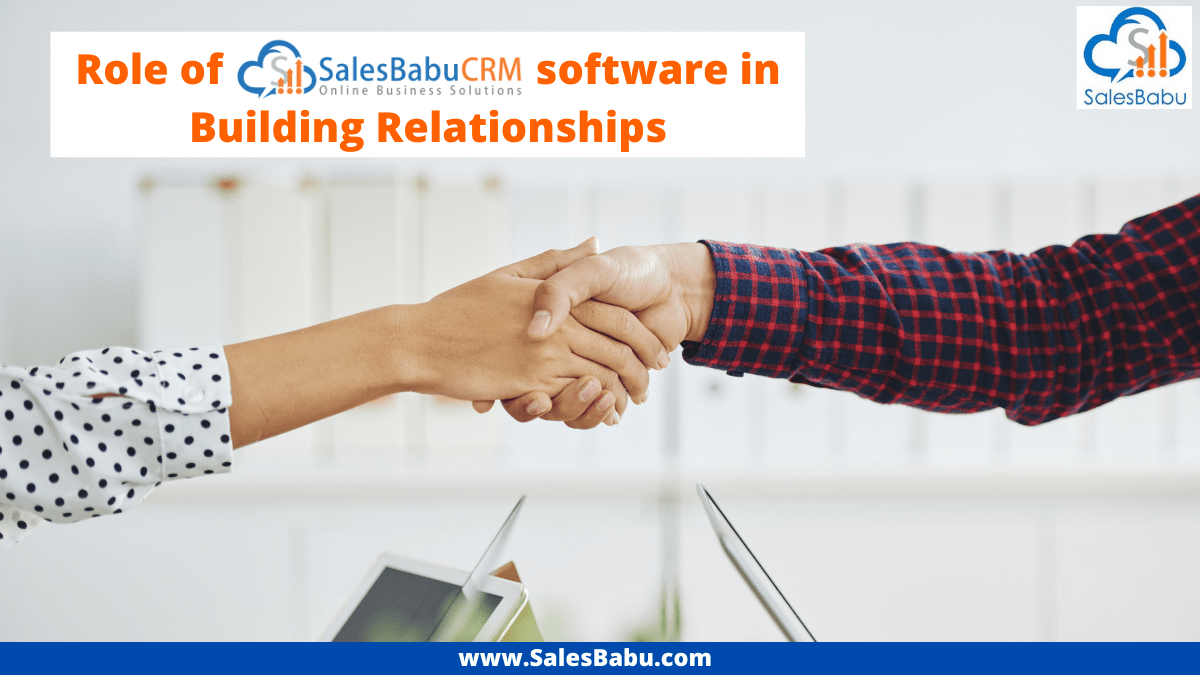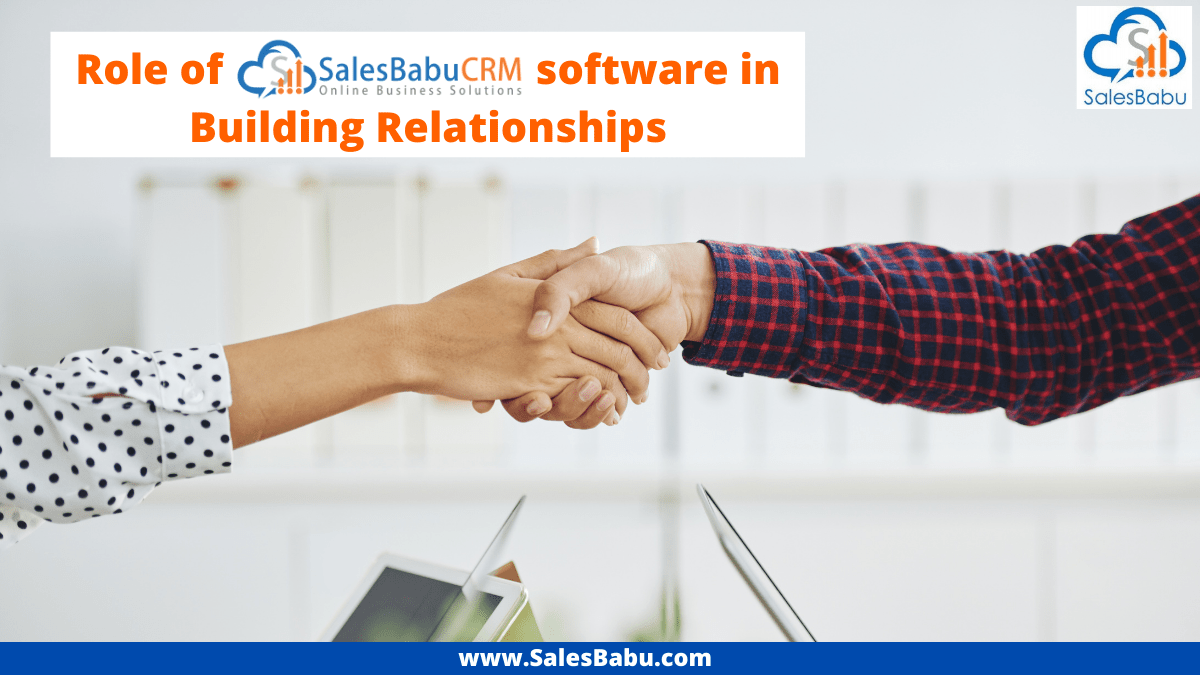 Read our blog – What Is Customer Relationship Management | SalesBabu CRM
Below are the major practices that are known to build trust and maintain good business relationships:-
Need to be reliable
Being reliable is giving out something as promised. Everyone including your staff, team members, employees, to put it in simple words, everyone who works within your business organization must be treated really well and make sure they are on good terms just like how you care for your customers. When you have decided to be reliable to your customers, prospects, employees, team members, etc. then you will have to do everything as promised. You need to offer them every single thing and provide every service as told and promised. When you have decided to do it and you have committed to accomplishing that work for someone, you will definitely have to do it.
When it comes to reliability, the main thing you need to focus on is satisfaction and complete support. You need to focus on many aspects of your business where you will have to develop communication with them, making very strong commitments, and you must clarify the goals of your business relationship with them.
SalesBabu CRM platform helps you in building strong business relationships by offering you the best business solutions, providing you the best channels or mediums for communication, and helps you distribute the requirements to your employees or customers in such a way that would satisfy their needs and requirements.
Need to be a resource
When your customers, prospects, employees, etc. are facing any issue you need to be available to solve their concerns and issues, this is what being a resource means. You need to start understanding the needs, concerns, goals of your customers. Prospects and employees so that you can be resourceful. So, to start being a resource to people, you need to start conversations with them, you need to either ask questions to them or make sure to answer their questions. It is proven that being supportive by understanding and accomplishing their needs and requirements is the best way to be a resource to anyone.
The SalesBabu CRM software and its advanced features will help you achieve this task. There are many advancements in SalesBabu CRM platforms, the features include the cloud-based CRM software and online CRM software that help you contact your customers, prospects, and employees to understand them better and be a good resource to them. Hence, making good use of the SalesBabu CRM software will be very beneficial for the success of your business by building strong business relationships.
Read our blog – Top 8 Reasons Why Having a Socially Connected CRM is a Must


Eliminating the challenges and obstacles
When you try to become a resource to the people in your business organization, you start interacting more often with them and you will be able to understand their concerns and issues. This will help you realize the problems they are facing, with this information you should be able to eliminate their issues and obstacles from their path. When you have understood their problems and concerns, it is solely your responsibility to help them solve them.
This must be a simple task where you need to understand their goals and help them achieve them. When you start being a resource to your customers and employees, you will eventually start getting connected to them emotionally and a strong business relationship will be built.
With SalesBabu CRM software you will be able to make use of a wide range of applications that will help you build strong business relationships and ensure retention. Many integrated features help you solve business issues and concerns in a much-simplified way.
Conclusion
Though there was significant use of virtual and online platforms for running a business, due to the pandemic, COVID-19, the use of virtual platforms has been increasing. Due to this reason, the understanding and the bond between the customers, prospects, employees, and leaders have been affected. But, there is a solution to every problem, with SalesBabu CRM software you can tackle the business issues and build strong business relationships with ensured retention.