There was a time when there was no access to smartphones, mobile internet or messaging etc. One of the best forms of communication that the people preferred in those days was – Telegram. Telegrams were messages sent via telegraph, an electric device. The telegrams were used to send messages at times of emergency.
But with time things have changed and now you can send messages to anyone, at anytime from anywhere with just a click. The present telegram for corporate used mainly in businesses are the telegram software.
What is telegram (software)?
Telegram is a cloud-based instant messaging and voice over IP service. On telegram users can send messages, photos, videos, stickers, audio and documents etc. The telegram apps are available for Android, iOS, Windows Phone, macOS, Windows NT and Linux.
Benefits of telegram business
---
1. Better security
Telegram for business is a much secure messaging app as they have end-to-end encryption and encrypted local storage for Secret chats. Moreover, no one has succeeded to hack the telegram app until now. When compared to whatsapp, snapchat etc, the telegram for business is a much secure app which can be used for business purposes.
2. No adds and is free to use
You can send text messages, images, videos, voice messages and files with zero cost. No matter how many messages you send or receive you need not pay or subscribe.
3. 24/7 support
You can make the utmost use of telegram for business as it is available 24/7. Your customers can chat with you for any queries or questions. The texts will remain in the chat for future reference as well.
4. Advertising tool
You can make use of the telegram as an advertising tool as you can send messages to your customers with regard to the information required to be sent.
5. Availability
Telegram for business is available on almost every platform. You can access telegram on Android, iOS, Windows Phone, macOS, Windows NT and Linux.
6. Cloud storage
Telegram for business has cloud storage, which means all your texts, images, files, videos and documents will be saved on the cloud. There is no tension of losing the data. You can backup and restore the data when required. 
7. Segmentation
In case you are dealing with a different group of customers, which is almost always true, the segmentation will save your time on the mailouts. Just sort all your prospects in accordance with your interest, age, or region, and Telegram will take care of the rest.
8.Engagement
With the help of Telegram, you will be able to organize promotional campaigns. For example, ask your customers to take photos inside your shop or with your product, then post them to social networks and mention that they should send the photos to you in order to get a reward. However, before doing it make sure that you target the audience who uses Telegram.
9.Instant Feedback
Your clients will be able to reach you the same way you can reach them – through the message. So, if there is a need to collect the feedback – ask your clients about that or try to conduct a survey. In fact, messages are perfectly fit for this purpose because the emails are mostly ignored, while the calls might irritate the people.
10.Stickers
Telegram will allow anyone to create their own pack of stickers. For businesses, it is a great opportunity to promote their brands with their pack of branded stickers and tell customers about that.
Read our blog – Benefits of using a CRM for your business



Features of telegram for business
---
Secret chat
The secret chat is a kind of end to end encrypted chat in which one can set self-destruct timer. The messages will be automatically detected when the timer hits. Thus, it makes it difficult for the hackers to hack the data on telegram.
Voice calls
The latest version of the telegram supports voice calls. You can communicate on call with your clients or customers via telegram. Thus, it makes it easy for your customers to reach you easily.
Bots
Bots are the program which is based on AI and machine learning in small level. The telegram accounts can be coded and added with further features in order to enhance the user experience. For instance, an image bot can find images from the name. The various bots are image bot, sticker bot and gif bot etc.
Send all types of files
Through telegram for business you can send all types of files like documents, PDF or RAF etc to your clients or customers.
Group member capacity
A normal group capacity in Telegram for business is 200 and a super group has a capacity of 5000 which has more features than a normal group.
Channels
A channel is somewhat similar to the group which can accommodate an unlimited number of members. Here the admin decides who can post, which is visible to the other members.
Create your own GIF
The present version of the telegram allows you create your own GIF and share them with friends, customers or clients.
Terminate active sessions
If you have any important or sensitive information related to your business in your chat window you can terminate all active sessions with just one click.
Hide last seen
On telegram for corporate you can hide the last seen from particular users if necessary.
Username
On telegram you can also search for users with usernames. Even if you do not possess their contact number, you can reach them with the help of username.
Create API
The telegram API lets you to create your own customized Telegram clients. It also lets you to enhance your user-interface by coding.
How to use Telegram for business?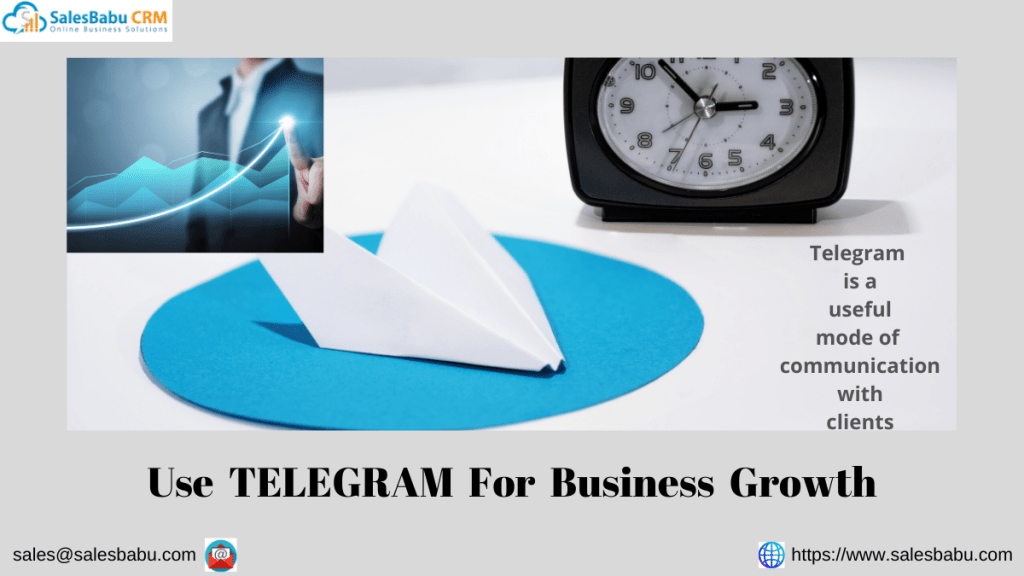 Businesses needs to adapt new opportunities according to the latest technologies and trends in the market. Telegram app is one of the best platforms to advance your business.
Telegram channels are a source of broadcasting information to a large number of audience in the market. The telegram groups helps you to connect with a large number of people and participate in the conversation as an individual. Secret chats is a special feature as it is a client-to-client encrypted conversation. This means that your chats are stored in an encrypted format. You can also create self-destructing message that the user can view for a certain time period. You can sort customers based on their interests, age, income level etc. Telegram for corporate comes with a user-friendly interface.
For small businesses telegram is a useful mode of communication with clients, team members etc. It also reduces the cost of marketing with multiple recipients.
Telegram for business helps in effective and individualised interactions with customers. General inquiries like order status and detailed customer support can be managed with telegram business. Being available for your clients, customers can be proved to be worthy of the efforts.
Read our blog – Why WhatsApp for Business Is Boon For Marketers



Conclusion
Telegram is gaining more popularity at present. There are thousands of business firms making the best use of telegram. Though it is not designed as a true marketing tool, it is surely helping businesses to interact with their customers and clients.