What is Artificial Intelligence?
Artificial intelligence refers to the "study and design of artificial agents".
What is AI powered technology?
AI powered technology is one of the best technological advancements which is drastically changing our experience and ideology towards day-to-day operations. The use of Artificial intelligence is increasing all over the world.
The benefits of Artificial Intelligence are –
With the help of AI, large data can be processed within a shorter time period and lesser effort.
AI eliminates manual errors and provides accuracy of data.
AI also helps in cutting down cost in areas of operations.
Virtual assistance is used to provide quick responses and feedback.
AI provides predictive analysis i.e, forecasting of adequate data with the help of stored data.
CRM is the present trend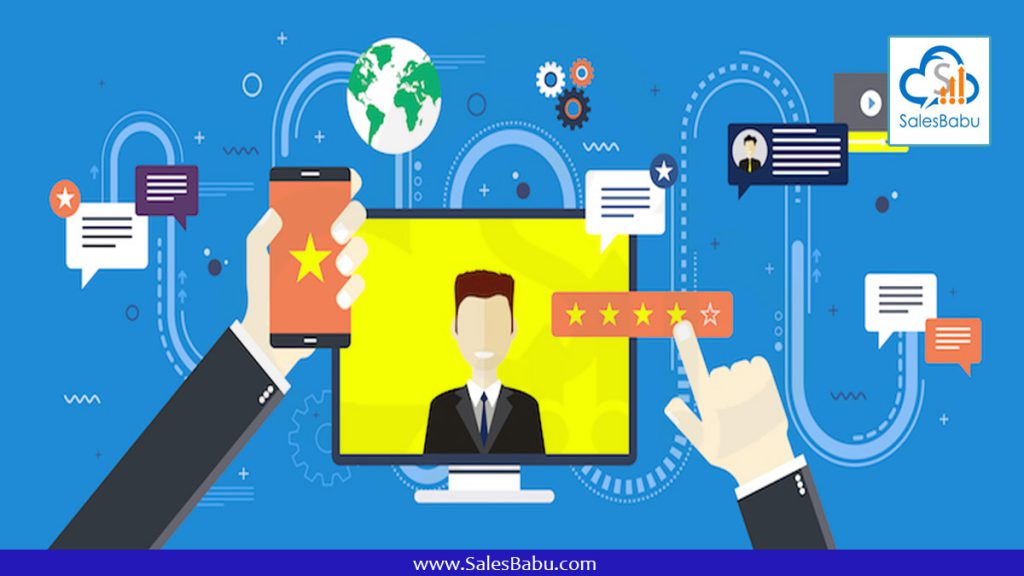 The Customer Relationship Management solution is the present trend in the market and businesses are focusing more on CRM Systems for smooth running of the business. Businesses now are not stuck with just Excel sheets but have improved their operations with the help of Cloud CRM system. At present the cloud based CRM systems have become digital assistants with automated features.
The cloud based CRM software means Customer Relationship Management software is being hosted in the cloud. It can be accessed through the internet by making things easier and simpler. You can access information from anywhere at anytime and carry out your business activities easily from any corner of the world. As you know that all the required information is stored in the cloud, you and your team can access data. Thus, the CRM in cloud computing can be easily maintained.
And if you are wondering if your company can be benefited with a CRM Software? you can reach us on SalesBabu website https://www.salesbabu.com/ and request for a free demo where our CRM expert will help you know the best use of CRM for your business.


Read our blog – What can Online CRM System do for my Business?
What is AI based CRM?
The CRM itself being a feature rich software is now being transformed by Artificial Intelligence in Customer Relationship Management. The AI powered CRM eliminates administrative duties as well as manual errors. It simplifies every segment of the business process and finally results in boosting the revenue of the business.
Cons of AI in CRM
1. Much efficient data management
With the help of AI based CRM your reps need not have to spend time on entry of new customer data as the system automatically inputs the relevant data such as name, job title, revenue etc once a potential lead enters the sales pipeline. Added to it the data is safe and secure in the cloud.
2. Optimizes sales and marketing
AI in sales
Identify and segment hottest leads.
Automate sales cycle from leads to closed deals.
Produce accurate forecasts and faster quotes.
Less data entry.
Advanced tasks and notification.
AI in Marketing
Analyze customers across social media platforms.
Real time response to leads.
Create essential steps immediately when a lead reacts to your marketing.
Predict success of marketing efforts and campaigns.
Trigger email campaigns using machine learning algorithms and customer history.
Read our blog – Best Ways to Manage Sales and Marketing


3. Predictive lead scoring
The predictive lead scoring is a tool that uses an algorithm to view the entire data collected on the CRM software and the external sources like websites etc. The AI based CRM scores the leads to provide a better idea of the leads getting fit into the sales funnel and further determine the qualification of the lead.
4. Natural language search
The Natural Language Processing (NLP) uses the AI to decode written or spoken words to understand the meaning of the message. The NLP is used to derive insights from phone, email, live chat and SMS.
5. Sales Forecasting
The AI powered sales forecasting software gathers data like past deals, emails, meetings, phone calls etc and analyzes how they relate to the sales outcome. Then the insights from the data are applied to the sales pipeline and the software scores the deals, provides visibility and also advises the sales reps with regard to the next action to be taken.
Benefits of AI in CRM :
Segmenting customers becomes easier – AI will not take away jobs, but will actually help team workers to be more productive. You do not need to worry about manual data entry or the time it takes to get information, for instance, having intelligent algorithms can help you fragment customers easily. Imagine an automated segmentation that will assure your message to be delivered to a particular group of potential customers.
Close more deals, learn from your mistakes – AI-based CRM will study different scenarios where sales are most victorious, and where deals were rejected. For instance, an AI algorithm will do wonders for your price optimization. This intelligence can tell you what the perfect discount rate should be for a proposal, ensuring that you're presumably to win the deal, per Harvard. It's no secret that businesses struggle to spot out which buyers are more likely to return and buy more. Rather than spending money marketing to those who won't close deals, target the ones who will. AI algorithms will gather historical information from a client.
Virtual assistants and bots – Is time to chuck uninteresting workflows, and speed up the sales cycle by using technology to interact with your customers or schedule meetings. You will be able to improve lead generation by having more accurate marketing campaigns. Integrating AI into CRM will automate customer reports, emails, data capture, and many more. This helps you avoid the chance of human errors in your everyday tasks and administrative duties.
Why use CRM to manage sales productivity?
The CRM Solution is used to manage sales productivity with the help of its automated features and functionalities. The CRM allows you to –
The main agenda behind using CRM system is to automate your sales activities and allow your sales reps to work smartly. The Sales CRM that provides features like Sales Force Automation, Sales tracking, Lead tracking, Sales Forecasting, Market Automation and Analytics.
The CRM system stores the entire business data, it uses the complex raw data to provide the real insight of data. The requisite data is presented in the form of graphical charts, analytics and crisp MIS reports. Thus, these analytics helps in further understanding of bottlenecks and adequate predictions.
Improve employee productivity
The CRM acts as a managing tool to the Sales Manager and an organising tool for the sales reps. The right use of CRM software can result to motivate your sales team to work efficiently and improve their productivity with the help of automation.
Improve sales intelligence by combining your CRM with AI
Lead management

The AI powered CRM helps in better understanding of leads as it analyzes visual content from social media platforms like Facebook, Twitter, Instagram etc. The AI is used to analyze language from CRM and social media to compile a clear picture of the audience preferences and interests.
The AI based CRM integrates marketing automation software to find new leads.
The AI powered system personalizes the on-site content to maximize visitor engagement and then attracts, retargets the new users to visit.
Quick responses

The AI based CRM becomes the best channel for communication where the response rate is high using predictive analytics.
Email campaigns

The AI powered CRM allows email marketing campaigns easier as it interprets emails, classifies them, categorise emails that require response and auto drafts the responses.
AI based CRM helps in categorizing high priority emails, emails which needs action and emails that require replies from your side.
Decision making
The CRM stores huge business data in a single platform and the data is further used by the AI to produce intelligent insights which assists making right decisions at the right time.
Sales productivity
The AI powered CRM adopts itself to correct process for each deal. The sales rep can open the contact record to check out the suggestions provided by the system on how to connect with the lead easily. Thus, it helps the sales reps to act upon strategies to improve customer efficiency and increase sales productivity accordingly.
Conclusion
The future of CRM is already looking great with the AI trends!!
So, do you use a CRM software to manage your business activities? Then certainly you will find a lot more opportunities in an integrated AI CRM tool. These Artificial Intelligence in Customer Relationship Management can leverage data from your CRM system and external sources like website, social media platforms etc to bring your business the competitive advantage.
Using AI powered CRM is completely dependant on your business requirements. Integrating to an AI based CRM is totally your choice.