Inventory management and planning has been the core of any business model. Businesses in today's era, pay utmost attention to inventory as it usually represents the second largest expense in their organisations. Inventory is applicable to every economic business model, in other words, if any organization engages itself in producing, selling and trading goods it will have huge inventory requirement and there comes a requirement for an efficient inventory management and planning tool.
Let's understand what is Inventory Planning and how can it benefit our business growth.
What is Inventory Planning?
Inventory planning refers to the process that an organization follows to understand the optimal quantity as well as timing, to formulate efficient plans with the organization's sales cycle and make more revenue for the business. Inventory planning is an important aspect of any business's success as it may affect the company in various ways. For Example :- it directly determines the cash inflow of any organization at the time of new assignment based on proper profit margin planning done for the previous deliveries. Evidently, improper inventory planning can create a big hole in the company's pocket if not executed properly.
Furthermore, inventory planning and control is a necessity for every business in today's world as it helps to forecast and ascertains how much a business should produce and supply to customers, in order to meet the market demand. Inventory planning have some of the following advantages which makes it a requirement for your business model.
Read More – SalesBabu Inventory Management Software for Inventory Management for SME
Advantages of Inventory planning
Better Cash Flow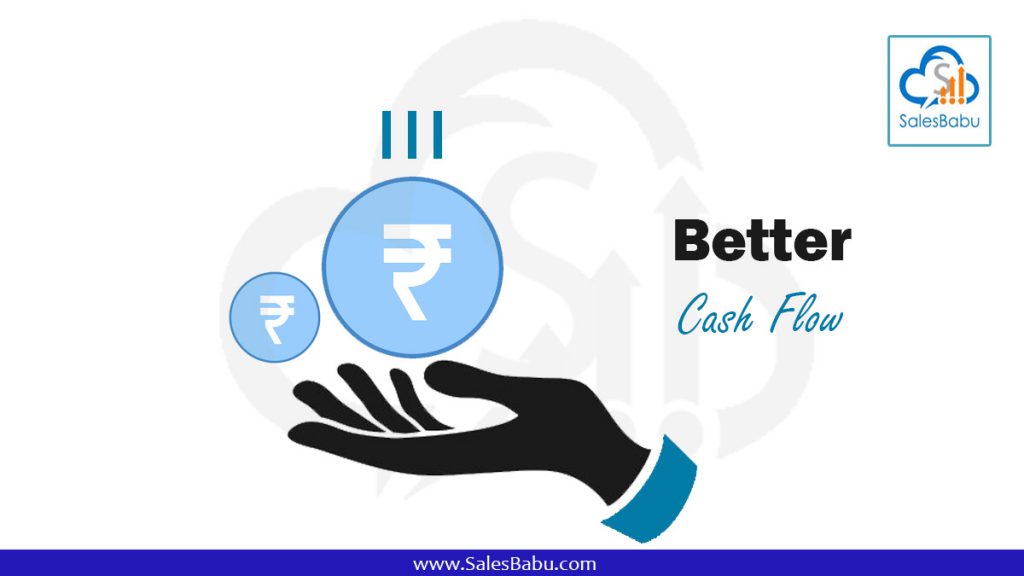 Business owners and process managers often devise internal policies and procedures that will manage and control product production and sales. Usually, these policies help the company to order, maintain accounts and track inventory inflow as well as help them on how to handle and rotate obsolete goods. By implementing such strategies in inventory planning, the company can manage its inventory more efficiently and avoid any extra ordering, wastage and theft which will in-turn improve the business revenue.
For small scale business, the scale operations do not allow to run the copious amount of inventory. But in some situations, the size of the business doesn't matter because the role of the manager in setting up the policies and procedures will help you inventory spending. To improve the cash flow of the organization, the management should invest in the most effective and practical inventory system within the business environment. Due to this company is able to save a lot of money. Better inventory planning will help to establish a cash advantage with respect to the situations of the market. Better cash flows allow the organization to achieve the business goals.

Increase profitability
In every business, inventory's cost of production and purchase has a significant effect on its gross profit. With the reduced cost of inventory management and production, a company can definitely make great profit margins. Proper inventory planning involves appropriate product purchase, minimum production cost and productive sale of goods with efficient customer services through on time delivery and service support.  With these processes, organizations supply the demanded products on time with great quality, which will definitely realize high business profits.
In any business, inventory planning acts as a bridge for higher profits. Through the control of inventory, businesses can be able to increase profits. This is possible only when the business organization has proper inventory planning. If a company ignores the need for a proper inventory system in its sales, production, and trade, it might hinder maximum operational efficiency.
Low production cost
Inventory planning facilitates business to formulate and follow better strategies of controlling goods, right from production phase till the final products are sold to the customer. These procedures and policies in inventory planning and control make sure that proper maintenance is done for each and every product across the warehouse. It also helps to avoid any misuse and theft of products to the highest level.
Companies in today's era are adopting many advanced technologies through various cloud based Inventory management software which have the ability to order, receive, manage, as well as sell any inventory in an organized manner. These efficient softwares like SalesBabuCRM, make sure every product is tracked, managed and dealt with an utmost care without any probability of theft and damages. With these softwares in place, all the produced, manufactured or traded inventory will reach the final consumer on time with minimum damages and losses. This means that the company won't have to incur any more losses due to missing shipments or theft.
Prevents Stealing
The policies and procedures adopted by the inventory planning is the better way of deterring employees from abusing the inventory. Employees in the work environment who will lose tend to steal inventory items. When employees steal the items, the business might be at a loss. But if we install the policies and procedures of inventory planning, cases like stealing won't happen, so the companies will make profits. The latest technologies are adopted by the business which is currently available in managing the inventory. This software has the ability to order, receive and manage any inventory.
It's quite clear that business owners and management team need to implement the right inventory planning and control strategies in their firms, if they want to gain better cash flow, higher profits and reduce issues of inventory shrinkages and losses. As such, it is important to understand that efficient inventory planning and control is the key to the achievement of business goals and objectives, at the same some of the major pitfalls during inventory planning can lead to huge business losses. There are many ways an inventory can be a boom to a firm provided managers and top level stakeholders avoid some of the pitfalls of inventory plannings.
Read More – Reduce Operational Cost With Inventory Management System
Inventory planning pitfalls
Lack of Forecasting
Demand forecasting plays a major role in understanding your company's demand and supply chain and forecast your future inventory requirement based on previous purchases and customer feedback trends. An efficient online inventory management software like SalesBabuCRM, helps to forecast the requirement of producing the right number of items as per your product demand and maintain the correct metrics of your business sales lifecycle.
Blind and improper demand forecasting is the major cause of failure in inventory management. An effective forecasting depends on more than just demands of the current products, it should consider the type and variety of products, customer shopping trends, feedback from last purchases, the average percentage of returns and other factors which might determine the supply cycle for the company.
Inventory planning will only be successful if we understand our products and economic market better, and forecast our stock requirement accordingly.


1. Lack of Automation
Lack of automation and efficient software adoption is also one of the major causes of business failure. Inventory planning needs a lot of aspects to be considered when planning for our future stock requirement. Managing your stock and warehouses with excels sheets and documents can be very inefficient and time consuming. These traditional methods give a lot of window for human errors and mismanagement, which can cost a bounty to the firm and cause bad customer feedback. Missing shipments and unmanaged goods can definitely give a bad name to the firm.
Switching to automated inventory management software helps to organise every phase of inventory planning and control through an automated system which not only reduces the overhead of huge labour cost, but also increase employee efficiency by doing more productive work then filling excel sheets and manual document checklist.

2. Improper Training
Very common issues while implementing an inventory management system is lack of interest in software adoption and improper hands-on training. Many traditional inhouse stock management softwares lack to provide effective inventory planning for the businesses as only a few people are aware of the whole process and has a lot of dependency on location and productive manpower.
A good online inventory management software can be the right choice for maintaining your inventory in the current era of technology. A cloud based inventory management software provides real time service of stock management from anywhere and anytime. Stakeholders can connect to the centralised cloud based database and use the inventory management software at anytime as per their convenience. Also, easy to learn features have quick learning curves for most of the employees in the organisation which improves the overall team's productivity and helps to streamline their operations and focus better on expanding the business revenue process.
Read More – Efficient Inventory Management System
3. Inefficient System Implemented Inside The Warehouses
It's not news that most of the business management teams fail to find efficient ways to handle and manage their inventory movement in the warehouses. A simple reshuffling of product storage can save lots of dollars. A common understanding among the inventory storage is to have most popular and extensive used products near the shipment area and not to cluster the warehouse with random dumping of incoming product deliveries.
Proper product tagging, number and nomenclature along with fixed storage locations can save a lot of time spent recounting, picking, packing and finally moving each shipment through the handling system.
We need to invest wisely on an online inventory management software which can optimise the flow of goods and minimize bottlenecks to reduce the time and money spent in shipping our products to the customers.
4. Lack of Inventory auditing
Many traditional businesses falls in this pitfall of not maintaining regular checkup of their inventory status. Usually business do a yearly inventory checker which will be a nightmare for the stakeholders to track every missing and misplaced inventory with the timeline for the past one year. Auditing is a time consuming and costly affair for many big businesses, but if at the end of the process we still are not clear of the gaps of the actual inventory compared to your presumed inventory, it will be a huge loss for the company.
Best way to improve the inventory tracking in our firm would be to have an efficient online inventory management software which will keep track of each and every inventory in the warehouse on a regular basis. Every stock which comes and leaves the warehouse is documented clearly in the centralized database which can drastically improve the inventory management capability of the team and reduce any unnoticed losses for the business.
Apart from minimizing the mishandling of stocks, a good inventory management software helps the sales reps to be aware of the exact inventory in hand and provide better business deals with the customers.


Conclusion
Inventory management and planning can be tedious but using a streamlined process, preferably one with a reliable inventory management tool, will greatly reduce mismanaged operations which can lead to more sales. These stock planning processes are very vital for your warehouse operations to run smoothly and efficiently. We need to watch out for these common mistakes while doing stock planning for our businesses and we will have a well-stocked and organised warehouse in no time.