It is important to focus on right strategies to develop your sales team. High performance sales team is essential for any business. All the sales people should know about their roles and responsibilities. To be successful they need resources, effective sales leadership, training and sales process management systems.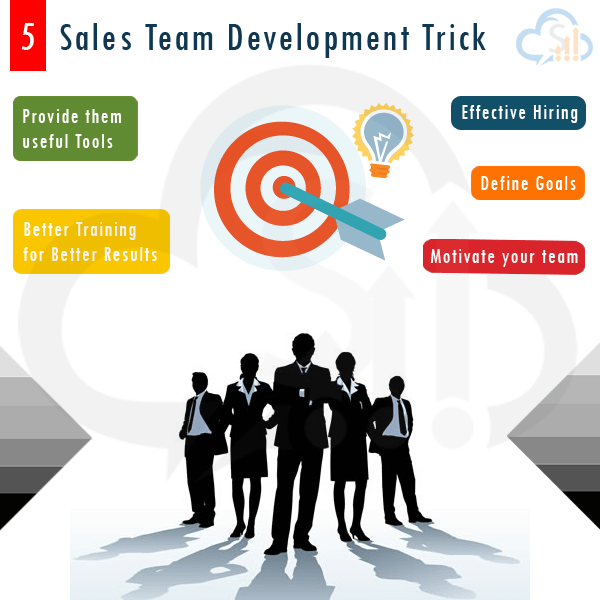 1) Effective Hiring
You should recruit people who are highly motivated to get success. When organization select right people and train them well they not only give better results but also stay with the organization for long time. Hiring right people will definitely increase your company's profits. It is the direct reflection of your business.
2) Motivate your Team
Do sales meetings with your team and help them to improve where their efforts are lacking. Sales team is the main resource of each company. Give opportunity to each team member to grow. Communicate with your team about business goals. Always make them feel valued. They can't perform well when they are not confident about doing tasks. Encourage them with rewards. Make friendly and learning environment for them. Leadership is about motivating and retaining people. Managers should have positive attitude with team. Incentives and rewards increase competition and performance.
3) Better Training for Better Results
Training helps your team to perform well. Without product knowledge your sales people can't do sales. Training plays an important role in the development of the team. When your team is confident about the product knowledge they can better understand the customer needs. They can explain all the details to your customer well. Teach them how to handle customers and solve their issues. One must ensure that sales team is ready to sell the products.
4. Provide Them Useful Tools
Removing repetitive manual tasks provide your team useful tool. Sales Force Automation Software is cloud based application which helps organizations to track sales force activities and streamlines the sales process. In a click they can access their daily tasks and maintain customer details. Humans are not perfect, they can't remember every customer and appointment. Without a centralized system it is not easy manage contacts. With the help of this software they can easily make a list of potential clients.
Benefits of Implementing Sales Force Automation Software:
It allows you to manage contacts and follow-ups
Your team will not work on low quality leads.
Easy to track sales team performance
Complete customer purchase history in a click
Improves sales productivity
Real time sales insights
Effective pipeline management
5. Define Goals
Sales people are revenue generators, they only need correct guidance and sales tools. Set challenging but achievable goals for them. Team building helps you to reach goals. Track the progress of goals. Measuring is important because you can't improve without tracking. Goals gives clarity about everyone's responsibilities and roles. Every team member will stay focused on their goal. Goals should be attainable, time bound, specific and measurable. Discuss the sales goal plan with them and give your help if they are facing any issues.

Request Demo for SalesBabu Sales-force Automation Software